The MSI GF63 laptop is one of many budget-friendly gaming laptops on the market striving to be the best in its class. Nevertheless, all of these laptops have their own individual strengths and weaknesses.
Given that MSI is a less well-known brand in the consumer market, it is easy to underestimate the quality of its products. However, the MSI GF63 provides excellent value for money and is a great gaming laptop. In this article, we will be taking a closer look at the MSI GF63 laptop to see if it truly lives up to its potential.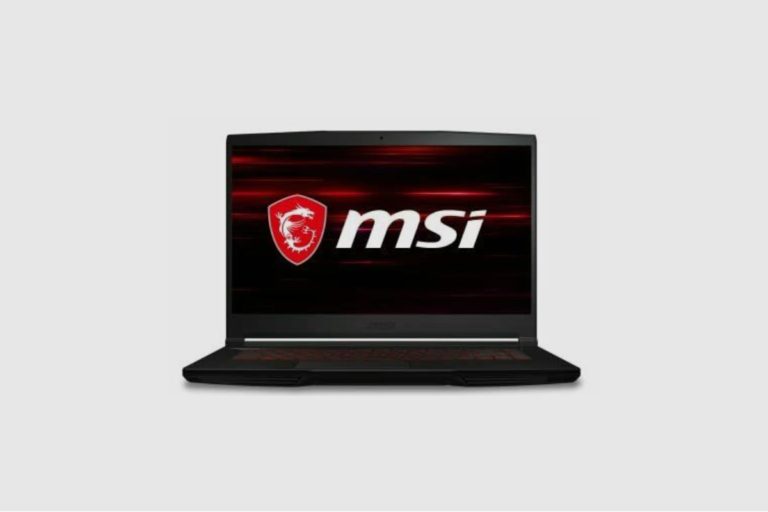 Specifications
CPU; Intel core i7-8750 (6 core/ 12 thread) processor 2.2GHz base clock speed and 4.1GHz single-core turbo boost.
Memory; 8GB DDRR RAM-2400 single channel (expandable up to 32GB DDR4 2666).
Storage; 128GB M.2 Stata SSD & 1TB 5,400 RPM HDD
GPU; NVIDIA GTX 1650 TI MAX Q 4GB GDDR5
Screen; 15.6" 1080p 60Hz IPS-Level panel
Battery; 3 Cell 51w/h 
Bluetooth 5.0.
Screen Size and Resolution
The MSI GF63 laptop has a 15.6" with an FHD 1080p screen that has a 60Hz refresh rate panel which is fair enough for all your gaming needs.
It also has fairly decent colour gamut and colour accuracy ratings with a 64% sRGB, a 46% NTSC, and a 48% aRGB ratings. These are all good numbers for a gaming laptop within its price range. On the whole, though, it's a bit average, but you should be able to see your colours very well, and they shouldn't appear washed. It also has a max brightness of over 250nits, which is just average on the whole.
However, if you planned on buying this laptop to do some other intensive activities like video editing and photography, then you would suggest you look for something with a lot more colour accuracy numbers. You could look at getting the Acer Swift 3, which has almost perfect colour gamut ratings, although it is a bit more expensive than the MSI.
What is the Battery like?
The MSI GF63 laptop has a 51w/h 3 cell battery which is fair but not amazing. During our average use day test, we managed to drain the battery after about 5hrs while we browsed and watch YouTube videos at 50% screen brightness. While playing the Witcher 3 we managed to get about an hour of playtime, and that was because of MSI's battery boost function during gaming, which locked it a 30fps at low settings, and we didn't see any dips in frame rates when the battery was low.
The Processor,
The MSI GF63 laptop has an Intel 8th gen Core i7-8750H which has 6 cores and 12 threads. It has a base clock speed of 2.2GHz and a single-core turbo boost speed of 4.1GHz, and a multi-core turbo boost clock speed of 3.9GHz, which all make for a fairly efficient and fast processor which make for a smoother gaming and general user experience.
We got an average clock score on CINEBENCH R15 for a single-core score of 169 and a multi-core score of 972, and when we undervolted the CPU we were able to get a single-core score of 171 and a multi-core clock score of 1236.
This boost in performance came about because we were able to undervolt the processor by manually drawing more power directly from anywhere it wasn't needed directly to the CPU.
Graphics Card
This laptop comes with an NVIDIA GTX 1650 TI MAX Q graphics card which is a fairly powerful dedicated card but it's on the old side and doesn't have RTX enabled, although it is a TI card which is more powerful than its basic card and with the Q MAX inside its easier to boost and overclock the GPU and boost its performance.
Speaking of performance, we ran it through UNIGINE'S HEAVEN CLOCK SPEED for GPU, and we got an impressive stock score of 1236, and when we overclocked it at 200MHz, we hit an impressive 1610 speed score.
Performance
Under our gaming test, we ran it through some games and got some impressive performances, and all games were tested at 1080p at different settings.
| | | | | |
| --- | --- | --- | --- | --- |
| Games | ultra | High | medium | low |
| Fortnite | | 63 | 74 | 86 |
| overwatch | 101 | 116 | 146 | 174 |
| battlefield v (CAMPAIGN) | 34 | 41 | 46 | 63 |
| SIEGE | 89 | 99 | 110 | 131 |
| FARCRY 5 | 41 | 45 | 47 | 54 |
| WITCHER 3 | 36 | 53 | 61 | 70 |
| UV + oc FARCY V | 44 | 47 | 50 | 56 |
| PUBG | 36 | 45 | 51 | 55 |
| csgo | | 94 | 155 | 122 |
What became apparent through our testing process was that the laptop performed better with optimised games like Overwatch and CSGO we were able to hit very good frame rates but they still weren't as impressive because on slightly more powerful laptops we were able to blow past 170fps on high settings on games like CSGO, so we lacked a competitive edge against players with better laptops. We also noticed that less optimised games like PUBG were unable to crack the 60fps mark, which was very underwhelming.
Also, for single-player games like Farcry 5, we were unable to crack the 60fps mark, but for a single-player experience, it was not too bad as there is no one you are competing against with higher frame rates. However, for Witcher 3 we were able to break the 60fps mark but not on higher settings. We also "Overclocked" the GPU and "Undervolted" the CPU for Farcry 5, but we only got minimal boosts in performance and frame rates.
So, the general acceptable graphics settings to use on the MSI GF63 are low-medium settings, as these are the best options used to get the best out of the laptop. I also agree that you won't get the best graphics, and the game won't look the best, but it will be playable, and you won't get as many dips in the frame rates as you would with playing on a higher graphical setting.
RAM and Storage
The MSI GF63 comes with 8GB of DDR4 RAM, and it can be expanded up to 32GB. It also comes with a 128GB M.2 Stata SSD and a 1TB 5400 RPM HDD.
Ports
The MSI GF63 has very good IO and connectivity support, as it comes with the charging port, a USB 3.1 Type A, a mic and headphone jacks, 2 USB 3.1 Type-A ports, and 1 USB 3.1 type C port, an Ethernet port, and an HDMI port.
How Much Does the MSI GF63 Cost?
The MSI GF63 costs around $500 for the base model. However, the model I am reviewing in this article costs around $650 from most online retailers.
How Heavy is the MSI GF63?
The MSI weighs about 1.86kg which is about 4.1lbs, so it's not so heavy; it actually feels thin and light.
Is it Possible to Upgrade the RAM on the MSI GF63 Laptop?
Yes, it is possible to upgrade the RAM on the MSI GF63 laptop. The maximum RAM capacity that the laptop can support is 32GB. Upgrading the RAM can improve your overall gaming experience.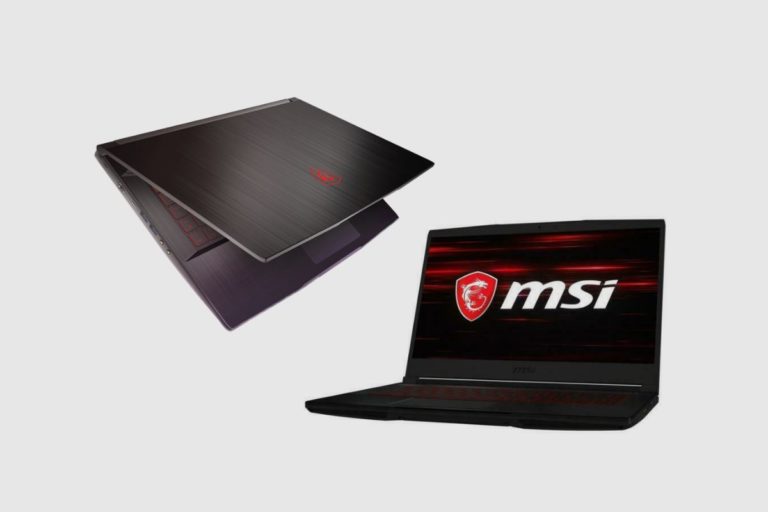 Is the MSI GF63 Laptop Worth it?
The MSI GF63 laptop is a budget-friendly option that delivers good performance at all levels. Even when compared to other known brand gaming laptops, the MSI GF63 still performed reasonably well.
The downside to MSI gaming laptops is that they are not as established as other brands like Dell, Asus, Lenovo, Acer etc., and may not have the same level of support as the known brands.
There is no doubt that the MSI GF63 laptop is a great value for the price, but if you're looking for a more reliable gaming laptop (based on brand recognition), you might want to consider other options like the Acer Nitro 5, ASUS TUF Dash F15 or Dell Alienware Area 51M gaming laptop.
Conclusion
Overall, the MSI GF63 laptop is a good gaming laptop. It's not the best gaming laptop on the market, and it's not even the best budget-friendly laptop on the market. However, it's a reasonably good gaming laptop.
The main limitations are the dips in frame rates on higher graphics settings. Therefore, I don't think it would be the best option for any gamer looking for the best possible experience.