MSI (Micro-Star International) is one of the world's leading gaming brands and is of great use in different categories apart from gaming, such as content creation, business and so on. They have the finest product quality, intuitive user interface, display and design aesthetic.
What are the main features of MSI laptops that make them good for gaming?
There are features all gamers desire, which MSI Gaming laptops readily offer.
Features of MSI laptop
The Build: MSI Laptops are built with sophistication and quality
MSI Center: This helps control and customise your gaming laptop the way you want with functions like noise cancellation, smart image finder, Crosshair and so on
Performance: MSI Gaming laptops have leading technology designed to offer the best gaming performance.
Memory: It showcases faster system speed and responsiveness
GPU, which gives up to 52% faster performance it, has more cores and higher clocks and is perfect for hard-core gamers
CPU
Cooler Boost that ensures maximum performance under extreme gaming conditions
Visual quality: MSI Gaming laptops have clearer and fast vision through their smooth and sharp display in FHD, QHD, UHD, Matrix and True colour technology
Audio: The brand offers immersive surround sound to enjoy premium sound quality with DynAudio sound system in 6x speaker sound system, Hi-Resolution Audio, Nahimic, Duo Wave speaker
Control: With this feature, you can get exclusive gaming with the APP Player, Per key RGB, and Steelseries GG, all of which enhance gameplay
Streaming: MSI looks for the best way to connect to the gaming world through 2.5 GB LAN, WiFi 6, IR and FHD camera, all for the best streaming; you get good speed with a smooth and stable connection
Battery: MSI batteries are packed with large battery capacity and offer a longer run time.
What are the different gaming laptops offered by MSI?
The laptops for gaming comes in a variety of series which gamers would have a plethora of models to choose from and enjoy:
Titan GT series: The GT series is the flagship model, definition of a Desktop killer, built with top-notch graphics, features and overclockable processors
Stealth GS series: The Stealth series combines performance, mobility and class with extended battery life.
Raider GE series: Delivers maximum performance, and it is the first series to feature RGB lighting effects on its chassis. This series is sure to catch my attention.
Vector GP series: The GP/GL Series, with its high-end models, offers core gaming features with a whole lot of configuration. It is built for performance at any level of gaming.
Sword/Katana GF series: The thin series showcases mobility and design aesthetics with a stellar phoenix. It has a thin and light design with enough added value.
Delta series
Alpha series
Bravo series
Crosshair/Pulse GL series
In this article, I will be reviewing 5 MSI gaming laptops from different series. Here is the list of the five laptops.
Titan GT76
Stealth GS77 12U
Raider GE76 Deluxe Edition 12U
MSI sword 15
GP Leopard
TITAN GT76
This model is equipped with 10th Gen Intel Core i9 processors and GeForce RTX Super 2080 graphics. It has a thin bezel display, a 17.3 inch UHD (3840×2160), IPS-Level,17.3 FHD (1920×1080), 300Hz, IPS-Level with a 397 x 330 x 33~42 mm dimensions. The exterior features a car-inspired design with an aluminium cover and carbon fibre-themed bodywork.
Specifications
Windows 10 Home
Full desktop processor with 10 cores, 5.0GHz overclock
DDR4-3200 (8GB x 4)4 Slots,Max 128GB.
1x M.2 SSD slot, 2x M.2 SSD Combo slot, 1x 2.5 SATA HDD
IR HD type (30fps@720p) webcam
8-Cell 90 Whr battery. 4.2 battery weight
Exclusive MSI Cooler Boost Titan with 4 fans and 11 heat pipes
Mystic Light underglow and Per-Key RGB gaming keyboard by SteelSeries
Dragon Center with exclusive gaming mode 2.0
MSI App Player
Sound by Dynaudio and High-Resolution Audio ready
2x 2W Speaker and 1x 3W Woofer
Latest Wi-Fi 6 (802.11ax) and Bluetooth 5.1
Killer Double Shot Pro
Windows Hello
STEALTH GS77 12U
The Stealth GS77 12U is packed with up to the latest 12th Gen Intel Core i9 Core processor, Windows 11 operating system and GeForce RTX 3080 Ti Laptop GPU 16GB GDDR6 available in Core black finish. A 17.3 inch FHD (1920×1080), 360Hz, QHD (2560×1440), 240Hz, UHD (3840×2160), 120Hz all IPS-Level with a dimension of 397.6 x 283.5 x 20.1~20.8 mm and about 8 I/O ports in different angles.
Specifications
New Cooler Boost 5 with 0.1mm fan blade
6x Speaker audio design by Dynaudio sound system
2x M.2 SSD slot (NVMe PCIe Gen4)
DDR5-4800, 2 Slots, 64GB
4 cell, 99.9Whr Battery Capacity. The battery weighs 2.8kg
Per-Key RGB gaming keyboard by Steel series
IR FHD type (30fps@1080p)
MSI Center with exclusive gaming mode
WiFi 6E + Bluetooth 5.2
RAIDER GE76 DELUXE 12U
The GE Deluxe Edition 12U is powered by 12th Gen Intel Core i9 processors with Windows 11 Pro/ Windows 11 Home, the latest NVIDIA GeForce RTX 3080 Ti Laptop.
Specifications
99 Whr battery
Mystic Light with panoramic aurora lighting design
Cooler Boost 5 with bigger fans and wider heat pipes
Phase Change Thermal Pad provides the next generation of cooling design
MSI Center provides exclusive Gaming Mode, brand new SmartAuto, and Ambient Silent AI for the best user experience.
Per-Key RGB gaming keyboard by SteelSeries
Duo Wave woofer design by Dynaudio system
Exclusive Deluxe Edition Bundle Pack
SWORD 15
This laptop has up to 11th generation Intel Core i7 processor, the operating system of Windows 10 Home, NVIDIA GeForce GTX 1650 GPU, 4GB DDR6, it is available in colour white, has a Backlight Keyboard in exclusive blue illumination with 1.7mm key travel, it has a display of 15.6-inch FHD, 1920 x1080 resolution, a 359 x 259 x 24.9 mm dimension and 144Hz refresh rate, IPS Level panel thin-bezel display and has about 9 I/O ports
Specifications
Intel HM570 Chipset
3-Cell Battery type and 53.5 Whr Battery capacity it weighs 2.3kg
802.11 ax Wi-Fi 6 + Bluetooth v5.2 connectivity
2x 2W Speaker
150W AC adapter
HD type (30fps@720p)
DDR4-3200- 2 Slots, 64GB
1x M.2 SSD slot NVMe PCIe Gen3
Exclusive Cooler Boost 5 Technology
MSI Center with exclusive gaming mode
MSI App Player
High-Resolution Audio ready
GP66 LEOPARD
This laptop is equipped with 11th Gen Intel Core i7 CPU processor, Windows 11 operating system and NVIDIA GeForce RTX 3080 GPU, a 15.6inch FHD with a resolution of 1920×1080, 240Hz, IPS-Level, QHD (2560×1440), 165Hz, IPS-Level and a dimension of 358 x 267 x 23.4 mm. It has a core black finishing and about 7 I/O ports.
Specifications
Intel HM570
Gb LAN of Up to 2.5G, Wi-Fi 6E + Bluetooth v5.2 communication
Per-Key RGB Backlight Keyboard
2 Slots DDR4-3200, 64GB
1x M.2 SSD slot (NVMe PCIe Gen and Gen 4
HD type (30fps@720p)
4-Cell, 65 Battery (Whr) Weighs 2.38kg
280 AC Adapter
2x 2W Speaker, Hi Res and Nahimic Audio
Cooler Boost 5 with two fans and six heat pipes
MSI Center
MSI App Player
How do MSI laptops compare to other gaming laptops in the market?
MSI Gaming laptops are built with state-of-the-art gaming technology and guarantee users of great quality and performance.
Though MSI makes everyday laptops, their standout feature is their gaming laptops which set the bar high for other gaming laptops, and this is noticeable from their exclusive features like good display, programmable keyboard, good audio and an impressive Cooler Boost technology so you can play games for longer periods without overheating problems.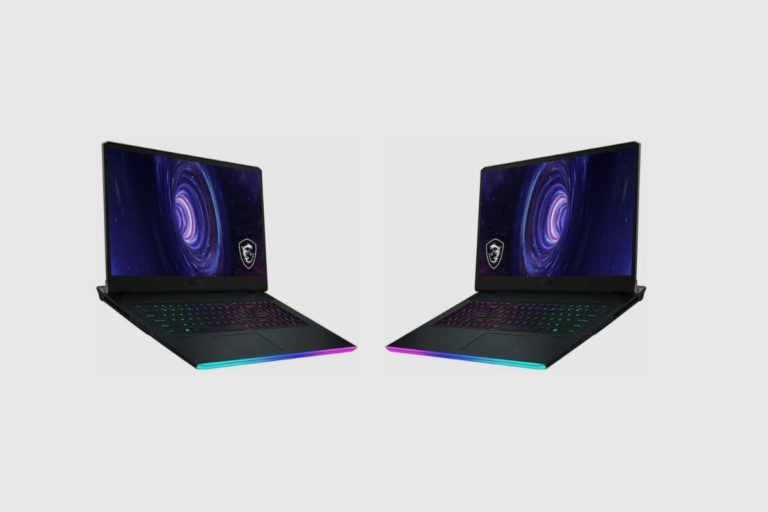 What are some of the pros and cons of using an MSI laptop for gaming?
Pros
Great performance
Strong Quality
Great Display
Great battery lifespan, which provides a longer run time
Audio
Sufficient Input/Output ports
Cons
Colour choices are not catchy: MSI gaming laptops are mostly available in three finishes – black, silver or grey colours.
Pricey
Slow tech support
What are some tips for getting the most out of an MSI gaming laptop?
Keep laptop clean and dust-free for physical maintenance
Overclock graphics card to enhance the gaming experience
Upgrade hardware
Activate Windows game mode
Regularly close your background apps
Checking network speed for online gaming.
Conclusion
In conclusion, MSI laptops are good for gaming because they offer great performance, strong quality, great display, great audio, and sufficient input/output ports. However, they can be pricey, and the tech support can be slow.
Some tips for getting the most out of an MSI gaming laptop include keeping the laptop clean and dust-free, overclocking the graphics card to enhance the gaming experience, upgrading the hardware, and checking the network speed for online gaming.
Product Image Gallery – Are MSI Laptops Good For Gaming?