HUAWEI MateBook X Pro 2021 Laptop
Design -

84%

Performance -

78%

Battery Life -

77%

Camera -

69%

Value for Money -

72%
The HUAWEI MateBook series are designed to be thin and light laptops for everyday use. They have been upgraded from previous models in terms of hardware specifications and software features. The HUAWEI MateBook X Pro 2021 Laptop is a premium device that comes with the latest Intel Core i7 processor and Intel® Iris® Xe GPU. It has an excellent display, good performance, long battery life, and great design.
It comes in two colours; Emerald Green or Space Gray. It is packed in a small box with a 65W adapter and a USB-C cable. The charger is the standard charging brick that can also charge your phone and tablet. This device doesn't come cheap at £1599.99, considering the kind of performance you will be getting.
Design
The HUAWEI MateBook X Pro laptop has a sleek metal chassis. It is a thin and lightweight device with slim bezels around the display. It has the brand name engraved on the front lid, and the display has a reflective glass cover. In terms of the port selection, you will be getting a 3.5mm audio combo jack, 2x USB-C port and a single USB-A port.
It has a full-sized keyboard with short-key travels and excellent tactile response. It has a good size Enter button, a small up and down key, and some missing keys such as End, Page Down, Page Up, and Home buttons which could come as a discouragement for some people. It is very comfortable to type on once you get used to the idiosyncrasies. It also has a big and smooth glass touchpad for finger gestures and scrolling. The touchpad can register a click on any part of the surface.
Display
The MateBook X Pro 2021 display looks identical to the 2020 model. It has a 13.9 LTPS LCD display with 3000 x 2000pixel resolution at 260ppi density, a 3.2 aspect ratio, 450 nits of typical brightness and a 178° viewing angle. It supports a 100% sRGB colour gamut and has a 91% screen-to-body ratio thanks to the nicely trimmed bezels.
The MateBook X Pro 2021 has a touchscreen display that is very responsive, and it also supports multi-touch gestures for zoom images and up to 10-point input. It also has a screenshot which you can achieve by dragging on the screen with three fingers to access Huawei's intuitive screenshot tool. It lets you select with a finger just what part of the screen you want to capture.
Performance and Battery life
The 2021 HUAWEI MateBook X Pro model ships with an 11th gen Intel Core-i7-1165G7 processor, Intel's 11th gen Iris Xe GPU, which is said to be faster than the NVIDIA MX250 GPU in last year's MateBook X Pro model. This device bags 16GB of LPDDR4x RAM and 1TB of internal storage space. Any form of editing on this device would be an easy task. It is a quiet device and has been tuned by Huawei not to get too hot, as it has two fans working to cool it down once it gets above 80°C.
It is equipped with quad speakers, including a tweeter and a woofer on each side for better sound. The speakers are located under the laptop, but they are side-facing, not down-facing. The power button has a fingerprint scanner in it, so a single press would turn on your device immediately. It also has an HD webcam located in the front centre row of the keyboard. It is an up-the-nose cam that can be easily blocked when typing. The dual microphone on the laptop offers great call clarity.
You can connect your Huawei smartphone that supports this connection using Huawei Share to your laptop. All you have to do is just tap your phone's NFC on the touchpad to initiate the connection, which then allows you to control your phone from your laptop and share files between both devices.
The MateBook X Pro 2021 has a battery life of about 8 hours of web browsing at the highest level of brightness and about 12 hrs 30 minutes at 50% brightness. Charging this device from zero per cent to 100% will take about 1 hr 30 minutes, and you would get an estimated 4 hours of battery life with 30 minutes charge.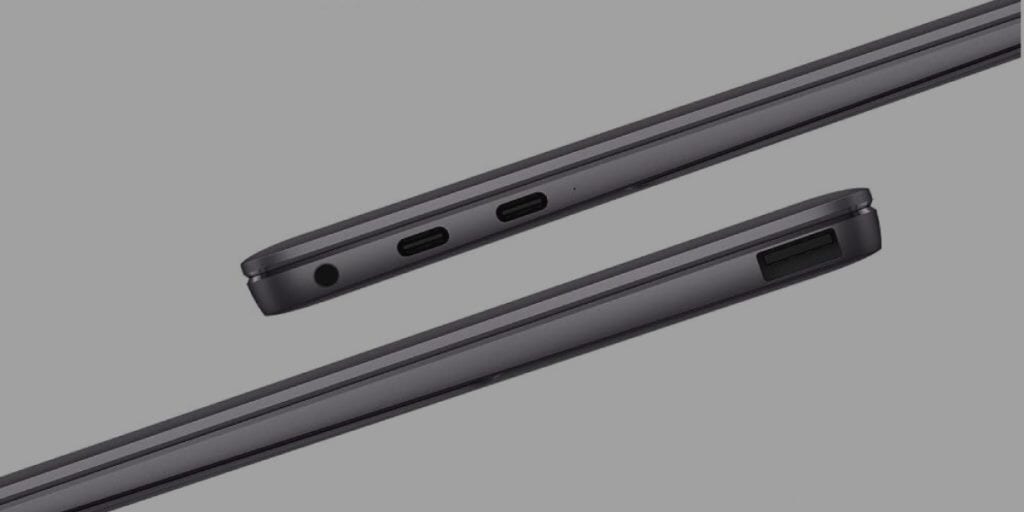 Features
Sleek metal chassis.
Slim bezels.
13.9-inch screen size, 3:2 aspect ratio.
Large and touch-sensitive trackpad.
It is equipped with quad speakers and a dual microphone.
Full-sized backlit keyboard.
The fingerprint reader is rooted in the power button.
It supports USB-C charging.
91% screen-to-body ratio.
Dual-fan cooling system.
Specifications
Operating system: Windows 10 Home
CPU: 11th Gen Intel® Core™ i7-1165G7
GPU: Intel® Iris® Xe Graphics
RAM: 16GB 3733MHz
Storage: 1TB NVMe PCIe SSD
Display: 13.9inches LTPS, 3.2 aspect ratio, 450 nits (typ.) brightness
Resolution: 3000 x 2000, 260 PPI density
Dimensions: 304 x 217 x 14.6mm
Weight: 1.33kg
Webcam: 720P HD
Audio: Quad speaker, dual microphone
Ports: 2x USB-C, USB-A, 3.5mm audio combo jack
Connectivity: Wi-Fi, Bluetooth 5.1
Battery: 56Wh Lithium polymer (up to 10hours based on usage)
Colour: Emerald Green, Space Grey
Pros
It has a big and bright touchscreen.
Excellent build quality.
Comfortable keyboard and trackpad.
Good battery life.
Fast and convenient USB-C charging.
Fans are quiet.
Excellent performance.
Cons
Poor webcam quality and placement.
It is expensive.
It easily picks up smudges.
Buyer's Guide
The Huawei MateBook X Pro is a high-end Ultrabook with a sleek design, beautiful display and excellent performance, but it has its own bit of dislikes too, like the webcam placement, you might sometimes block it during a call, or sometimes you might click wrongly and end up dragging files as a result of the touchpad multiple click surface. Here are the things you should expect in the box when purchasing this Ultrabook; HUAWEI Matebook X Pro, HUAWEI 65Wh USB-C Power Adapter, USB-C Charger Cable, Quick Start Guide, Warranty Card.
How much is the HUAWEI MateBook X Pro laptop?
The HUAWEI MateBook X Pro is sold at £1599.99 for the Core i7 model. You can find cheaper models if you look around online, though. This price includes VAT.
HUAWEI MateBook laptop available series
Below is a list of Huawei MateBook laptops series;
MateBook X Pro (13.9inch)
MateBook X (13 inches)
MateBook 14s (14 inches)
MateBook 13s (13 inches)
MateBook 16 (16 inches)
MateBook 13 (13 inches)
MateBook 14 (14 inches)
MateBook D 16 (16.1inch)
MateBook D 14 (14inch)
MateBook D 15 (15.6inch)
Is the HUAWEI MateBook X Pro 2021 Laptop Worth Buying?
The HUAWEI MateBook X Pro 2021 Laptop is a decent laptop with a few features that make it worth considering. The laptop has a good design, a fast processor, and a large screen. However, there are a few drawbacks to consider before making a purchase. The laptop is expensive, and the battery life is not as good as some other laptops on the market.
Conclusion
The HUAWEI MateBook X Pro laptop is a powerful device with Intel's 11th gen Tiger Lake CPUs, fast RAM, a 3:2 aspect ratio touchscreen display, Wi-Fi 6 support, and a premium and portable build. Although it is an expensive device, you cannot get all it has to offer in other laptops that offer similar specifications at a lower price.
FAQ – HUAWEI MateBook X Pro 2021 Laptop Review.
Q: What is the difference between the HUAWEI MATEBook X Pro and the HUAWEI MateBook X?
Answer: The HUAWEI MateBook is a more premium version of the MateBook X with improvements in size, weight, storage size, and processor, and they also come in different colours.
Q: Is there any warranty card included in the package?
Answer: Yes, there will be a warranty card along with the product. You can use it if anything goes wrong while using the product.
Q: Does the HUAWEI MateBook X Pro come with Windows 10 Home preinstalled?
Answer: Yes. This version of the Windows 10 home edition is already installed on the machine.
Q: Do you think the battery life of the HUAWEI MateBook X Pro is good enough?
Answer: Yes, it's pretty decent. Battery lasts around 8 hours under normal usage conditions.
Q: How many ports does the HUAWEI MateBook X Pro have?
Answer: A 3.5mm headphone jack, 2x USB-C port and a single USB-A port.
Product Photo Gallery – HUAWEI MateBook X Pro 2021 Laptop Review