For years, the Apple Watch has been one of the best-selling smartwatches, so Apple isn't trying to reinvent the wheel by introducing its third series watch.
Two significant changes include an increased focus on fitness and one that includes cellular connectivity so you can keep up with friends even if you don't have access to a smartphone.
At $399, the Apple Watch Series 3 smartwatch isn't cheap; however, its battery life is good enough to use most days. It's not perfect, but it's definitely one of the better attempts at a true stand-alone smartwatch I've seen so far.
Related Post: Can you Connect Apple Watch Series 3 to iPhone 13?
Apple Series 3 Smartwatch Design
In terms of size compared to other Apple watches, the new series 3 Apple Watch seems slightly larger than its predecessors.
In terms of design, there's no denying that the Series 3 has some flaws compared to its competitors. For me, however, it's still better looking and made out of more expensive materials than its competitors.
The Series 3 came in 38mm and 42 mm sizes, but they've been replaced by 40mm and 44mm sizes for the new series 4. It means that the Series 3 isn't necessarily the best option if you're looking for something small enough to fit into even the thinnest wrist.
I've been using my 42mm model of the Apple Series 3 Smartwatch for quite some time now, and I am happy with its performance. It has never had any wearability issues, and it's always been an incredibly comfy smartwatch.
In addition, Apple Series 3 Smartwatch has an excellent 1,000-nit screen, which is richer than anything else available right now. Despite the screen becoming slightly better at displaying colours, there's no noticeable difference between the new smartwatch models when compared side by side.
It does not include the feature of having an always-on display; it means that you will need to lift up your arm to get it out of sleep mode.
It was also the first time that Apple managed to pack so many features into their Smartwatch without sacrificing its battery life. The Apple Series 3 Smartwatch was one of the first examples of how it's possible to combine an elegant design with powerful functionality without spending too much money.
Regarding choosing between gold and silver finishes, there's no difference when it comes to durability; both materials last for decades. However, if you prefer something different, then go ahead and choose whatever colour strikes your fancy.
It's smaller than the Apple Watch Series 5 but has similar features like GPS tracking for running and swimming workouts, built-in heart rate monitoring, and waterproofing up to 50 meters (165 feet). Even if they're not biggies for you personally, there's still a lot to like about the design of the Series 3.
The Display
Unlike most Wearable OS devices, the Apple Watch Series 3 has retained its round screen from the original version. It doesn't always go down well with everyone, but it makes perfect sense for iPhone users, so it fits right into their aesthetic.
It isn't quite edge-to-edge but has a slight curve instead of flat sides like its predecessor. But best of all is Apple Series 3 Smartwatch's 1.65-inch display, which offers some stunningly bright colours and deep black levels.
I can confirm that both variants come equipped with displays featuring resolutions of 312 x 390 for the larger screen size (42 mm) and 272 x 340 for the smaller ones (38 mm). It means that even though the display isn't as sharp as on the newest Apple Watch Series 6, there's still plenty of resolution for small fonts and images.
When it comes to its screen's performance, it's impressively crisp and vivid — featuring all the display features found on Apple's retina-equipped iPhone and iPad devices.
Apple Series 3 Watch Sizes
The Apple Watch Series 3 comes in two sizes —38mm and 42mm. The height of the 38mm size is 1.52" (38.6 mm), width: 1.31" (33.3 mm), depth: 0.45" (11.4 mm), and weight is 1.5 Oz (42.4 g). The screen size of 38mm model is 1.337" (34 mm) diagonal and resolution is 272 x 340 pixels at (326 PPI). The height of 42 mm size is 1.67" (42.5 mm), width: 1.43" (36.4 mm), depth: 0.45" (11.4 mm), and weight is 1.86 Oz (52.8 g). The screen size is 1.566" (40 mm) diagonal and resolution is 312 x 390 pixels at (326 PPI).
Apple Series 3 Smartwatch Performance
Under the hood, Apple Watch Series 3 software runs on an Apple S3 chip that has two cores of 64-bit processor and GPU. It may be slower than some of its newer models, but it still performs most of the tasks you want it to without any trouble at all.
Although the features available on the Series 3 smartwatch have greatly increased since its launch, the battery life still isn't great.
Battery Life
When comparing the Apple Watch Series 3 performance against previous models, it's clear that Apple has not compromised its battery life to any significant degree. In fact, if anything, it seems like they're improving upon their already impressive numbers.
You could get by with just an hour or two per day if you're not using LTE, but once you start hitting the cellular network, you'll see better battery life from your Apple Watch Series 3
Using the Apple Watch Series 3 for calls requires extra power from its batteries, so expect less than two hours' worth of use before needing to recharge.
You can make short phone calls throughout the day if you want. I would hesitate to guarantee four hours' worth of GPS without using power save mode.
The Series 3 SmartWatch Health Features
With Activity Tracking in Apple Watch series three, you'll be able to fill up those activity rings and get a gentle reminder when you're not moving enough throughout the day. Shared activity data has been a good way to keep track of things like steps taken throughout the day. On the whole, though, Apple's fitness tracker experience is pretty solid.
Apple has taken several steps toward improving its health-tracking capabilities by introducing new features in Apple Watch Series 3. The first thing is it measures both exercise intensity and resting heart rate during workouts. 
It's important for you to know that having access to such a tool could be an indication of your current state of wellness. Lowering your resting heart rate is definitely something worth doing if you're interested in keeping yourself healthy.
While using an HRM (heart rate monitor), I found that it is great for tracking your resting heart rate; it doesn't track your activity level well enough to be used when running outside. In general, average heart rate measurements from my testing show that they're slightly higher than the Polar H10 chest strap (roughly 5-6 bpm).
Apple Watch Series 3 Smartwatch Music Features
You can now listen to Apple Music playlists right from your Apple Watch Series three. In watch OS 4, Apple has added an automatic tagging system for playlists within the Watch App. So when you're working out, if you forget to add music to your playlist, it'll just know which song goes best with your activity and start playing it.
With the new cellular capabilities for the Apple Watch Series 3, you'll be able to stream music without having an iPhone nearby. It looks like a really cool idea! You might want to get some headphones, too, though.
Connectivity
At launch, the standout feature of the Apple Watch Series 3 was its 4G connectivity — which enabled you to use it even when there wasn't an iPhone nearby.
It has a built-in 4G LTE and UMTS cellular radio antenna inside it, which activates when you take your phone out of its case.
Its call interface is basic but simple to use because of its numeric keypad. Of course, you can call contacts or favourites, especially if you've got Watch Series 3 paired up with a Bluetooth headset like the Apple AirPods.
Swiping down from the bottom of the screen shows the Watch Control Center, which lets you know about the watch's connection status – whether that be via Wi-Fi, cellular network (4G), or Bluetooth.
If you're not using Bluetooth earbuds, you may be able to hear callers better than expected from such a small screen, but keep in mind that they won't look great, either.
Specifications
| | |
| --- | --- |
| Dimensions | 42.5 x 36.4 x 11.4 mm (1.67 x 1.43 x 0.45 in) |
| Weight | 52.8 g (1.87 Oz) |
| Colours | Silver, Space Black |
| Screen Size | 1.65 inches, 8.6 cm2 |
| Operating System | Watch OS 4.0 |
| Chipset | Apple S3 |
| CPU | Dual-core |
| GPU | PowerVR |
| RAM | 768MB |
| Internal Memory | 16GB |
| SIM | Apple e-SIM |
| GPS | Yes |
| Wi-Fi | Wi-Fi 802.11 b/g/n |
| Battery Life | 18 hours |
| Capacity | Li-Ion 273 mAH |
| Case | Stainless Steel |
| Water Resistance | Waterproof over 50 meters |
Pros
Following are the Apple Pros of Watch Series 3:
Fast response time.
Display with a super bright and clear screen.
Good battery life when not relying on 4G/LTE networks.
It has an easy-to-use User Interface (UI).
Cons
Following are the Apple Pros of Watch Series 3:
LTE has a significant effect on battery life.
I needed more dedicated watch apps for LTE support.
Sometimes Siri doesn't work.
No LTE roaming.
Buyer's Guide:
If you're looking for an affordable smartwatch that works well with your phone, then the Apple Watch Series 3 might be just suitable for you. You don't necessarily lose access to the most recent health features if you choose an Apple Watch Series 3 instead of a newer version. It has robust third-party apps, so it's a versatile smartwatch – but it's hard to argue against its price tag.
How much is the Apple Watch Series 3?
The price range of the Apple Watch Series 3 starts from $199 or $8.29 per month (Total 24 months).
Is the Apple Watch Series 3 worth Buying?
In general, the Apple Watch Series 3 is an excellent smartwatch, a health and fitness gadget with value for money. It tracks a variety of exercises – from running to cycling to weight lifting – and it's also an incredibly stylish and high-quality fitness tracker.
With its lack of an always-on display and shorter-than-average battery life, the Apple Watch Series 3 isn't perfect by any means. But if you want something simple and easy to use, then there really isn't anything better out there right now. It would be nice if they were just small annoyances, but these things really aren't worth complaining about.
Conclusion
The Apple Watch Series 3 was the best overall watch experience I've ever used. You may find yourself using it every day after trying it out for just a week or two. As far as I know, LTE isn't required by anyone but carriers who offer 4G service.
In addition, important features such as the stopwatch, calendar, and Siri function quickly and reliably. Unlike its predecessors, the smartwatch boasts an impressively long battery life — on average, I was able to get about 40% charge out of it after one day's usage. So overall, it's a good watch, I must say.
FAQ – Apple Watch Series 3 Review
Is Apple Watch 3 waterproof?
With its water resistance up to 50m under ISO standard 22810: 2010, Apple Watch Series 3 may be used for shallow-water activities such as swimming in pools or oceans.
Can Apple Watch Series 3 take calls?
Yes, Apple Watch Series 3 can be used to send text messages and make phone calls when an iPhone is nearby and connected via Bluetooth to another device such as a car charger or wireless speaker dock.
Does the Apple Watch Series 3 have GPS?
Apple Watch Series 3 comes in two variants, one with GPS and Cellular connectivity and another without it. They feature an improved Dual-Core Processor and a new Wi-Fi Chip. Apple Watch Series 3 combines with the power of watchOS4 to be an ideal device for a healthy lifestyle.
How far can the Apple Watch 3 be from the iPhone?
In general, the normal Bluetooth range is approximately 30 feet (9 m) from one device to another. When an Apple watch cannot connect to its paired device (iPhone) using Bluetooth, it will attempt, if available, to connect to a wireless internet connection instead.
Can you connect Bluetooth headphones to Apple Watch Series 3?
To hear most audio on an Apple Watch, you need to use wireless Bluetooth headphones or speakers. Tap the settings icon on your Apple Watch, and then tap Bluetooth. When the screen turns on, tap the device.
Image Gallery – Apple Watch Series 3 Smartwatch Review.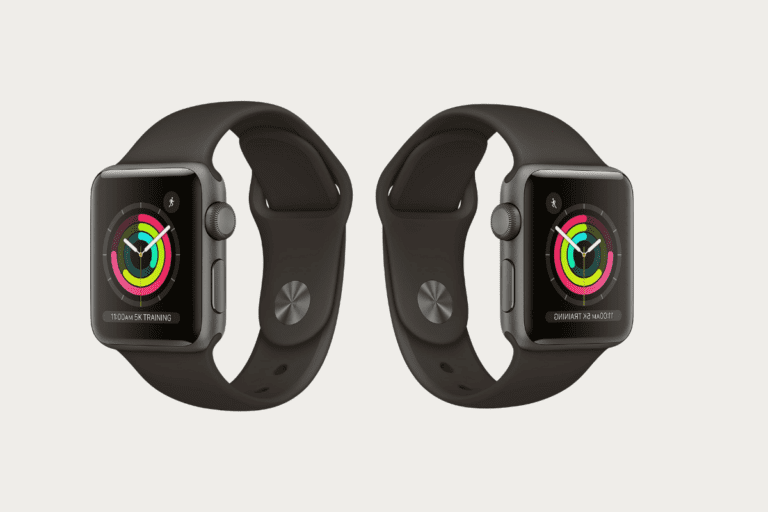 References: About Apple Watch, GPS Tracking.