The Fitbit Versa 3 smartwatch is an advanced and upgraded smartwatch for Android users. It has a 1.59 -inch AMOLED screen with thinner bezels. 
The display options make it bright and easier to use even in sunlight. It also comes in a variety of colours and interchangeable straps. This smartwatch comprises spectacular features such as GPS tracking and even receiving calls directly on your wrist. In this article, questions regarding the Fitbit Versa 3 smartwatch are answered in detail.
Is Fitbit Versa 3 waterproof?
The Fitbit Versa 3 reacts just fine when it comes in contact with water. It can conveniently be underwater to depths of 50 meters. It can be worn in the shower, pool and even the sea, but it is advised that the salt is rinsed off properly in freshwater afterwards as saltwater is corrosive and could permanently damage your smartwatch.
What does a Fitbit Versa 3 do?
This smartwatch performs multiple functions amongst which include monitoring activity, fitness check and health tracking. It has an always-on display that enables users to track temperature during sleep, handles basic fitness tracking needs, step counts, distance covered, calories burned and heart rate. It also has an inbuilt GPS that tracks workouts over distances.
With this smartwatch, you can also receive notifications from your phone (if it's close by), listen to music and even perform basic tasks without needing to touch your phone.
The Fitbit Versa 3 is a great Smartwatch option for Android users, although it is compatible with iPhones.
Can you answer calls on a Fitbit Versa 3?
On the Fitbit Versa 3, calls can be answered directly when a phone is close by with the aid of built-in speakers and microphones as opposed to previous models whereby the watches could be used to accept or reject calls, but users had to speak to the phone itself.
How do I play music on my Fitbit Versa 3?
To play music on your Fitbit Versa 3, all you need do is take the following simple steps:
Connect your Bluetooth headset to your Fitbit. Then connect the headset to Fitbit Versa 3. As long as the music is on your smartwatch, you will need a headset to enable you to listen to music
Open the Music app on your Fitbit
Choose the track you will like to listen to and Select Play.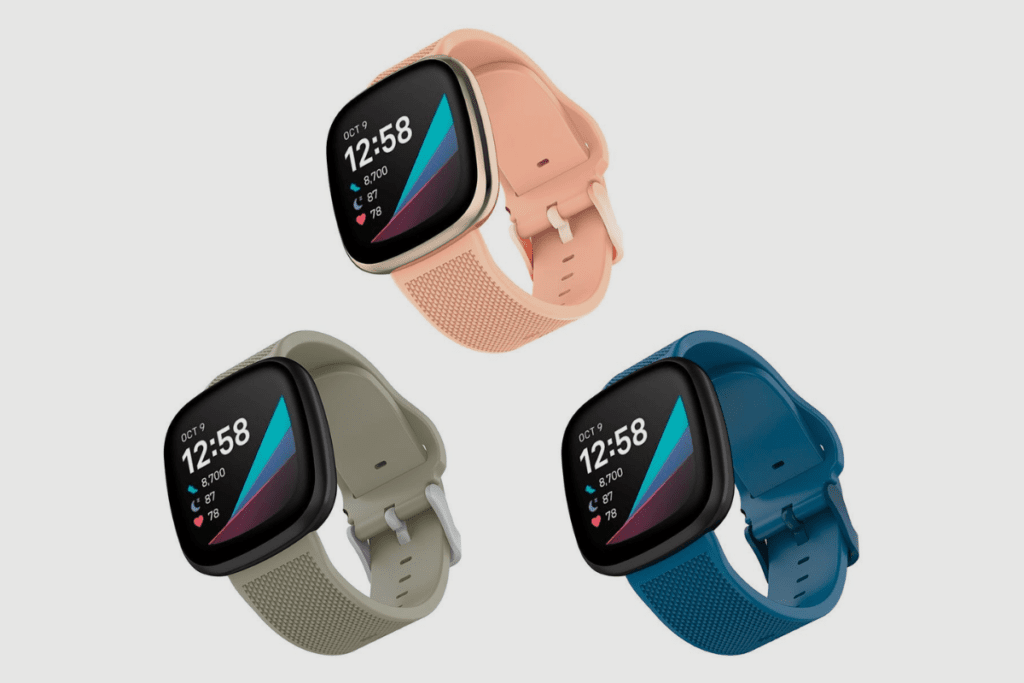 Can Fitbit Versa 3 play music without a phone?
You can play music on your Fitbit Versa 3 without your phone because it acts more or less like a remote control. This smartwatch enables you to control your music and even Pause, Play and skip songs, just like you would on your phone.
How do I text on my Fitbit Versa 3?
Texting on your Fitbit Versa 3 is made easy as the text option is available for Whatsapp, Instagram DMs and e-mails. There are some custom response options that can be changed by heading over to the Fitbit application on your phone and making your own customized messages.
Open the Fitbit application on your phone
Scroll till you see notifications
Select quick replies and make your own custom quick replies for each application as you deem fit. You can also include custom emojis.
Now when you want to reply to a message, all your custom quick replies will be available for you to send.
Does the Fitbit Versa 3 have a speaker?
A major upgrade from the previous version is that the Fitbit Versa 3 has an inbuilt speaker and microphone.
Is Fitbit Versa 2 or 3 better?
Although they look quite similar, all Fitbit Smartwatches have distinct features and as such, the similarities and differences of both Fitbit Versa 2 and Fitbit Versa 3 will be discussed here.
COLOR – The Fitbit Versa 2 has 3 colours which are: black with carbon aluminium, stone with mist grey aluminium and petal with copper rose aluminium while the Fitbit Versa 3 has 5 colour options namely: midnight with soft gold aluminium, black with black aluminium, pink clay with soft gold aluminium, thistle with soft gold aluminium and olive with soft cold aluminium.
DESIGN: The Fitbit Versa 3 has an aluminium casing, one side button and a Corning gorilla glass 3 alongside a curved edged shape contrasting the Fitbit Verse 2.
DISPLAY: Both smartwatches have an AMOLED display but while the Fitbit Versa 2 has a resolution of 300 x 300 pixels, the Fitbit Versa 3 has a resolution of 336 x 336 pixels which means that it is able to show sharper graphics and more text at the same time, especially functional when receiving smartphone notifications.
FAST CHARGING: Fitbit introduced its first quick charging cable with the Versa 3 smartwatch. It is estimated that with 12 minutes of charge, you can get up to 24 hours of battery life.
BATTERY LIFE: Depending on how you use it, the Fitbit Versa 3 guarantees users of up to 6 days of battery life.
CALL FEATURES: Unlike the Fitbit Versa 2, the Fitbit Versa 3 allows you to receive calls on your wrist, provided that your phone is within close Bluetooth proximity.
HEALTH AND FITNESS FEATURES: A major difference here is that the Fitbit Versa 3 has its own onboard GPS which means that users can go on a walk, run or bike ride without their phones and still have their route distance and speed tracked during the workout. Both smartwatches, however, monitor your sleep and give a comprehensive report on your sleeping patterns and quality.
What is the battery timing for Fitbit Versa 3?
The battery timing for this device is approximately 10 hours. The new quick charge feature gives users a full day of power for just 12 minutes of charge and based on how you use your Fitbit Versa 3, it can last for up to 6 days without being charged at all.
What is the price for Fitbit Versa 3?
The Fitbit Versa 3 costs $229.25.
Conclusion
In conclusion, the Fitbit Versa 3 is an upgraded version of the Fitbit Versa 2 and the unique features it encompasses such as the call feature, battery life, fast charging, amongst others makes it a must-have for both Android and iPhone users.
Product Image Gallery