Asus is one of the leading companies that produce electronic devices, including laptops, and they are known for their durable and quality products. The Asus X515EA laptop is one of their popular models.
In this Asus X515EA laptop review, I will be discussing everything you need to know about this product, including its features, performance, and value. 
So, If you are considering purchasing an Asus VivoBook X515 laptop, this review will provide you with the information you need to make an informed decision.
Related Post: ASUS X515JA VivoBook Laptop Review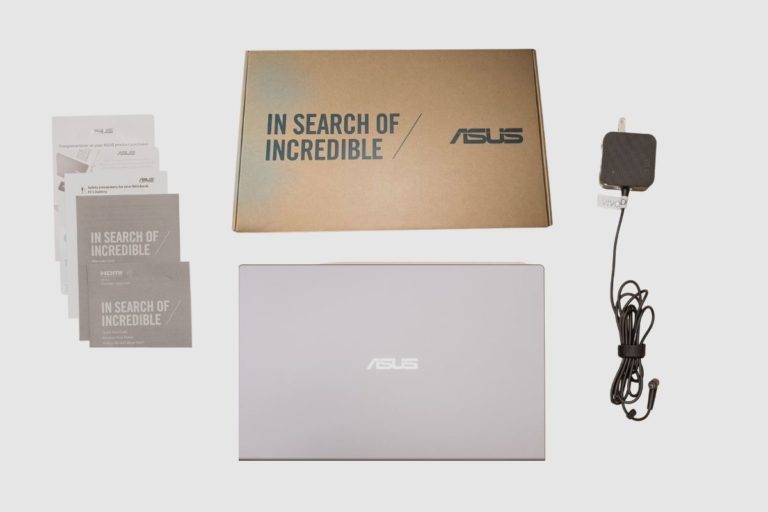 Unboxing The Asus X515EA Laptop
Here are the items that come in the box of a brand-new Asus X515EA laptop;
The laptop itself
1 USB-A to RJ45 gigabit Ethernet adapter
One wired optical mouse
Two device manuals
A backpack (this may vary depending on the country of purchase)
A wired optical mouse (this may also vary depending on the country of purchase).
Design
The VivoBook Asus X515EA laptop design is very sleek and modern. The laptop is very thin and light, making it very portable. I was quite impressed with the overall look and feel of the laptop. 
In terms of look, the laptop is available in two colours: transparent silver or slate grey finish; however, I think the laptop looks great in both colours. Also, the laptop has a very good keyboard and trackpad.
Build Quality
The build quality of the Asus X515EA laptop is not in the range of high-quality laptops. The plastic casing is prone to scratches, and the finish is not as good as some laptops. The display and bottom panel have some flex, but this is not a major issue. Also, the laptop is not very sturdy when closed.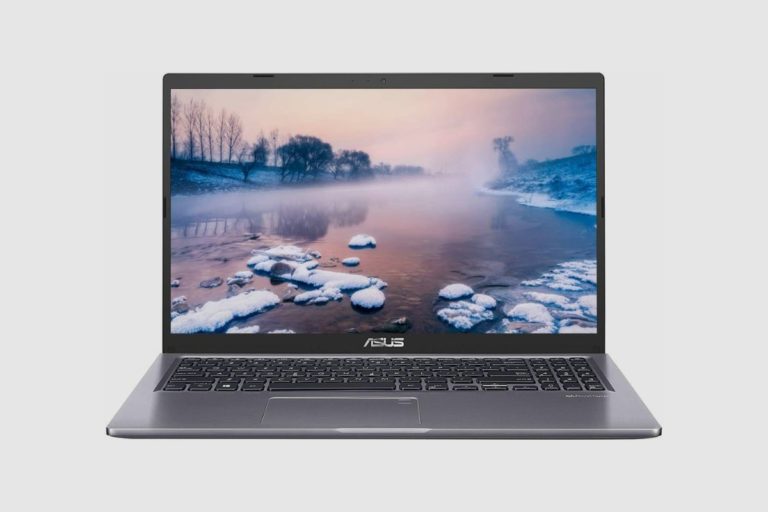 Display
Screen specifications
| | |
| --- | --- |
| Pixel Density | |
| Resolution | FHD (1920 x 1080 pixels) |
| Aspect Ratio | 16:9 |
| Panel Type | IPS panels (1080p IPS) and TN panels (720p TN, 1080p TN) |
| Screen-to-body Ratio | 83% |
| Touch Screen | NIL |
Screen Sizes
In terms of screen size, the Asus X515 laptop comes with a 15.6-inch Full HD display. This should be more than enough for most users, as it offers plenty of space to work with and is still relatively portable. Plus, the Full HD resolution ensures that everything looks sharp and clear.
Refresh Rate
The refresh rate on the Asus X515 laptop is 60Hz, which is pretty slow compared to other laptops on the market. This causes ghosting to be pretty noticeable when playing games or watching fast-paced content. Although it's not the best laptop for gaming or watching movies, it's still a decent option for general use.
Brightness
The Asus X515 laptop has a maximum brightness of 200, making it decent enough for use in some outdoor settings. However, 200 is more of a low end when it comes to brightness.
So if you're looking to use this laptop in direct sunlight, you may want to consider going for other Asus laptops, especially those that come with "Asus OLED laptop displays". They are significantly brighter and will provide you with a better experience in outdoor settings.
Input Device
Keyboard
The keyboard of a laptop is one major factor to consider while making a purchase. After all, it is one of the most important tools for productivity. The Asus X515 has a pretty standard backlit keyboard with 1.4 mm key travel. The inbuilt trackpad is also a plus point. The keyboard is comfortable to use and responsive.
Touchpad
The Asus X515 laptop touchpad is a great addition to any laptop. It is very responsive and moves freely. The only downside is that it does not work as smoothly at the edges. Actions like 'drag' or 'double-tap' sometimes respond slowly, and you can only left-click and right-click at the bottom of the touchpad.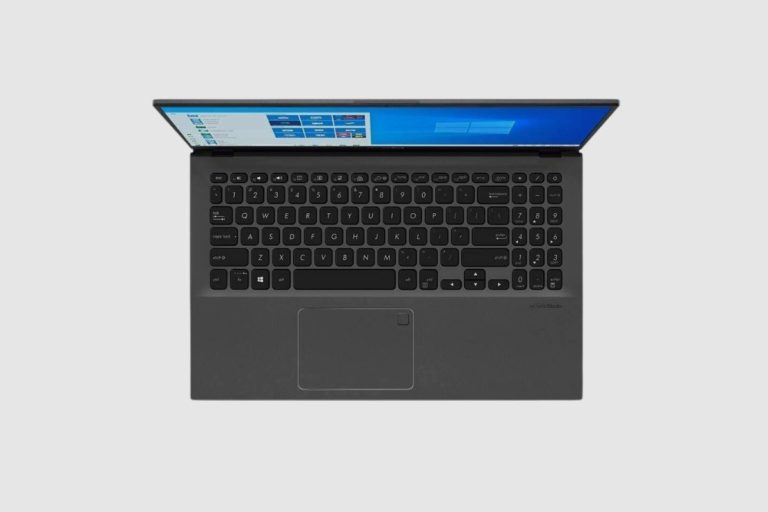 Sound Quality
Speakers
In terms of speaker quality, the Asus X515 laptop speakers are not great, but they are not terrible either; they are just average. The sound is just alright, and there's nothing that really stands out about the speaker's sonic master technology. However, the speakers are nice and loud, which is a plus. Overall, the sound quality is just okay.
Microphone
The Asus X515 laptop comes with a decent built-in microphone that supports Cortana. The double microphone feature enhances the quality of the sound during video calls and also has AI noise cancellation.
Performance
The Asus X515 laptop is a decent laptop for those who want an affordable option that will still allow them to perform all the basic tasks. However, don't expect to be able to do much more than that with this model. Asus does provide some room for upgrading the specs, but the overall performance of the laptop is still limited.
Processor
One of the most important aspects of a laptop is its performance. The Asus X515 laptop comes with a range of Intel processors, from the Intel® Core™ i3-1115G4 Processor 3.0 GHz (6M Cache, up to 4.1 GHz, 2 cores) to the Intel® Core™ i7-1165G7 Processor 2.8 GHz (12M Cache, up to 4.7 GHz, 4 cores).
This gives the user a range of options to choose from, depending on their needs. The laptop is also equipped with a good amount of RAM, which helps in multitasking and handling heavy workloads.
However, bear in mind that if you choose to go for the Intel Core i3 processor, your laptop will not be able to handle heavy tasks such as video editing or 3D rendering. For light workloads, such as day-to-day browsing, watching videos, and editing documents, the Intel Core i3 processor is more than enough.
Hinge Of The Asus X515EA Laptop
The laptop hinge of the Asus X515 is very discouraging. The screen moves unsteadily while typing, even though it might appear effortless. Its range is 130 degrees, with decent stability. One-finger lift is not foreseeable.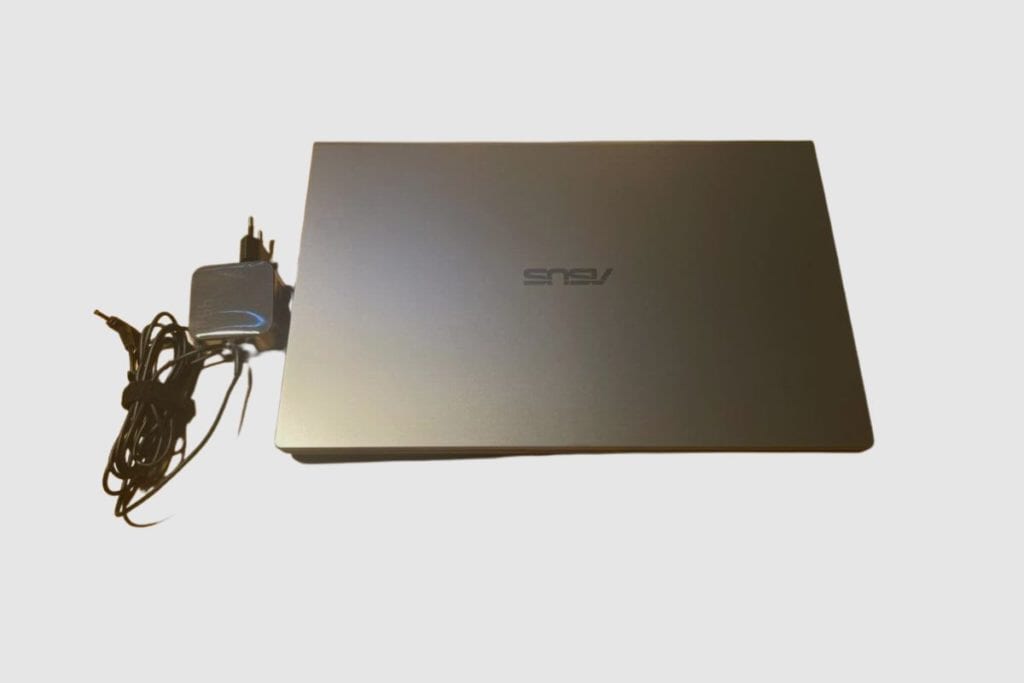 Battery Life
Laptop battery life is another important factor to consider when choosing a new device. The Asus X515 laptop has a 37-watt-hour, 2-cell lithium-ion battery. This is somewhat smaller in comparison with other competitive models. You cannot get a day's use out of the battery. The average operation time on a full charge is about 4 hours, which varies depending on what you are doing on the laptop.
Features Of The ASUS VivoBook X515EA Laptop
Here, I will be talking about the Asus X515 laptop and some of its features. Although the laptop is more of a low-end one, it still has some features that make it a decent choice. For starters, it comes with a version of Windows that is specifically designed for low-end hardware – Windows 10S. S mode generally runs well because it requires fewer resources for the system to run.
However, it does come with a lot of downsides in terms of limitations. The good news is that you can choose to opt-out of the S mode for free, but bear in mind that it's a one-time switch, which means you don't have the option of going back to S mode once you have activated the full version of Windows 10 on the system.
The ASUS X515 laptop also comes with some pre-installed software applications, which include Microsoft Office, MyASUS, and AudioWizard. Microsoft Office is a 30-day trial of Microsoft's Office Suite. MyASUS is an application that optimizes the laptop system and also keeps the firmware on your laptop up to date.
MyASUS also provides you with access to some of the system settings, including information regarding the laptop's warranty. AudioWizard is an app that allows you to customise the laptop speakers' sound and EQ settings. There are also some other pre-installed applications for entertainment.
One other feature that some of the ASUS X515 has is a fingerprint sensor. This is a great feature to have if you want an extra layer of security. Although, as I said, not all models of the ASUS X515 have this feature, so you will have to check before you buy if this is something that you are interested in.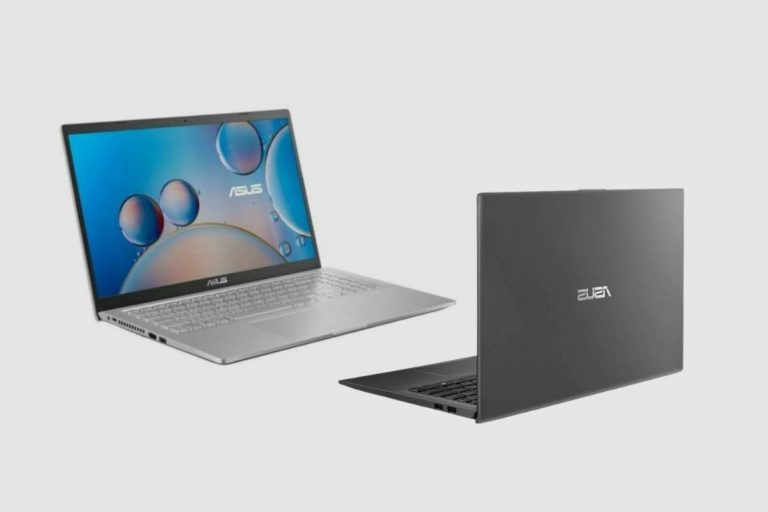 Specifications
| | |
| --- | --- |
| RAM (Memory) | 8GB (4 GB DDR4 on board, 4 GB DDR4 SO-DIMM). Total system memory is upgradeable to:12 GB |
| Storage | 128 GB, 256 GB, 512gb |
| CPU | Intel 15 core i3-1005G1 |
| GPU | Intel UHD graphics G1 |
| Dimensions | 36.02 cm x 23.49 cm x 1.99 cm – 1.99 cm (14.18'' x 9.25'' x 0.78'' -0.78) |
| Weight | 1.8 kilos (4 pounds; 3.97lbs) |
| Colours | Slate Grey, Transparent Silver, Peacock Blue. |
The Camera
The Asus X515 laptop is equipped with a VGA 720p HD Camera. This webcam is not the best, as it is very narrow and has a low resolution. It cannot capture any details, and the colours appear washed out.
Portability
In terms of portability, the Asus X515 is one of the lightest laptops on the market, weighing in at just 1.8 kilos. It's also very slim, making it easy to carry around with you. The power adapter is also very light, making it easy to fit into most bags.
Serviceability
Most parts on the Asus X515 laptop can be replaced or upgraded, making it a very serviceable device. For example, the RAM can be replaced or upgraded, and the NVMe m.2 SSD drive can be upgraded to a larger capacity. Additionally, the 2.5-inch storage drive can be replaced or upgraded, though you'll need to purchase the necessary mounting cable separately.
Although, it's not recommended that you carry out any of these upgrades yourself unless you're confident in your abilities, as they can be quite complex, and you may end up damaging your laptop if you're not careful.
Overall, the Asus X515 laptop is a very serviceable device that can be easily upgraded or repaired as needed.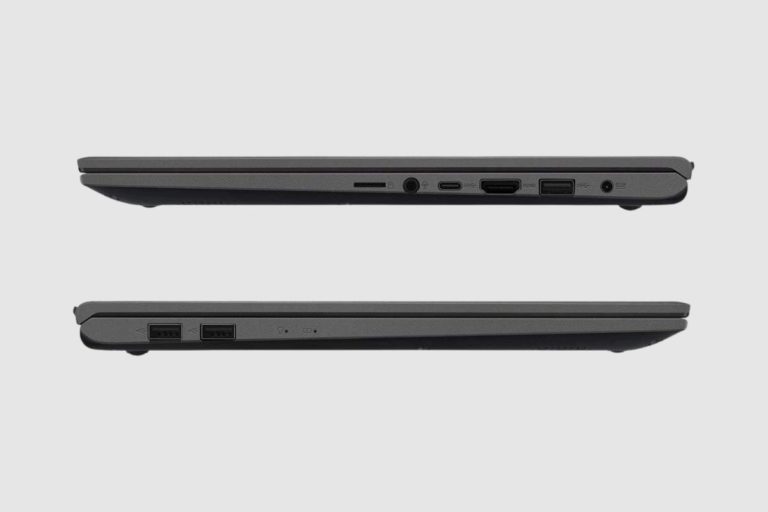 Connectivity
Ports
The X515 laptop has several ports that are located on the right and left sides of the device.
On the right side, there is the hard disk LED, power light, combined headphone and microphone jack, 2 USB type A ports and a Kensington lock.
The left side of the device contains the power input, one type C USB 3.2 gen 1 port, heat pipes to cool the CPU and graphics, HDMI 1.4 and one type A 3.2 gen 1 USB port. Underneath the device, there is the fan intake on one side and the exhaust on the other.
Wireless Connectivity
The wireless connection of the laptop is thus: Wi-Fi – 5 (802.11 ac) and Bluetooth 4.1. It uses an Intel wireless AC9461 adapter. These specifications aren't the newest, but they are good enough to connect with current networks. The laptop also has an Ethernet port, so if you need a wired connection, that's also an option.
Software
The Asus X515 laptop comes with Windows 10 version 20H2 with the OS build 19042.1237 but has the option to upgrade to Windows 11 for free.
Pros
The laptop is very convenient to move and carry due to its lightweight and thin design.
It handles reflection greatly.
You can use the 'My Asus' application to sync your phone with your laptop
It is not costly as it retails for £498.
Cons
The battery on a full charge can only last 4 hours.
The webcam is disappointing at 720p
The display does not have enough brightness
The processor is only strong enough for light workloads
The type C USB port does not support charging or video output.
Buyer's Guide – Asus X515EA Laptop Review
One of the first things you should consider before buying the Asus X515 is what you intend to use it for. The laptop can only handle a light workload. The common issue you would come across with this laptop is easy to damage due to liquid spillage or a surge in power supply. You may also experience your laptop operating at a slow speed, but this can be fixed by upgrading it. Most damages that can occur with your laptop can be repaired, and there are available parts for replacement if anything is completely damaged.
How much is the Asus X515EA Laptop?
The ASUS VivoBook X515EA laptop retails for about $378 (£349.99). Although, the prices depend on where you are buying it from.
Asus X515 available series
The Asus X515 is available in different series, and some of the popular ones are the X515JA, X515MA, and X515EA. Each series has different features and specifications.
Is the Asus X515EA Laptop Worth Buying?
The ASUS VivoBook X515EA laptop is a decent low-cost laptop that is good for none resource-intensive activities. It is a good choice for students or anyone who just need to perform basic laptop functions. 
The laptop has standard features that are needed to perform basic laptop functions and gives a decent user experience. It is also cost-effective in terms of the purchase price and repair costs.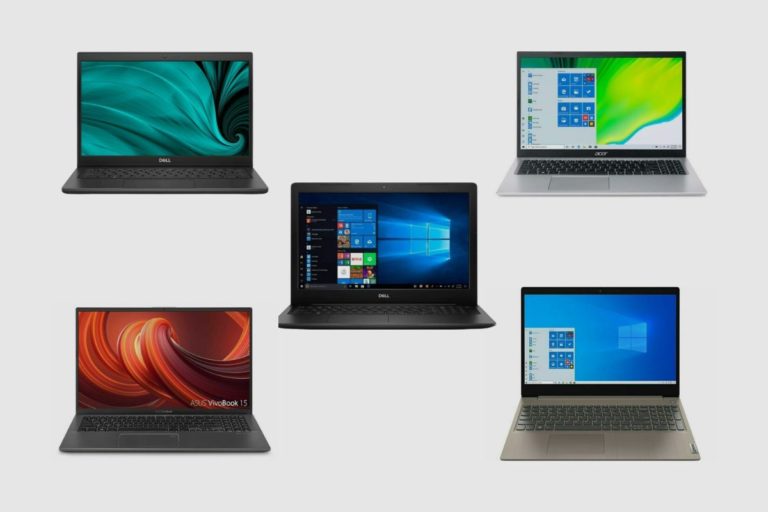 5 Alternatives to VivoBook Asus X515EA
Dell Latitude 3420: it has a better battery and a bigger resolution. The speakers are louder, and the touchpad is better to use.
Dell Inspiron 15 3000 (2020): both laptops have very similar features, but the Inspiron has more comfortable features, such as the keyboard, which is easier to use, and the touchpad has more touch sensitivity. The webcam of Inspiron also has better quality, and it is easier to upgrade its memory and storage. Although the Asus X515 has a type c USB port, it can only be used to transfer data and cannot be used to charge or output videos.
Acer Aspire 5 15 (2020): the features that distinguish the Acer Aspire 5 15 from the Asus X515 are the same as those of the Dell Inspiron 15 3000. The only additional difference this laptop has is that it has a better port selection. Its HDMI 2.0 allows a 4k @ 60Hz video output. It also has a larger battery.
Asus VivoBook 15: this laptop has a very comfortable style, a larger trackpad and a bigger screen.
Lenovo IdeaPad 3 15 (2020): the overall performance is better, the screen is brighter, the display has accurate colours, the webcam apprehends more images, and the battery lasts longer.
Also, the ASUS VivoBook X515JA laptop is another better and more durable alternative laptop to the Asus X515.
Conclusion
Overall, the Asus X515EA laptop is a decent laptop for everyday use, and it's much more affordable compared to other laptops on the market. It's portable and has a decent battery life, making it ideal for anyone who needs a laptop for light tasks. However, it's not suitable for more demanding tasks such as video editing due to its lower specs.
In the end, it all depends on your needs. If you need a laptop for light tasks and portability is a priority, then the Asus X515 might be a good choice. However, if you require more power for things like video editing or gaming, then you'll need to consider other laptops with better specs.
I hope you found this Asus X515 laptop review helpful.
FAQ's – Asus VivoBook X515EA Laptop
Q: How much is the ASUS X515?
A: The Asus X515 laptop costs about $378 (£349.99), depending on the retailer you are buying the laptop from.
Q: Does the Asus x515 have a touch screen?
A: The Asus X515 does not have a touch screen.
Q: Is the Asus X515 upgradeable?
A: it is upgradeable in terms of windows, storage, NVMe drive and RAM
Q: What Windows does the X515 use?
A: it uses Windows 10, which can be upgraded to Windows 11 for free.
Q: Does the Asus X515 have a keyboard light?
A: The laptop uses a backlit keyboard.
Q: What is Windows 10 S Mode?
A: Windows 10 S mode means you would only be able to install applications from the Microsoft Office store. It means that you cannot install anything unless it comes from the Windows store. The purpose of S mode is to protect you and the applications you installed.
Q: Can you switch from Windows 10 S Mode?
A: It is possible to switch from the S mode to the full version of Windows 10 for free. All you have to do is create a new Microsoft account if you do not have one or log in to your Microsoft account if you have one.
Go to "settings", then go to "update and security". Next, you go to "activation", and then you click on "go to the Microsoft store". Search for "switch out of s mode", click on "get", and then log into your Microsoft account.
Then click on "get" near the "switch out of S mode", after which you will restart your device, and then you can operate it normally with no download or installation restrictions.
Image Gallery – Asus X515 Laptop Review