The Samsung Galaxy Watch 4 smartwatch is one of the good quality smartwatches available in the market, with cutting-edge hardware designed by Samsung and new software developed with Samsung and Google together.
The Samsung Galaxy Watch 4 is one of my favourite smartwatches; however, it is the first time I have seen Samsung embrace Wear OS Software. You cannot say it is a typical wear OS watch but it is called one UI Watch 3 which is built by Samsung with the help of Google.
In terms of its specifications, the Samsung Galaxy Watch 4 looks like an excellent option if you're someone who wants a device that offers lots of fitness tracking options, plus loads of additional smart features.
The good news is Samsung has largely nailed the user interface. The Samsung Galaxy Watch 4 has some great features in terms of hardware, but its design isn't quite up there yet. However, if you're looking for something simple, the Samsung Galaxy Watch 4 might be worth checking out.
One major drawback is that the watch has been designed to work exclusively with Samsung phones.
Wear OS has also made some new avenues available for the Galaxy Watch family that Tizen could not.
The watch has an always-on display feature that shows time, date, weather conditions, and other information without pressing any buttons or touching the screen.
You'll be able to see notifications from your phone on the AOD as well as get quick access to apps like Google Assistant.
With the Google Play store for Wear OS, you'll be able to use voice commands for everything from making calls to paying at checkout counters without ever having to look down at your phone.
With its new processor, improved battery life, and additional fitness tracking capabilities, the Galaxy Watch Active 2 offers even better performance than before.
This year Samsung Galaxy Watch 4 is improved and powered by the Exynos W920 chipset, ensuring better efficiency and faster performance. It's a 5nm chip replacing its predecessor (the 10nm Exynos 9 series). It also supports LTE Cat 9 for faster downloads.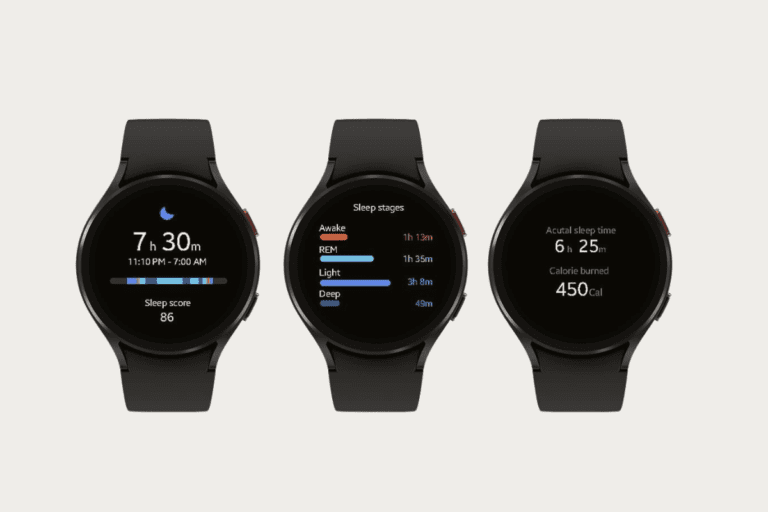 Samsung Galaxy Watch 4 Smartwatch Design
There are two different models for the Samsung Galaxy Watch 4. I tested Samsung Galaxy Watch 4 with a black aluminium case and an analogue rotating bezel.
The Galaxy Watch 4 has an identical design to its predecessor, the Galaxy Watch Active 2, except for one important detail – the screen cover is now flat instead of slightly curved like before.
As a result, the swipe gesture on the virtual bezel feels more like an annoyance than it does joy. As you glide across the surface of the glass, you can sense the sharpness of the metal edge of the casing. The black bezel will stand out more prominently against a light background colour such as white or yellow with a flat display screen.
Like the Galaxy Z Flip 3 5G and Galaxy Z Fold 2 5G, the Galaxy watch 4 is made from an advanced metal called "Armor Alumina" (which means "armor" in Latin). It has been claimed by Samsung to be up to 10 per cent stronger than the previous generation of aluminium.
The metal case itself feels like it was well-made. Its case features a two-tone finish – its inner portion is always shiny black, whereas its exterior part (the outside of the case) and the lug caps are matte. You can choose between black, silver, and pink gold.
I don't know if some people would prefer this matte black finish, but I think that shiny finishes just look better than mattes. It's not really expensive, but it doesn't last long either. While I haven't scratched my Samsung Galaxy Watch 4 surface yet, it seems like it might be harder to scratch than its anodised counterpart.
The Galaxy Watch 4 classic case is made of stainless metal, which feels distinctly more premium than the aluminium cases of the Watch4, Armor or not. It comes in black and silver variants and features a rotating bezel, which isn't a great control option but adds to the overall perception of quality.
On the watch face, there are two buttons – the one at the bottom has a red accent, so it's the button for accessing the deep features. They're well labelled and easily found.
I got a simple black silicone watchband for my Samsung Galaxy Watch 4 smartwatch. It has a diameter of 20 mm (0.79 inches) and comes in two different lengths: 44 mm (1.75 inches) and 46 mm (1.77 inches). These dimensions match the ones used by the previous generation of watches, so if you already own one of these models, then there shouldn't be any issues using them together. If you're switching between two different sizes (45 mm vs 46 mm) of Samsung Galaxy Watches, you won't be able to transfer any watch brands across devices.
For the watch price tag, the silicone band is quite simple and not really worth it. You would not be surprised by our claim that it was a cheap replacement band for an unknown brand name we found online.
The underside of the Samsung Galaxy Watch 4 has a bulge and slight protrusions. It has gadgets galore, including the Bioactive Sensor, an electrocardiogram (ECG) monitor, blood pressure cuff, pulse oximeter, Bluetooth speaker, Wi‑Fi module, and even a Qi wireless charger.
As a watch, the Samsung Galaxy Watch 4 Classic has been certified for up to 50 meters of water resistance. So if you're planning on taking a dip in the pool or going for a swim, then there shouldn't be too much worry.
The Display
It has a bright, vibrant AMOLED screen.
It has always-on displays.
It has a built-in microphone and speaker.
It has an even simpler look than its predecessor, but it gives special attention to the screen itself.
The Samsung Galaxy Watch 4 smartwatch looks great under any light conditions with its OLED display. It features many customisable options for both the look and feel of the device itself, including different colour schemes and watches face designs.
The smaller 40mm version has 1.2 inches, 396×396 panel display, whereas the larger 44mm variant comes with 1.4 inches, 450×450.
There is still a fairly thick black bezel around the edges of the display – One advantage of the classic version is that there's no notch at all; however, if I look closely, I find out that the screen has not been shrunk down quite a bit compared to its predecessor.
Another benefit of choosing OLED technology is that it allows for an Always On Display (AOD) feature, which keeps certain things like the time displayed even when the screen isn't turned on. However, because AOD drains batteries faster than traditional LCDs, I'd only suggest using one if you're consistently plugging into power every day.
Galaxy Watch 4 Smartwatch Sizes
It has two display sizes, one at 1.2 inches and another at 1.4 inches. With its large dial and classic design, the Classic model has a bigger watch face than the Sport models.
It comes in two sizes — 46mm and 42mm — so there's something for everyone here; the standard model size has a 44mm and 42mm face. It has an extremely thin case, making it one of the slimmest smartwatches available today.
Aside from the design difference between the Samsung Galaxy Watch 3 against Samsung Galaxy Watch 4 Classic, both models share similar features. I'll compare the Samsung Galaxy Watch 3 with the Samsung Galaxy Watch 4 Classic. With the rotating bezel back, there's no noticeable change in aesthetics from before. Their appearance has changed slightly from last year's models.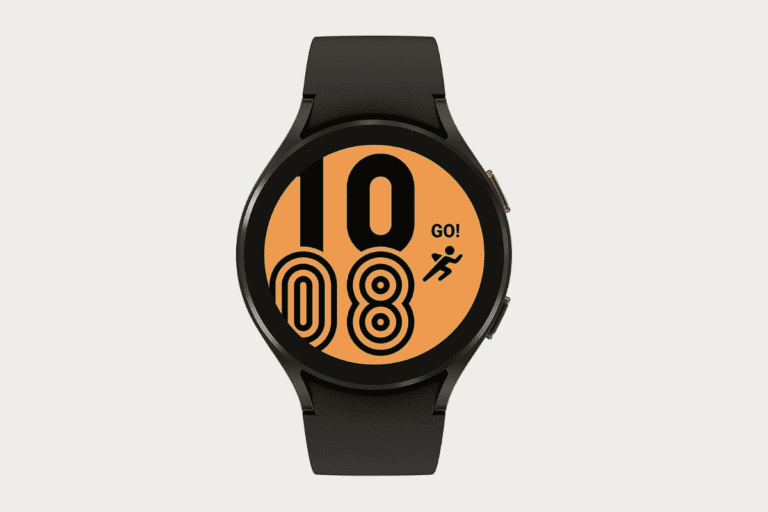 The Smartwatch Health Features
One of the most important features of the Samsung Galaxy Watch 4 is its extensive fitness-tracking abilities. It tracks everything from workouts to health, giving you helpful feedback and data.
Before moving forward, let's take a look at some negatives first. It works with any Android device to help keep tabs on things like heart rate, body fat percentage, blood oxygen level, and even sleep quality. You just need to download the free app called "Samsung Health" from Google Play. However, if you own a Galaxy Smartphone, you'll be able to use the ECG app by downloading it directly from the Galaxy Store. It is a disadvantage that could put off many buyers for those who have no Galaxy phone.
It uses Samsung health to track steps taken, calories burned, distance travelled, heart rate, sleep quality, stress level, water intake, and more. Samsung Galaxy Watch 4 automatically recognises when you walk for several minutes and begins tracking your heart rate during the workout so that you can see just how hard you were really working out without looking at any numbers.
After working out, you can check out some basic metrics, such as your average heart rate, which zone(s) your heart was in during exercise, etc.
If you're hiking alone, then a hike gives you the pace of walking (pace), the elevation data (elevation), your heart rate data (heart rate), and a GPS track of your progression on a map (GPS).
Let's move on to health tracking. This year the biggest new feature of Samsung Galaxy Watch 4 BMI (Body mass index) tracking. It breaks down your body's muscle, fat and metabolic rates and combines them into a neat score.
Usually, a DEXA/DEXA scan (bone density measurement) will be conducted using an x-ray device that takes in your weight and conducts small electrical charges through the soles of one's feet to determine bone mineral content.
Because the Galaxy Watch 4 can't perform any calculations itself, it needs to ask you for your weight each time it wants to calculate something else. So, It's not accurate without knowing one's current weight.
I performed an electrocardiogram (ECG) test that showed no abnormalities. Well, not exactly. The Watch4 won't be able to detect atrial fibrillation unless there is an irregularity in your heart rate. If you don't have any irregularities, then you shouldn't worry about
On the watch itself, sleep tracking is very advanced. Your watch tells you when you've slept for an entire night. It doesn't tell you how long each individual hour was spent sleeping. After which, there's a breakdown of the actual sleeping hours, broken down even further into REM sleep, Light Sleep, and Deep Sleep. It monitors your heart rate when you sleep and estimates how many calories you've burned during the day.
Galaxy Watch 4 Performance
Samsung Galaxy Watch 4 is incredibly quick at loading up apps — so quick, in fact, that if you don't pay attention, you might miss something important. It isn't always as quick as the newest Apple watch, but it still feels good. It appears that the new chipset will make it easier for future models from Google to feel more responsive than previous ones.
It takes about half an hour to charge up fully, but it'll last most of the day once charged.
With a dual-core 1.18GHz chipset, 1.15GB of RAM, and roughly 7GB of available storage, it's a pretty well-rounded smartwatch as far as performance is concerned.
The Samsung Galaxy Watch does not perform particularly well for a smartwatch, but it's good enough. It has a dual-core chipset of 1.18 GHz, which means it runs faster than most Android Wear watches out there. It has 1.15GB of RAM and just under seven gigabytes (7 GB) of internal memory. Yet, it is not so important for a Smartwatch.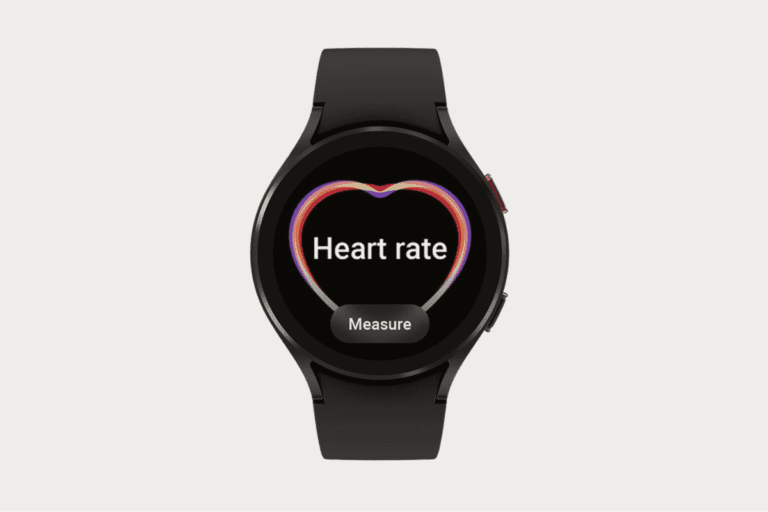 The Battery Life
Samsung Galaxy Watch 4 battery life is good enough; I've tested the 40mm version of the device with a 247 mAh battery, which is identical to the previous year's 40mm version. The larger 44mm comes with a 360 mAh battery, which is slightly smaller than the previous version's 341 mAh battery.
You probably won't get more than two days out of one full charge. I logged my workouts at around an hour and thirty minutes long and then went to bed with the watch on so that it could track my sleep patterns. After my morning commute to work, approximately 15% battery remained.
When I wore the watch for an entire day (with no workout) but did not track any sleep, I saw the percentage go up to almost 50%.
You can get about three full days out of the Samsung Galaxy Watch 4 if you don't turn off its Always On feature. Larger models with bigger batteries may be able to achieve a couple of extra hours here and there, yet they will probably get about the same up to 2-day battery life.
The Features
The new Galaxy Watch 4 runs on the completely revamped Wear OS platform from Google and Samsung. It features an improved design and some useful new features like automatic activity recognition.
It's clear why Samsung chose to go with Google's operating system instead of its own homegrown one — Wear OS has been more successful than Tizen ever was. And now, there are plenty of reasons to choose the Samsung Galaxy Watch 4 over any smartwatch running Wear OS.
You can indeed get Wear OS versions of your favourite Android apps from the Google Play store. There isn't an app store full of thousands of apps available on Google's WearOS platform, but some of the most popular ones have been made specifically for wearables like watches.
Unfortunately, despite its great features, the watch has some flaws. You cannot use the Galaxy Watch 4 on an iPhone, but its best and most interesting features—like the ECG readings and blood pressure measurements—are only available when using a Samsung device.
You can pair the watch with any Android smartphone, but using a Samsung is best for Galaxy Watch 4.
If you want to pay for things using Google Pay on the Galaxy Watch 4, then it will work without any hassle, but it will also suggest you use Samsung pay. Both payment systems can be used effectively for their intended purposes.
You can use both incoming and outgoing calls on the Samsung Galaxy Watch 4. Hearing myself say something surprised me, but the quality of the sound from the onboard mic was good enough for me to hear myself well.
Connectivity
The Samsung Galaxy Watch 4 allows users to connect their smartphones using Bluetooth technology. Samsung Galaxy Watch 4 allows you to use its 4G connection so you can still stream music, send messages and attend calls without using your phone.
The Specifications
Following are the Specifications of the Samsung Galaxy Watch 4: –
Colour
Galaxy Watch 4 44mm: Black, Green, and SilverGalaxy Watch 4 40mm: Black, Pink Gold, and Silver
Dimensions & Weight
Galaxy Watch 4 44mm: 44.4 x 43.3 x 9.8mm (Excluded the health sensor)
30g (Armor Aluminum, without strap)Galaxy Watch 4 40mm: 40.4 x 39.3 x 9.8mm (Excluded the health sensor)
26g (Armor Aluminum, without strap)
Display
Galaxy Watch 4 44mm: 1.4″ (34.6mm) Circular Super AMOLED (450×450)
Full Color Always On Display

Galaxy Watch 4 40mm: 1.2″ (30.4mm) Circular Super AMOLED (396×396)
Full Color Always On Display
OS
Wear OS Powered by Samsung
AP
Exynos W920 Dual Core 1.18GHz
Memory
1.5GB RAM + 16GB Internal Memory
Connectivity
LTE, Bluetooth® 5.0, Wi-Fi 802.11 a/b/g/n 2.4+5GHz,
NFC, A-GPS/GLONASS/Beidou/Galileo
Durability
5ATM+IP68/MIL-STD-810G
Sensor
Bioelectrical Impedance Analysis Sensor, Accelerometer, Barometer, Light Sensor, Optical Heart Rate Sensor, Gyro Sensor, Geomagnetic Sensor,
Electrical heart sensor
Compatibility
Compatible with Android 6.0 or higher, RAM 1.5GB above
Pros
The pros of the Samsung Galaxy Watch 4 are as follows:
Many fitness trackers include lots of health tracking features
Great screen, fast processor
The display is clear, sharp, and doesn't flicker.
WearOS has some really good software support, and I like all the sensor data available through its API.
So far, great watch faces!
Cons
The cons of the Samsung Galaxy Watch 4 are as follows:
Replace the default strap right away.
It's not big enough to last through several days without charging, but it isn't small enough to recharge fast either.
You'll need a Samsung phone for ECG and blood pressure features.
There's no Google Assistant support yet.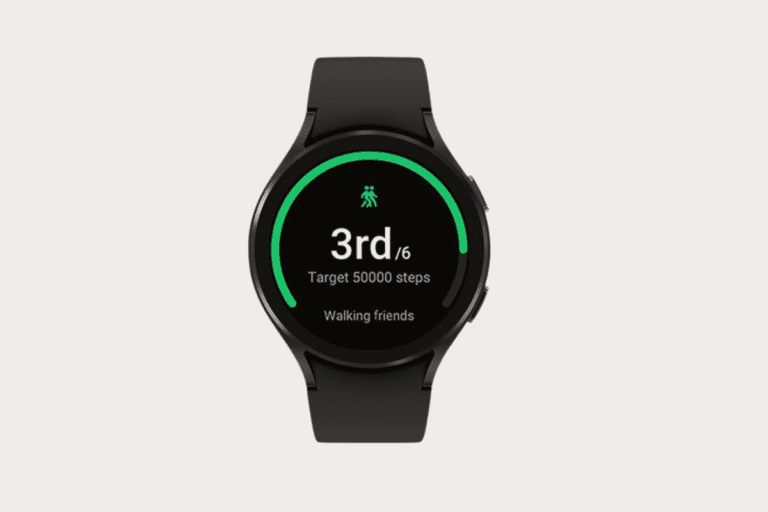 Buying Guide
Buy it if:
If you already own an Android phone from Samsung, you'll be able to use some of the best features available for the new watch.
With its new operating system, Samsung has combined the best features from both Android Wear and Tizen into one platform.
It doesn't have the highest spec'd out fitness watches available, but it has everything else you'll want from one.
Don't buy it if:
If you own an iPhone, you might be disappointed that Samsung no longer supports its devices on the Galaxy Watch 4. As for compatibility issues between different phone models, certain things may not be compatible across devices.
You don't really need the new version if you already have an older one. It doesn't offer anything particularly unique, which means it might not be right for you either.
Another one of the most exciting unique features of the Galaxy Watch Series is its rotating bezel, which isn't available on the standard Galaxy Watch 4. If you want the classic watch face, you'll need to consider the Samsung Galaxy Watch 4 Classic.
How much is the Samsung Galaxy Watch 4 Smartwatch?
The price of the Samsung Galaxy Watch 4 starts from $129 (40mm) and $159 (44mm).
Available Series
There are four series available for Samsung Galaxy Smartwatches, i.e. Galaxy Watch 4 Bluetooth (44mm), Galaxy Watch4 Classic Bluetooth (42mm), Galaxy Watch4 Classic Bluetooth (46mm), Galaxy Watch3 Bluetooth (41mm), Galaxy Watch3 Bluetooth (45mm).
Is Samsung Galaxy Watch 4 worth buying?
Its headline feature is a revamping of its software that combines both the look and feel of its own Tizen operating system and the functionalities of Google's Android Wear platform. It has great fitness features, long battery life, and an easy-to-use interface. It has some compatibility issues, but overall, the Galaxy Watch 4 is a pretty exciting iteration of Samsung's top smartwatch formula, so if you want one, go for it!
Conclusion
With its new features like Always-on Display and improved fitness tracking, the Galaxy Watch 4 has become one of our favourites for Android Wear watches.
It's not perfect — but at least for now, if you want a watch that has better fitness features than most Android watches today, then maybe consider buying one of these instead.
It would be nice if there were some ways for non-Samsung Galaxy owners to get their hands on these features too. If you're already using an Android phone, the Samsung Galaxy Watch 4 is probably the best option available.
So overall, in my opinion, Samsung Galaxy Watch 4 is the best Watch for Android users. It is easy to use, has many more features and fitness tracking.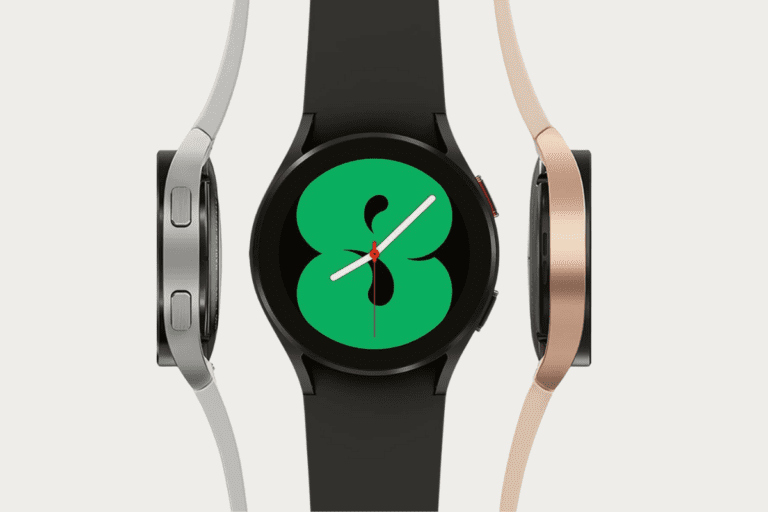 FAQs (Frequently Asked Questions)
Does the Galaxy Watch 4 have a speaker?
Yes, there is a speaker in Galaxy Watch 4; you'll be able to answer incoming phone calls.
Can Galaxy Watch 4 make calls without the phone?
Yes, Samsung Galaxy Watch 4 has an LTE connection, so you can use its built-in speakerphone feature even when there's no cellular coverage nearby for calls. Samsung has introduced an embedded SIM card called eSIM (embedded Secure Identification Module) for seamless connectivity across devices for its watches.
Can the Galaxy Watch 4 play Spotify?
Spotify Offline Playback for Samsung Galaxy Watch 4 is one of the best features available. It lets users listen to their favourite songs without needing an Internet connection. If you're running without your phone, then it's easy for your watch to play music stored there instead.
How much storage does Galaxy Watch 4 have?
The Galaxy Watch 4 comes with 1.5 GB of RAM and 16GB of internal memory, which is twice as much as the previous generation (1GB of RAM and 8GB of internal memory). The Galaxy Watch 4 is one of the best options for most people for storing lots of music.
Does Galaxy Watch 4 have an o2 Sensor?
The new Samsung Galaxy watch has an integrated heart rate sensor that allows easy monitoring of your blood oxygen level. Thanks to a new, first–of–its kind bioactive sensor, we're able to measure.
Samsung Galaxy Watch 4 Smartwatch Photos