Released in January 2021, the Honor MagicBook 14 is a laptop with top-end specs powered by the latest 11th gen processors, Intel core i7 processor and Intel Iris Xe graphics. 
This laptop presents a 14-inch matte-finish screen size that offers a 180° flat viewing angle option, alongside a privacy webcam hidden in between the keyboard.
This laptop offers great convenience with its fingerprint reader on the power button, giving you quick access and maximum security. There is also a comfortable, less clacky tactile keyboard which guarantees superb performance.
The MagicBook 14 by Huawei has impressive features that provide users with an exceptional user experience.
The Honor MagicBook 14 laptop comes wrapped up in a cardboard box that contains a USB-C charging cable brick with a quick start guide, which is packed nicely to present a standard package.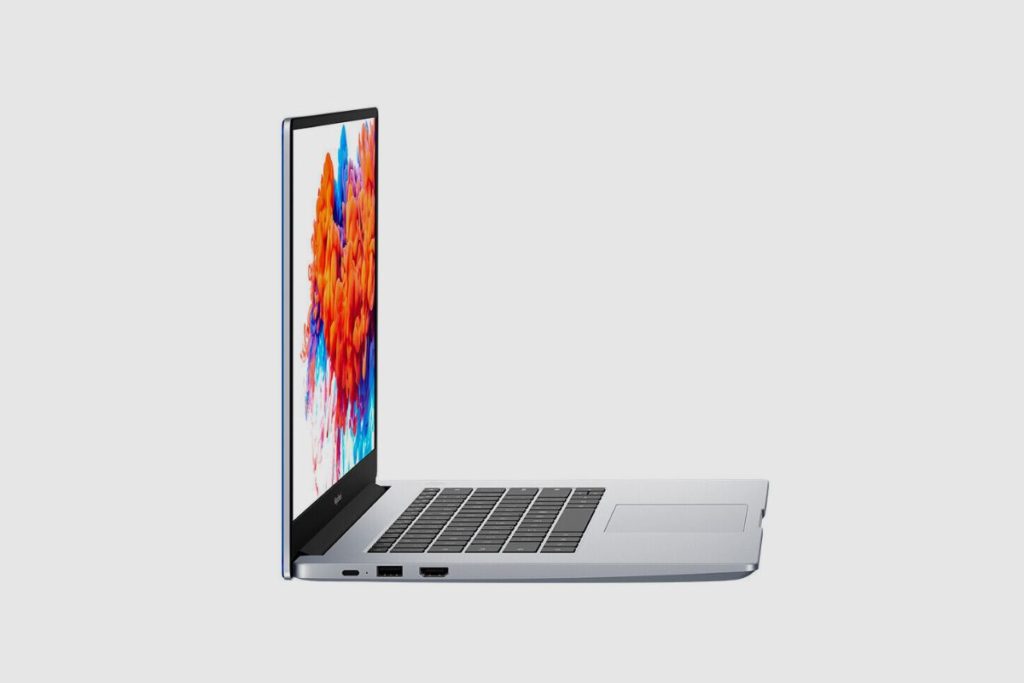 Design
The Honor MagicBook 14 laptop has two nice colour variants -space grey and silver, which gives users the opportunity to choose the colour that suits their desired tastes. This laptop has a premium aluminium unibody design and weighs 1.38kg (3.04lb) with a thickness of 15.99mm, which makes it relatively portable. 
It has a 4.8mm thin bezel around the three sides that give a screen-to-body ratio of 84%. The thin bezel at the top means there is no space at the top for a webcam, but still, this laptop is attractive, especially since it comes with a blue bevelled edge lid that matches the logo, giving it nice aesthetics and a stylish ultra-light design.
Keyboard
The Honor MagicBook 14 keyboard offers a great typing experience, as it is fast and responsive. It has a top row of functions and function keys that enable quick access to different controls. The keyboard of this laptop is backlit, and it has two brightness levels, which further enhances visibility on the keyboard, particularly in dim places.
On the keyboard area, a power button is placed on the right embedded with a fingerprint reader, which grants a fast login to the laptop.
In the middle of the row of function keys on the keyboard, a webcam is sited in the middle; a single light press on it makes it pop up, and it goes back in place when not in use.
However, the pop-up web camera has a fixed angle for video calls which is not suitable for many users.
The trackpad has a reasonable size that makes it super-responsive to clicks, touches, and gestures.
Interfaces/ports
The Honor MagicBook 14 comes with the following ports;
1 USB 3.2 Gen 1 Type-A port
1 USB-C port
1 USB 2.0 Type-A port
1 HDMI port
1 audio jack ( 3.5mm)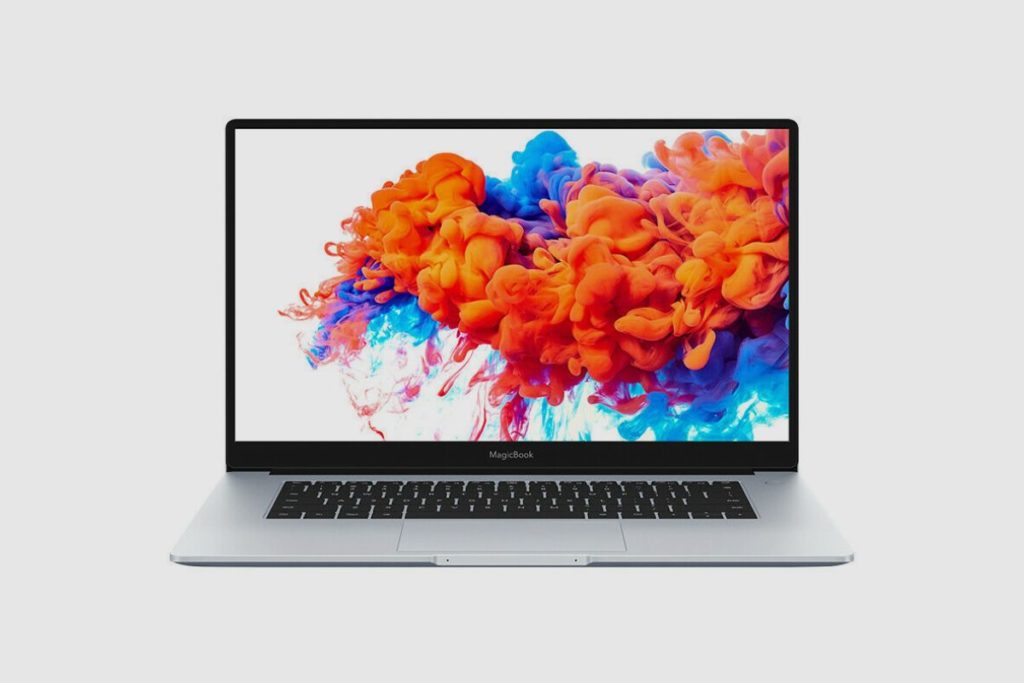 Display
This laptop has a screen size of 14 inches with a Full HD resolution display that guarantees users of an immersive viewing experience.
With a screen resolution of 1920 x 1080, a brightness rating of 300 nits, 76% AdobeRGB & 78% DCI-P3 colour, and a display consisting of a 100% sRGB rich colour gamut, the visuals on this laptop are great. The 84% screen-to-body ratio also ensures a wide viewing angle.
It presents a refresh rate of 60Hz that can be toggled to 48Hz or 90Hz by clicking on the Fn+R keys.
The screen of the Honor MagicBook 14 is TUV Rheinland low blue light & flicker-free certified, which means that your eye comfort is assured, as this certification provides maximum comfort for your eyes by reducing the emission of blue light on your screen.
The 4.8mm narrow bezel provides a fully laminated display to reduce the reflection of light off the LCD panel giving immersive, true-to-life imagery even under direct sunlight. It has a 16:9 aspect ratio with an anti-glare display.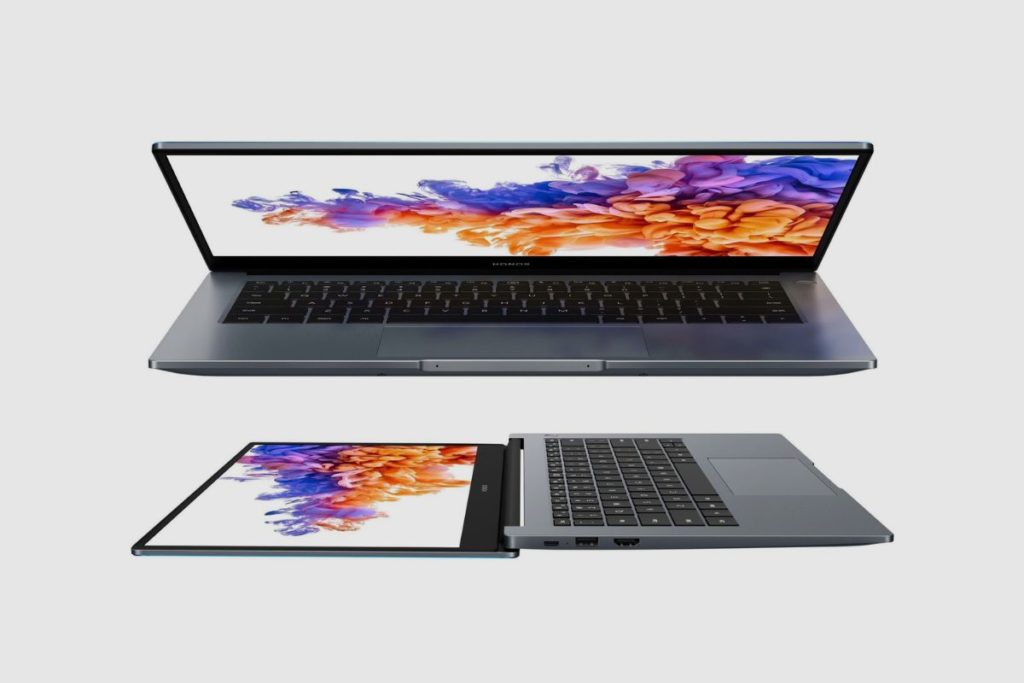 Specifications
The available colours are space grey and mystic silver
The screen size is 14 inches
The dimensions in H x W x D are 214.80 x 322.50 x 15.90mm
This laptop weighs 1.38kg ( 3.04lb)
It is built with aluminium chassis and has a Mylar display bezel
It has a Full HD resolution of 1920 x 1080
It has an aspect ratio of 16.9, and a contrast ratio of 1000:1
The screen-to-body ratio is 84%
The size of the bezel (3 sides) is 4.88mm
It has a refresh rate of 60Hz
Color: 100% sRGB color gamut (Typical value)
The Operating System is Windows 10
It has up to core i7 Intel CPU
Intel Iris Xe graphics
8GB/16GB DDR4 Dual-Channel RAM
Storage capacity can be expanded with PCIe NVME SSD 256GB/512GB
The battery capacity is 56Wh
It uses a 65W Type-C fast charger
The battery can last for up to 10 hours
It supports multi-screen collaboration
It has dual heat pipes & a super-sized cooling fan
Pop-up webcam is 720p
Connectivity: WiFi 6, Bluetooth 5.1, HONOR Magiclink 2.0
Security: Fingerprint scanner
Audio: stereo speaker
TUV Rheinland Flicker Free Certification
TUV Rheinland Low Blue Light Certification
Battery life
The Honor MagicBook 14 comes with a built-in 56Wh battery capacity that can last for up to 10 hours.
This laptop can be charged using the 65W Type-C charger, which can boost your laptop up to 44% in just 30 minutes and 68% in 60 minutes. But that's not even all – with this charger, you can charge your smartphone. This charger is compact and is considered to be a great multi-purpose charger since it can charge not just your laptop but your phone.
Cost
The cost of the Honor MagicBook 14 varies depending on the processor they possess. While the model of this laptop with an Intel core i5 processor costs $810, the model with an Intel core i7 processor costs $840.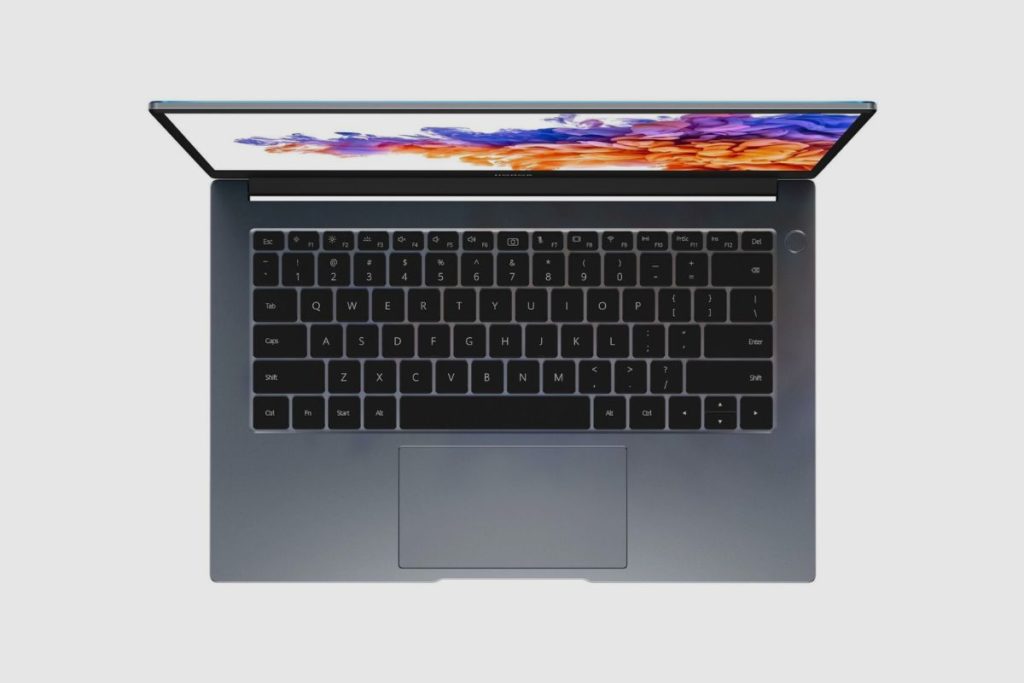 Pros
Sleek design: The Honor MagicBook 14 is built with premium aluminium materials that give it a classy look. This laptop is available in two catchy colours -space grey & mystic blue. It has a blue-coloured bevelled edge around the lid that matches the logo and makes it even more attractive. Built with the user's comfortability in mind, the MagicBook 14 is compact, lightweight, and a great travel companion.
Backlit and Tactile keyboard: This laptop offers a non-clacky typing experience, with a comfortable feel and quick response to click, gesture, & touch.
Speedy performance: The Intel CPU and GPU of this laptop deliver excellent power efficiency and outstanding graphic visuals that guarantee an unrivalled performance.
Fingerprint security: The fingerprint gives you quick access to your laptop with just a tap, so you don't have to type in your password every time. It also limits the number of people that can have access to your computer.
The MagicBook battery life is impressive as it offers up to 10 hours of usage. 
It has virtual surround sound speakers that enhance the sound quality and provides an immersive listening experience.
The 65W Type-C charger supports fast charging and can also be used to charge your phone.
Cons
Bad camera position: The camera's angle is bad, as it is found in between the F6 and F7 keys in the front rows of the keyboard, and it shows off when someone is typing, making it not so good for Zoom calls
Lack of sufficient ports 
RAM can not be upgraded.
Software
The Honor MagicBook 14 runs on a Windows 10 home. There are additional features included in the software front, such as a PC Manager for navigating things like the power plan and drivers. A pop-out bar is present with other needed bits like notifications, documents, basic apps and clipboards.
It comes with an Honor Magic Link that enables you to pair a smartphone with the laptop using an NFC chip. Getting connected allows you to easily transfer files, receive calls on the magic book, create an instant hotspot and use the phone's interface on the laptop via an Honour phone.
Performance
The Honor MagicBook 14 is equipped with powerful components that enable it to carry out tasks effectively. This laptop delivers excellent performance thanks to its CPU, GPU, storage capacity, and battery life, amongst other features. It
Overall, this laptop is productivity-driven and comes with a 65W portable, fast charger that can charge multiple devices, alongside cool specifications and processing efficiency speed to handle intense multi-tasking and to demand tasks effortlessly.
The integrated Intel Xe graphics make it powerful enough for photo editing and light gaming.
This laptop is particularly great for daily usages, like web browsing and watching videos, which makes it suitable for students, remote & office workers.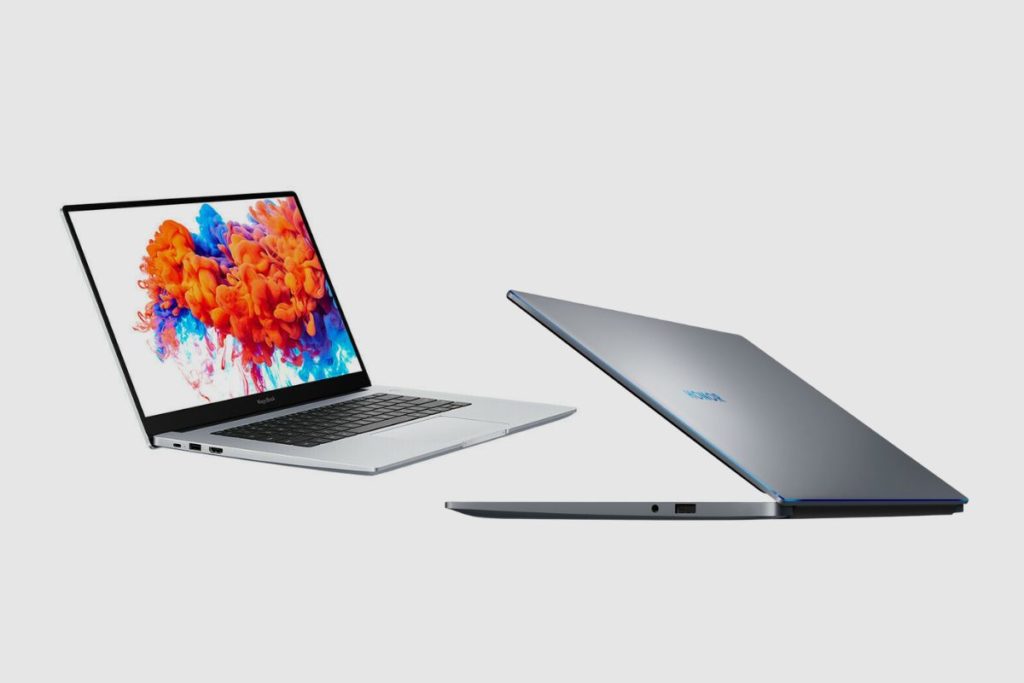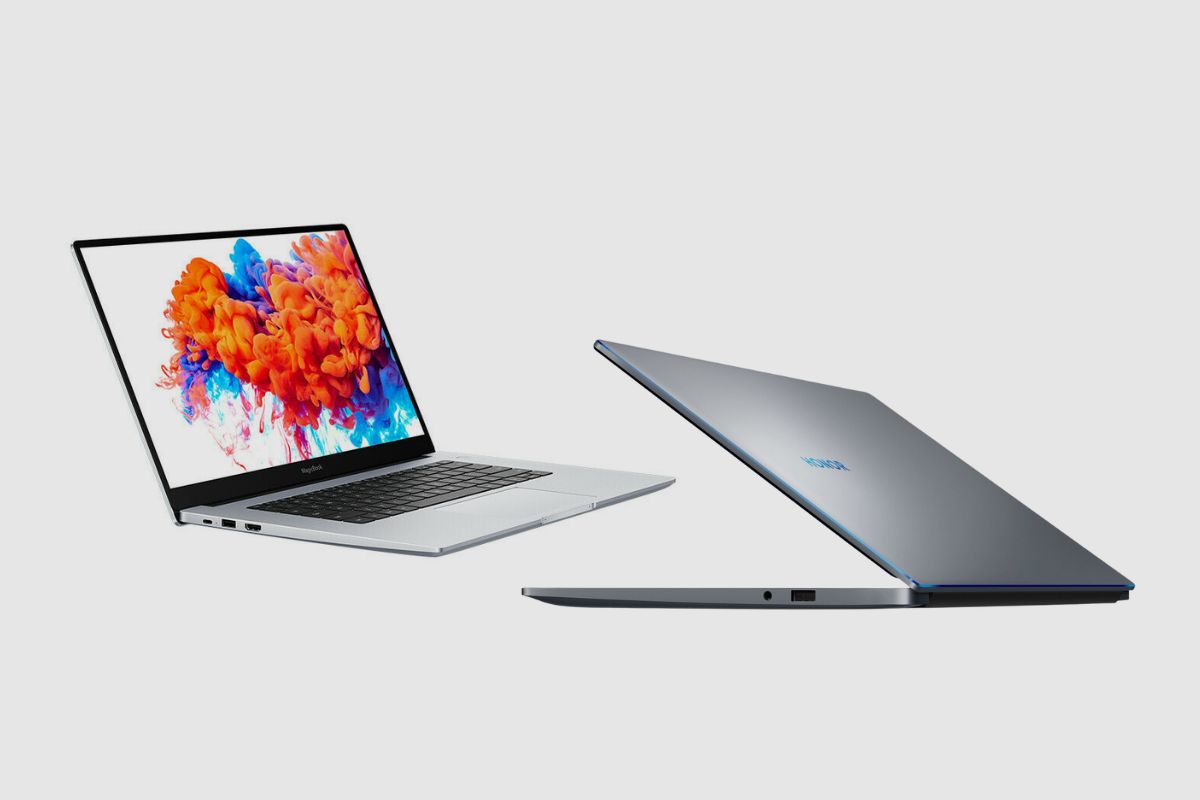 Buying Guide
This Honor MagicBook 14 review will explain some factors that will help determine whether this laptop is the best-suited laptop for you. Some important details to consider before buying this laptop include:
Model variants: The recent version of this laptop is available in two variants depending on its processor. The available processors are Intel Core i5 and Intel core i7
The screen size of this laptop is 14 inches
Portability: Weighing 1.38kg ( 3.04lb), the MagicBook 14 is a compact laptop, which makes it easy to carry around
Battery life: Packed with a 56Wh battery capacity, the Honor MagicBook 14 can last for up to 10 hours
It supports fast charging with the 65W Type-C charger, which can also charge your phone
This laptop is not a touchscreen
There is no SD card slot
The keyboard is backlit
Since the RAM of this laptop is soldered to the motherboard, it can not be upgraded.
The webcam of this laptop is situated in between the F6 and F7 keys in the front rows of the keyboard, which gives it a
The available ports on this laptop include a USB 3.2 Gen 1 Type-A port, 1 USB-C port, 1 USB 2.0 Type-A port, 1 HDMI port, and 1 3.5mm headphone jack.
Eye comfort mode: This laptop has a TUV Rheinland Low Blue Light & Flicker-free certification that minimises blue light and protects users from eye strain
It has virtual surround sound for an immersive listening experience
The Honor MagicBook 14 has built-in Wi-Fi 6 2X2 MIMO Dual Antenna for an improved connection speed when enabled
If these features do not measure up to your preferred requirements, then you might want to consider the following alternatives:
ASUS Zenbook 14
Xiaomi Redmibook 13
Lenovo Yoga slim 7
Huawei Matebook X
Huawei Matebook D15 Ultrabook
To keep your Honor MagicBook 14 in great shape, you are advised to shut it down when it is not in use and always keep it in a safe place to prevent accidental falls that could result in damage.
Conclusion
Overall, the Honor MagicBook 14 is a great laptop that offers a lot of features for a reasonable price. It is a decent choice of mid-range laptop that can handle most tasks and is portable enough to take with you on the go.
However, if you are looking for a top-of-the-line laptop with the latest specs, this may not be the best option for you. But if you are looking for a reliable and affordable laptop for general use, the Honor MagicBook 14 is definitely worth considering.
FAQs – HONOR MagicBook 14 Review
Q: Is the Honor MagicBook 14 upgradeable?
A: It cannot be upgraded by oneself because the RAM chip is soldered to the motherboard.
Q: Is the HonorMagicBook14 worth buying?
A: The Honor MagicBook 14 is equipped with strong processors, large storage space, and graphics that make it highly productive in all areas.
Q: Does the Honor MagicBook 14 have a touchscreen?
A: The Honor MagicBook 14 is not a touch-screen laptop.
Q: How long does the Honor MagicBook 14 battery last for?
A: On a full charge, the battery of this laptop is expected to last for up to10 hours. However, it is important to note that battery life will vary depending on usage.
Q: Does the Honor MagicBook 14 have a headphone jack?
A: On the right side of the frame of the Honor MagicBook 14, you will find a 3.5mm headphone jack.
Q: What is the operating system of the Honor MagicBook 14?
A: The Honor MagicBook 14 runs on Windows 10.
Q: Can I use the Honor MagicBook 14 charger to charge my phone?
A: You can use the charger of the Honor MagicBook 14 to charge Honor phones and cables once the cable fits.
Product Image Gallery – HONOR MagicBook 14 Laptop Review.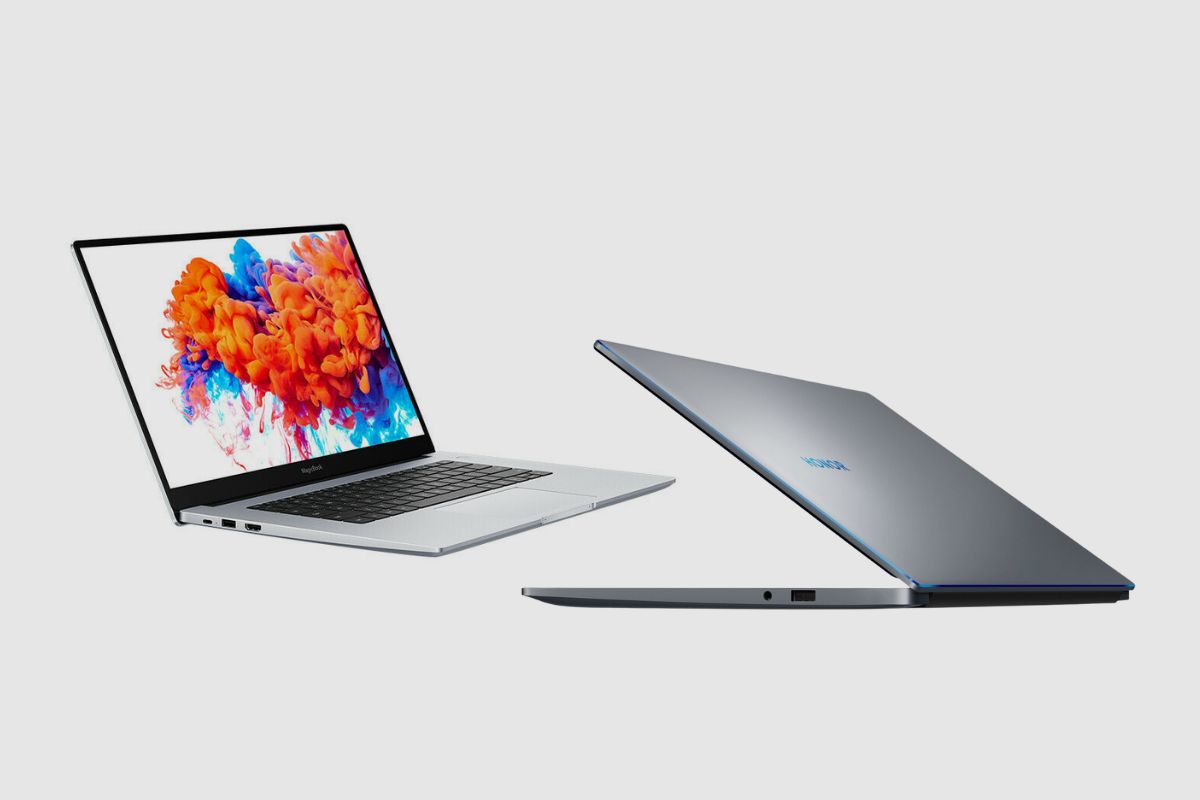 References: HONOR, Intel Iris Xe Graphics.