Samsung Galaxy Tab A7 is a reliable device for on-the-go entertainment. With Quad Stereo Sound, vivid display, thin and lightweight, long-lasting battery, and the ability to connect to your smart devices such as; Samsung Gear 3 Smartwatch or Gear Fit 2 Smartwatch, this tablet is no doubt a good choice for on-the-go use.
Samsung's A-Series has been impressive with its favourable price-performance ratio for years. The newest generation of the Galaxy Tab A7 also earns points for its affordable entry-level price.
Related Post: Samsung Galaxy Tab A7 Lite Tablet Review.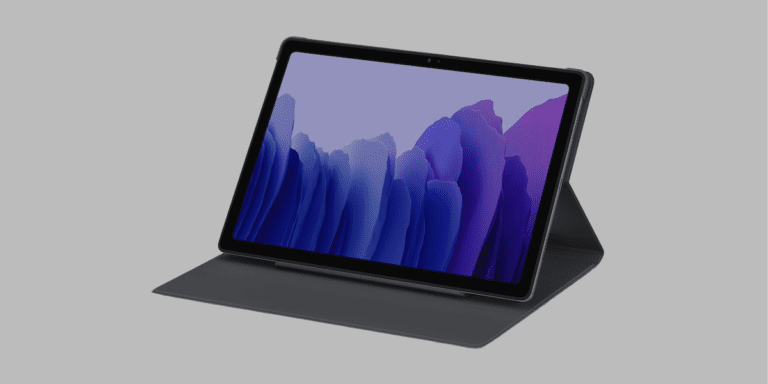 Design – Samsung Galaxy Tab A7 Review
Samsung emphasized the Galaxy Tab A7's slim design, which is true for this tablet. Additionally, the Galaxy Tab A7 is as thin as the Galaxy Tab S6 Lite. However, with a metal body, the tablet's side is slightly heavier. Additionally, it features thick bezels on all sides of the display.
The border may be incorrect if you are switching from a full-screen device. A 10.4-inch LCD screen with a resolution of 2000 x 1200 pixels serves as the display. The illumination is adequate, and the colours are warm. When you browse the web, watch videos, or play games, this is sufficient.
The sound speaker is the tablet's standout feature. It is equipped with four speakers, two on each side. The speakers are extremely loud, which makes the tablet ideal for high-quality entertainment. The tablet includes Dolby Atmos, which enables stereo effects.
When you play a game or watch a film through this sound system, the experience is truly remarkable. Not only is the maximum volume extremely loud, but you also get an exceptionally rich, full-spectrum sound.
The bass power is particularly impressive, given that we are dealing with microscopic or nearly microscopic speakers. If you want the best sound possible, you'll still need a good pair of headphones, but in any case, this Samsung tablet's audio performance is clearly above average.
Because the Galaxy A7 is optimized for landscape use, the front camera is positioned along the long side, which is advantageous for video calling. On the other hand, the rear camera is positioned in one of the tablet's upper corners, with the module protruding a few millimetres from the tablet's body. However, when placed on a table, it remains stable.
The underside houses the USB-C port for fast charging and the headphone jack. This is a fascinating detail, as the most expensive Tab S7 is absent of it, forcing us to use Bluetooth headphones or an earphone jack. The USB-C connector only supports the USB 2.0 standard and cannot be used as a video output; this is a minor point for most people, but if you enjoy the idea of connecting your tablet to your TV via a cable, this product is not for you.
On the left side, you'll also find a drawer for inserting a microSD card and the SIM card if you opt for the LTE-enabled variant. Along the right side, you'll find the activation button and volume rocker, which are both easily accessible and usable. Although there is no fingerprint sensor, you can enable face recognition to unlock the tablet if desired.
Display
Samsung has conditioned us to expect stunning AMOLED displays on a variety of its products, including several mid-range smartphones. That, however, is asking too much of a tablet that costs slightly more than 232 dollars.
The screen size is slightly larger than full HD, but it falls short of 1440p. Perhaps it is exaggerated to speak of "low" resolution, but the images do not always appear as sharp and defined as you would like. This is fairly self-evident when it comes to video streaming.
The Samsung Galaxy Tab A7 (2020) includes an 8MP primary camera with 1080p video recording capability. At best, this is a standard camera that you might want to use to document something on the fly. Or perhaps you'll need to demonstrate something during a video call. Apart from that, it's not particularly useful.
As is the case with all tablets, the front camera is the most important, as it is used for video calls. This one features a front-facing camera with a landscape orientation. The image quality produced by the sensor (5 MP) is what we would call minimum wage: it is not particularly sharp, and noise is visible in low-light situations. However, you can make your personal or business calls.
The display glass, on the other hand, is a different story, as it prominently displays fingerprints and skin oils. Of course, there are numerous devices available, but they stand out particularly well on the Samsung Galaxy Tab A7's display. If you decide to purchase this tablet, I would recommend pairing it with a screen protector, especially if, like me, seeing the fingerprints on display causes you to go on a wiping binge.
The display we're using is strong and durable but unremarkable behind the glass. Although the WUXGA (widescreen ultra extended graphics) + resolution is uninspiring, it does the job. The colours, in my opinion, are vibrant, and the display effect is also quite clear.
I'm fairly certain that when compared to more expensive tablets side by side, some of the flaws will become more apparent, but on their own, the display is flawless. It can also become extremely bright, which we've always appreciated because it means you can use the Samsung Galaxy Tab A7 in a wider variety of environments.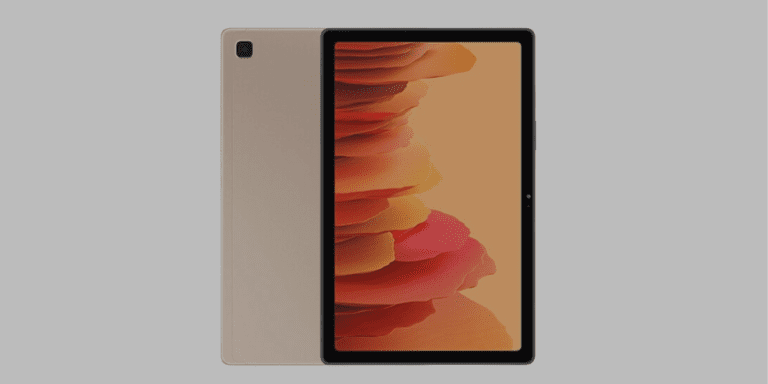 Performance of the Samsung Galaxy Tab A7
This tablet is capable of running multiple applications concurrently, and switching between them takes no more than a couple of seconds (at most). It takes up to a couple of seconds for the homepages of the most popular newspapers to load in web browsing. Additionally, the Galaxy Tab A7 (2020) enables you to play well with titles available on the Google Play Store.
Asphalt 9 put it to the test: the game runs smoothly, but the fluidity isn't flawless. Not that I expected it, given the hardware: even with the most graphically demanding games, you'll occasionally encounter micro-shorts. However, this is the type of flaw that only the most seasoned users will notice, users who are more likely to upgrade to more powerful devices.
The Samsung Galaxy Tab A7 (2020) performs admirably and lives up to expectations at this price point. It is also competitive, but in absolute terms, we fall short of what we consider to be optimal performance. Android 10 is pre-installed on the Samsung Galaxy Tab A7, which is customized with Samsung's One UI interface.
The South Korean company has added several new applications, including a browser, calendar, and Galaxy Store. They are all duplicates of Google-provided apps that are already integrated into Android, and we would prefer they did not exist. However, they are not particularly intrusive, and, most importantly, they are easily uninstalled. Among the pre-installed apps, Microsoft Office, OneDrive, and Outlook are included. Additionally, these can be easily eliminated.
Then some Samsung-specific functions facilitate communication with smartphones and other Samsung devices. For instance, you can receive calls and SMS (as well as other types of communication) from your smartphone to your tablet. Samsung's software enables the configuration of multiple users, with an administrator account and several subaccounts. Additionally, you can create a separate account for your children.
For some reason, the process of creating a new account is quite lengthy, as the software performs a complete reset of the tablet's configuration as if it were brand new. It would be preferable if a new local account could be created in seconds, at the very least as an option. After configuring this feature, you can switch between users via the notification panel.
Battery life of the Samsung galaxy tab A7
The 7040mAh battery is quite large for a tablet in this price range, but not excessively so. Despite this, the Galaxy Tab A7 (2020) boasts an impressive battery life. You can easily use it for an entire day, assuming that you take the tablet in the morning and continue to use it until the evening. More realistically, you'll need to recharge it every three to four days or even more frequently. Even one refill per week may be sufficient in many circumstances.
Having said that, Samsung could have made a stronger effort with the charger—the one included in the box is 7.8 watts and takes several hours to charge the tablet. If you plug it in at night, it will be fully charged the next morning, so don't anticipate a quick charge if you ever need it unless you have a separate fast-charging power supply, such as a USB-c port.
The Samsung galaxy tab A7 features
The Samsung Galaxy Tab A7 is equipped with the following features:
The Samsung Galaxy Tab A7 is powered by a Qualcomm Snapdragon 662 (11 nm) SM6115 processor and features a 10.4-inch IPS LCD capacitive touchscreen with 32GB or 3GB of RAM. The camera is equipped with a rear-facing 8 MP AF sensor. A landscape-oriented, front-facing camera help for a video call, especially when calling family on video calls.
In terms of battery capacity, the Samsung Galaxy Tab A7 features a Li-Po 7040 mAh battery.
It is powered by Android 10 and features the One UI 2.1 user interface. It also includes WiFi and Bluetooth GPS.
The phone is 7 mm thick and weighs 477g.
A fast-charging USB-C port for a faster charging experience.
Specifications for the Samsung Galaxy Tab A7
Model A7 Tab
An 10.4-inch ultra-widescreen display (1200 x 2000 pixel TFT)
Device weight: 790 grams
The Snapdragon 662Processor Qualcomm SM6115 has a memory capacity of 3 GB RAM and 32GB/64GB.
Camera: 8 MP front-facing, landscape-oriented camera; 5 MP rear-facing camera.
Wi-Fi Direct, hotspot, and Bluetooth 5 connectivity
Face Recognition for Security
Hardware Android Operating System Item
Product Dimensions: 0.28 x 6.2 x 9.75 inches
Available colours: Gold, dark grey, and silver
The rear webcam has an 8-megapixel resolution.
Qualcomm Lithium Polymer battery is used.
Enhanced quad-speaker system
Pros
Excellent value for money.
Long-lasting Battery life
Perfect content to life
A portable tablet
A low-cost tablet
Colourful display
Excellent communicators
Outstanding build quality.
It features a facial recognition system and a sleek design.
Charges quickly
Excellent performance.
Superior autonomy
Surround sound with Dolby Atmos.
Cons
Hardware life is a significant unknown.
It may be challenging to run computationally intensive applications.
Both the processor and RAM are constrained.
The camera is of poor quality.
Ineffective performance
Low screen brightness
Inadequately calibrated screen with no adjustment for the display
The Buyer's Guide for the Samsung galaxy tab A7
With these results, I'm curious as to how long you can continue to use Tab A7 without experiencing obvious performance issues. This, I believe, is not an upgraded version that you can use indefinitely. At some point, the application's capabilities will exceed those of this tablet, which may be in two years rather than four to five.
However, you may not see this price on a $230 tablet, and I believe the performance here is quite adequate for the price. Though it slows down when switching between applications, there are times when you must delete everything before launching the third. Fortunately, Samsung is dealing with its easily insufficient memory storage capacity; a Memory card can however remedy this for you.
Anyway, for the time being, even for games, the performance is satisfactory for me. With "Epic 7," there was some lag when navigating through menus, and the screen was cluttered with many panels, but there was no lag when I was playing the game.
Epic Seven's excellent graphics can put a strain on Android devices, particularly those with older hardware, so I'm relieved that I didn't experience any significant frame loss while playing games. The transitions between screens are seamless, though, in some denser applications, you may run into Tab A7's 3GB RAM. The rear 8MP camera is repairable, but like many tablet cameras, it is nothing special.
While there are times when taking a picture with a tablet is necessary, it is insufficient to serve as your daily driver—especially when the phone in your pocket almost certainly has a better camera, especially if it is set on the back. My test photographs were acceptable, but the outdoor shots were a little dim, while the indoor shots were a little dark.
The battery is perhaps the most exciting aspect of this tablet. With a capacity of up to 7,040mAh, you will receive a significant amount of juice after fully charging this battery, especially considering it is not used to power high-end processors or ultra-high-resolution displays. As the screen brightness decreases to about 50%, I get about 7 hours of playback time in Epic 7 using the Galaxy Tab A7.
You can reduce the brightness even further and still see what is displayed on the screen, so if battery life is your primary concern (as it should be), you will be satisfied with Tab A7's features.
The Galaxy Tab A7's battery life is quite impressive. The battery test lasted an average of 13 hours (surfing the Internet over Wi-Fi at 150 nits brightness). That's 45 minutes faster than the 13 hours and 45 minutes required by the Fire HD 10. It outperforms the iPad 2020's battery life.
It provides stable performance for you if you only require a larger screen or a separate battery to play games, as I do, so you don't have to sacrifice the phone's battery. Samsung's Galaxy Tab A7 tablet comes equipped with 3GB of RAM and 32GB of internal storage. However, it can be expanded to 1TB via a memory card.
The limited RAM capacity explains the game's length, particularly for games like Genshin Impact and Asphalt 9. Even at the lowest graphics settings, there will be numerous dropped frames, resulting in an unsatisfactory experience. Additionally, the overall browsing experience on the tablet is a little slow, and there is a slight lag when opening applications. Tablets can continue to perform routine tasks such as web browsing, social media application use, and content streaming.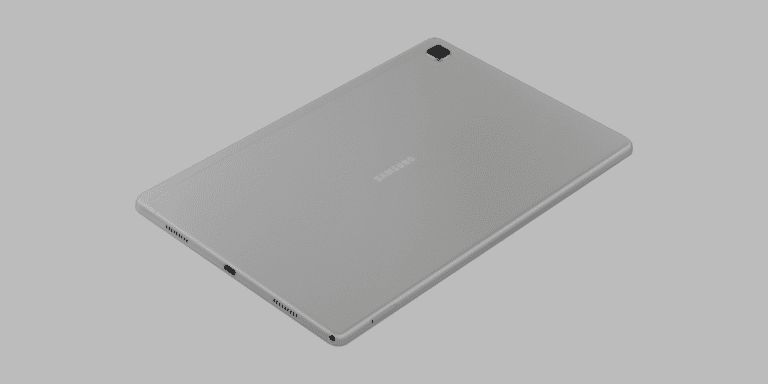 Is tab A7 the right choice for you?
If you do not require a tablet for heavy work and intend to use it as a media device or a device with long battery life, then YES! I believe that you will be satisfied with the A7's features and powerful performance if you have reasonable expectations.
Samsung Galaxy Tab A7 series
The Samsung Galaxy Tab A7 is available in three storage configurations:
The 64 GB Wifi + 4G model is available in three storage capacities:
32 GB, 64 GB, or 128 GB.Additionally, it comes in a variety of configurations depending on the accessories: It is available as both a tablet and a cover, and only tablet and keyboard caseThe Galaxy Tab is available in two connectivity options: wifi and LTE. Each of these items has a different price and can be purchased at any Samsung supplies online or offline store.
How much is the Samsung Galaxy Tab A7?
It ranges in price from $229.99 to $254.03, depending on the retailer and the amount of storage and accessories included. There are some websites, such as Amazon and the Galaxy Store, that offer discount sales. Some stores offer partial billing periods, like paying in instalments.
Is the Samsung galaxy tab A7 worth buying?
After using the Galaxy Tab A7, I'm convinced that this is an excellent price for such a tablet, and it's worth considering if you're looking for a larger-screen media, movie, or even gaming device. It's a device designed for high-end entertainment.
Conclusion
Although many of us are accustomed to focusing on flagship devices, affordable tablets and smartphones are particularly plentiful these days. Samsung itself offers a similar series of affordable devices to the Galaxy Tab A. As is always the case with budget devices, the primary consideration is whether you have purchased something that will last a reasonable amount of time before its hardware degrades to mid-range quality.
In light of this, is the Galaxy Tab A7 a winner or something to avoid? Samsung does not scream "miracle" in any way. It is "average" in every way, from performance to camera quality, and especially in terms of price.
With a price of slightly more than 230 dollars, it's an excellent addition to your home's equipment. You can keep it in the kitchen or living room, where its excellent autonomy ensures that it is always available for your needs.
Furthermore, if you intend to use it to watch a television series, you will appreciate its superior sound. In general, the Galaxy Tab A7 (2020) outperforms its competitors, owing to its four Dolby Atmos sound speakers, which provide a stereo sound experience, and slightly above-average battery life.
Despite its lack of brightness, it is an excellent choice for those looking for a low-cost tablet.  For an eligible purchase, visit here; you may get free delivery if your shipping address and zip code is included in the exclusive offers.
I hope you found this Samsung galaxy tab A7 review helpful, and thanks for reading.
FAQs – Samsung Galaxy Tab A7 Review
Q: Is the Samsung galaxy tab A7 compatible with a SIM card?
A: Indeed, it does. The SIM and microSD card slots are located on the device's top left. Insert a SIM or microSD card into the small hole created by ejecting the SIM & microSD tray.
Q: Is it possible to connect the Samsung Galaxy Tab A7 to a television?
A: You can connect your Galaxy device to your TV via HDMI if it has an HDMI input. To connect via HDMI, you'll need a Multimedia Dock or HDMI dongle. When combined with an HDMI cable, you can connect the Tab to an HDMI computer monitor or television set. Simply connect the device.
Q: Is there an earphone jack/headphone port on this?
A: Yes, there is an earphone jack located next to the USB-C port in the corner. You can enjoy your favourite music on Spotify Premium and youtube premium using the headphone for a stereo sound.
Q: Is this a Google Play or a Samsung app store?
A: It includes both applications.
Q: Why am I unable to install applications on the SD card?
A: The external microSD card slot on the Samsung Galaxy device does not support the installation of applications. However, you can experiment with relocating the storage location. Navigate to Settings > App Manager > the app to be transferred>Storage > Change > sd Memory. Even so, some applications are not transferred.
Product Image Gallery – Samsung Galaxy Tab A7 Review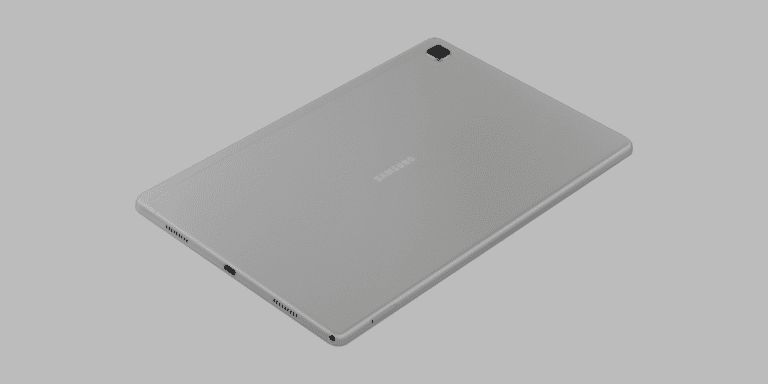 References: Samsung, Samsung Galaxy, Samsung Galaxy Tab A7.