The Huawei MateBook D14 is one of the laptops in the Huawei Matebook D series. Other laptops in this series include the Matebook D15 and Matebook D 16.
This laptop was released in 2019 and is a great-looking laptop powered by the 11th gen Intel Core i5 processor with Nvidia GeForce MX250. This standard laptop comes equipped with powerful hardware components that maximise excellent productivity.
This ultraportable laptop presents a cool design, clear display, standard features, and great multitasking capabilities. Unboxing the brown box reveals the laptop itself, a 65W USB-C power adapter, a USB-C charger cable, a quick start guide, and a warranty card.
This MateBook D14 is ideal for students and workers who are on the quest for an affordable laptop for day-to-day browsing and multimedia streaming. This laptop has outstanding battery life and performs basic tasks excellently. Overall, this standard laptop is highly productive and efficient in executing tasks smoothly.
Related Post: Is the Huawei MateBook D14 Good for Gaming?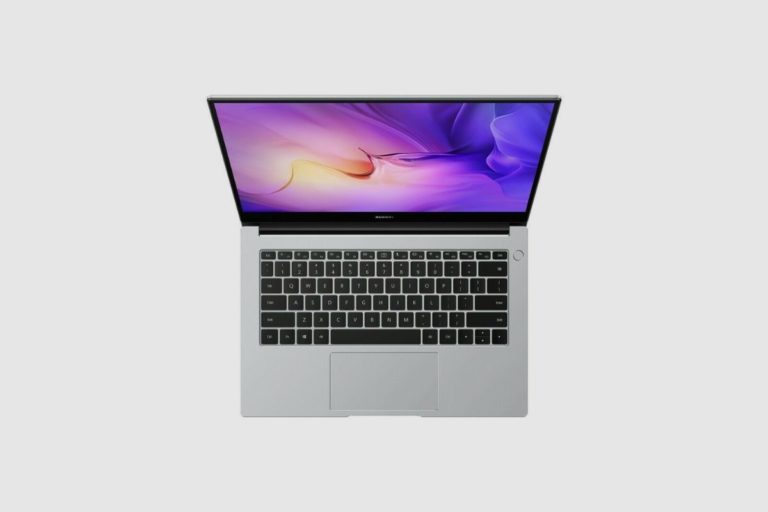 Design
The Huawei MateBook D14 comes in a classy design, with a weight of 1.38kg, which makes it a lightweight laptop. It has a sleek metal body and solid chassis that is smooth to the touch. The available colours of this laptop are space grey and mystic silver. The exterior offers a sparkling look with the Huawei Logo on it.
In thinness, this laptop measures 15.9 mm, which means it easily fits into your bag or backpack. It also has an overall solid quality that helps to minimize the damage that can be caused by scratches and a few drops of water. This laptop is convenient for mobility.
Keyboard
The chiclet keyboard of the Huawei Matebook D14 is well-sized, accurate, and comfortable to type with. The keys are properly fitted, spaced, and the clack sounds produced are not so loud. Its backlit keys can be activated in one function key press, and this backlit keyboard makes it convenient to work in a dark room.
The trackpad comes extended enough that a mouse may not be necessary, even though the latter performs better. Also, there is a power button that doubles as a fingerprint reader at the side of the keyboard, as well as an NFC for Huawei share. The webcam still maintains its position hidden in the keyboard, which ensures maximum security, and privacy when not in use. Overall, this keyboard offers a great typing experience.
Interfaces/ports
The Huawei MateBook D14 has the following ports:
1 x USB-C
1 x USB-C 2.0
1 x USB-C 3.0
1 x HDMI
1 x 3.5mm headset
1 x microphone 2-in-1 jack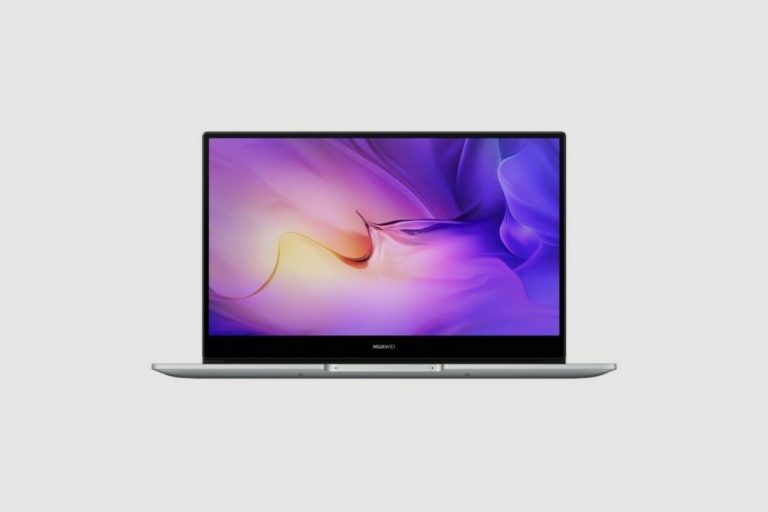 Display
The Huawei MateBook D14 has a full-view display alongside an anti-glare panel and a 14-inch landscape screen. It features a 16:9 aspect ratio with a full HD resolution of 1920 x 1080 pixels. 
This laptop is designed to offer a 180-degree view, which allows the laptop to be flattened when used. It has three bezels around the screen with a thickness of 4.8 mm; with this, you can enjoy the screen more in an optimised size.
The laptop offers a screen-to-body ratio of 84% with a maximum brightness of 250 nits and a contrast ratio of 800:1. It is designed with a Flicker-free and reduced blue light certification from TUV Rheinland, which helps to protect the eyes from blue light emission.
When used during the day in outdoor conditions, the brightness level must be enhanced to get a bright display. The screen quality is great, with a sharp screen brightness alongside good natural colours, offering an intense, immersive viewing experience.
Specifications
The colour options are space grey and mystic silver
The screen size is 14 inches
The dimensions in W x D x H is 322.50 x 214.80 x x 15.90 mm
This laptop weighs 1.38kg (3.04lbs)
It is built with a sleek metallic body
The screen-to-body ratio is 84%
It has a resolution of 1920 x 1080, 157 PPI
It has an aspect ratio of 16.10, and a contrast ratio of 800:1
The viewing angle is 170 degrees
The maximum brightness is 250 nits
It has a refresh rate of 60Hz
45% NTSC colour gamut
The Operating System is Windows 11 Home
It uses 12th Generation Intel core i5 and i7 processors
Intel Iris Xe graphics
8GB/16GB RAM
512GB NVMe PCIe SSD
It is a lithium polymer battery with a capacity of 56Wh
The battery can last for up to 7 hours
It uses a 65W Type-C fast charger
It has a fingerprint power button
It has a full-sized backlit keyboard
720P FHD AI camera
For audio, there are 2 microphones, and 2 speakers
Connectivity options are: IEEE 802.11a/b/g/n/ac/ax, 2.4 GHz and 5 GHz, 2×2 MIMO, WPA/WPA2/WPA3, and Bluetooth 5.1
The featured applications are:
HUAWEI PC Manager
Display Manager (Eye Comfort Mode)
HUAWEI Factory Reset
TUV Rheinland Flicker Free Certification
TUV Rheinland Low Blue Light Certification
Battery Life
The Huawei MateBook D14 comes with a powerful 56Wh battery capacity that is expected to last for approximately 10 hours.
It also comes with a 65W power cable which uses a USB-C and provides a quick charge and an additional battery percentage in less than an hour.
The battery life of this laptop is considered to be impressive; however, this can vary depending on your usage.
Cost
The Huawei MateBook D14 costs £649.99 ($783). The price of this laptop may differ depending on your location.
Pros
Ultraportable Design: This laptop is sleek, lightweight, and can easily fit into your bag or backpack.
Great display: With its 178-degree viewing, the laptop can be flattened to provide an immersive viewing experience. The display quality is crisp, colours are natural, and there is an eye comfort mode to protect eyes from blue light emission.
Outstanding battery and fast charging: This laptop's battery life is great as it offers 10 hours of performance. With its second-generation 65W power adapter, you can get a quick charge in less than an hour and also charge Huawei devices that support SuperCharge.
Fingerprint + power button: The power button has a fingerprint embedded in it. This makes it easier to log in to your laptop without having to input a password every time. The fingerprint serves as a means of security since it restricts unauthorised access.
Reliable performance: Given its 12th-generation processors, the overall performance of this laptop is great. It can multitask and run smoothly at an average speed which is not entirely disappointing.
Decent Audio: The speaker sounds great; although it is not too loud, the vocals are decent enough during calls.
Super device: This feature uses drag-and-drop for a multi-screen collaboration. With this, you can directly access files, make or answer calls, and basically mirror a compatible Huawei phone directly from your laptop.
Cons
Poor webcam positioning: The angle of the webcam does not appeal to everyone, it is found in between keys on the keyboard, and the angle is quite bad for video calls
It lacks Thunderbolt support.
The keys are shallow with a not-so-long travel space
The CPU gets heated easily when there is a heavy load
The screen is glossy
This laptop is pricey
Performance
The Huawei MateBook D14 is equipped with an Intel Iris Xe graphics processor that is powerful enough for editing photos and light gaming, 8GB of RAM, and 512GB of SSD storage that is enough to store several large files. With this configuration, performance in certain tasks like web browsing, MS office work, and basic photo editing is outstanding.
Although this laptop is not built for gaming, it can efficiently run light games like Valorante or Fortnite. The SSD and wireless chip can be upgraded, but the RAM is soldered to the motherboard, which means it can not be upgraded.
It runs on Windows 11 Home, and this software presents a PC Manager that offers access to power profiles, system updates, battery settings, and Huawei share functionality. You can also auto-sync and back up videos and photos in your gallery. It does not have a sound control function, and the power profiles can not be accessed easily.
With your Huawei smartphone running on EMUI 10, you can connect to the Matebook D14 by tapping the phone's NFC to the Huawei share badge in the lower right corner. It initiates a mirror of your smartphone to the desktop so that you can navigate it from there. This is quite impressive since you do not need to respond to your messages using your phone.
This laptop performs excellently for a variety of tasks like light gaming, multitasking, browsing the web, and watching videos,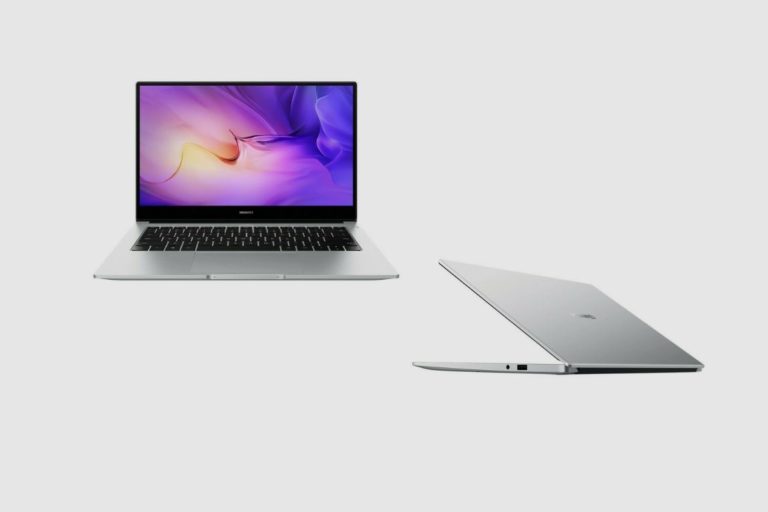 Buying Guide
The MateBook D14 laptop can be purchased in some physical stores and online sites such as Amazon or AliExpress. This buying guide will explain some important features that should be factored in, which will, in turn, help you decide on whether to buy this laptop or not. Some of these features include:
Depending on your preferred processor, this laptop is available in 12th Generation intel core i5, and core i7
The Intel core i5 processor uses Intel UHD graphics, while the Intel core i7 uses Intel Iris Xe graphics
This laptop weighs 1.38kg, making it lightweight and easy to move around
This laptop has a screen size of 14 inches and a sleek metallic body that makes it durable
The 720P AI camera and 1788° opening angle shooting allow for multiple people to fit within the frame, which makes video conferencing convenient.
This laptop is not a touchscreen.
The battery life of this laptop is estimated to be 10 hours
There are decent port selections, although there is no SD card slot
Since the RAM of this laptop is soldered in, it can not be upgraded
It has a full-sized backlit keyboard
It has a fingerprint power button that allows you to conveniently login to your laptop without having to type in your password.
This laptop has a TUV Rheinland Low Blue Light & Flicker-free certification that minimises blue light and protects users from eye strain.
It supports fast charging with the 65W Type-C charger; this compact charger also supports SuperCharge on several models of Huawei phones.
Some other laptops to consider in place of the Huawei MateBook D14 laptop are:
Huawei Matebook X
Huawei Matebook D 15 ultrabook
Lenovo Yoga slim 7
Apple MacBook Pro
Asus Zenbook 14.
Conclusion
In conclusion, the Huawei MateBook D14 offers great value for the price. It features a premium design, great display, outstanding battery life, and other powerful features that boost performance and productivity.
This laptop comes with exclusive Huawei features that are particular and beneficial to Huawei users.
It is affordable and worth buying, as the combined features make it a considerable choice for a wide selection of users.
FAQs – Huawei MateBook D14 Laptop Review
Q: Is the Huawei MateBook D14 upgradeable?
A: The RAM of the MateBook D14 is not upgradeable, as it is soldered to the motherboard.
Q: How much RAM does the Huawei MateBook D14 have?
A: It is equipped with 8GB RAM and powered by a core i5 processor with 512GB SSD storage alongside graphics powered by Intel Iris Xe.
Q: How long does it take to charge the Huawei MateBook D14?
A: With the 65W USB-C quick charger, the Huawei MateBook D14 can be charged up to 43% in just 30 minutes. The charger can fit into the pocket as it is lightweight and compact. It can also be used to charge all USB-C compatible Huawei phones and tablets.
Q: What is the display resolution of the MateBook D14?
A: Huawei MateBook D14 has an IPS anti-glare Full View display and a Full HD resolution of 1920 x 1080 pixels which provides a great viewing experience.
Q: Is the Huawei MateBook D14 a gaming laptop?
A: This laptop is not the best option for gaming, but it can play light games like Fortnite or Valorante.
Q: Is the Huawei share compatible with other smartphone devices?
A: The Huawei share is compatible with only Huawei smartphones. Using the Huawei share, you can have a multi-screen collaboration for direct access to files and call transfers.
Product Image Gallery – Huawei MateBook D14 Laptop Review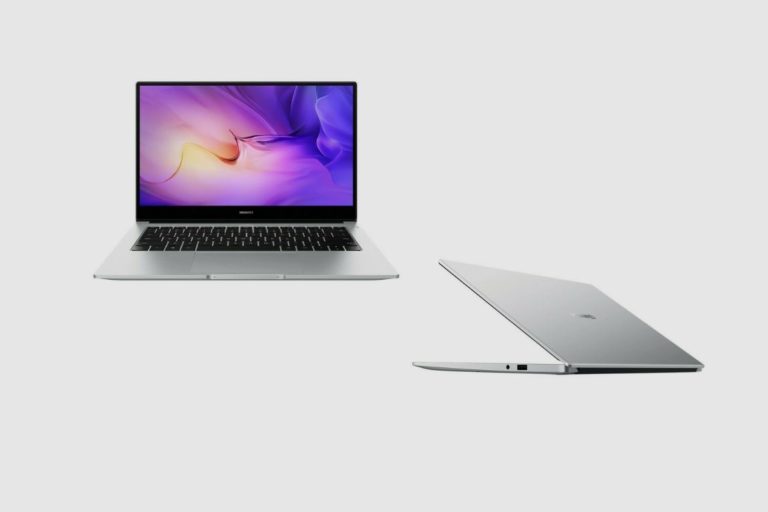 References: Huawei Laptop.