As an artist, one of the most important things you can have is a reliable digital graphics drawing tablet that you can take with you wherever you go. The Wacom One is a great option for artists who want the portability of a small tablet without sacrificing quality or features.
One of the best things about the Wacom One is that it's pressure-sensitive, meaning that it can detect how hard you are pressing on the tablet and replicate that pressure in your digital drawings.
Having your drawing tablet on hand is very important, but you might not be able to take your laptop with you everywhere you go. So, being able to plug your pen tablet into your Android phone is very important.
In this article, I'll answer the question about whether you can connect your One by Wacom or Wacom One pen tablet to an Android device and other related questions.
Related Post: Wacom Intuos Pen Tablet Review.
Can you Connect a One by Wacom Pen Tablet to an Android Device?
Unfortunately, the One by Wacom pen tablet does not connect to Android devices as it does not have the firmware capabilities to connect to Android devices. However, there are a few Wacom devices that you can connect to Android devices. However, Wacom devices like the Wacom One and the Wacom Intuos are all capable of connecting to Android devices.
Can You Connect a Wacom One Pen Tablet to an Android Device?
It is possible to connect your Wacom One pen tablet to an Android device if it supports USB OTG connectivity. Furthermore, a USB-C hub is required. You can use a Type-C cable to connect it to your computer if you don't have a USB-C hub. Additionally, a Type-C to USB-A adapter is required. Knowing how to use a USB OTG connector makes connecting your tablet to your phone or tablet simple.
How to Connect a Wacom One Pen Tablet to an Android Device
To connect your Wacom One to your Android device, you will first need to know whether or not your device is compatible with the Wacom pen tablet. The major thing you will need to know about your Android device is whether or not it can output video and data through its USB port.
The setup process is simple, but you will need a mini-USB-C hub because you will need it to send video and data from your compatible Android phone to your Wacom One tablet. The Hub converts one USB-C port into an HDMI port and has three USB-A ports and one Ethernet port.
The Wacom One must first be connected to a power source or outlet by inserting the USB-C end of the X cable into the device (a power bank should suffice). The next thing to do is connect your USB-A and HDMI cables to the USB-C hub and then finally plug the hub's USB-C cable into your smartphone. Then you should turn on the Wacom One pen tablet. So, depending on the device you are using, your screen should be different.
I am testing this process with my Samsung Galaxy S21, so I'm getting the Samsung DeX Desktop mode to appear on my Wacom One. The Samsung DeX mode turns your Samsung into a full-screen desktop interface.
So, from there, you can launch all of your mobile drawing and painting apps directly from your Wacom One. This process allows you to use apps like Painter Mobile, Ibis Paint, and Infinite Painter. However, I had to force the screen to resize on Samsung Dex labs, but apart from that, I was able to use my Android device without any issues.
Can I Customise My Wacom One While Using It with an Android Device?
It is possible to customise the pen on your Wacom One while in Android mode, but it is limited to in-app customisations. While I was working in Android mode, I couldn't find a Wacom control panel, as I would usually get on when using it with my desktop or laptop. That meant that I couldn't customise the pen pressure on my pen or set the buttons on my pen to a global shortcut for all my pen applications.
However, some art applications like Infinite Painter will allow you to customise the pen pressure and other properties. I hope Wacom or other Android device manufacturers can make a control panel where you can customise the pen. As far as customising your UI, that is really going to depend on the apps you have installed on your phone.
However, there isn't much room for customisation as mobile art apps are designed for smaller screens, so I don't expect you to be able to drag windows and panels as easily as you can on a Mac or PC.
How Does the Wacom One Perform in Android Mode?
In terms of performance, the Wacom One performs admirably in Android mode. There isn't any abnormal lag because my Samsung device can output video. There is, of course, some lag for all display tablets, but working on a phone didn't seem to impact it at all. The primary causes of lag are the hardware and software you're using, as well as the size and complexity of the brushes you're using and the size of your document.
Phone hardware is not as powerful as a desktop or laptop because phones are meant to save power, whereas desktops and laptops can push out as much power as they want.
So, painting or drawing on the phone should be a bit more sluggish, but fortunately, mobile art apps are already not as powerful as their desktop counterparts, so they won't be too taxing on your hardware. Even when I used the largest brushes on Infinite Painter, I couldn't see any significant lag.
Another thing I noticed when using the Wacom one was its lack of touchscreen capabilities. So, I had to navigate the UI with my pen or phone for touch input. So, if your art app requires a touch to zoom, pan, or rotate, you won't be able to do that on the screen of the Wacom One.
Since these mobile apps all assume you have access to touch, many of them do not offer navigation tools within the app's UI. However, my Samsung does allow me to use it as a touchpad, but I would prefer to have a touchscreen on the Wacom. The Wacom One performs well when in Android mode.
Can You Use a Wacom One Without HDMI?
You'll need a USB-C hub, an adapter, and the proper software in order to use your Wacom One. The device can, however, also be connected without an HDMI port. Just make sure your monitor is USB-C compatible. Then switch it on. The power button should be flush with the casing. This button is located on the side of the gadget.
The Wacom One is a great option if you don't require high-end resolutions. The screen is silky and has a paper-like texture. Also absent is any glare. The Wacom One can connect to some Android smartphones and devices, like the Samsung Galaxy S22, with the DeX app. You can take the Wacom One to work with you because it is lightweight and portable.
Conclusion
If you have the option of connecting your Wacom One to a computer, that should still be your best choice because you are going to have access to better apps and even better performance. The Wacom One did not perform poorly when in Android mode, and some of the Android apps, like Infinite Painter and Ibis Paint, were still very good options to work with.
I think this setup would be perfect for a beginner or even a pro who would want to paint while on the go. While the One by Wacom does not provide Android support, the Wacom One does. So, painting on the Wacom One would definitely be a solid option to get, and it is much better than painting with your fingers.
I think more mobile apps will become cross-compatible with their desktop counterparts. They would also become more desktop-friendly, and more artists would use them. I hope you had fun reading it. If you have any questions, kindly ask them in the comments section below.
Image Gallery – How to Connect a Wacom One to an Android Device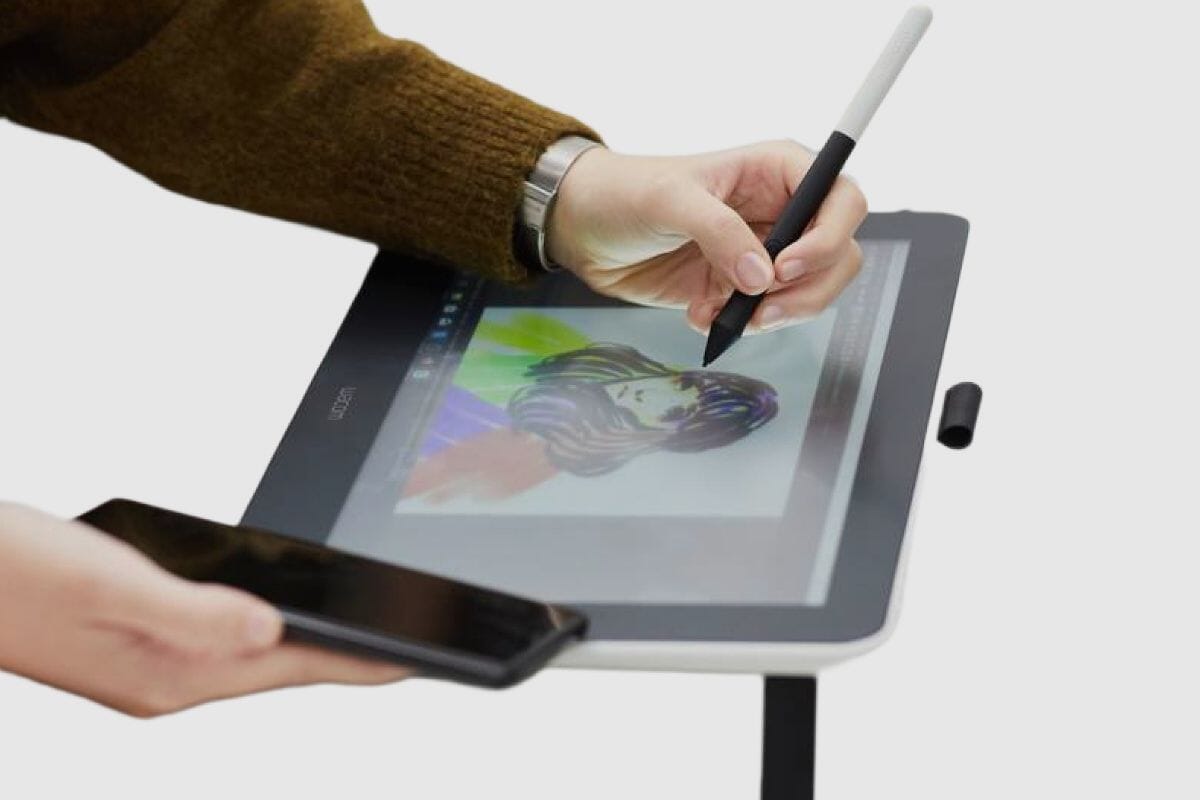 References: Wacom.