The iPhone 13 is one of the phones in Apple's high-end flagship series. Other phones in this series are the iPhone 13 mini, iPhone 13 Pro, and iPhone 13 pro max. All the phones in this series come with the new Apple A15 Bionic chip that has advanced features, such as an improved image signal processor that produces clearer images. 
The camera of the iPhone 13 is a favourite feature, especially for lovers of photography, and being able to fix some problems that may be encountered while using the camera of this phone will go a long way in saving you costs that can otherwise be incurred.
This article aims to explain some ways you can troubleshoot problems with the camera of your iPhone 13.
Related Post: Apple iPhone 13 Review.
Apple iPhone 13 Overview
The iPhone 13 presents diagonally-aligned rear cameras in place of the traditionally vertical alignment of the camera of previous iPhones. This camera has two camera lenses: a 12 MP wide lens with an aperture of f/1.6 and a 12 MP ultra-wide lens with an aperture of f/2.4.
Some of the best camera features of the iPhone 13 are:
Photographic styles: With photography styles, you can easily personalise and edit your pictures with preset filters and tones. Some available options for this feature include Rich Contrast, warm, cool, and vibrant.
Cinematic modes: This allows you to conveniently shift focus from one subject to another while moving your camera. Videographers, in particular, will find this feature enjoyable.
Some possible problems with the iPhone 13 camera can result from accumulated dirt or debris in the camera's lens through the use of cases that cover the camera lenses or flash halfway. The use of magnetic phone cases can also affect the optical image stabilisation feature of your iPhone 13 camera.
How To Fix Your iPhone 13 Camera
Some of the common issues you can encounter with your iPhone 13 camera include:
The camera is not working
The camera is not focusing
Camera producing blurry images
The camera is not taking pictures
The camera is not recording video
All these problems can result from the spread of dust and dirt on the camera lenses or the use of cases that partially obstruct the flash and camera lenses.
Take the following steps to fix your iPhone 13 camera:
Properly clean your camera's lenses: In case of any issue with your camera, clean the lenses of your camera with a microfiber cleaning cloth as this material is soft, absorbent, and oleophobic. Regular cleaning of your camera lenses will prevent the spread of dust and dirt and keep your camera producing clear images.
Alternatively, you can buy accessories like a phone pouch, camera lens protector, and protective covers to offer extra protection from dust and scratches.
Remove the phone case: If you use a phone case with your iPhone 13, take the case off when you have a camera-related problem, as sometimes these cases can interfere with your phone's camera.
Quit the camera app: This is the quickest fix to most camera problems on your phone. Just by closing the camera app and relaunching it, your camera might work properly.
Alternate between the front and back cameras
Restart your iPhone 13
Update your iPhone: Some camera issues can result from a software bug, and a software update can easily resolve camera issues.
Reset all settings: Your iPhone settings can be reset without erasing your data, so there is no need to worry. Resetting the way apps are set up is another easy way to resolve camera issues on your iPhone 13
Contact Apple support: If you have tried all the above-listed steps, and there is no notable improvement in the quality of your pictures, or your camera will not still focus, take photos or record videos, it can be a hardware problem. Fix this issue by contacting Apple support.
How To Fix An iPhone 13 Camera That Is Not Working
If the camera of your iPhone 13 is not working, take the above-listed steps listed, and if it still does not work, take your phone to an authorised repair centre or contact Apple support for further assistance.
How To Fix An iPhone 13 Camera That Is Blurry
Blurry images on your iPhone 13 camera can be as a result of a glitch in the Auto Macro. To resolve blurry photos on your iPhone 13:
Disable Auto Macro
Turn off Lens correction
Click on "use Standard styles" instead of "Photography styles" to get the default look captured by the camera.
Disable "View full HDR."
How To Fix An iPhone 13 Camera That Is Not Focusing
Fingerprint smudges, dirt and dust, can be a reason why the camera of your iPhone 13 is not focusing. In this case, you should ensure that your camera lenses are clean, as a dirty lens will affect the quality of your images and videos.
If you use a phone case, take it off, as sometimes phone cases can obstruct the flash and camera lenses, which will keep your camera from focusing.
How To Fix An iPhone 13 Camera That Is Not Taking Pictures
Your iPhone 13 camera not taking pictures can be due to software or hardware issues. In case of a software issue, take the steps listed below:
Switch between front and rear cameras: You can test this using FaceTime, so you'll know if the issue is with the front or back camera.
Close the camera app
Restart your iPhone
Update your software: As Apple keeps upgrading their software with regular bug fixes, updated software can make your camera function properly.
Reset your iPhone to default settings without erasing your data
Restore factory settings, as this is sometimes the best way to fix your camera problems.
If the above-listed steps do not work, contact Apple support for further assistance.
If your camera is not working due to hardware-related issues, simply do the following:
Remove anything obstructing your camera lens, be it a lens protector or phone case
Clean the camera lens, as a dirty camera lens will result in blurry images
Avoid overheating
Ensure that the flash is turned on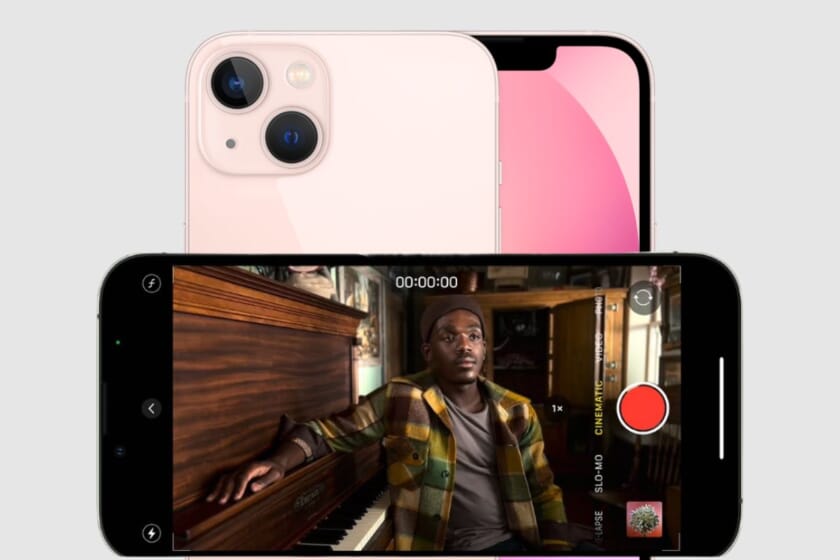 How To Fix An iPhone 13 Camera That Is Not Recording Video
In a case whereby your iPhone 13 is not recording video, take the following steps:
Change the camera's video settings
Change video resolution and frame rates using quick toggles
Adjust auto FPS settings
Turn stereo recording on/off
Turn HDR video on/off
Conclusion
In conclusion, having basic knowledge on how to fix problems you can encounter with the Apple iPhone 13 camera will significantly assist you in solving these issues on your own, without having to contact Apple support or taking your phone to an authorised repair centre.