Despite its promising features, the Lenovo Smart Tab P10 is one of Lenovo's old tablet devices that was released in 2018. The Lenovo smart tab P10 is a docking Android tablet; the device is a good multipurpose tablet that can be used in many ways; such as playing games, reading books, and watching movies.
In this Lenovo smart tab P10 review, I will be discussing all you need to know about this device, including the Pros and Cons, design, FAQ, and much more.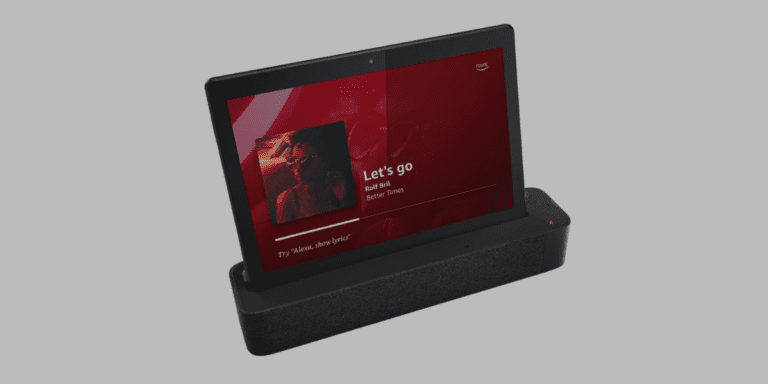 Design
The tablet appears and feels a lot more costly than it is when you open the box. The front and rear of the item are glass, with an angular metal frame and a silver-plated finish. If you keep it in landscape position, you'll see a textured power button with a volume rocker above on the left side. On the right, you'll discover the USB-C charging connector and a headphone jack.
The bottom edge features Pogo pins that let it connect to the dock for power; however, it must still connect through Bluetooth for the dock's speakers, and volume controls to work. Still, the Lenovo Smart Tab P10's front-facing speakers enable Dolby Atmos to surround sound for true sound. It is, however, pretty tinny, and you hear better with the dock's speakers, which offer some bass.
Under the glass, the 8-megapixel camera is located in the upper left corner of the phone's back. The 5-megapixel front-facing camera is situated above the display. Although the big bezels around the screen make it simpler to handle, they detract from the luxury sense the P10 is capturing. The 10.1-inch IPS LCD screen is bright and vibrant, with a brilliant 1,920 x 1,080-pixel resolution.
When held in landscape mode, there's also a diamond-shaped fingerprint sensor at the bottom of the screen. When using it as a tablet, the positioning is quite inconvenient, requiring you to hold it with one hand and touch the sensor with the other. It's significantly more difficult to dock, so you may want to utilize a Smart Lock to keep it open while docked.
While it's a nice-looking tablet, I found the Smart Tab P10 to be a little unwieldy compared to a few competitors in this price bracket. The silver ring around the edge is practically razor-sharp, and the glass rear is cold and quickly covered in streaks that make it appear unclean.
Once properly configured, you can slip the P10 into the smart dock, and it will enter smart display mode. Because the dock requires a power outlet to operate, it is best suited for use in the kitchen or on a bedside table, where it is easily accessible.
It has a low-key design with grey fabric concealing the speakers and controls on the right side. The P10 and dock look good together. The tablet effortlessly glides in and out of the case, and the pair blends in most settings.
Display – Lenovo Smart Tab P10 Review

The Lenovo Smart Tab P10 is powered by Android 8.1 Oreo rather than Android 9.0 Pie. It's quite basic out of the box, which is a good thing. There are the typical Google apps, but Microsoft Outlook is the default email client. Skype does, but most of the 64GB is yours to fill; there's a capacity for a MicroSD card if you need it.
When properly docked, the Smart Tab P10 changes to Amazon Simplified Display Mode; more on that later. You can also disable Display Mode while docked, allowing you to do things like play YouTube, which Amazon Alexa can do; this is one of the potential reasons to purchase it for cheaper than the Amazon Echo Show.
Unfortunately, while you can set up and utilize Google Assistant on the P10, it lacks docking mode. That's a shame because the Lenovo Smart Display with Google Assistant is excellent.
Performance

As an Android Tablet enthusiast, I am all too aware of the lack of good tablets. There are plenty of low-cost, underpowered choices available, which are fine if you're reading or streaming movies on your tablet. There are some games out there that don't measure up to Mission.
Unfortunately, the Lenovo Smart Tab P10 meets expectations. The Qualcomm Snapdragon 450 processor is quite sluggish. The P10 was extremely slow when switching between programs, and it was considerably slower while loading games and web pages. It's important to know that I only tested the 4GB RAM version.
The M10 2GB's performance scares me to death. Alto Lit Odyssey was a game I played. It operates almost flawlessly, so casual players need not worry. Busy Marvel's Future Wars is far worse; it instantly suggested running with lower graphics quality and experiencing frequent frame drops and delayed loading. They are only able to play PUBG mobile with the lowest graphics settings. For gamers, the P10 is probably not a suitable pick.
The benchmark test results are superb, trailing only the new Apple iPad Air and Samsung Galaxy Tab S4, although these tablets are more expensive. The Moto G6, a cheap phone from 2018, is the closest performance benchmark I've tested.
You're spending much money on the Lenovo Smart Tab P10; therefore, there will be compromises. Still, I'd be lying if I said that slow performance bothered me. This slowness will be more manageable if you only watch movies, read on the web, and utilize smart display mode.
Battery life
When the Lenovo Smart Tab P10 is docked, the battery has no effect. The dock comes with a power chord and converter, and you should plug it into an outlet in any case. When you remove the tablet from its case, the battery life is excellent.
The P10 lasted a good 6 hours and 45 minutes on my YouTube test while streaming Full HD video. It comes as no surprise. It outlasts the iPad Mini, which has a significantly smaller battery, yet outlasts the current iPad Air, demonstrating amazing endurance.
Features
dual-glass construction
Image quality in Full HD (1920 x 1200)
There are four front speakers.
recognition of fingerprints
Android operating system
Processor Qualcomm
Dolby Atmos surround crisp sound.
Specification

● Octa-core Qualcomm Snapdragon 450 processor 1.8GHz
● 4GB LPDDR3 memory
● storage 64GB
● 256GB microSD cards are now available for the device.
● Android 8.1 operating system (Oreo)
● 10 feet of Full HD display (1900 x 1200)
● 8MP rear camera
● 5MP front camera
● Dolby Atmos Speaker 4Front (Dolby Atmos)
● connect WiFi 802.11ac dual-band
● Bluetooth 4.2 (Bluetooth 4.2)
● 7000 mAh battery
● Device dimensions are: 9.53″x6.57″x0.27″
● 0.97 pounds in weight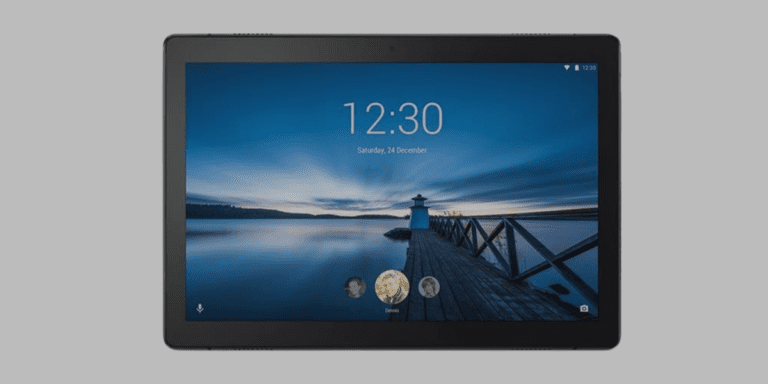 Pros
Extensive Android Oreo experience
The form factor for a two-in-one tablet
Battery life lasts all-day
smart home automation devices
High-quality glass construction
In-display mode, Alexa's front end should be correct.
It includes a speaker dock.
It functions as an Echo Show.
Type-C USB

Cons
Performance that is below average
Built-in storage is limited.
Speakers are unimpressive.
Android OS is outdated.
The speakers' bass is lacking.
There is no Google Assistant dock mode.
Buying guide

I've set up dozens of Android devices over the years, but the Lenovo Smart Tab P10 stands out as one of the worst. During setup, it crashed several times. It also goes through Google's standard Android setup process, but with Lenovo services and Amazon Alexa added on top. The three aren't taking turns as calmly as you might expect.
I even restored a backup and tried it out as a new device, and it still drags and wobbles through a couple of setup pages before insisting it's done. It took me a few goes through and reboots to get things straight. It also refuses to download or update apps from the Play Store, for which I can't think of a clear reason.
When the Lenovo Smart Tab P10 is connected, it will function like an Amazon Echo Show. The Pogo pins supply power, and there is a Bluetooth button for pairing with the powerful speakers. It pairs in seconds and enters Display Mode, the same streamlined software seen on Amazon smart screens. It's superior to an Android tablet as a smart display.
You receive access to all of Alexa's standard skills, as well as the ability to operate your smart home devices and display the time and weather. You may also use Alexa to watch Prime Video, request recipes, or ask general questions.
Although there are three far-field microphones, I noticed that the Echo speaker at the opposite end of the room was more responsive than the P10 in front of me. However, it eventually responds and operates just as well as the Echo Show. The speaker is also powerful enough to fill a typical kitchen, which feels like the natural environment for a smart display.
While the P10 and the Echo Show are useful, you can get the latest Echo Show from Amazon for $230, so why would you pay more for the P10? You can, however, pull down the notification shade and disable Display Mode, allowing you to utilize the P10 to conduct YouTube and Google Assistant inquiries. You may also remove the tablet from the dock and take it wherever you like.
The front-facing 5-megapixel camera is ideal for video calls. The 8-megapixel rear camera seems extraneous, and I'm wondering if removing it might allow Lenovo to fit in a slightly quicker processor — if so, that would be a wise exchange. Almost probably, your smartphone will shoot better images than the P10.
Suppose you're interested in the smart display element.
In that case, you can get an Amazon Fire HD 10 with Show Mode charging dock for as little as $190 or the latest Amazon Echo Show for $230. If you're a Googler, you can get the Lenovo Smart Display for $200 or wait for the impending Nest Hub Max for $220.
The Apple iPad is currently the best tablet on the market in every way.
Only the Fire HD 10 with Show Mode dock is competitive as one of the two. If only full Android with Google Assistant were available, I'd choose the Lenovo Smart Tab P10. However, there is a significant price difference.
Because the Lenovo Smart Tab P10 is made of glass on the front and back, you must be careful if you want it to last. Although the speaker dock appears to be solid, the kitchen is a potentially hazardous setting for devices. The major issue with the P10 is endurance, as sluggish processors can slow down and software updates are scarce.
Available series
This tablet and the 2-in-1 smart display are available in two different varieties from Lenovo. The P10 is a high-end model with a glass back and a dazzling silver ring around the frame. The P10's base model comes with 3GB of RAM and 32GB of storage. Through its paces, I put the most costly P10, which has 4GB of RAM and 64GB of storage.
How much is it worth?
The Lenovo Smart Tab P10 is available from Amazon for $300 for the 3GB RAM and 32GB storage devices or $340 for the 4GB RAM and 64GB storage models.
The Lenovo Smalabourb P10 comes with a one-year limited warranty that covers components and labour, as well as the battery pack and dock.
Is it worth buying?

The Lenovo hybrid makes an admirable effort, but performance suffers on the software front. It's only worthwhile if you already have the Echo Show, full Android access, and YouTube streaming.
Conclusion
The Lenovo Smart Tab P10 is a sluggish Android tablet with outdated software that has a good look. If you're seeking a tablet, in particular, look elsewhere. The enticement to purchase is obtained through the dock and the Show Mode function. While the concept is strong, the implementation allows it to falter slightly, but the P10 is unique.
Frequently Asked Questions
What exactly is the Lenovo Smart Tab with Alexa?
Answer: Lenovo Smart Tab is an Android Tablet with Alexa capabilities and a Smart Dock.
Is it possible to purchase simply the dock?
Answer: Depending on the country, the Smart Dock may be available for purchase separately. You can find more information on your local Lenovo.com webpage.
Is the dock watertight?
Answer: The Lenovo Smart Tab P10 dock is not watertight.
Is Alexa listening in on all of my conversations?
Answer: Alexa is programmed to record what happens immediately after the wake word ("Alexa"). Unless the wake word initiates the Lenovo Smart Tab, no audio is kept or transferred to the cloud.
How do I turn on the dock?
Answer: To activate the dock, place the tablet on the dock and follow the prompts to log into your Amazon account and connect through Bluetooth.
How can I know whether my dock has been turned on?
Answer: To activate Bluetooth, plug the dock into a power outlet and push the Bluetooth button on the dock. If the mute LED remains illuminated at all times, the dock has not been engaged.
Product Image Gallery