The Chuwi HeroBook Pro 14" laptop is a budget-friendly Windows Notebook that is designed for handling basic productivity and office tasks, such as sending emails and working with Excel spreadsheets.
In this article, I will go over the laptop's specifications, design, and performance, as well as share some of my personal thoughts and provide you with a thorough review of this laptop.
Related Post:
Is Chuwi HeroBook Pro Good for Gaming?
Asus X515 Laptop Review.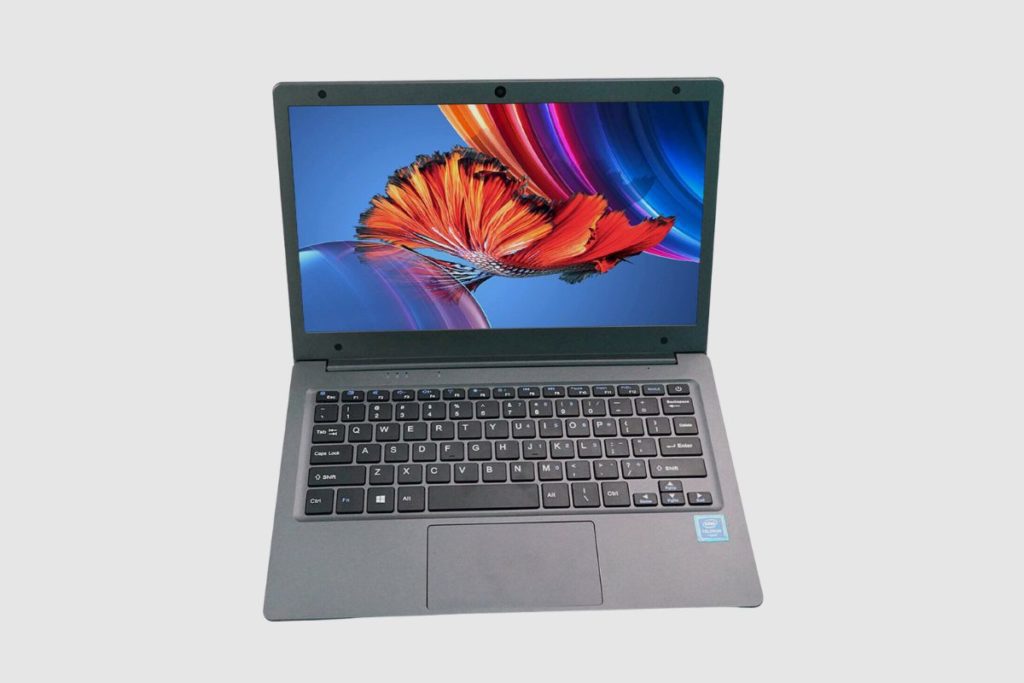 Specifications
| | |
| --- | --- |
| CPU: | Intel Celeron Gemini Lake N4000, 2.6GHz core |
| GRAPHICS: | Intel UHD integrated 6000 Chip |
| BATTERY: | 5000mAh Li-ion Battery, 12Watts, 2Amps AC Adapter |
| DISPLAY: | 14.1" FHD IPS Display = 1920X1080 |
| RAM: | 8GB DDR4 |
| STORAGE: | 256GB M.2 SSD (expandable up to 512GB) |
| OS: | Windows 10 Home |
| PORTS: | 2 USB 3.0 Ports, 1 Mini HDMI Port, 1 SD card slot, 1 proprietary charging port, and 1 3.5mm Headphone jack. |
| WIRELESS: | Bluetooth 4.0, Single Bandwith WIFI |
| DIMENSIONS: | LxWxH 13.07 X 8.33 X 0.84 inches |
| Misc | 1 3.7mp front-facing 720P webcam, |
Unboxing
The Chuwi HeroBook Pro laptop comes in a standard brown box with an image of the laptop on the cover. After I cut open the box, I found some basic foam covering the top of the box, and after I removed that, I found the laptop, the 12watts 2Amps charger, the warranty card and the user manual.
There isn't anything special going on in the box, just the basic items required to get you started when you buy a new laptop, some models come with a laptop case, but mine did not come along with it.
Design
The Chuwi HeroBook Pro is a deceptively stylish laptop. It comes in a nice space grey colour, and at first glance, you might think it was a Macbook Pro, but if you take a few seconds to look at it, you would quickly notice it is not. The space grey is a nice and glossy colour, but it only serves to mask the all-plastic build.
Just by looking at it, you would be able to notice that Chuwi managed to cut the costs by making it in an all-plastic frame and body. I don't like all-plastic designs because it really makes a laptop look and feels cheap. I wish Chuwi had changed out the parts of the plastic build with some aluminium to give it a more premium look, even though we know it still has more plastic in its design and builds.
Display
The display on the Chuwi HeroBook Pro is a 14.1" FHD IPS Display. The 1080p display is adequate, and since it is IPS rated, it actually has some decent viewing angles. The colours, however, still appear to be washed out, and the images that are on screen are sometimes dull.
It has fairly thin bezels that don't overshadow the screen, which makes them less imposing on whatever you are viewing, as well as a slightly smaller chin underneath, giving the display a 90% screen-to-body ratio, and it has a 16:9 aspect ratio, which is standard for most 14" displays.
A major disappointment for me would be the colour accuracy ratings. This laptop has a 55% sRGB rating, a 42% ARGB rating, and a 35% PCI colour gamut rating, so it is not very colour-accurate. It has a maximum brightness of 300nits, which is adequate for indoor use but can be very dim when used outdoors.
Pictures on the screen appear washed out at lower brightness settings, and it doesn't have an anti-glare screen, so even at maximum brightness, the sun can cast a shadow on your display, which is very unpleasant.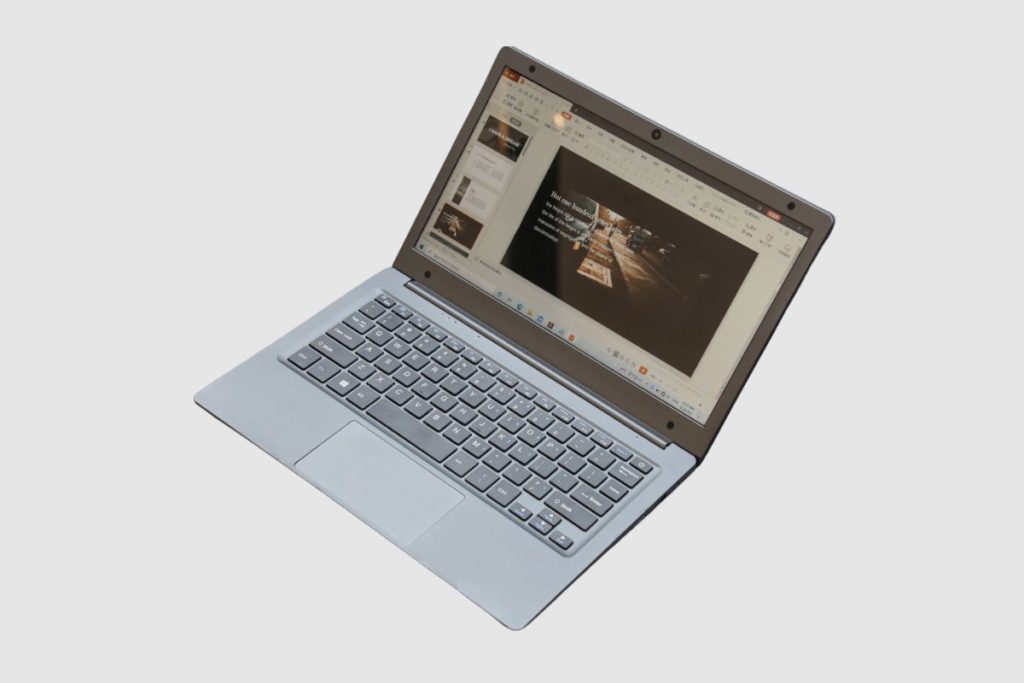 Performance
The Chuwi HeroBook Pro is an adequate laptop that is only capable of carrying out simple tasks. With a base frequency of 2.1GHz and a burst frequency of 2.6GHz to support multitasking and other slightly heavier tasks, its Intel Celeron N4000 processor is still not the most powerful CPU on the market, but it manages to perform when needed.
The processor's multi-core and single-core GIGABENCH scores were incredibly low. Scoring 450 points for a single-core test and 680 points for a multi-core test. This laptop is only to be used for work-related and productivity tasks. I tried using it to open a ton of Chrome tabs, and after about 25 tabs, the laptop started to slow down and with about 35 tabs open, it froze up.
When I tried to render an hour-long 720p video, it took over an hour and a half to get it done. It got even worse when I tried to play games on it, and most of the more recent games wouldn't even load. I tried playing Call of Duty: Warzone on it and couldn't get past 25 frames per second. I attempted to play The Witcher 3 on it, but it would not even boot up; it must have crashed the laptop a few times.
The laptop can play some light games, such as Asphalt 9 or Modern Combat 5, all of which are windows store games. It could not play any mid-range games, such as Fortnite or PUBG, but I could play CSGO on the laptop, but I could only get about 60fps, but there were still some dips in its frame rates. This isn't a gaming laptop, but I was surprised to see it could handle some older games like GTA 3 and shank 2.
So, if you're looking to do some gaming or creative work on a laptop, I wouldn't suggest this one. Simply put, it is not intended to handle numerous heavy load tasks. Given its price and build quality, it was never going to be a top-tier laptop for heavy work, so I wouldn't say I'm surprised. This laptop is primarily a productivity tool for using spreadsheets, writing emails, and producing documents in Microsoft Word.
Battery Life
The Chuwi HeroBook Pro laptop has a 5000mAph battery. Chuwi claims the battery can last about 10 hours on average, but after testing it, I got about 7 hours of use out of it, which was very impressive. This was during my testing process when I set it to 50% maximum brightness while watching YouTube videos and doing some light web browsing.
However, when I was playing games on it, I could only get about two hours of use out of it, but if I reduced the brightness to 30%, I could get another hour or so out of it.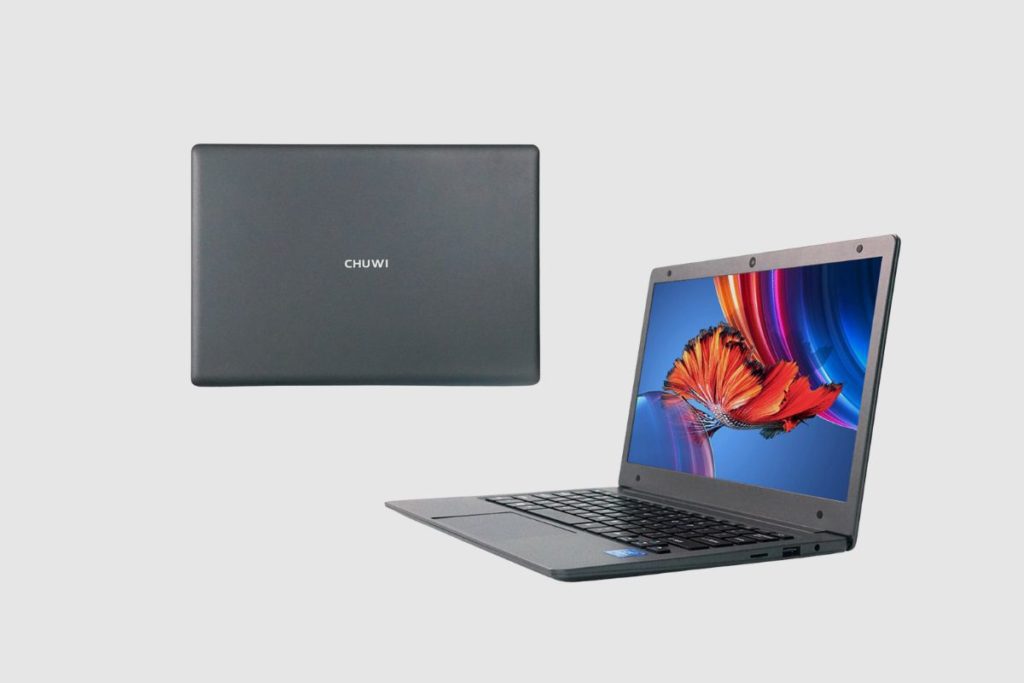 What are the Pros and Cons of Using the Chuwi HeroBook Pro?
Pros
A Nice 14" Display
Not very expensive
Good Battery Life.
Cons
The Storage is Limited
CPU is not the best
Poor Port Diversity.
Keyboard
The keyboard on the Chuwi HeroBook Pro is adequate but nothing special. However, the keyboard is very wide, there is adequate key travel, and the strokes feel fairly tactile and firm, but they lack the bounce and responsiveness that I've come to expect from a premium keyboard. Even though the keyboard isn't backlit, it's spacious and comfortable to type on for emails and documents.
Trackpad
Sitting just below the keyboard is a very large precision trackpad that allows you to access all of the latest features that come with Windows 10. You can easily scroll and use ur fingers to move around the UI, as well as some of the latest features like pinch to zoom and three-finger window access. All in all, the trackpad feels much better than the price of the laptop would suggest.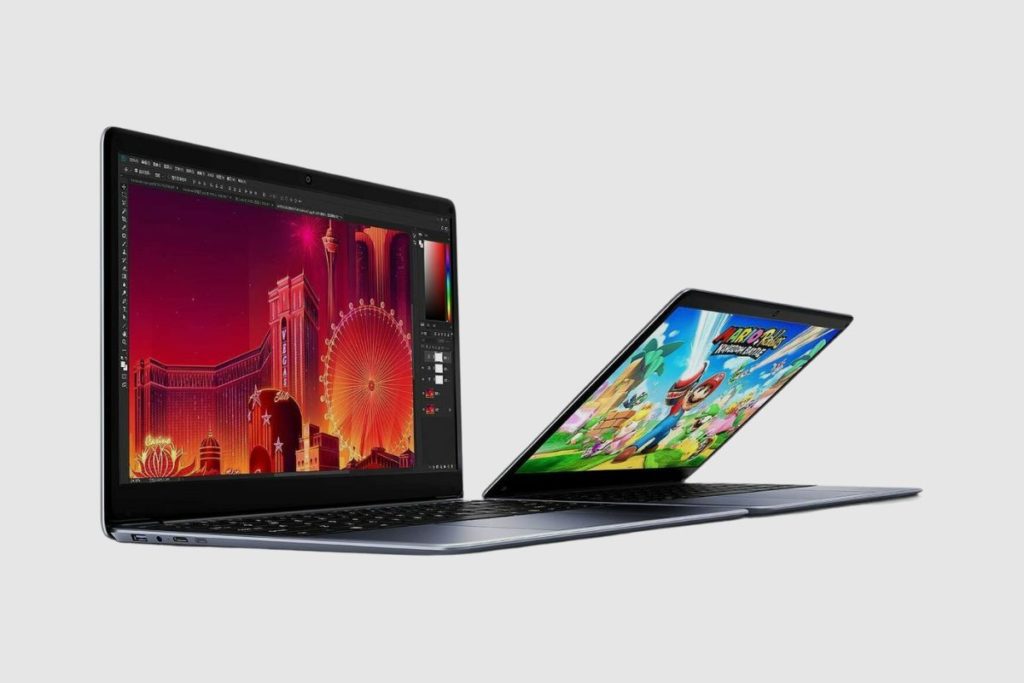 Is the Chuwi HeroBook Pro Worth It?
The Chuwi HeroBook Pro is a reasonably priced laptop with some appealing features, such as a 14-inch display and a long-lasting battery.
All of those aspects are positive, but if I were to be completely honest, I would not recommend this laptop to anyone because I believe there are better laptops available for around the same price that provide far superior performance than this laptop.
If you are willing to spend a bit more money on a Laptop, then you could go for the Lenovo ThinkPad T460s, which has an Intel core i5-6300U, 8GB of RAM and a 256GB SSD. It only costs $240 on Amazon, and it is more powerful than the Chuwi HeroBook Pro.
Buying Guide
The Chuwi HeroBook Pro is widely available and costs the same across all platforms. I discovered it on Amazon for $200 and at Walmart for the same price. When I went to the Chuwi store to see how much it was, I discovered that it was around $180.
Overall, the laptop is reasonably priced and widely available. If there is one thing that is difficult to find for this laptop, it is its proprietary charger. It's not the easiest accessory to come by, which makes me a little sad.
Conclusion
Overall, the Chuwi HeroBook Pro laptop is a fairly average Laptop with fairly average specifications and even lower performance numbers. The laptop is not entirely bad because it does have some good things going for it.
Like its durable battery and good display, but those are just slight advantages, and I feel that there are still better laptops out there that would provide even better specs for a bit more money. If Chuwi makes a Pro 2 they should focus on putting a better CPU inside of it.
FAQs – Chuwi HeroBook Pro Laptop
Q: Is the Chuwi HeroBook Pro Good for Gaming?
A: The Chuwi HeroBook Pro laptop only has an Intel integrated graphics chip and is primarily a productivity laptop. The Chuwi HeroBookPro laptop's limited Intel processor prevents it from even handling some light gaming because it does not supply the chip with enough power to handle demanding graphical tasks.
Q: Is the Chuwi HeroBook Pro Worth it?
A: The performance of the Chuwi HeroBook Pro is very average for a laptop. The laptop has the potential to be much better, but Chuwi chose to make it very inexpensively and chose to prioritise style over functionality. I wish it had a better processor and much higher colour accuracy ratings.
Q: Is the Chuwi HeroBook Pro Expensive?
A: The Chuwi HeroBook Pro is not a very expensive laptop; it costs under $220 on Amazon and Walmart.
Product Image Gallery – The Chuwi HeroBook Pro Laptop Review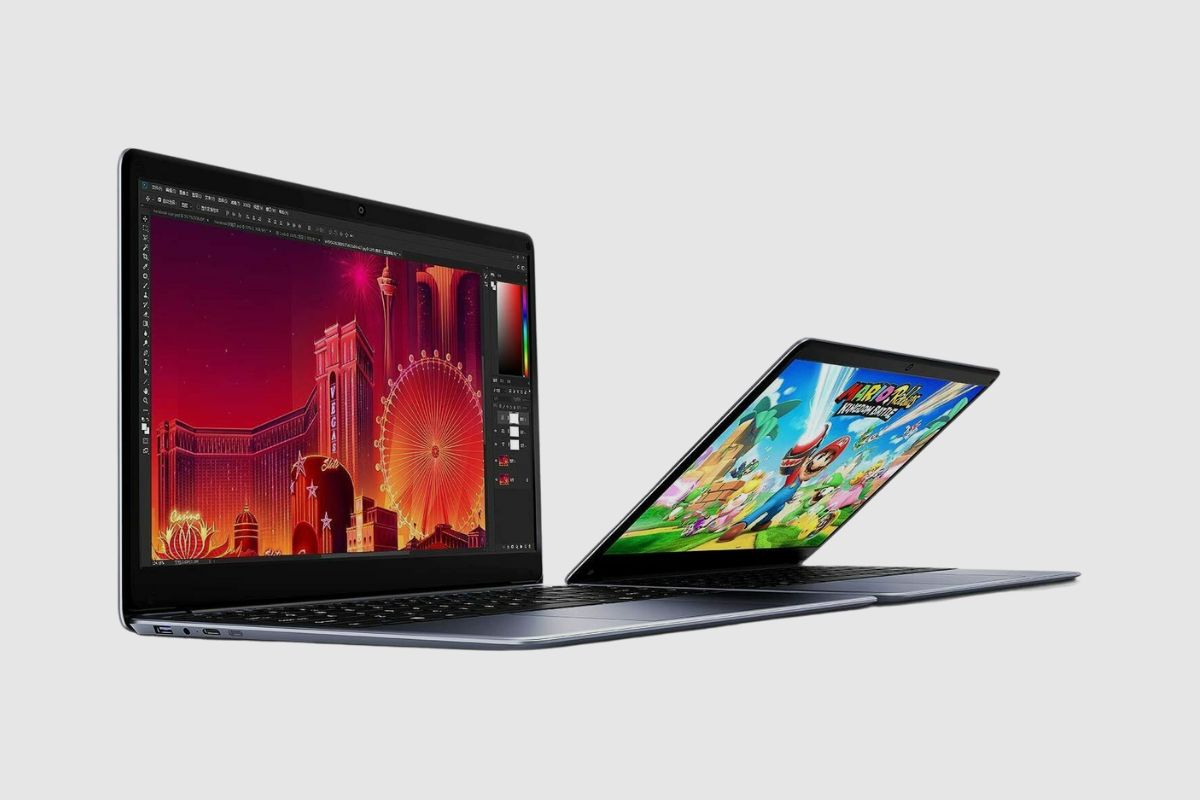 References:
Chuwi Laptop.
Windows Notebook.