Laptop speakers are one of the most popular types of speaker systems on the market, and finding the best computer speakers that would deliver an impressive sound performance with crisp, clear audio quality does not have to be so hard. 
Here are our top 6 picks for laptop speakers in 2022.
Jabra Speak 510 Speaker
The Jabra Speak 510 is a portable conference speaker that can be connected to laptops, smartphones, and tablets. It is Unified Communications Certified and has a battery life of up to 15 hours. 
It also has Bluetooth 3.0 and can be connected to two devices at the same time – one corded and one via Bluetooth. The microphone is Omni-directional and has a 360° pickup.
This speaker is great for those who need to be able to connect to multiple devices at the same time. The battery life is also impressive, making it a good choice for those who need a long-lasting speaker. However, the weight of the speaker may be a downside for some users.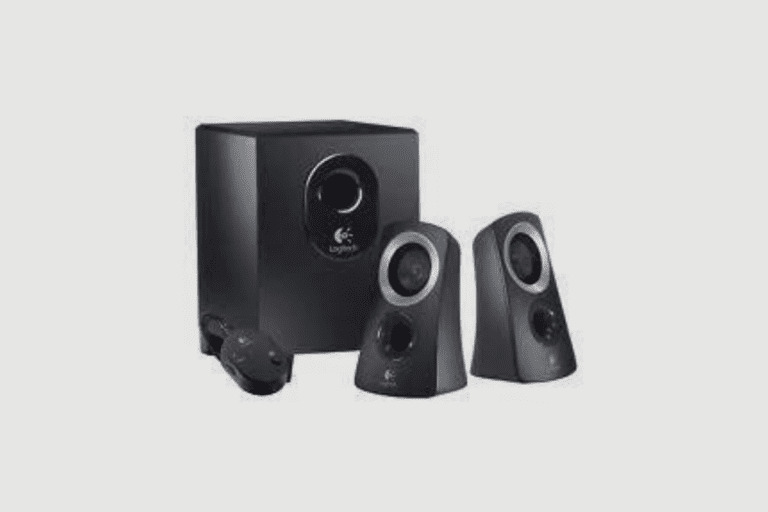 Logitech Z623 THX 2.1 Speaker System with Subwoofer
The Logitech Z623 THX 2.1 Speaker System with Subwoofer is a great product for those who are looking for a quality audio experience. 
The THX certification ensures that the audio is of the highest quality, and the 400 watts of peak power ensures that the sound is loud and clear.
The deep bass and multi-device compatibility make this speaker system a great choice for those who want to use it with a variety of different devices.
The only downside of this product is that it is not wireless, so you will need to have a wired connection in order to use it.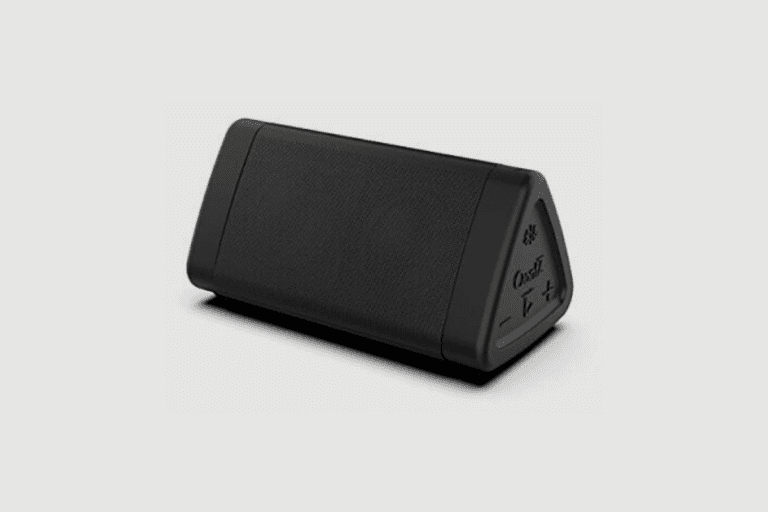 Cambridge SoundWorks – OontZ Angle 3 S Portable Bluetooth Speaker
The Cambridge Soundworks – OontZ Angle 3 S Portable Bluetooth Speaker is a great way to enjoy music on the go. The speaker is small and lightweight, making it easy to take with you wherever you go. 
The speaker has a wireless range of 30 meters, so you can enjoy your music without being tethered to your device. The speaker also has a loud volume and big bass, making it great for outdoor use.
The speaker is also IPX5 water-resistant, so you don't have to worry about it getting wet in the rain. The only downside to this speaker is that it is battery powered, so you will need to recharge it periodically.
Creative Pebble V3s
If you are on a tight budget and you need a good speaker that offers the good sound quality, the creative pebble v3s is a good option. Even though it is in a compact form, this does not affect the audio quality, and it still delivers a powerful sound.
Although it is not wireless, it comes with a wired cable that is long enough for flexibility, and there are also several connectivity options to connect your preferred audio sources, which include a three and a half millimetre headphone jack, a 2.0 USB C speakers that can be used to get louder audio and reliable Bluetooth 5.0 connectivity.
The maximum battery power is up to 8 watts RMS, and it comes with a USB A to USB C adapter for charging. The speakers retain the 45-degree elevation from previous models, so the audio is super clear, and it does not drown out background audio effects when you are watching heavy dialogue media.
However, it might distort slightly when you are listening to music at maximum volume but they have a built-in gain switch that doubles the audio intensity to add emphasis to any form of media being played.
The Creative V3s are not the best clear computer speakers on the market but for an inexpensive price, they deliver top-notch sound quality with a user-friendly setup process for beginners or professional gamers.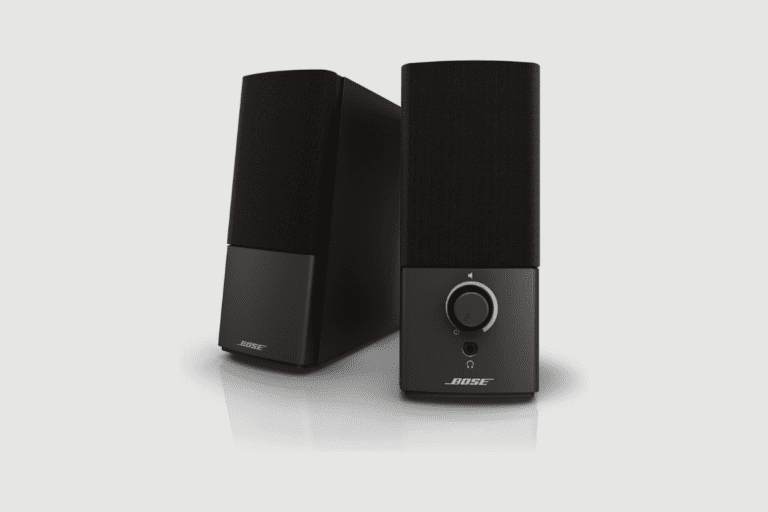 Bose Companion 2 Series 3s
The Bose companion 2 series 3s are the ideal laptop speakers that would deliver a powerful bass plug and play functionality at a loud volume for a good price. They are easy to use and they offer full-bodied audio that's comparable to other flagship speakers with a design that enhances the sound quality.
They do not take up much of the desk space because of the compact design. The real plug and play functionality allows for an intuitive setup process along with a ported cabinet design that enhances the low-end frequencies. However, it has a limited connectivity option with a short cable that limits the placement flexibility, although you can still quickly connect to any pc or mac through the three and a half millimetre headphone jack.
The headphone jack on the right speaker allows private listening, and the volume knob with an additional aux input allows you to connect to other audio sources. The two and a half inch full-range drivers deliver a well-balanced soundscape, and it produces a powerful bass response like other premium speakers. The Bose companion 2 series 3s has an excellent stereo system that can handle different ranges of music and gaming genres with a maximum volume output without any noticeable distortion.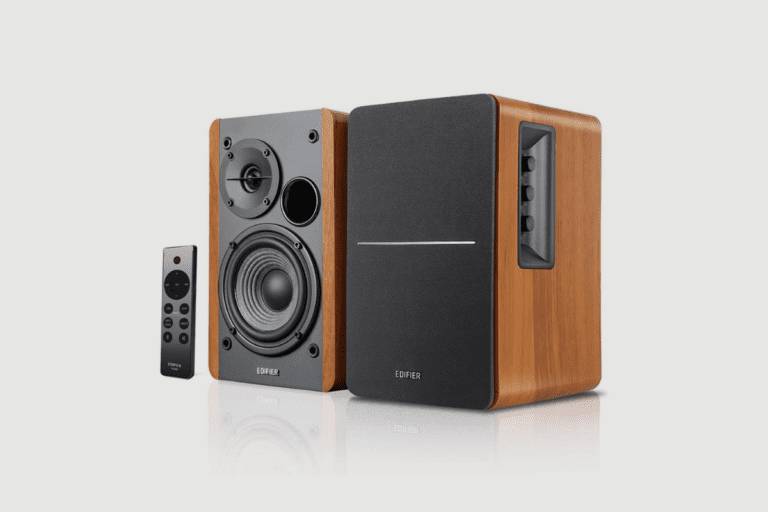 Edifier 1280 DBS
The edifier r1280db speakers are definitely the kind you go for if you want premium speakers that deliver studio-level sound quality. What makes the edifier r1280db very special is they are reimagined versions of their classic speakers that utilise modern technology to improve their sound quality and usability.
In terms of design, the speakers are built with durable MDF wood housing that offers improved sound resonance with an elegant vinyl finish that fits well with most home entertainment setups and magnetic shields to prevent electrical interference from your other devices.
You also have different connectivity options that include an RCA input, a three and a half millimetre headphone jack, a coaxial port, an optical port and Bluetooth for connecting to multiple audio sources simultaneously. You also get a remote control that allows you to conveniently toggle through audio sources and control Bluetooth devices or playback and also adjust the volume.
The edifier r1280db produces a studio-quality sound that can reproduce subtle background details that are present in most audio formats like video games and movies. The control centre allows you to adjust the bass or treble and also customise the sound for audio optimisation. Although the speakers might tend to produce compression artefacts at higher volume levels, they are the ideal choice for music enthusiasts and audiophiles.
Conclusion
In conclusion, laptop speakers are a great way to improve the sound quality of your laptop. They come in a variety of shapes and sizes, so you can find the perfect pair for your needs. 
Many laptop speakers also come with built-in subwoofers, so you can enjoy rich, deep bass without having to purchase a separate subwoofer. When shopping for laptop speakers, be sure to read online reviews to get an idea of which models are the best quality and offer the features you need.
FAQ
Why Do My Laptop Speakers Sound Muffled?
If your laptop audio sounds muffled, the first step is to check if the speaker connected to your laptop or headset is working properly because a muffled sound from your laptop is unlikely to be a hardware problem.
The muffled sound just shows that there might be a slight internal malfunction, so start by checking if the headsets or speakers you are using are not blown out. Often times when the speaker cone is damaged, the audio sound would be muffled, so just try another set of headphones or speakers.
You can also reinstall or update the drivers used for the sound card or audio chip by selecting the device manager on the start menu, then launch the driver by selecting 'Sound, video and game controllers' amongst the other options.
You can enhance the sound quality by selecting the sound option on the top right in the Control Panel. Then right-click to select the properties option where you would click on the Enhancements tab. Then on the Enhancements tab, you can tick the Disable Sounds Effects box.
If the muffled sound still persists, then try to find out if your laptop is set to the correct sound channel. If the external audio device (Speakers) is not compatible with the sound channel set on your laptop, the audio will be muffled.
Where Are Laptop Speakers?
Older laptop models tend to place the speakers on the bottom or towards the left or right-hand sides of the screen bezel, but this tends to make the audio sound muffled once they are placed on a table, and you may have to connect to an external speaker or use your headsets.
But with the newer models, most speakers tend to be placed towards the hinge or under the palm rest or towards the left and right side of the keyboards, giving it a more crisp and clearer audio quality.
However, laptop speakers tend to vary and depend on where the different manufacturers deem fit to place their respective speakers. In essence, the placement of speakers on a Dell laptop would be different from a Macbook.
Product Image Gallery