The boombox speaker market was a very hotly contested market once, but now there isn't a market for boomboxes anymore. However, the boombox speakers have started coming back, and the PHILIPS PX840T Bluetooth Boombox Speaker is leading the way for most Bluetooth boombox speakers.
Nevertheless, not everyone would be interested in getting the Philips PX840T Bluetooth Boombox Speaker based on personal preferences.
In this article, I will discuss my list of alternative boombox speakers with Bluetooth that would work as good options instead of the Philips Boombox Speaker.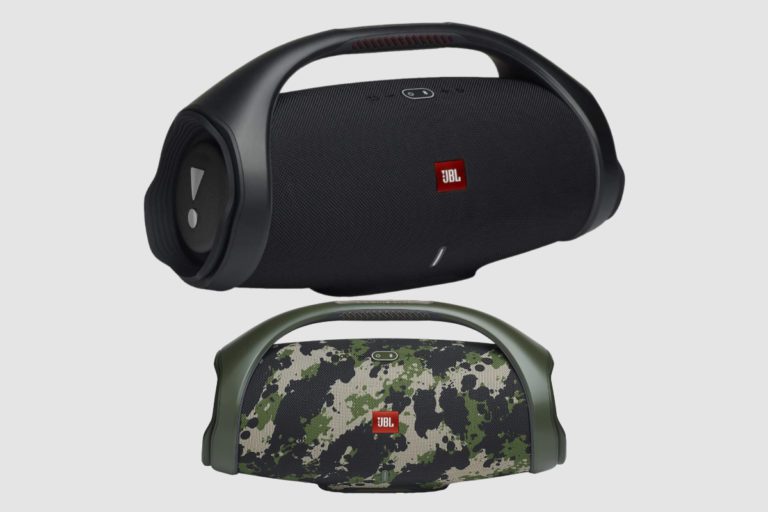 1. JBL Boombox 2 Portable Bluetooth Speaker
The JBL Boombox 2 Portable Bluetooth Speaker is a powerful Bluetooth speaker that has a solid look and produces loud, clear sound with a tremendous bass. It has an IPX7 rating for water resistance, which means it can be submerged in water for some time and still work perfectly. This waterproof feature makes the JBL Boombox 2 Bluetooth speaker a great choice for outdoor gatherings like pools and beaches. Although quite bulky, it has a handle that makes it easy to carry around. This speaker will keep you grooving for a long time, thanks to its impressive battery life.
What are the features of the JBL Boombox 2 Portable Bluetooth Speaker?
The JBL Boombox 2 Portable Bluetooth Speaker has many features that make it a great choice for music lovers. Its bold and waterproof design, combined with its battery life, loud and clear sound, and ability to charge mobile devices, amongst other features, makes this speaker exceptional.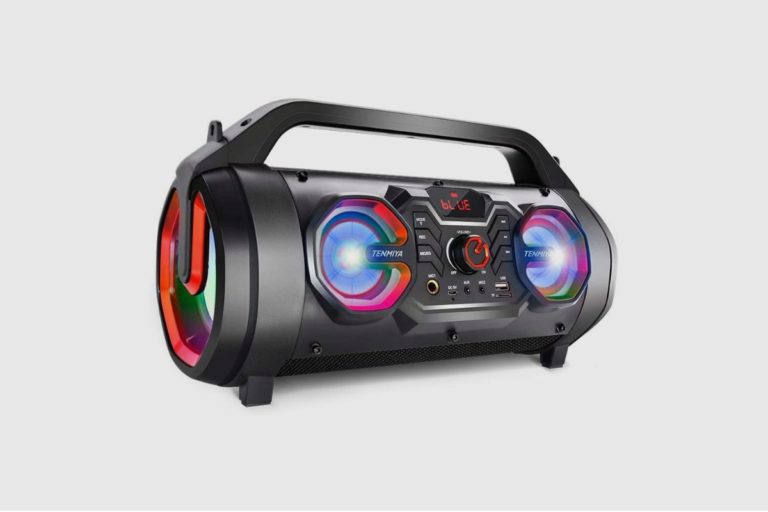 2. The TENMIYA RS-A66 Bluetooth speaker
This 30W three-speaker configuration has a very loud sound and incredible stereo. It has a solid passive subwoofer and a wonderful loudspeaker design that delivers a supreme acoustic sound. The mega bass booms with less than 1% total harmonic distortion.
This speaker has a built-in 4000mAh battery; it will last for up to 10hrs on a full charge. It also LED lights that help add to the party atmosphere.
It is equipped with a shoulder strap which allows you to carry it along with you anywhere you want, and it is fairly light, so you won't feel any weight when you are taking it along with you.
It also has a Bluetooth 4.2 chip which allows you to connect seamlessly to any of your devices like laptops, phones, and tablets.
It also comes bundled with a remote, which allows you to control the speaker from at least 10m away without having to move. We found this model on Amazon for about $60.
3. TechPlay Monster 1980s Style Boombox
This speaker plays heavily on the retro style of the boombox craze of the early 80s by being made in exactly the same way most boomboxes of the time were made. However, that is where both devices share similarities as this device is a far superior boombox with all of the present day's technologies.
This device is 2 ft wide and packs a super 40w power boost, and it has a pair of 1.5" drivers along with a built-in 3000mah battery which can last for up to 8hrs of playtime. With that power, the speaker performs admirably with clear bass peaks and absolutely wonderful and crisp output.
It has a CD player, an AUX jack, AM & FM radio, and a cassette player, and it can connect wirelessly to any phone due to its Bluetooth connector that is built into it. I found this boombox on Amazon for about $250.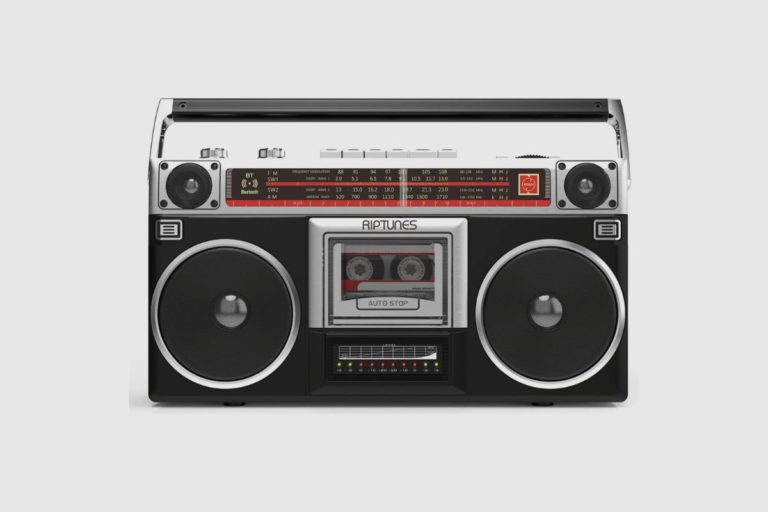 4. Riptunes Boombox Bluetooth Speaker
This is another speaker that trades on the retro look of all boomboxes of their original time, but just like the previous boombox, this one is also built to handle itself in the present day. This speaker provides an excellent listening experience with deep bass and a very good overall sound quality. It packs superb 1.75" drivers and very good passive bass radiators, which all come together to make an impeccable listening experience.
It has a CD player, a cassette player, an AM & FM radio, and most importantly of all, a Bluetooth connection. It also makes use of an old-school battery set up with an AC adaptor and 4 x D batteries to power it, but don't let those batteries fool you because those batteries can last for up to 6hrs. This model costs about $64 on Amazon.
5. The Sony Bluetooth Boombox
Staying on trend, we have another old-school design but in a smaller and more portable design. This one has a lot of the same features as the past models, and it has a very nice sound quality. It has very good bass and stereo sound, and it is of very good quality.
It makes use of a super bass to provide an incredibly polished sound. The speaker provides listeners with an unrivalled listening experience that can't be compared with any other speaker within its size range. That is because of its 1.2" drivers and tweakers.
It uses AA batteries and can last for up to 12hrs on a single charge or use session. It has a CD player, a cassette player, an AM & FM radio, and most importantly of all, and it has Bluetooth availability for a wireless connection. It costs about $85 on Amazon.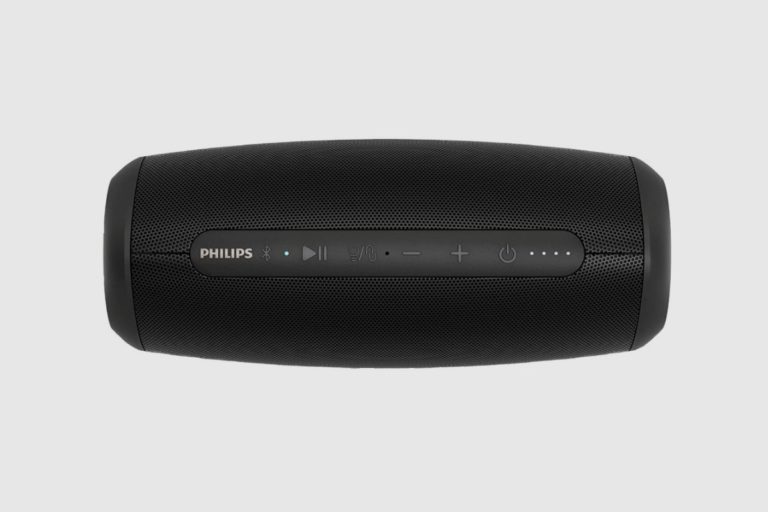 6. The Philips S5305 Bluetooth Speaker with Built-In Microphone
This speaker provides a wonderful listening experience with supreme bass and lovely clear audio. All of this is possible because of the two 1.75" dynamic drivers coupled with two passive radiators.
These all come together to make a very wonderful listening experience; it is very loud and covers a very wide range to allow everyone, whether far or near, to feel that party beat and draw everyone into that party mood.
It also comes with up to 12 hours of playtime on a full charge and uses a built-in microphone to control calls. Bluetooth 5.0 provides a max range of up to 20m. We were able to find this speaker on Amazon for $95, so it's not too expensive.
Conclusion
Overall, the 6 Bluetooth speakers discussed in this article should all prove that there is still a market for the boombox speaker, and they should also provide competition for the Philips PX840T Bluetooth Boombox Speaker. 
These Bluetooth speakers are all decent speakers, and I am sure they will keep the party going long into the night. They all provide their users with a high degree of sound quality and absolutely solid design while also providing that retro feel.
Image Gallery – 6 Alternative Models To The Philips PX840T Bluetooth Boombox Speaker