Using a projector is one of the best ways to provide a widescreen visual display, as well as enhance sound quality. Projectors are majorly used in schools for learning purposes and offices for business presentations or meetings.
Epson is known as the number one selling projector manufacturer worldwide; Epson delivers comprehensive projector and displays solutions that enhance communication and inspire collaboration. This brand produces projectors that provide users with an exceptional viewing experience.
One of the most important accessories to purchase alongside your projector is a speaker; this is because speakers enhance the sound of your projector, and as a result, it is necessary that you choose the best speaker that will guarantee you great sound quality and exceptional listening experience.
Although some Epson projectors come packed with built-in speakers, others require external speakers.
Some of the best speakers to be used for the Epson projector are:
1. ELPSP02 Active speaker
This portable speaker by Epson comes with a 1-year limited warranty. Included in the box are the Epson ELPSP02 active speakers: passive speaker & active speaker (including amplifier), external AC power adapter with power cord, user's guide, speaker cable, and a wall mount plate. The ELPSP02 active speakers cost $189.
Features
The key features of this speaker include:
The active speaker comes with a built-in amplifier, with 30W of total power that delivers powerful sound
Versatility and ease-of-use: Asides from just the Epson projector, this speaker can be used with other projectors and can be mounted easily on the wall with the wall mount plates that come with the package or placed on a desk
Flexible connectivity: Since this speaker supports two outputs, plus an extra output, it can be used with multiple devices
Energy-saving feature: When there is no signal, speakers automatically go into Standby mode to conserve energy, but immediately after a signal is present, the power comes on
There are knobs that can be used to adjust the volume easily
Based on your preferred choice, you can switch between bass and treble or balance both
2. RIF6 35-inch sound bar
Costing $49.75, the RIF6 35-inch sound bar comes with built-in subwoofers that deliver powerful bass sound. This sound bar has a wide range of connectivity options which include Bluetooth, HDMI, USB, AUX, or RCA. This speaker is slim and sleek and delivers an excellent sound output, regardless of where it is placed.
Features
Sleek and slim design: With dimensions of 35.43 x 3.07 x 2.75 inches, this single sound bar is slim, and delivers impressive sound from wherever it is placed, be it sitting on a shelf or in front of your TV. It can also be mounted on the wall.
Different Equalizer modes: You can set your sound bar to music, movies, news, or 3D surround sound mode to feel every instrument and sound in clear details
Built-in subwoofers: This stereo speaker comes with two built-in subwoofers that provide powerful bass as deep as 72dB for a cinematic surround sound, and maximum audio quality
Wired and wireless audio streaming: Powered with integrated inputs, this speaker can be connected to your TV or PC via USB, AUX, RCA, HDMI, or Bluetooth 5.0 (33 ft range)
There is a remote control to allow you easily switch between input modes and adjust the bass and treble to your preferred choice. The LED display enables you to see the volume level and connection mode, and you can quickly increase & decrease the bass with just a touch of a button on the remote.
3. Logitech Z200 multimedia speakers
Weighing 1kg, this speaker by Logitech has a compact design, with 9.5 x 3.54 x 4.88 inches (H x W x D) in dimensions, and it is available in two colours you can choose from based on your style. Costing $39.99, this speaker is affordable and provides users with a rich stereo sound. The box of this package contains two speakers, a power supply, and user documentation.
Features
Rich stereo sound: Each speaker has an active driver and passive radiator that delivers full-range audio and provides a bass extension. There is also 10 Watts Peak, and 5 Watts RMS power produces a sound that fills the room.
Adjustable bass: The bass level can be adjusted with the tone control dial
Simple controls with power, volume and tone controls on the right speaker
It is compatible with Windows, Mac, or Chrome-based computers via AUX input
4. Polk Audio Atrium 4
Available in black and white colours, this is one of the best speakers that is compatible with most Epson projectors. Mostly used outdoors, this speaker is extremely easy to set up and has a rugged design for all weather that ensures durability. Although these speakers are bulky, they have various mounting options and produce outstanding sound. This speaker costs $169.
Features
Patented dynamic balance
Speed lock mounting system: This speaker has a 180° Speed-lock mounting system with keyhole slots and can be mounted horizontally and vertically
Weight is 1.63kg (3.6lbs)
Dimensions in H x W x D are 8.63 x 5.69 x 6.69 inches
Produces up to 80 watts of quality sound at maximum volume
It is designed with an all-weather coating to withstand extreme weather conditions without worry of damage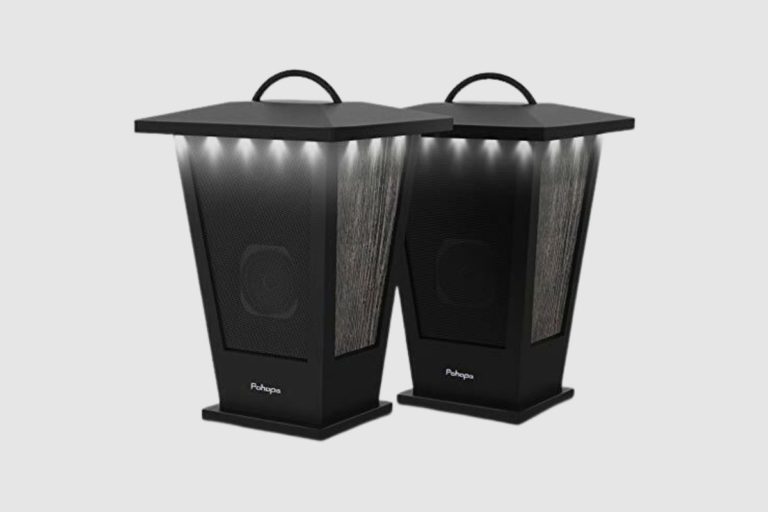 5. Pohopa 2 packs true wireless stereo sound
The contents of this speaker are 2 Pohopa Bluetooth speakers, 2 Micro-USB cables, a 3.5mm audio cable, and a user's manual. This lightweight speaker is easy to set up and connect to a projector; it also supports wireless stereo dual pairing.
Features
Wireless stereo dual pairing: The TWS function of this speaker allows for pairing between two speakers for a powerful stereo sound.
Supports Bluetooth connectivity with a maximum distance of 66ft
IP54 rating, which makes it waterproof and dust-proof
Large battery capacity: Each speaker has a 4400mAh battery capacity that guarantees you up to 6 hours of playtime on full volume. The battery life can
LED lights: This speaker has a 20-piece built-in bright LED light that makes it great for outdoor use, especially at night
Wind/noise reduction technology: By effectively filtering background noise, this feature allows you to play sounds outdoors without being worried about surround noise
Both speakers deliver up to 20watts of high-quality sound
6. Ultimate Ears Hyperboom Portable & Home wireless Bluetooth speaker
Although pricey at $449.99, this speaker stands out from other speakers as it does not require any cables for connectivity. The sound produced by this speaker is loud, thanks to its extreme bass and adaptive equaliser that automatically adjusts the sound to suit the environment. The portability of this speaker makes it great for both indoor and outdoor events.
Features
Brainy adaptive EQ, which balances the sound to fit your environment
Phenomenal dynamic range: Packed with powerful precision woofers, huge passive radiators, and soft-dome tweeters, this speaker delivers a high-fidelity listening experience, so you are assured of vibrant audio at any volume
Easy music sharing: You can play music from 4 different devices by connecting 2 Bluetooth devices, 1 AUX, and one optical input
IPX4 rating: This rating makes it spill and splash proof
One-touch music control: Without reaching for your phone, you can play, pause and skip tracks directly from the speaker
24-hour portable power with its rechargeable battery
The wireless range is 150ft (45m)
Weight is 5.9kg
USB Charge out Hyperboom is the party powerhouse that boosts your phone with the built-in USB port
7. Dual Electronics LU43PB
With a cost of $39.99, this speaker is one of the budget-friendly speakers that can be used with the Epson projector. Despite not being wireless, the versatile design of this speaker allows for easy setup, and the sound quality is remarkable
Features
3-way component speakers for high-quality sound
Weather-resistant: This speaker is resistant to heat and moisture, which makes it great for outdoor use
Can be installed on wall or ceiling with the included mounting hardware
Horizontal or vertical placement – the Dual logo rotates 90°
Weight is 1.3kg
Produces up to 86dB of excellent sound
Comes with a Bluetooth amplifier that can be used to set different sound modes remotely without leaving your seat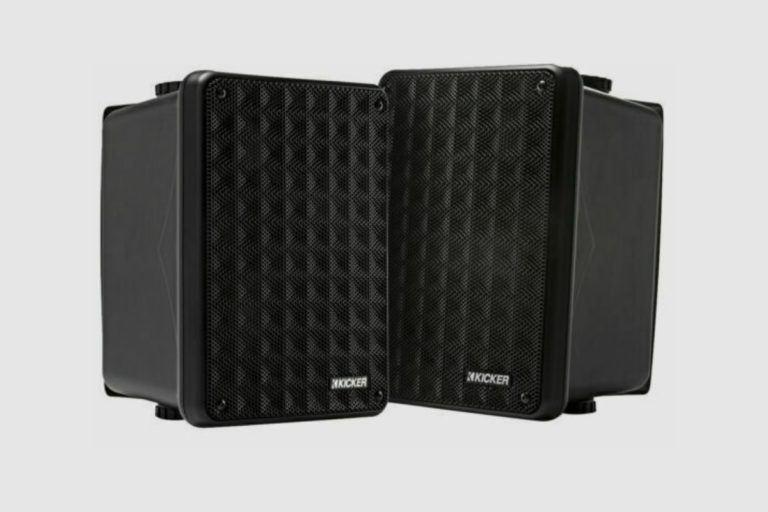 8. Kicker 4 KB6000 2-way full range high-efficiency speaker
The KB6000 speaker is a 2-way full-range high-efficiency speaker that is great for indoor and outdoor use. This speaker costs $259.98 and has features that make it one of the best speakers to use with the Epson projector.
Features
Suitable for all weather: This speaker is designed to be mounted in the open air. Its UV-treated enclosure and ability to produce clean and crisp sound over long distances make the KB6000 perfect for indoor and outdoor use.
Maximum power is 150 watts per speaker; a pair produces 300 watts of stereo sound.
Another pair of speakers can be added for additional sound
Mounting hardware is included for versatile speaker placement: This means that you can install your speakers on the wall or ceiling in vertical or horizontal placement, with a wide degree range of motion for detailed stereo sound
9. Samsung A550 A Series Soundbar
The A550 soundbar allows for wireless connection through Bluetooth, WiFi, and HDMI connectivity, making it one of the best speakers for projectors. It also comes with a remote that enables you to control its features and switch between modes. This soundbar costs $189.99.
Features
360 degree sound
Bass boost
There is a subwoofer
Game mode, which optimises sound for gaming
Adaptive sound lite
There is a remote that allows you to control your sound
Dolby 5.1/DTS Virtual X (3D sound)
10. Bose Solo 5 TV Soundbar
Although this speaker maintains a simple design, it is sturdily built and one of the best speakers to use with a projector. Despite not having USB connectivity, the Bluetooth connectivity of this speaker is amazing.
Features
Dialogue mode
Auto turn off when Bluetooth is out of range
Good bass
It can easily be positioned
Universal remote for easy control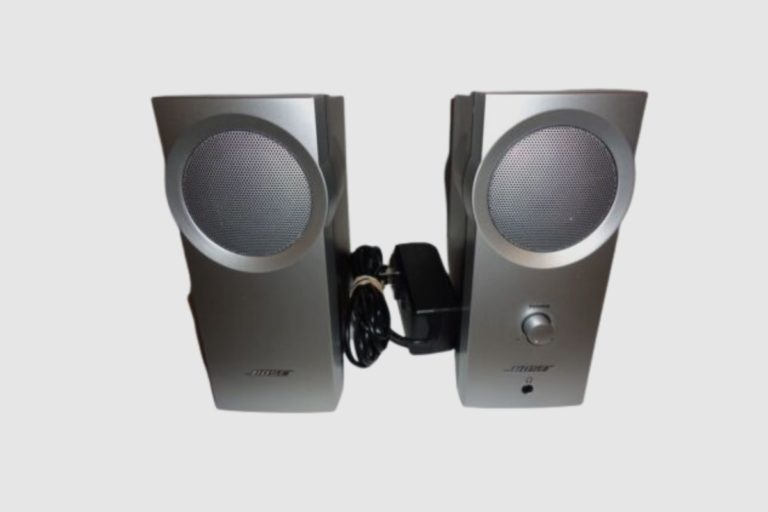 11. Bose Companion 2 Multimedia Speakers
This is another Bose speaker which works just fine with the Epson projector. This speaker is perfect for multimedia lovers. Affordable at $149, this speaker is easy to set up and guarantees users of an upgraded sound experience. The contents of this box are a powered speaker, accessory speaker, audio input cable with mini-plug, speaker cable and an AC power pack.
Features
Stereo audio performance
2 speakers that deliver wide, detailed sound
Presence of volume control and headphone jack on the speaker
You can expand your entertainment with the ports that ensure easy & direct connectivity to computers, iPhones, and iPads
Setup of this speaker is easy
12. Sony HT-S350 Soundbar
The wireless subwoofer and connectivity options of the HT-S350 soundbar by Sony make it one of the best speakers for the projector. This speaker can easily be mounted on a wall, and
Features
7 sound modes: Auto Sound, Cinema, Music, Game, News, Sports, and Standard Audio Mode
Powerful subwoofer: 6.16-gallon volume for a deeper, richer bass sound
S-force Pro front surround that imitates a cinema surround sound without requiring additional speakers
Voice enhancement which isolates background noise
Versatile connectivity options
Easy installation
The total power output is 320 watts
13. OontZ Angle 3 Bluetooth Portable Speaker
This is a budget-friendly, portable speaker that produces high-quality sound and can be used conveniently indoors and outdoors.
Features
Strong battery life: On a single charge, the battery of this speaker can last for up to 14 hours
IPX5 waterproof rating: This speaker is splashproof and can be taken into the shower, pools or beaches without causing any damage
Bluetooth connectivity is 5.0, with a range is 100ft
Portable: This speaker weighs 9 ounces which makes it a great travel companion
Crystal clear stereo sound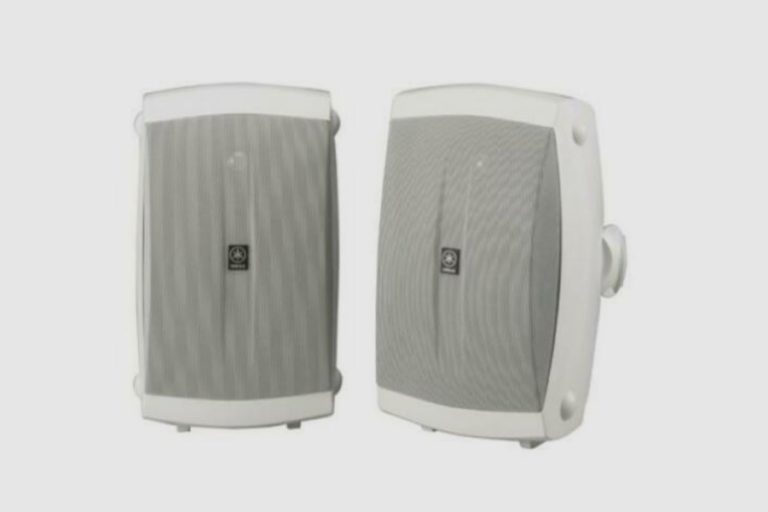 14. Yamaha NS-AW350W All-Weather Indoor/Outdoor Speakers
The Yamaha speaker costs $149.95 and can be mounted on the wall. This speaker is suitable for both indoor and outdoor gatherings.
Features
Energy star certified
The maximum power capacity is 130 watts
Acoustic suspension design for clear sound and controlled bass response
6.5-inch high compliance, polypropylene, mica-filled woofer and 1-inch PEI dome tweeter; magnetically shielded and water resistant
The frequency range is 55 Hz 40 kHz
15. iLive Wireless Tailgate Party Speaker
The iLive portable speaker has a special radio feature and can be connected via USB, SD card, and voice commands.
Features
Supports Bluetooth 5.0 with a wireless range of 60 feet
Built-in 8″ speaker and FM scan radio
Micro SD slot and USB port: supports audio file playback; USB-C port for battery recharge.
Voice prompts announce speaker functions and make Bluetooth pairing easier; Color changing LED light effects.
Retractable pull handle and roller wheels for easy transport; Microphone input
The built-in rechargeable lithium-ion battery can last for 6 hours at 50% volume and 2.5 hours at 100% volume.
Conclusion: Best Speakers for Epson Projector
In conclusion, the use of external speakers for your Epson projector assures you of high-quality sound, especially when used in outdoor gatherings. Each of the above-listed speakers has features peculiar to them that make them top choices, and as such, choosing the best speaker depends majorly on your budget and your preferred speaker features.
Product Image Gallery – 15 Best Speakers for Epson Projector