Having a smartwatch that has a built-in speaker and microphone is of utmost importance, particularly since it eases you from the stress of locating your smartphone when it is not easily accessible before you can pick calls and have conversations with your callers.
This feature is especially useful when you have your headphones on or while driving. It also helps you with voice commands and to send voice messages.
Smartwatches with speakers and microphones have become a modern feature most smartwatch brands incorporate into their products because they provide users with an ultimate user experience.
This innovative feature can be found on certain smartwatches and are compatible with either Android or iOS devices.
Some smartwatches with speakers and microphones are listed below:
1- SAMSUNG GEAR S3
DESIGN
This smartwatch was designed with military-grade to enable it to resist extreme temperatures, dust and water. It comes in 2 designs – Gear S3 Frontier and Gear S3 Classic. The Samsung Gear S3 has a unique steel circular bezel design that can be rotated to access notifications and apps.
It has attractive colour bands such as seta grey, Nagano dark brown, Nappa orange, Tuscany black amongst several others. This smartwatch is built with superior quality and has an all-around premium design.
DISPLAY
The Samsung Gear S3 comes with a 1.3 inch Super AMOLED Always-on display and it comes with up to 15 preloaded watch faces to choose from to allow for users to personalise their watch face to their preferred choice.

BATTERY LIFE
With a 380mAh lithium-ion battery capacity, the Samsung Gear S3 has a battery life of 3 days.

FEATURES
Heart rate tracking monitor
Dust and water resistant to an IP68
4GB storage and 768MB RAM
Great connectivity options eg WiFi, Bluetooth
Samsung Pay for contactless payments
Runs on Tizen Operating system
Compatible with Android and iPhones
Activity and Fitness tracking
Built-in GPS
Text and call notifications
Wireless charging
The built-in speaker allows you to listen to voice messages, music and voice calls. The mic can also be used to talk or send voice messages.
COST
The Samsung Gear S3 costs $149.99
This smartwatch is packed with spectacular features, and it is an easy smartwatch to use for answering calls.
2- HUAWEI WATCH 2
DESIGN
Released in 2017, the Huawei Watch 2 has a bold and sporty look, with a plastic body and bezel around the watch face. The silicon straps can be interchanged and it consists of a metal frame. Despite weighing 57 grams, this smartwatch has a light feel when worn and can be worn for long durations. It also comes with 2 buttons and a rotating crown that allow for easy navigation.
DISPLAY
Huawei Watch 2 has a 1.2 inches AMOLED display and a resolution of 390 x 390, but it still has a bright and clear outdoor visibility.
BATTERY LIFE
On a full charge and with a 420 mAh battery capacity, the Huawei Watch 2 has a battery life of 2 -3 days.
FEATURES
Built-in GPS and NFC
Inbuilt speaker for playing music and receiving calls
Run-on Android Wear 2.0
The internal storage of 4GB
IP68 water-resistance level
Fitness tracker
Continuous heart rate monitor
Compatible with Android and some iOS devices
Built-in speaker and microphone
It comes with workout modes for fitness lovers
4G connectivity
COST
This smartwatch costs $199.99
The Huawei Watch 2 is a great smartwatch with its microphone and speaker that allows you to pick calls seamlessly even when you are not within close reach of your phone.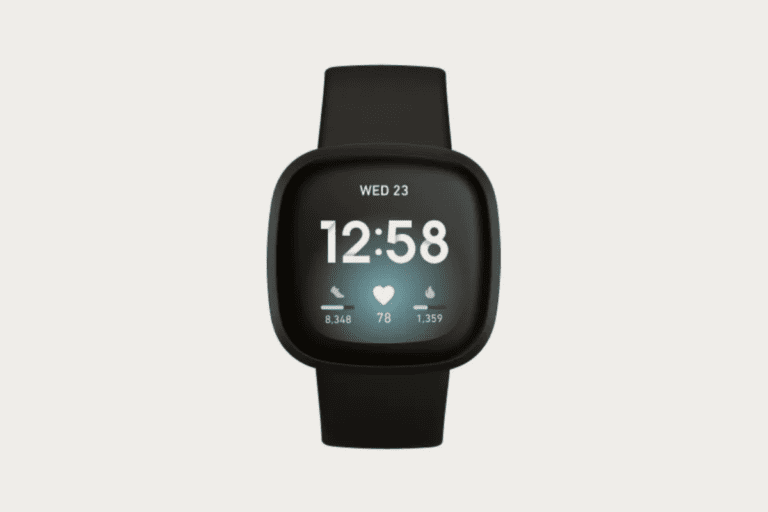 3- FITBIT VERSA 3
DESIGN
The Fitbit Versa 3 comes in 5 colours which are midnight with soft gold aluminium, black with black aluminium, pink clay with soft gold aluminium, thistle with soft gold aluminium and olive with soft cold aluminium. It is an advanced smartwatch designed specifically for Android users, although it is compatible with iPhones.
It also has interchangeable straps and is comfortable to wear. The Fitbit Versa 3 has an aluminium casing, one side button and a Corning gorilla glass 3 alongside a curved edged shape. This smartwatch does not come with physical buttons but the touchscreen makes the smartwatch easy to navigate through.
DISPLAY
This smartwatch has a resolution of 336 x 336 pixels, which means that it can show sharper graphics and more text simultaneously, especially functional notifications from your smartphone. The display options make it bright and easy to use even in sunlight.
BATTERY LIFE
Without the Always On Display active, the battery of the Fitbit Versa 3 can last as long as 6 days without being charged at all. With the Always-On Display active, the battery can last for 2-3 days.
FEATURES
24/7 heart tracking
Built-in GPS which tracks workouts over distances
Calls, texts and app notifications
It is waterproof to a depth of 50 metres
Sleep tracking
Fast charge
Spo2 for measuring blood oxygen levels
FitBit Pay for contactless payments
COST
The Fitbit Versa 3 costs $229.25.
Asides from its battery life of 6 days which eliminates frequent charges, you can also take quick calls on your wrist, provided your phone is within close proximity.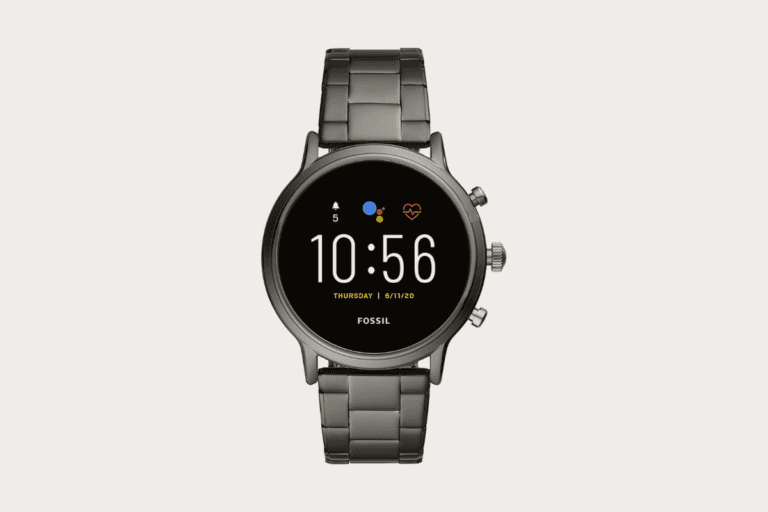 4- FOSSIL GEN 5 CARLYLE
DESIGN
The Fossil Gen 5 has 3 models – Carlyle, Julianna and Garrett. The Fossil Gen 5 Carlyle has a circular and quite bulky design. It has interchangeable straps that can be either stainless steel or leather, depending on the preferred taste of the user. The available colours of this smartwatch are black and smokey stainless steel.
This smartwatch has a rotating crown for scrolling through the app's menu and two buttons on either side for easy navigation of your smartwatch.
This watch weighs 99.7 grams, so it can not exactly be described as a lightweight smartwatch.
DISPLAY
With a 1.28 inches AMOLED display, a 416 x 416 resolution, and a 328ppi pixel density, this smartwatch has a vibrant Always-On display and is protected by Corning Gorilla glass.
BATTERY LIFE
The Fossil Gen 5 has multi-day battery modes which encourage battery saving and are entirely dependent on usage. These modes are:
Daily Mode – Here, all features of this smartwatch are in use which, as expected, will drain the battery quicker
Extended Mode – In this mode, only essential features are used
Time only Mode – This mode switches the smartwatch to a regular wristwatch for just a time display to save battery.
Custom Mode – When set to custom mode, you can customise your smartwatch to your most important features
Basically, the battery life of the Fossil 5 Gen smartwatch depends greatly on the exact model it is set to.
FEATURES
It is water-resistant to a depth of 30 metres.
It comes with multi-day battery modes to save battery
Pre-installed watch faces
The operating system is Wear OS
Continuous heart rate, sleep and stress monitoring
Built-in speaker and microphone
Fitness tracking
Built-in GPS and NFC
Qualcomm Snapdragon Wear 3100 processor
Fast charging
8GB of internal storage and 1GB RAM
COST
The Fossil Gen 5 Carlyle costs $220.91
Fossil Gen 5 Carlyle is a premium smartwatch, and its battery saving modes makes it stand out amongst several others. The addition of the speaker and microphone makes receiving calls easy as long as you are connected to your phone's Bluetooth. This smartwatch is compatible with Android and iOS devices.
5- TICWATCH PRO 4G
DESIGN
This smartwatch is designed with US military standard durability and is built to resist extreme temperature, dust and solar radiation. The Ticwatch Pro 4G watch case is made up of polyamide and glass fibre, with a knurled stainless-steel bezel and aluminium back cover, giving it a stylish and premium look.
DISPLAY
The Ticwatch Pro 4G has a unique dual-layered display which comprises a low power consuming LCD display and an AMOLED display. The display size is 1.39 inches & a 400 x 400 screen resolution. The display is generally bright and provides a great view, even when outdoors. It is protected by Corning Gorilla Glass 3.
BATTERY LIFE
In Smart mode, this smartwatch can last up to 2 days because it uses the AMOLED display, and it can last as long as 5 days in Essential mode, with the LCD display turned on.
FEATURES
Cellular connectivity for Verizon phone plan users
Distinct dual-layered display
IP68 water and dust resistance rating
Built-in GPS
It comes with 6 sports modes
Google Pay support via NFC
1GB RAM and 4GB ROM
Compatible with i\Phone and android
The operating system is Wear OS
Heart rate monitoring & sleep tracking
The speaker is water-resistant
COST
The cost of the Ticwatch Pro 4G is $159.99
The dual-layered display is an exceptional feature of the Ticwatch Pro 4G smartwatch as it switches between display modes to conserve battery.
CONCLUSION
In conclusion, smartwatches with speakers and microphones allow users to receive calls, play music directly from their watch, and even send voice recordings when necessary. These features and several others make smartwatches with speakers and microphones highly recommended.
Product Image Gallery – Smartwatch with Speaker and Mic