Monitoring your health always is a great way to reduce the risks of having underlying health issues. Eating healthy, taking walks, exercising, and measuring your blood pressure is crucial in monitoring one's health.
The advent of technology has made all this easy and now, it is not necessary to constantly visit hospitals or use a BP device to measure your blood pressure. 
High blood pressure, HBP for short, is often referred to as hypertension, and most times, this disease does not come with any major symptoms but can cause serious health conditions such as optic nerve damage, heart disease, or stroke, if not treated. This is because high blood pressure forces the heart to work harder to pump blood to the rest of the body.
Low Blood Pressure or hypotension occurs when blood pressure is lower than normal. It causes weakness, dizziness, fainting, nauseous amongst others. This is because low blood pressure deprives one's body of sufficient oxygen that is needed to carry out basic functions. Low blood pressure can damage your heart and brain if not treated.
While serving as fitness/activity trackers, some smartwatches, call notifications, tracking pulse rate, consumption of calories also help users measure their blood pressure. The measurement of blood pressure using smartwatches has been likened to the results obtained when checking from a hospital and considered to be accurate. However, for professional consultation, be sure to communicate the stats to your doctor.
Since blood pressure varies throughout the day, readings must be taken frequently and as such, these smartwatches instantly alert you when your blood pressure is high or low, which will allow you to take the necessary medications or precautions, as the case might be.
Asides from these smartwatches measuring blood pressure, they also help you to keenly monitor your diet. Some of these smartwatches that measure blood pressure have a Food and Drug Administration (FDA) clearance.
Some of the smartwatches that measure blood pressure are: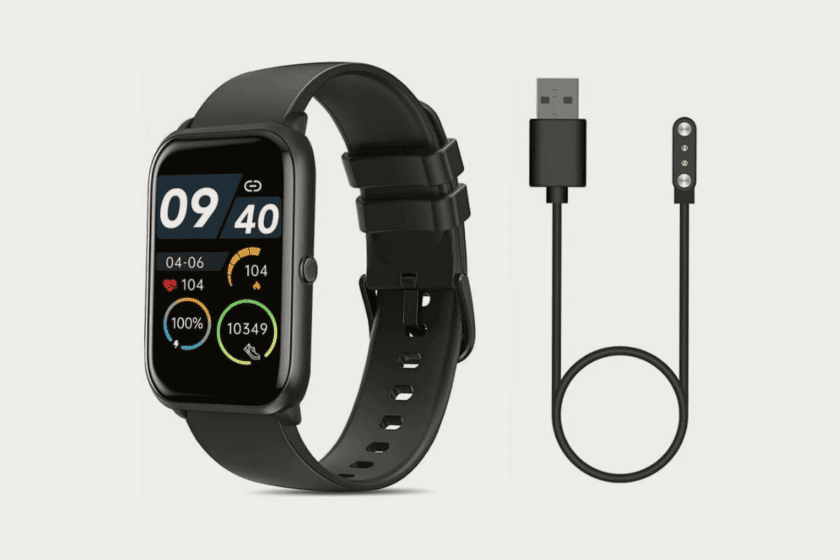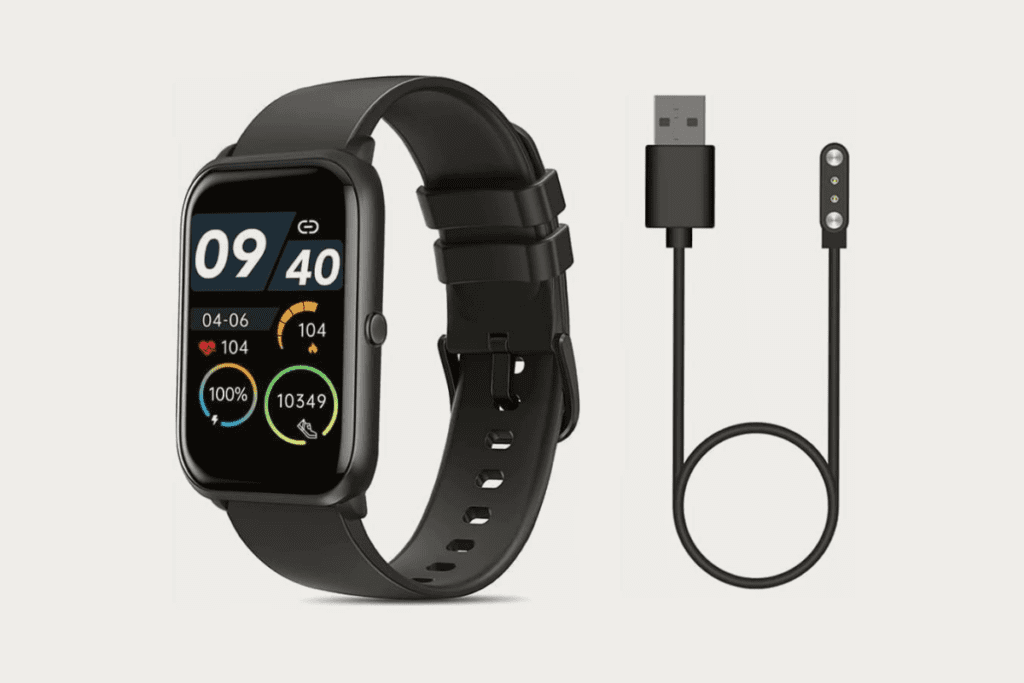 1 – MorePro Smartwatch
Compatible with Android and iOS devices, the MorePro smartwatch is a lightweight smartwatch for people who constantly need their blood pressure monitored. It is a touchscreen smartwatch that tracks the heart rate and blood pressure all day long and in real-time.
It has a 1.3 inches HD-inch screen display that makes it easy to view, even when outdoors. The MorePro smartwatch also alerts users of calls text notifications and comes with an IP68 water resistance level. This smartwatch has a battery life of 5-7 days.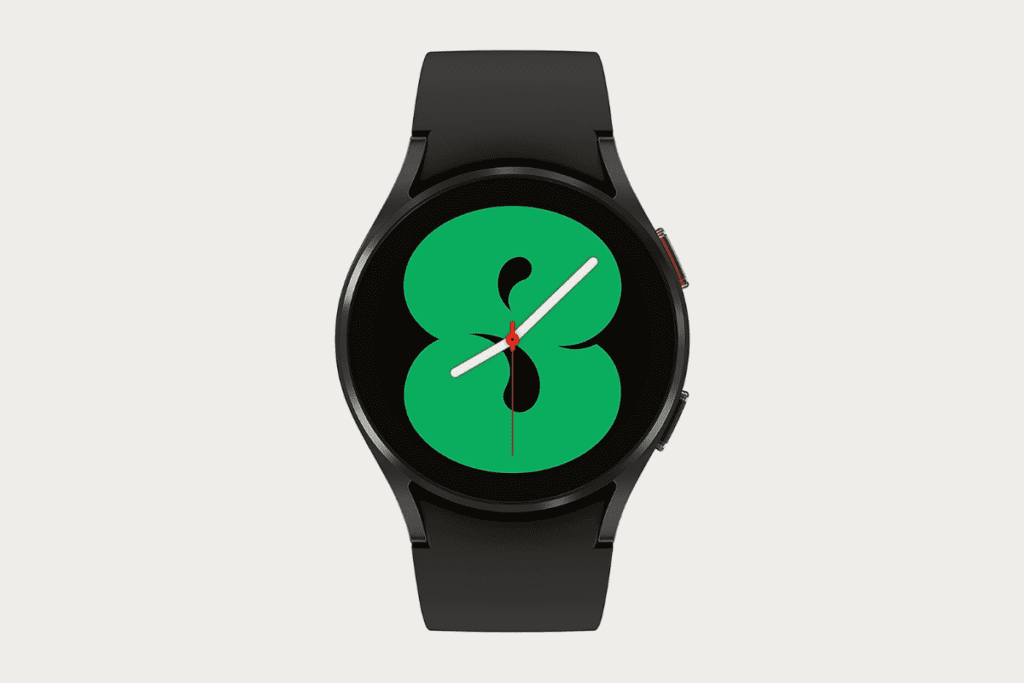 2 – Samsung Galaxy Watch 4
The Samsung Galaxy Watch 4 was released in 2021 and has so far become one of the best smartwatches in the market. This smartwatch is built-in with a functionality that enables users to track sleep, heart rate, blood oxygen, and GPS.
It is designed simply with a streamlined aluminium metal frame; this smartwatch majorly works with Android devices because it is run on Wear OS.
Samsung Galaxy Watch 4 has an IP68 water-resistant rating, various connectivity options, and a battery life of 40 hours. Besides its basic health and fitness functions, a spectacular feature of this smartwatch is the Bioelectric Impedance Analysis (BIA) sensor which helps to track body composition based on weight, body fat, body water, etc.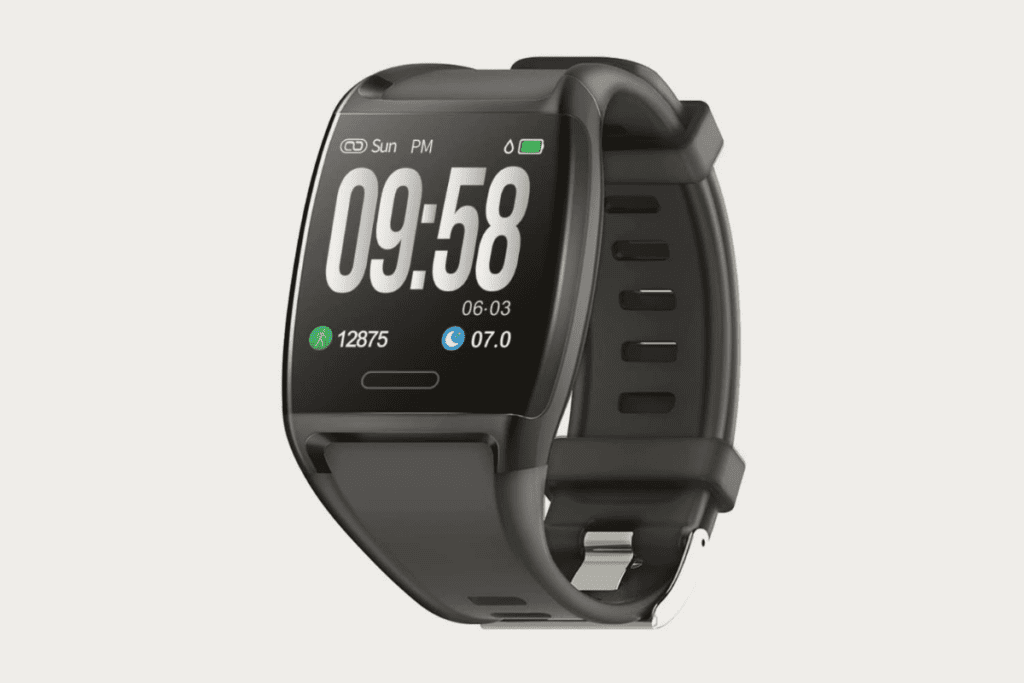 3 – HalfSun Fitness Tracker
This fitness tracker by HalfSun has an amazing ergonomic design and a skin-friendly material which means that it can be worn for long durations without feeling any discomfort. With a weight of 36grams, it is considered to be a lightweight fitness tracker and works with only Android smartphones.
This smartwatch tracks real-time heart rate and blood pressure continuously, as well as sleeping patterns, call and text notifications. It has a 24 hours battery life.
4 – Yamay Smartwatch
The Yamay smartwatch is compatible with both Android and iOS devices, and it comes in a square-shaped, 1.3 inch TFT display that provides high quality and bright view. It comes in catchy colour variants such as pink, green, blue, grey, and black.
With this smartwatch, blood pressure, heart rate, and blood oxygen can be monitored accurately. It also comes with 9 different sports modes and allows users to track sleep as well as receive call and text notifications, provided it has been synchronised with the compatible devices. This smartwatch has IP68 water resistance, and on a full charge, the battery life lasts as long as 7 days.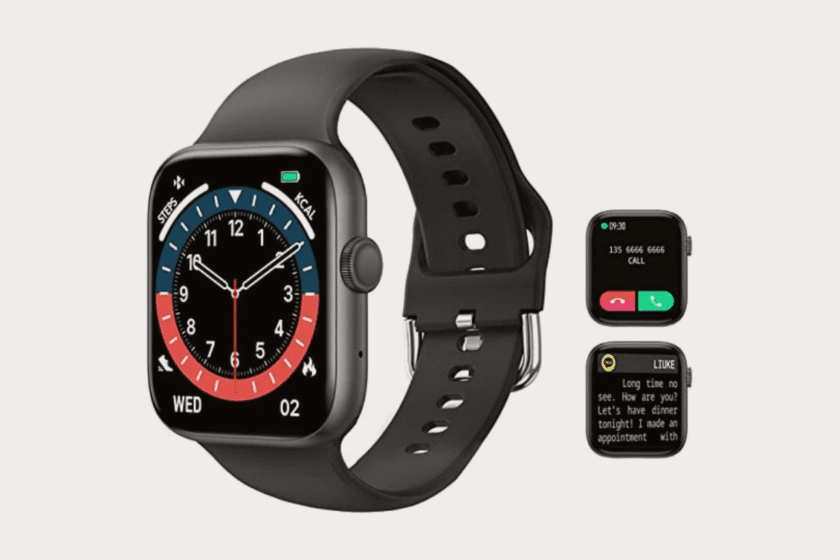 5 – Kimnix Smartwatch
With a 1.72inch HD display, the Kimnix smartwatch has a clear, large screen with a bright display and bezels made up of aluminium shells, giving it a stylish look. It also comes with loads of custom watch faces, and it works fine on Android and iOS smartphones.
Beyond just measuring blood pressure, the Kimnix smartwatch tracks sleep and have sports modes that sports and fitness enthusiasts might find interesting. The battery life of this smartwatch ranges from 3-5 days, and it is IPX4 waterproof which makes it resistant to water splashes from any direction.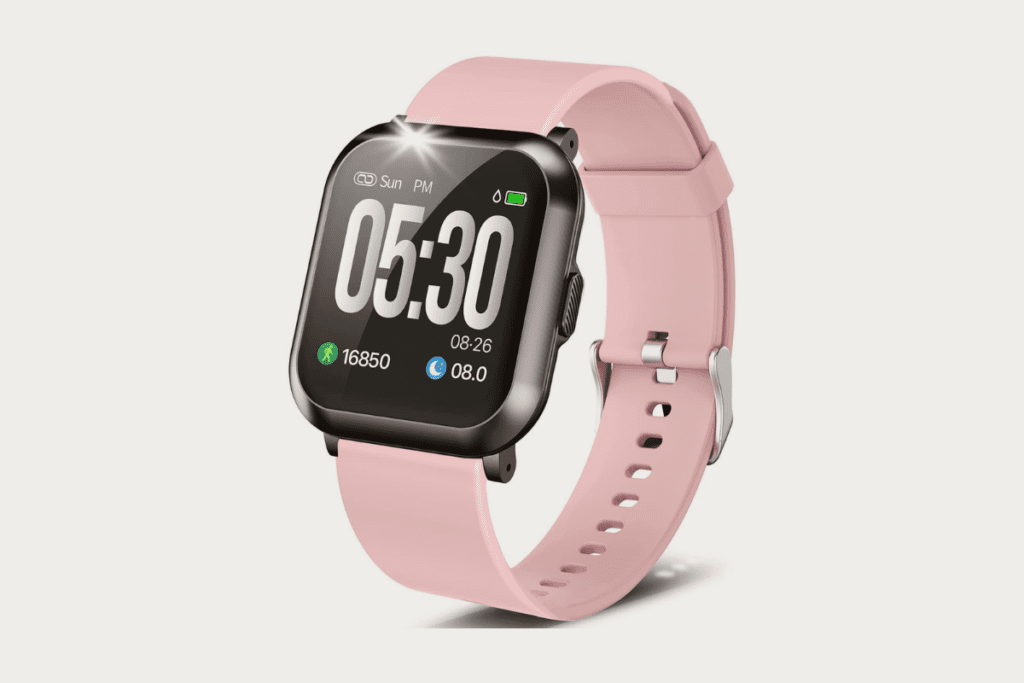 6 – DoSmarter Fitness Watch
This smartwatch by DoSmarter is another good example of a smartwatch that measures blood pressure. It comes in a light and sporty look and is simple to use. It has a 1.3 inches display which makes it easy to read.
The DoSmarter Fitness Watch precisely tracks your daily activities all day long and comes with over 10 Sports Modes that inspire fitness goals for users. Furthermore, it has a multifunctional smart reminder that alerts users of incoming calls and messages.
With its IP68 waterproof feature, it can be worn for water-related exercises without fear of damage. At full charge, this smartwatch can last for up to 7 days.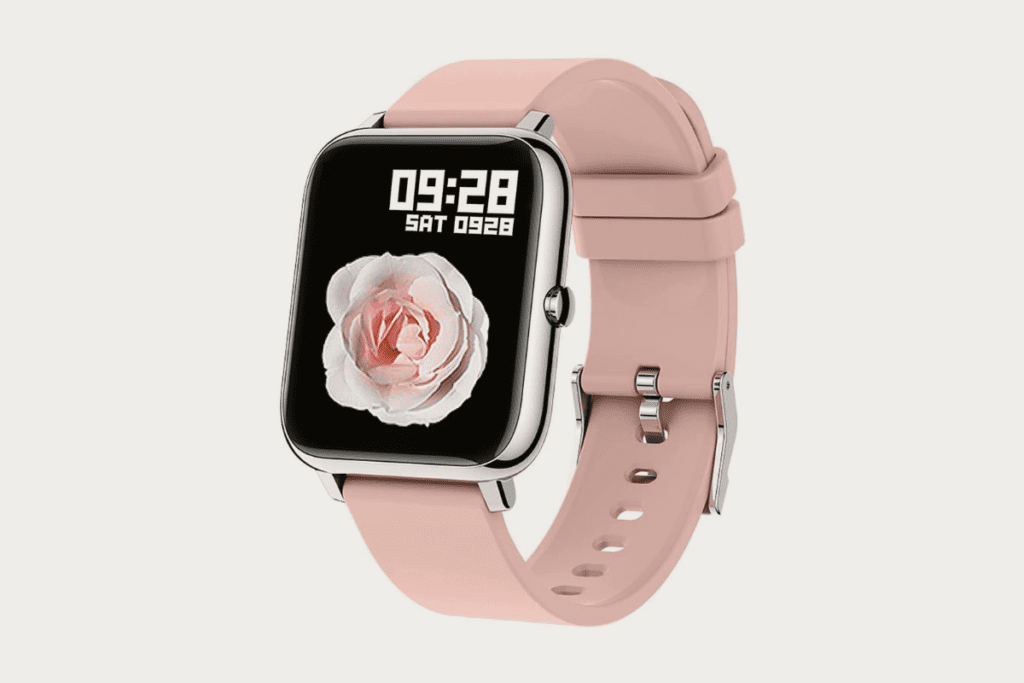 7 – PopGlory Smartwatch
This is a full touchscreen smartwatch that is compatible with Android and iOS devices. Apart from measuring blood pressure and blood oxygen, this smartwatch tracks users' all-day activities, sleep patterns, calories consumed, and the number of steps taken. It also comes with 7 Sports modes.
The PopGlory smartwatch allows for easy customisation of watch faces to suit your preferred style. As long as your smartwatch is connected to your smartphone, you will receive important notifications like incoming calls, texts, and emails. The battery life of this smartwatch is 10 days, and it is built with an IP67 life waterproof design.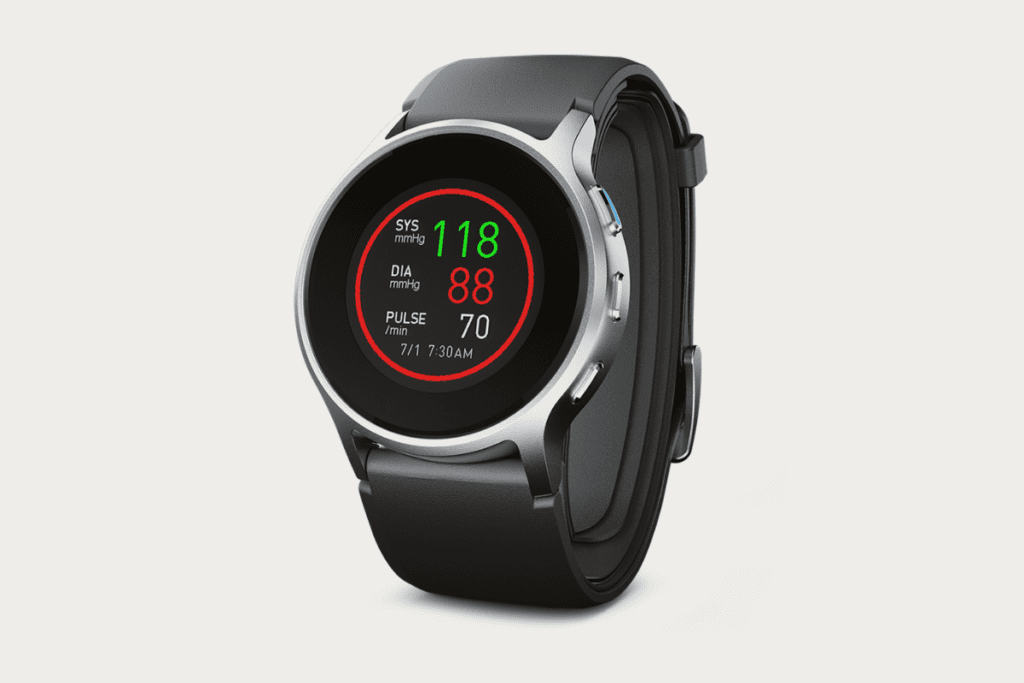 8 – Omron HeartGuide
The first of its kind, the Omron HeartGuide is a clinically wearable blood pressure monitor which is registered with the FDA as a medical device. It has a transflective memory-in-pixel LCD, weighs 115grams, and is designed with inflatable cuffs within the watch band, to accurately measure your blood pressure in as little as 30 seconds.
While measuring blood pressure is its primary function, it also monitors sleep patterns, tracks fitness by monitoring daily physical activities of users to achieve a more active lifestyle, and keeps you connected by receiving calls, texts, and email notifications. Battery life can last about 2-3 days, but this could vary based on usage frequency. This blood pressure is not water-resistant.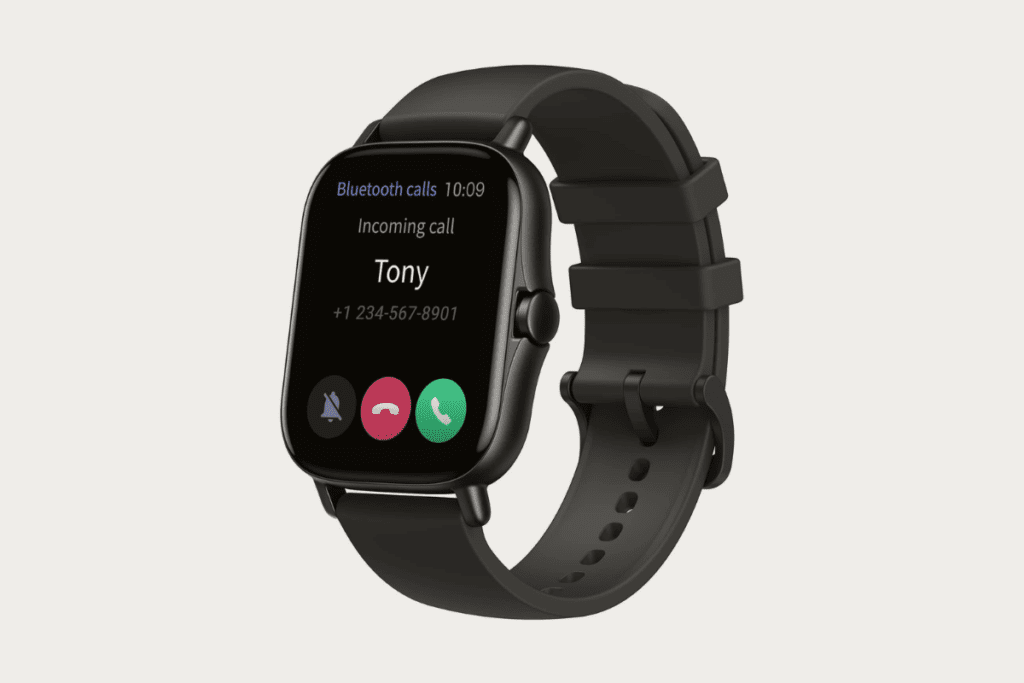 9 – Amazfit GTS 2
For this smartwatch, Amazfit incorporated PumpBeats, a new cuffless blood pressure monitoring feature that makes use of smartwatch optical heart rate sensors to take blood readings. Asides from monitoring blood pressure, this smartwatch also features a blood oxygen sensor.
The Amazfit GTS 2 has a sleek 3D curved bezel-less design and an AMOLED HD screen that makes the display bright and colourful. It is a lightweight smartwatch and can be worn comfortably for a long duration. It also has a built-in intelligent voice assistant, GPS, 90 sports modes, and all-around fitness and tracking feature. This smartwatch is water-resistant to a depth of 50 metres and boasts a 7-day battery life.
10 – Samsung Galaxy Watch 3
The Samsung Galaxy Watch 3 has a premium design and comes in two sizes – 41mm and 45mm. Besides just monitoring blood pressure, this smartwatch gives users total control over their phone notifications and alerts. It has a built-in GPS and is 5 ATM water-resistant. This smartwatch has a 10-days battery life which prevents frequent charges.
Conclusion
In conclusion, smartwatches that can measure blood pressure are useful for people of all ages because they help monitor blood pressure accurately directly from your wrist, to enable you to know when it is high or low, and take all necessary precautions and medications. 
This will, in turn, ensure your blood pressure is constantly checked and prevent frequent visits to the hospital or the unexpected.
Image Gallery – Which Smartwatch Can Measure Blood Pressure