When Apple unveiled the Airpods Max, many people were confused about why the company released a $550 (£549) pair of wireless noise-cancelling headphones. At the time, it seemed like people had valid concerns about the Apple Airpods Max because they were very expensive, and it wasn't clear why Apple was entering such a saturated market when they were already doing well with the Airpods and the Airpods Pro.
However, after I've had some time to sit with it and give it a chance, I've come to a simple conclusion. Even if it may not appear so at times, Apple always knows what they're doing, and with the Airpods Max, Apple has something to say about the headphone business, and the Airpods Max is here to stay.
I get that there are so many headphone brands out there and a lot of complete control over the market, but just like how the first iPhones revolutionised the smartphone market, Apple thinks they can do the same thing with the Airpods Max. I know I sound like an Apple fanboy right now, but stick with me and let me explain the Airpods Max.
Related Post: Is Airpods Max Good For Gaming?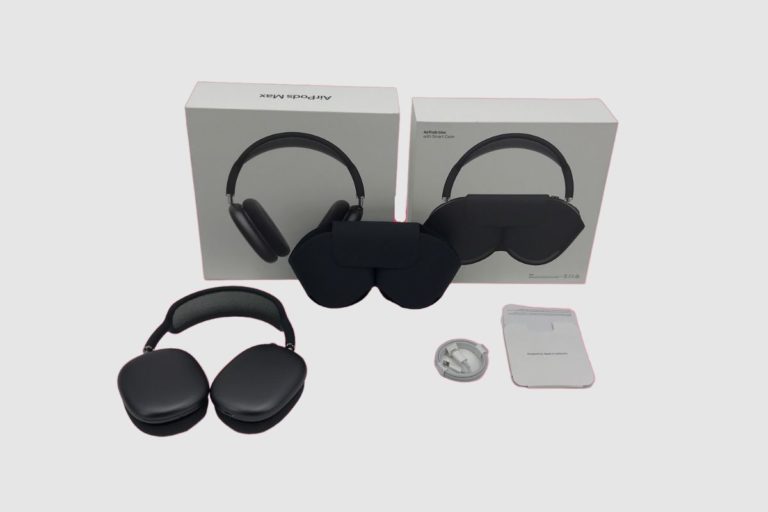 Unboxing and Accessories
So, just like unboxing an iPhone, there isn't much going on with the box. All you have is the picture of the headphones on the box and some information about them at the back of the box, and that is it. There's no fancy digital art or sick paint job on the box; it's just a white box with a picture on it.
It is very simple and very minimalist, and I have to say, I like it. The simple design of a white box with nothing else going on inside is very classic, and as we all know, Apple loves to do things with simplicity in mind.
So, once you finally open the box, you will have your headphones inside of your smart case, some paperwork, no Apple sticker, and then your USB-C charging cable and nothing else after that. Simple, right? Well, we all know that Apple doesn't put anything else apart from the essentials in their boxes anymore, so there wasn't much to expect.
Design
From a design standpoint, the Airpods Max follows a lot of the conventional design choices that you will find on almost every headphone, but Apple has made a few slight changes that will make their headphones stand out. So, right off the bat, you can see that these headphones are made of metal.
It has aluminium earcups that get cold to the touch when you're outside during the winter, and it has a stainless-steel headband. These may still look like conventional designs, but Apple has not used conventional materials to design their headphones, and it is clear to see that virtually almost every other pair of headphones are made entirely out of plastic.
This metal design choice that Apple has made is dope, and I have to applaud them for making such a bold and unconventional choice. It's got super tight tolerances. The earcups have a very nice satin finish to them, but I would have preferred to see them in matte black.
The telescoping headband doesn't have notches, but it's really smooth, and it's got a bit of resistance to it when you try to adjust it to fit your head, which makes it feel like it is very high quality.
So, if the metal design is so good, why is it that we don't see this kind of design choice being replicated or done by more brands? Well, that's an easy question to answer. The reason you don't see a lot of metal headphones is that all the other brands have done the research and come to a simple conclusion.
One of the major factors to consider when designing headphones would be "comfort over long periods." This is their weight, and as we all know, metal is heavier than plastic. So, most headphone companies have realised that and have always made their headphones out of plastic because they are much more comfortable to wear than metal.
So, this is something that Apple has to work around, and they did their best to combat the weight by creating this thin mesh in the top band that is supposed to evenly distribute some of the weight on top of your head, but it only has a minimal effect on the overall weight of the headphones.
So, if you sit still with these headphones for a while, you won't feel them or notice them, but the moment you turn your head or nod at someone, you will notice that they've got some weight to them.
Another thing to note about the headphones would be the earcups, which are very soft and comfortable and made of soft mesh and memory foam. When I used them for some long listening sessions, they felt more comfortable on my ears than leather earcups, and that was nice to feel.
A final thing to know about the earcups on the Airpods Max is that they are easily removable and held together by magnets.
This is a nice feature to have because most headphones don't actually have removable earcups, and most of the time, your earcups get worn out, and you have no way of changing them, so you're usually left with no choice but to buy a new pair of headphones.
So, Apple will sell you a pair of replacement earcups for $70, and this is where I think Apple has decided to stick you up on the price, but it is still a nice feature to have.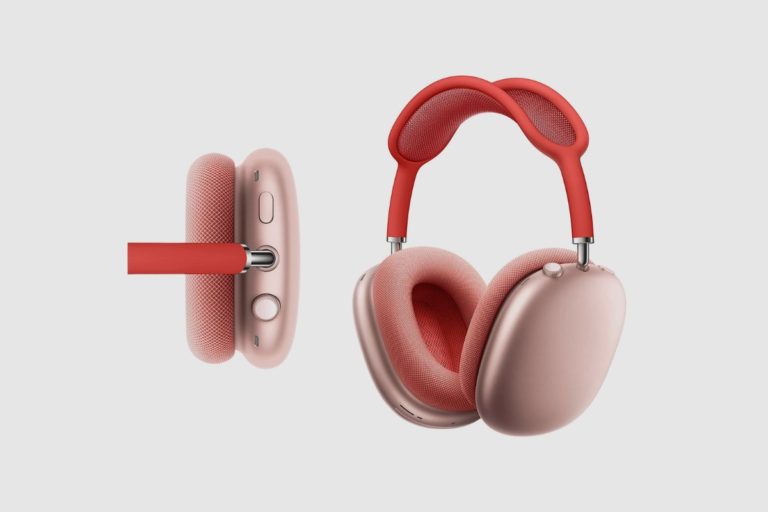 Controls
The lack of touch controls seemed like a good call to me because touch controls wouldn't really fit with the ascetic of these headphones. So, instead, Apple decided to add a larger version of their digital crown for the Apple watch to the top of the headphones.
It basically serves the same function as a nub, so if you rotate it, you can control the volume and press it for media controls, and it works perfectly, just as I had expected.
The headphones have some impressive features built into them. The sensors inside will know if they're on your head or not and will auto-play/pause when you take them off and put them back on again. You can hold down the digital crown to talk to Siri, and she can even read out your text messages for you and talk to you.
They will also pair instantly with any of your Apple devices that you have. This will allow you to quickly switch between your phone, your Mac, and even your iPad if you have one.
Sound Quality
The Airpods Max sound like luxury listening, which is to say, they sound really good. This is the one area I think Apple has paid attention to the most, and they have not disappointed me. The Airpods Max has these massive 40mm drivers, and they sound excellent and super clear at all volumes.
I was very impressed with how they handled ultralow distortions at higher volumes, and they are so loud that I don't actually need to have the volume at its max to enjoy the music.
So there are definitely some limitations that come with listening to music over wireless headphones, and they are still very apparent, even with high-quality Spotify streaming. I enjoy the solid, punchy bass that these headphones produce, as well as the occasional deep sub-bass.
The instrument separation is flawless, and the clarity through the mids and highs in a variety of genres is excellent and not at all tiring to listen to.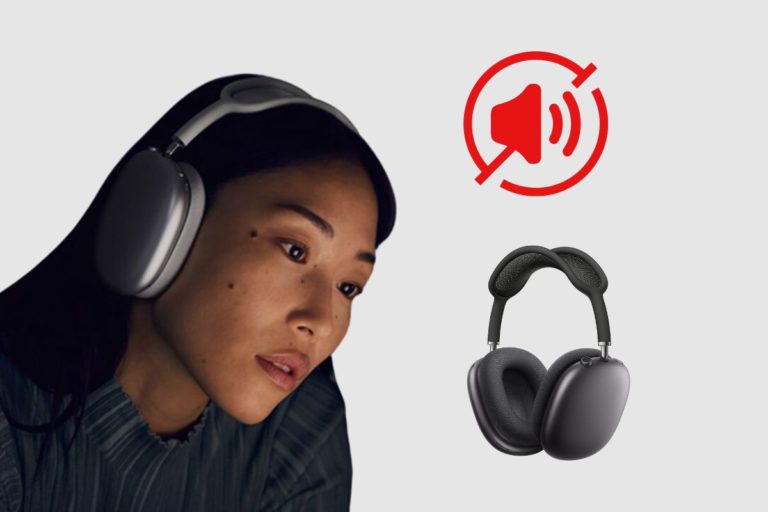 Noise Cancellation
The noise cancellation on the Airpods Max is excellent. I wasn't sure what to expect when I started using the noise cancellation features on these headphones, but the nine microphones on these headphones do a fantastic job with white noise and have a surprisingly natural sound to them. Sometimes noise cancelling headphones can feel like there is a bit of pressure on them, and they sound slightly unnatural with the noise cancellation on.
However, I didn't think the AirPods Max did that much or at all, and I thought the mesh, pass-throughs, and mics were fantastic. They even managed to cancel out a vacuum cleaner that was three feet away from me. So, with that in mind, I can easily place them right next to the Sony XM4s as one of the best noise-cancelling headphones around.
Transparency Mode
The transparency mode on these headphones is quite impressive. Obviously, most noise-cancelling headphones will have solid transparency modes, which can let ambient sound through so you can hear your environment, or if someone calls you, for instance, you can still hear them. However, the AirPods Max takes it to another level.
I can hear everything but not just what is being said. I can even know where they are coming from. Whether someone is talking to me from my right-hand side, I will know where they are. However, not a lot of headphones have the kind of precision ambient mode that these have.
Battery Life
The battery life on these headphones is great. During my testing, I was able to reach the advertised 16-20 hour battery life even with the noise cancellation turned on, and that is just impressive to have available. Another good thing about them is their fast charging capabilities. You can plug them in for about five minutes, and you should get about an hour and a half of quality playtime. So, the battery on these headphones is quite impressive and makes them quite worth the price.
Ease of Use
The Airpods Max are a bit tricky to get the hang of because they don't have touch controls, so it may take you a while to figure out how to use the control crown, but aside from that, I don't see it being too difficult for you to use and understand. I guess you could say there's a bit of a learning curve that comes with using them, but essentially they are fantastic to use.
Portability
My biggest concern with the AirPods Max is its lack of foldability. This is mainly down to its build quality and design. Seeing as how they are made of metal, the headphones become very hard to fold, and as such, Apple decided to do away with their folding capabilities. So, in essence, it is not very portable.
Connectivity
The headphones have only one main mode of connectivity, and that is via a Bluetooth 5.0 connection. They come with a lightning connector port for charging.
Is the Microphone Good?
If you use the incorrect device, the microphone quality is poor, but it's not always obvious which devices will be "wrong." That's because some devices simply have different defaults and settings when it comes to headphones, so it's not entirely the headphones' fault.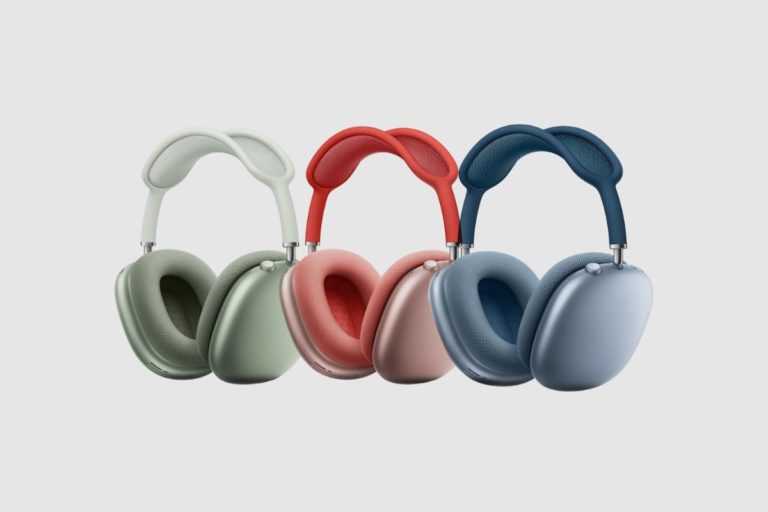 What are some of the Pros and Cons of Using the Airpods Max
Pros
Solid Battery Life
Fast charging
Comfortable ear pads and fabric headband
Great connection strength with Bluetooth 5.0
Good sound quality with no distortion
Cons
It does not sweat and water resistant
The smart case is not very smart
It doesn't have an on/off button; rather, it uses the smart case to go into a low-power savings mode.
It is slightly heavy
No USB-C.
Buyer's Guide
Getting a pair of Airpods Max is no longer as difficult a task as it once was. They used to cost over $500, but now you can find them on Amazon, Best Buy, and a whole host of other online and physical retailers for a lot less. I found a pair on Amazon for $377 recently, and I think that might be the best price they can go for. The Airpods Max is an incredible set of headphones, but Apple did some very Apple things that may have detracted from them. The biggest of which is the ugly smart case that they bundled along with it.
I was a bit disappointed with the fact that it did not have an on/off button. Instead, it relies on a magnetic sleeve on the case to turn it into a low-power-saving mode. I also think the metal frame was a good idea in principle, but in execution, it still didn't fly, especially when it became so heavy.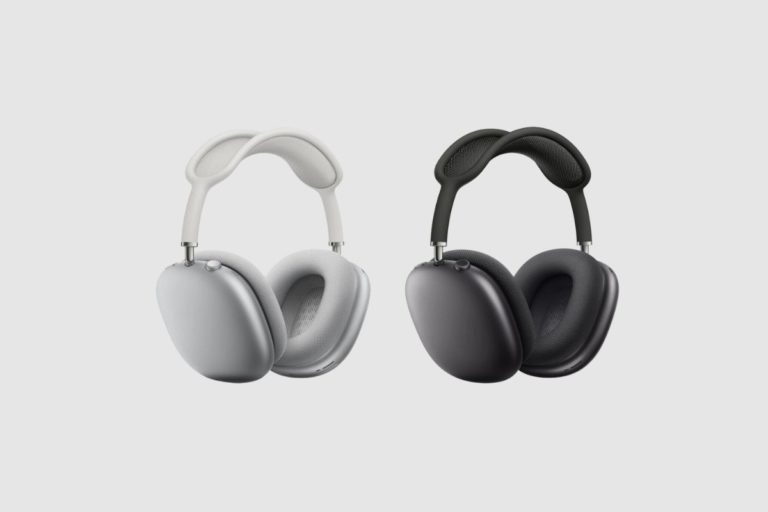 Are the Apple Airpods Max Worth it?
The Apple AirPods Max are a great set of headphones, but whether or not they're worth $400 is up to the individual. This Apple headphone comes with some fantastic and intelligent features like auto-pause and transparency mode, and the battery life, sound quality, and build are all excellent. However, to get the most out of them, you need to be fully invested in the Apple ecosystem.
The AirPods Max is one of the best noise-cancelling headsets available, but it's not the easiest or most comfortable to use. The lack of a headphone jack is aggravating, as is the "smart" case. If none of that bothers you, the AirPods Max is for you. If you're unsure whether this is the right fit for you, it most likely isn't. To answer my original question, yes, the AirPods Max are overpriced—but they're also a fantastic pair of headphones.
Conclusion
In conclusion, it all comes down to what you want from a headphone's audio experience and what you're willing to pay for it. Most people are unaware that the Apple AirPods Max headphone is more of a high-end reference-grade product that can also be used for professional production. And while it's possible to use them for that purpose, it's not recommended because they don't have the same features as production-level headphones.
However, they excel in providing a great listening experience with amazing sound and noise cancellation quality. This is because they're designed to create a perfect listening experience for the user.
Overall, the Apple AirPods Max are great headphones for those who are looking for a high-quality listening experience and don't mind paying a little extra for it.
Now over to you, what do you think of the AirPods Max? Please feel free to leave your comments below. Thanks for reading!
FAQs – Apple AirPods Max Review
Q: Are AirPods Max even worth it?
A: It depends on what you're looking for in a pair of headphones. If you're looking for incredible sound quality, then yes, AirPods Max is definitely worth it. If you're looking for a more affordable option, then you might want to consider other options.
Q: How do AirPods Max compare to other headphones?
A: In terms of sound quality, AirPods Max is definitely on par with other high-end headphones. However, they are more expensive than most other headphones on the market.
Q: What are the best features of AirPods Max?
A: The best features of AirPods Max are the sound quality and the Active Noise Cancellation. The sound quality is incredible, and the Active Noise Cancellation is great for blocking out unwanted noise.
Q: What are the worst features of AirPods Max?
A: The worst features of AirPods Max are the price and the battery life. They are very expensive, and the battery life is not as good as other headphones on the market with a similar price tag.
Q: How long do AirPods Max last?
A: The battery life of AirPods Max is about 20 hours.
Q: Is AirPods pro or AirPods Max better?
A: Both AirPods pro and AirPods Max have their own advantages and disadvantages. AirPods Max is better in terms of sound quality, while AirPods pro is better in terms of price and battery life. Also, the AirPods Pro is a better choice for people who are looking for more compact headphones for exercise.
Q: How do the Airpods Max Compare to the Sony WH-1000XM4?
A: The AirPods Max holds steady below the 150Hz threshold, whereas the Sony WH-1000XM4 noise reduction slopes off below that point, making them more effective at cancelling the lowest frequency noises. The AirPods Max is just slightly superior to the Sony headset, which is still fantastic.
Q: Will Spatial Audio Work With Apple TV?
A: Apple's streaming device now supports spatial audio for the AirPods Max and makes it simple to switch to the AirPods Max for private listening with the tvOS 15 operating system. Three-dimensional sound is now supported through AirPods Max thanks to spatial audio support (and AirPods Pro). Turn away from the screen, and it will still sound like it is coming from the TV. It also supports dynamic head tracking, so if you move your head, the audio will adjust accordingly for a more realistic experience.
Q: Can You use the Airpods Max with Android Devices
A: You can use the Airpods Max just like a normal Bluetooth device, but you will cut out some of the smart features that are shared between Apple devices.
Q: Do the Airpods Max Still Work When the Batteries are dead but they are plugged in?
A: The Airpods Max will still work even when the batteries are dead and it is being charged.
Q: Does Sound Bleed Out of the Airpods Max?
A: Sound will bleed out of the headphones when the volume is above 75%
Image Gallery – Apple AirPods Max Review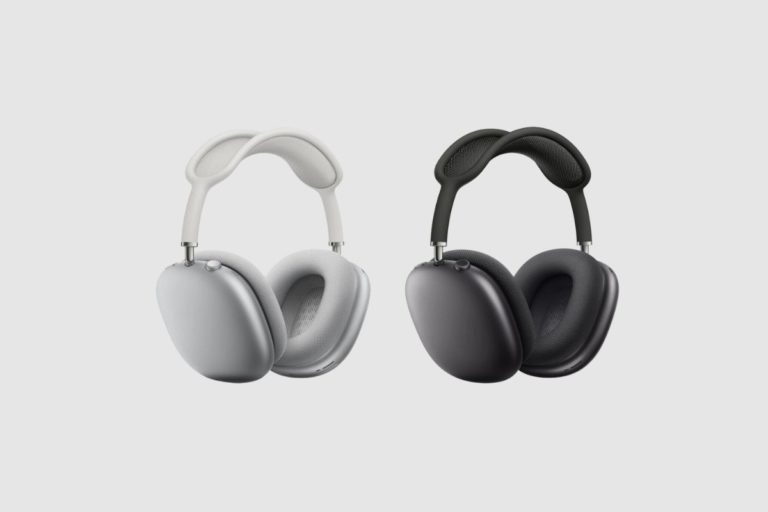 References: Apple.