Getting lost amongst the crowd is easy in the ever-competitive landscape of gaming laptops, especially when so many new laptops are being released into the market with all the latest specs and most unique designs just to get your attention.
They're all trying to be the best gaming laptops out there, and with such, sometimes it's hard to cut through the noise to differentiate between the overhyped laptops and the actual powerhouse laptops.
Well, maybe I could help with that. I'm here to give my honest opinion on the new 2022 Asus ROG Zephyrus G14 laptop. So let's get into it.
The Asus Rog Zephyrus G14 Laptop Specifications
Operating System: The device comes with Windows 10 and a free Windows 11 upgrade or maybe preloaded with Windows 11.
Processor: AMD Ryzen™ 7 4800HS Mobile Processor (8-core/16-thread, 12MB Cache, 4.2 GHz max boost).
Graphics: AMD Radeon Rx 6800s, Design;6GB GDDR6.
Display: 14-inch HD (1920 x1080)16:9, anti-glare display,sRGB;100% Adobe:75.35%.
Refresh Rate:120Hz IPS-level Pantone Validated Optimus.
Memory: 16GB DDR4 onboard, 16GB DDR4-3200 SO-DIMM Max Capacity: 32GB.
Storage: 1TB PCIe® 3.0 NVMe™ M.2 SSD.
I/O Ports: 1x 3.5mm Combo Audio Jack, 1x HDMI 2.0b, 1x USB 3.2 Gen 2 Type-C, 2x USB 3.2 Gen 1 Type-A, 1x USB 3.2 Gen 2 Type-C support DisplayPort™ / power delivery / G-SYNC.
Backlit Chiclet Keyboard, Touchpad
Camera: FHD 1080P@60FPS external camera.
Audio: Smart Amp Technology, Dolby Atmos, Built-in array microphone, 2x 0.7W tweeter, 2x 2.5W speaker with Smart Amp Technology.
Network and Communication: Wi-Fi 6(802.11ax) (Dual band) 2*2 + Bluetooth 5.0 (*BT version may change with OS upgrades).
Battery: 76WHrs, 4S1P, 4-cell Li-ion.
Power Supply: ø6.0, 180W AC Adapter, Output: 20V DC, 9A, 180W, Input: 100~240V AC, 50/60Hz universal, TYPE-C, 65W AC Adapter, Output: 20V DC, 3.25A, 65W, Input: 100~240V AC 50/60Hz.
Microsoft Office: 1-month trial for new Microsoft 365 customers. A credit card is required.
Security: BIOS Administrator Password and User Password Protection, Kensington Security Slot™.
FingerPrint: YES.
Included In The Box of the Asus ROG Zephyrus G14 Laptop
ROG Zephyrus G14 Sleeve (2022), FHD 1080P@60FPS external camera, ROG Impact Gaming Mouse, TYPE-C, 65W AC Adapter, Output: 20V DC, 3.25A, 65W, Input: 100~240V AC 50/60Hz universal.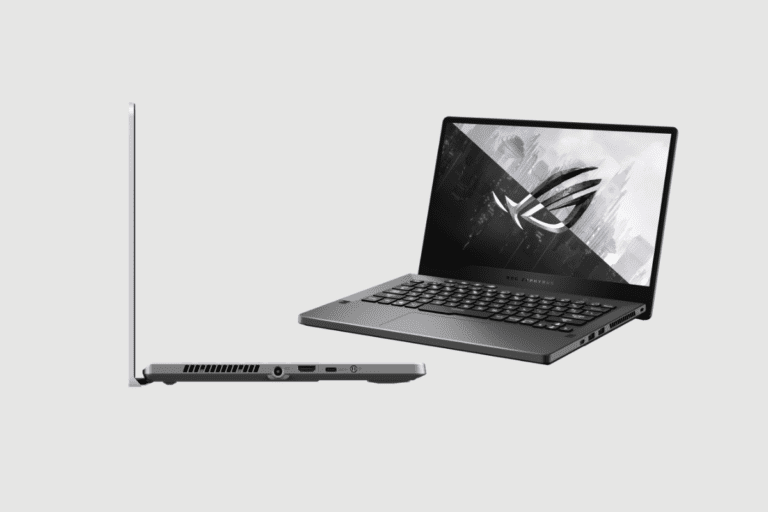 Body And Design
Just by looking at it, you can tell this is a well-designed laptop. It's made of quality aluminium and plastic materials. The keyboard is well-spaced, and the keys are nice and large. The touchpad is a lot bigger. It has that new ergonomic stand, and the hinge goes to a full 180°.
It's a 14inch laptop that has a 16X10 aspect ratio. They have also removed the chunky chin at the bottom of the bezels. Speaking of bezels, they are almost non-existent on this laptop.
On the sides, you will find 1 HDMI 2.0b port, a 3.5mm combo jack, a micro SD card reader, and 2 USB 3.2 generation 2 type-A ports.
It's also got 1 USB Type-C port of the same generation, and it's got 1 USB/display port. Also, the USB ports would be later updated to USB 4.0
This device is extremely thin and very light. It weighs about 1.72kg, and it's 19.5mm thin. I'm truly impressed by how much they could cram into such a small computer.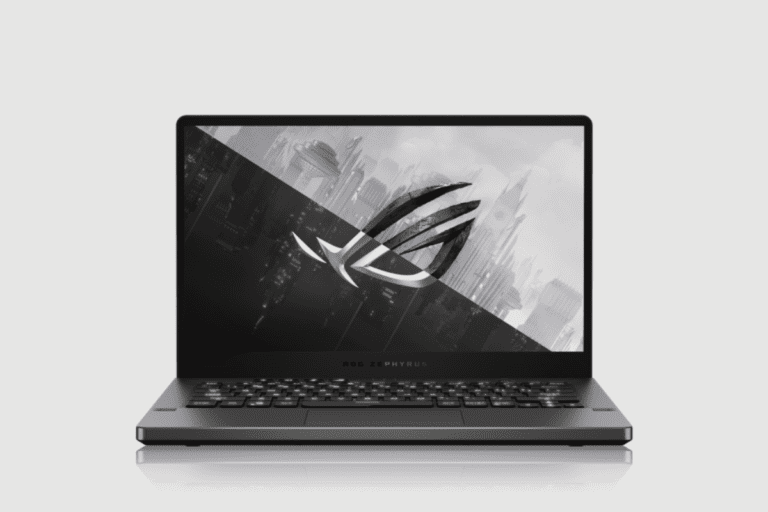 The Display of the Asus ROG Zephyrus G14 Laptop
This is a 14inch screen that comes with a 16X10 aspect ratio which allows for incredible viewing. It's got Dolby Vision HDR, and it's 100% colour accurate so clearly; you can use this laptop for not just extremely beautiful gaming graphics but you can also use it to edit videos and rendered images of real high quality.
It's got a max brightness of about 500nits, and that's an improvement on last year's model, which had a max brightness of about 300nits.
Now that I've told you about the laptop's design, which is undoubtedly beautiful, and the excellent display, we can now move on to the other most important part of the device, which is what they have put under the hood of this machine.
Battery life; The Battery is excellent. I got about three hours of intensive gaming out of it, and I got about 9hrs while doing random stuff like watching YouTube, browsing and typing this article. So it's safe to say that the 76Whr battery is excellent.
The charger has also been improved from the previous 180w charge to a 240w charger that can go from 0%-50% in about 30mins.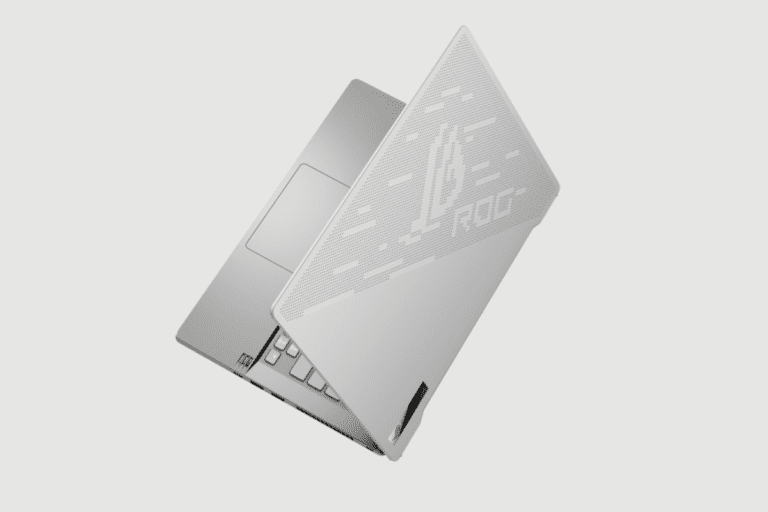 GPU and CPU Performance
Nowadays, most gaming laptops have all the mega specifications, so sometimes, it's hard to cut through the noise and stand out. However, Asus has two things going for them.
Firstly this is an all AMD setup; there is no Intel and Nvidia anywhere near this laptop, and Asus have taken full advantage of this to create a full-force system. 
The laptop comes with a MUX switch that uses a hybrid model or a dedicated GPU mode. When hybrid mode is engaged, the MUX switches to the integrated graphics on the processor when you're doing less intensive work, which saves battery life.
The full AMD Ryzen 6800hs and the Radeon Rx 6700s are all new hardware for 2022 and, when paired with the 32GB DDr5 RAM and the 1TB SSD, have given this laptop a boost when handling almost any game.
The theme of this laptop is Efficiency Efficiency Efficiency, and that's what this laptop is all about. Some things are working in the background to help preserve the battery life of the battery so you can use it for as long as possible.
Another advantage of the full AMD setup is the "Smart shift". Smart shift transfers power between both AMD chips depending on what you're doing with the system to give you the most power to handle any situation, and all of this happens in real-time all behind the scenes, so you don't have to tweak anything to get the most out of your system.
The improved DLSS frame rates options make gaming a graphical and frame rate powerhouse. However, there isn't full DLSS support for all game designers, so sometimes, you could find a few dips in frame rate. So, pick your games wisely or just switch off the Dlss support sometimes. However, the computer does support ray tracing and improved DLSS Technology.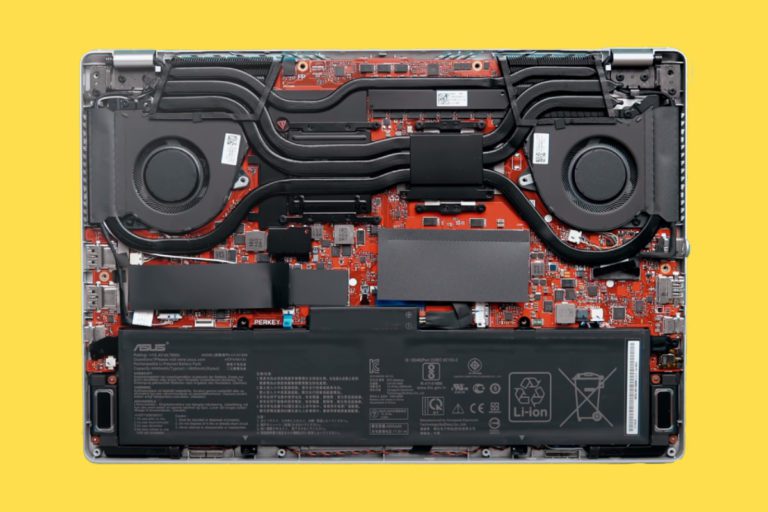 Pros
Superb processor and graphics card.
Very good gaming performance.
Super battery life for a gaming laptop.
Gorgeous 2,560-by-1,600-pixel display.
Cons
It's a bit expensive.
The backlight isn't very bright, so sometimes it's not easy to use in the dark.
Conclusion
The ASUS Rog Zephyrus g14 laptop is a pretty cool laptop that I would happily recommend to any gamer or anyone that needs a high-performing premium laptop. However, with its average price of about $2000, it is not the cheapest gaming laptop on the market.
Nevertheless, if you have the 2021 model of this laptop, I wouldn't suggest you start thinking of upgrading to this newer model.
Yes, there are some differences between the 2021 and the 2022 model, but the differences are not substantial enough to get you off your seat.
FAQ – The Asus ROG Zephyrus G14 Laptop
Is The Asus Zephyrus G14 Good For Gaming?
The ASUS Rog Zephyrus g14 laptop is a powerful gaming laptop that offers great performance for the price. It is a good choice for gamers who are looking for a laptop that can handle demanding games. The Zephyrus g14 has a fast processor and a high-end graphics card that will allow you to enjoy the latest games at high settings. The laptop also has a large screen and a comfortable keyboard, making it a great choice for gaming.
Is The Asus Rog Zephyrus G14 Good For School?
The Asus ROG Zephyrus G14 is a powerful gaming laptop that could be good for school depending on the student's specific needs. If the student needs a laptop for basic schoolwork and internet browsing, the Zephyrus G14 would be a waste of money. You might want to buy a more budget-friendly Asus laptop like the ASUS VivoBook X515JA laptop.
However, if the student needs a laptop for more demanding tasks such as video editing or gaming, the Zephyrus G14 would be a good choice. Ultimately, it is up to the student to decide if the Zephyrus G14 is the right laptop for their needs.
Is Asus Rog Zephyrus G14 Good For Coding?
The Asus ROG Zephyrus G14 is a powerful laptop with a fast processor and plenty of RAM, making it a good choice for coding. However, it is also a very expensive laptop, so if you are on a budget, there are other options available.
The laptop's screen size may also be a factor to consider, as a smaller screen can make coding more difficult. Ultimately, it is up to you to decide if the Asus ROG Zephyrus G14 Will be a perfect fit for you in regards to coding.
Does The Asus Rog Zephyrus G14 Have A Webcam?
The Asus Rog Zephyrus G14 laptop 2021 model does not have a webcam. However, the 2022 model of the Asus Rog Zephyrus G14 laptop does have a webcam.
Does the Asus Rog Zephyrus G14 Have Thunderbolt?
Asus Rog Zephyrus G14 does not have Thunderbolt support. Thunderbolt is a proprietary protocol developed by Intel that allows for high-speed data transfer and networking. It is not an open standard, so not all devices are compatible with it.
Does The Asus Rog Zephyrus G14 Have Bluetooth?
Yes, the ASUS ROG Zephyrus G14 does have Bluetooth capabilities. This is a feature that allows the device to be wirelessly connected to other devices, such as headphones, speakers, and more.
Bluetooth is a short-range wireless technology, meaning it has a relatively limited range compared to other wireless technologies. However, it is still a useful feature to have and can be used in a variety of different situations.
Is Asus Rog Zephyrus G14 Good For Music Production?
Asus' Rog Zephyrus G14 laptop is a gaming laptop and can also be a great choice for music production for a number of reasons. First, the laptop features a powerful processor and a large amount of RAM, which will help to ensure smooth and efficient music production. Additionally, the laptop features a large and high-quality display, which will be helpful for music producers who need to be able to see their work clearly.
Finally, the laptop features a number of high-quality audio features, which will be essential for music producers who need to be able to create high-quality audio recordings.
Having said that, please bear in mind that the Rog Zephyrus G14 laptop is quite more expensive than the average laptop in the market.
Is Asus Rog Zephyrus G14 Good For Photo Editing?
The Asus ROG Zephyrus G14 is a great option for photo editing due to its large screen size and high resolution. Additionally, the Zephyrus G14 comes with a built-in NVIDIA GeForce RTX 20-series GPU graphics card, which will allow you to smoothly edit your photos without any lag.
Product Image Gallery – The Asus ROG Zephyrus G14 Laptop