There are a lot of different smartwatches on the market these days, and finding the best smartwatch to buy can sometimes be pretty tricky.
However, If you're looking for a decent smartwatch that works with Android and iOS and that's affordable, you should definitely check out the Amazfit line of watches.

In this article, I will be discussing the five best Amazfit smartwatches and all you need to know to decide if one of these watches is right for you.
Are Amazfit Smartwatches Worth Buying?
Amazfit is a smart wearable brand established in September 2015, owned and manufactured by Zepp health corporation. Zepp is the new name of Huami Technology, a Chinese company backed by Xiaomi.
The Amazfit smartwatch is of different models ranging from the fashionable, health-wise, basic and from the cheapest to the most expensive and so on.
Here's a list of the smartwatches we will be reviewing below;
AMAZFIT X
AMAZFIT GTS 3
AMAZFIT T-REX
AMAZFIT VERGE
AMAZFIT GTR 3 PRO
1. AMAZFIT X 
The AMAZFIT X model is a new concept smartwatch with an extra-tall screen that curves around the wrist. It is compatible with Android 5.0, iOS 10.0 and higher.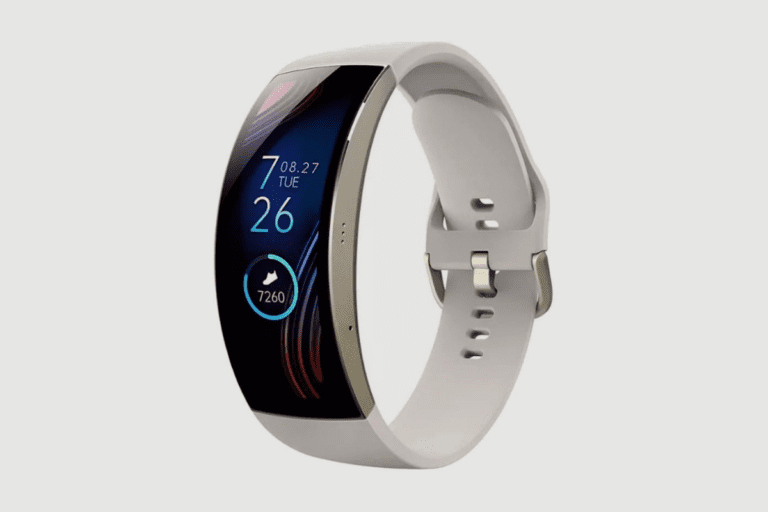 DESIGN
The AMAZFIT X has a light, hard and highly metallic surface whilst maintaining an elegant arc shape.
The screen glass has a high-temperature 3D bending technology subjected to 700 degrees Celsius heat, giving the glass a 92-degree curvature and making it sit well on the wrist.
It is a multi-point touchscreen with curved 3rd generation tempered Corning Gorilla glass with a TC4 titanium alloy and polymer materials.
It is available in two colours, new moon gold and eclipse black, with a width of 22.6mm, and 55.4mm in length, and it weighs about 47g.
It has a fluoro rubber wristband that supports the quick release of a long and short wristband, and they can be replaced.
DISPLAY
It has a 2.07-inch AMOLED screen, 326 PPI screen resolution of 206 by 640, and a larger display area than other similar-sized smartwatches.
This means less time scrolling to find what you need. It has a 100% NTSC High colour saturation and 430 NITS ultra-high brightness display.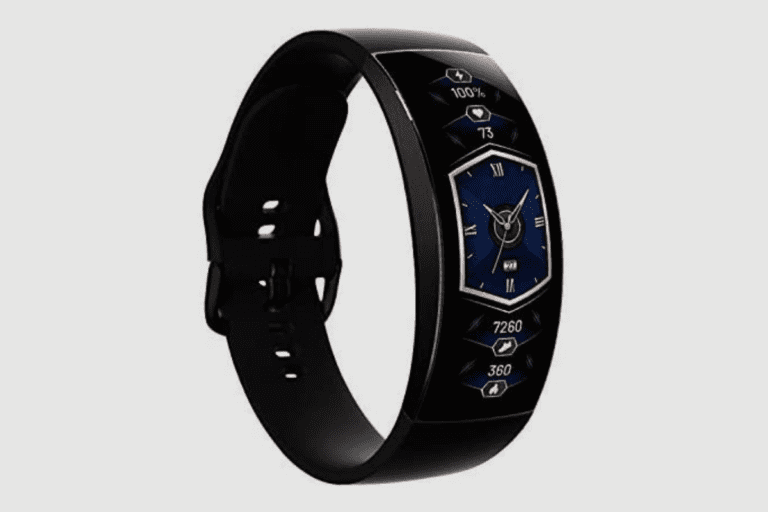 FEATURES
5 ATM Water resistance, so it is splash and swim-proof
Zepp app compatibility
Sleep, stress and activity tracking
24-hour heart rate and blood oxygen monitoring.
BATTERY LIFE
The AMAZFIT X makes the Innovative use of a curved Lithium-Ion polymer battery with a 205 mAh battery capacity. Its estimated charging time is less than 2 hours; it lasts up to 7 days when in daily mode. It has a magnetic charging cable and a magnetic 2-pin pogo pin charging.
SENSORS
For positioning, it has GPS and GLONASS.
For connectivity, Bluetooth 5.0 BLE.
It has 3 axis acceleration sensor, 3 axis gyroscope, bio tracker 2 PPG biological tracking optical sensor, ambient light sensor, and digital silicon microphone.
COST
It costs $329.99.
2. AMAZFIT GTS 3
The AMAZFIT GTS 3 is an upgrade or newer version of the former GTS 2 launched in October 2021, and it is compatible with Android 7.0 and iOS 12.0 and above.
It is one of the best Amazfit smartwatches looking at the price, and it is attractive, functionality and durability of the watch.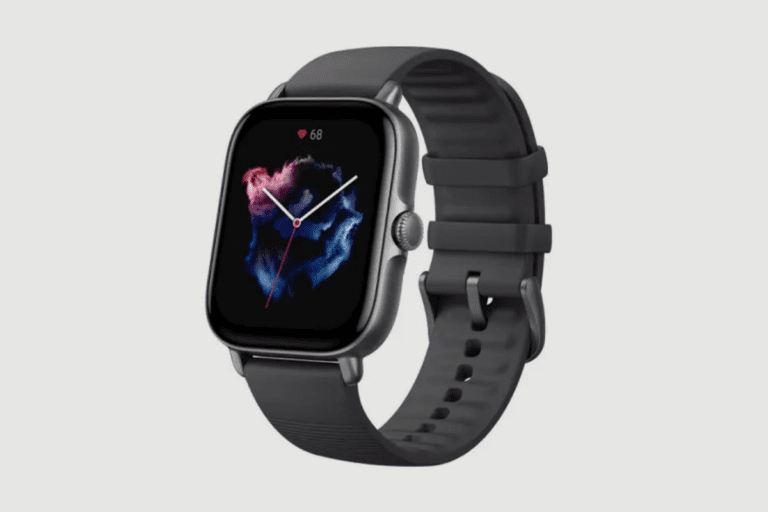 DESIGN
It has a sleek and stylish design with the 42.4x36x8.8mm aluminium alloy body with an elegant navigation crown; it is extra light and slim.
The strap material is made with silicone with a width of 20mm with a minimum and maximum wrist dimension of 155-218mm with a classic pin buckle.
The watch has 3 casing colours: graphite black, ivory white, and Terra Rosa.
DISPLAY
1.75 Ultra HD AMOLED display that has 341 PPI with a screen resolution of 390×450 that is visible under sunlight with up to 1000nit of brightness.
It has a 72.4% screen to body ratio.
FEATURES
It has Heart rate monitoring, blood oxygen tracking, stress monitoring, and sleep tracking.
100+ watch faces, 15 animated watch faces, and 12 editable watch faces; your photo can also be uploaded to the watch faces.
It has 150+ built-in sports like outdoor workouts, swimming, combat sports, leisure sports and so on, with recognition of 8 sports.
It uses Zepp OS.
It has Alexa built-in and Office voice assistant.
BATTERY LIFE
It pars a 250mAh battery capacity has a 12 days typical usage battery life; it lasts up to 20 days on battery saver mode; on heavy usage, it lasts up to 6 days; and for GPS continuous usage, it lasts for 20 hours.
COST
The AMAZFIT GTS 3 costs $159.99 US DOLLARS.
3. AMAZFIT T-REX
This military-standard smartwatch has a rugged look to it; it looks tough on the outside with solid craftsmanship. It uses a high-end Sony GPS chip.
DESIGN
It has a tough round shape with Large etched Metal buttons; the outer bezel uses ink filling processes with metal screws and has a very strong texture.
It uses polymer for the casing material; the silicone strap is skin-friendly and sweats absorbent.
With a dimension of 47.7 X 47.7 X 13.5 mm and its strap, it weighs 58g.
The T-Rex has 4 casing colours: rock black, camo green, khaki, and army green.
The watch body exterior is convex, reducing vibration and protecting the key components. It is a touchscreen with Corning Gorilla glass plus an anti-fingerprint coating.
DISPLAY
It has a 1.3 inch AMOLED colour screen display that always supports on display so that information is made available by just raising your wrists up with a 360 by 360 screen resolution.
FEATURES
MIL-STD 810G-2014. 12 military-grade certification, it is resistant to harsh environments; It can resist extreme temperatures and conditions, with 70 degrees Celsius heat resistance and -40 degrees cold resistance, 240h humidity resistance and 96h salt spray resistance.
It has high precision GPS and double satellite positioning.
Built-in GPS and GLONASS.
Water-resistant to 50 metres.
14 built-in sports modes.
BLE Connection.
BATTERY LIFE
It has a 390 mAh Lipo battery capacity with a magnetic charging method for daily use. It has a 20-day battery life, 66 days on basic watch mode and 20 hours on continuous GPS
COST
It costs 139.99.
4. AMAZFIT VERGE
The AMAZFIT VERGE is a flagship device; it is also a great watch for sports and health; it supports mobile phones based on Android 4.0 and iOS 9.0 and has a 1.2GHz dual-core processor.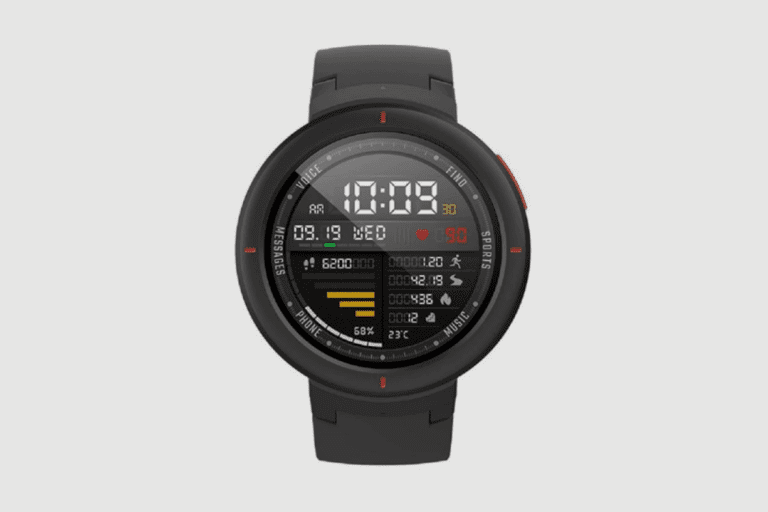 DESIGN
The AMAZFIT VERGE has a circular shape, and the surface material is glass fibre reinforced polycarbonate; the thickness of the watch is 12.6 mm, the dial plate is 43 mm it weighs about 46g.
It has 3 colour options, blue, black and white. It has a silicon + PC watchband with a length of 70 mm+113 mm.
DISPLAY
The AMAZFIT VERGE is equipped with a 1.3 inch AMOLED display screen, 360 by 360 resolution corning gorilla 3 tempered glass, + anti-ageing fingerprint coating.
FEATURES
Makes and answers call
1.2GHz dual-core processor
12 sport modes
GPS + GLONASS double satellite positioning
Bluetooth 4.2 BLE+BR/EDR WI-FI 2.4GHz 802.11b/g connectivity
Ip68 waterproofing grade
Zepp app is formerly known as the Amazfit app
512M RAM +4GB built-in flash memory
It has an optical sensor, acceleration sensor, Gyroscope, geomagnetic sensor, air pressure sensor, and ambient light sensor.
BATTERY LIFE
390 mAh lithium polymer battery capacity with 2.5 hours charging time lasts up to 5 days for typical use.
COST
It has a $129.99 price tag.
5. AMAZFIT GTR 3 PRO 
The Amazfit GTR 3 pro is a fashionable smartwatch, and it is compatible with Android 7.0 and iPhone 12.0. It has a circular display and supports Bluetooth for a stable connection with your phone.
DESIGN/AESTHETICS
The AMAZFIT GTR 3 PRO looks great and performs just as well as it looks; it is a super sleek watch with a round body. It is lightweight, yet it is made from durable aircraft-grade light and thin aluminium alloy as its watching body with a classic rotatable crown for smooth navigation refined through CNC processes with crisp haptic feedback.
The smartwatch has 2 colours, brown leather and infinite black. A dimension of 46X46X10.7mm and weighs 32 grams. The infinite black has a fluoroelastomer strap, while the brown leather has a leather strap it has a width of 22mm in 155-218 minimum and maximum wrist dimensions. It also has a classic pin buckle.
DISPLAY
The AMAZFIT GTR PRO has a 1.45″ inch Ultra HD AMOLED screen display with a 480 by 480 328 PPI screen resolution that is even visible under bright sunlight.
The ultra HD AMOLED display gives a 70.6% screen to body ratio and up to 1000nit of brightness. It is a touchscreen with tempered glass and an anti-fingerprint coating.
FEATURES
Online and offline voice assistant with Alexa or office voice assistant,
5 ATM Water resistance,
Zepp app,
150+ sport modes,
It has 150+ watch faces always matching on display, including 15 animated watch faces and 23 editable watch faces.
It has an Acceleration sensor, gyroscope, geomagnetic, barometric altimeter, ambient light sensor, and temperature sensor.
For Health, it has the bio tracker 3.0 PPG biometric sensor, which supports blood oxygen and 6PD +2 LED.
WLAN 2.4GHz and Bluetooth 5.0 connectivity,
For positioning, there is GPS, GLONASS, GALILEO, BDS, and QZSS.
BATTERY LIFE
It has a 450mAh battery capacity; it has a magnetic charging base as its charging method has a charging duration of about 2 hours.
The battery life depends on the usage. It lasts up to 12 days on typical usage, on battery saver mode, up to 30 days; on heavy usage, it lasts up to 6 days and using GPS continuously, it lasts for up to 35 hours that is 1day and 11 hours.
COST
It costs $229.99.
CONCLUSION
In conclusion, Amazfit smartwatches keep offering affordable smartwatches in line with their Zepp application and with its affordability, it still showcases standards as the watch is efficient enough, effective and durable regardless of your preference. 
Amazfit has a watch for everyone, for fitness, fashion, and any other thing; you'll always find an Amazfit smartwatch that matches your taste.
Product Image Gallery – Amazfit Smartwatches