Smartwatch's durability and high functionality keep users updated and notified of what is happening on their phones. 
Over time, smartwatches have evolved and now, there are smartwatches that come with built-in cameras. Such smartwatches offer great advantages and have become very trendy since they allow you to take pictures directly on your smartwatch.
Some of the best Android smartwatches with cameras are: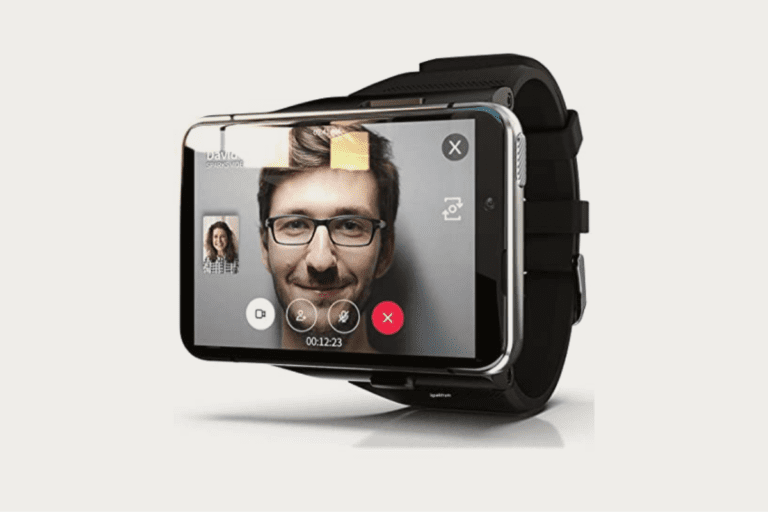 1- REFLY DM100 4G
Known as the world's first large-screen smartwatch, the Refly DM100 4G comes in a 2.86 inches display screen, a 640 by 480 resolution which allows you to see more at once. This touchscreen smartwatch is available in silver and black, however, the price varies depending on the storage capacity. 
The Refly DM100 4G has a battery capacity of 2700mAh which reduces the need for frequent changes.
FEATURES
SIM card and SD slot
5MP camera
It has cellular, Bluetooth, GPS connectivity
IP67 waterproof
Heart rate monitor
COST
The price of the Refly DM100 4G smartwatch varies due to the storage capacity, the 3GB+ 32GB Costs $189 while the 1GB +16GB Costs $159.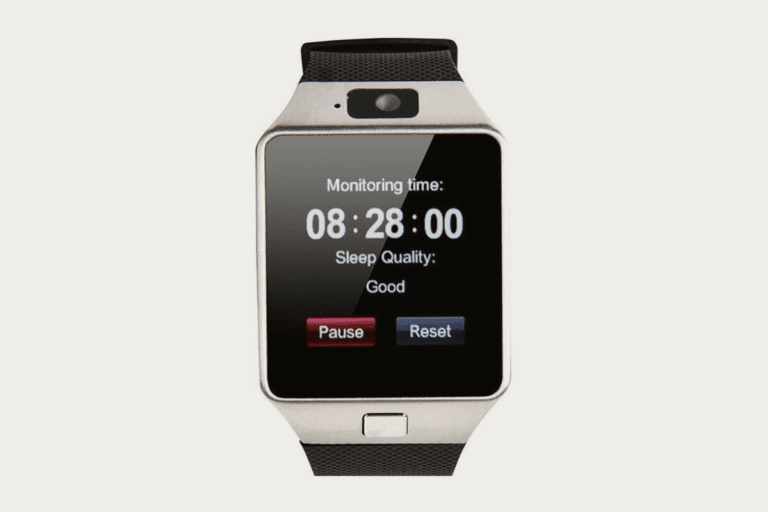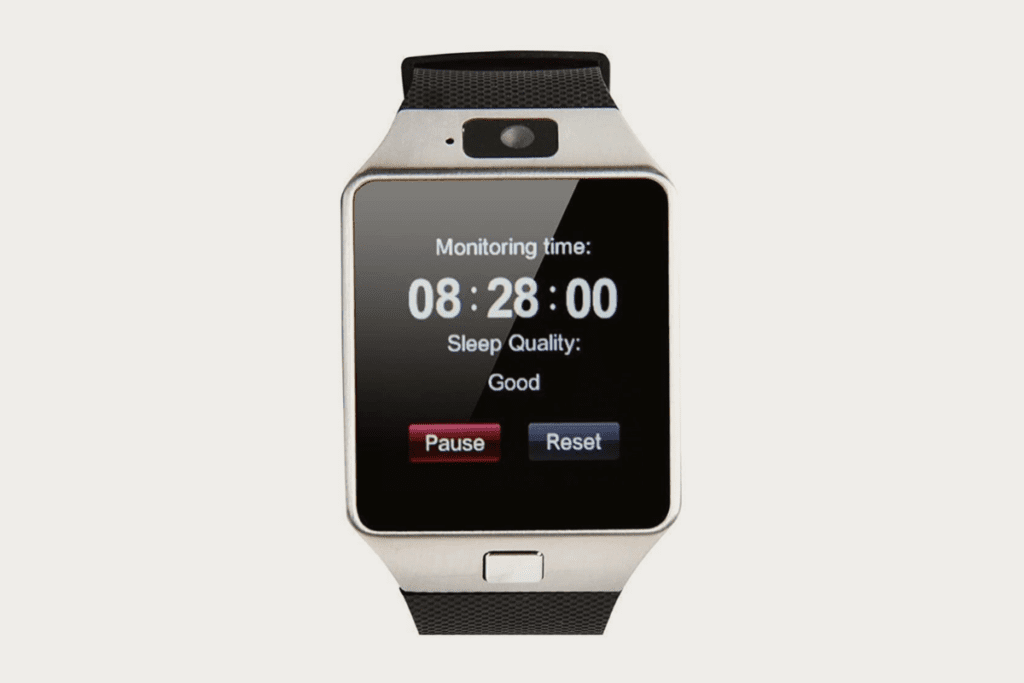 2- PADGENE DZ09 BLUETOOTH SMARTWATCH
The Padgene DZ09 Bluetooth smartwatch comes in different colour variants like gold, black, rose gold, white, gold white, gold black, and silver black. It has an HD touchscreen with fluent touch.
This smartwatch has a 1.56 inches OLED display at the front, alongside a 0.3MP camera. For a low-priced product, the design of the smartwatch is sleek and attractive. The only connectivity option of this smartwatch is Bluetooth, but still, it alerts you of all notifications and allows you to make and receive calls.
On a full charge, the DZ09 Bluetooth smartwatch by Padgene boasts of battery life of 4-5 days.
FEATURES
0.3 MP camera
Compatible with Android and some iOS devices
Two working models – Bluetooth & SIM card model
QR code to scan the app
SIM card & SD card slot
Activity tracking
COST
The cost of this smartwatch is determined by the colour but ranges from $20.99- $22.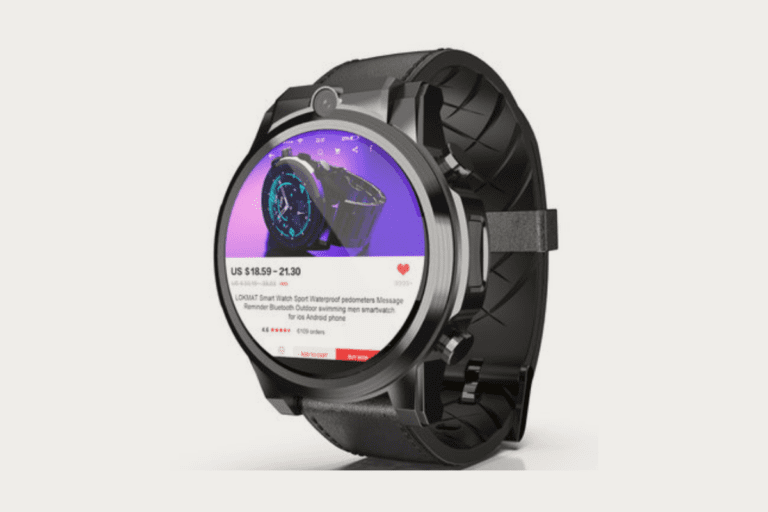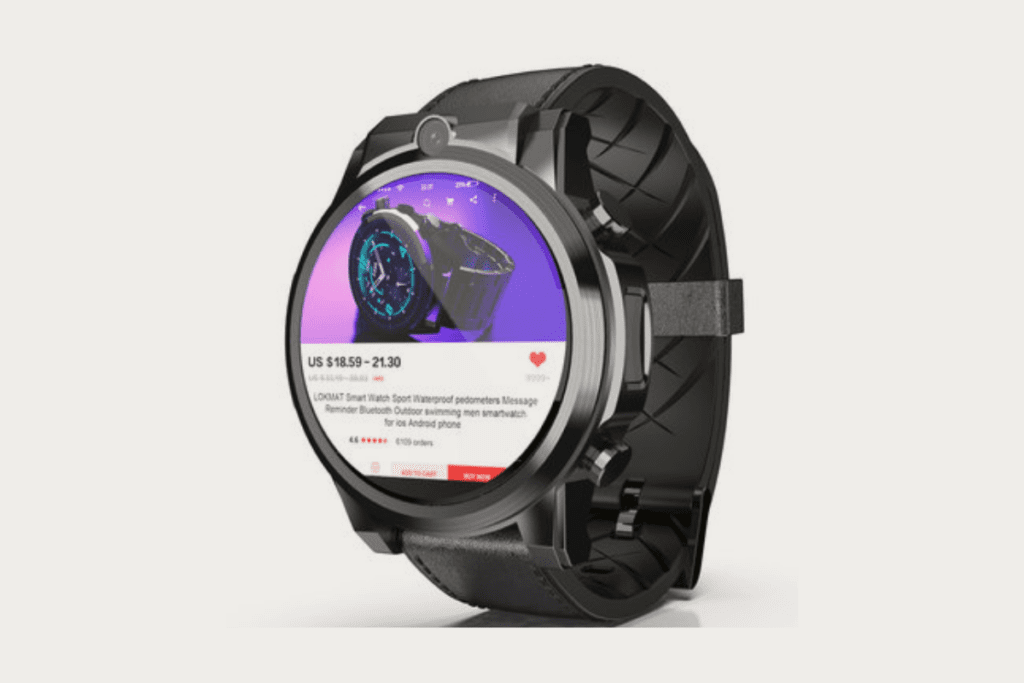 3- LEPEUXI LOKMAT X360 4G SMARTWATCH
LOKMAT X360 by Lepeuxi is a great smartwatch for sports enthusiasts and is perfect for those who want a standalone smartwatch to use often in place of a smartphone. The design of this watch is elegant as it comes with a stainless steel button and, CNC oxidation plating & a leather strap metal nanometer bezel. The screen is about 1.6 inches, with a touchscreen interface featuring a variety of styles.
This smartwatch has a battery capacity of 620mAh that provides users with about 3-5 days of battery life.
FEATURES
It has an HD dual-camera – Double front & front camera
Nano-sim slot with 4G data transmission and WiFi
Massive memory – 3GB RAM + 32GB internal memory
Built-in GPS + GLONASS and Bluetooth 4.0 connectivity
PPG sensor, a heart rate monitor for monitoring the heart rate from the wrist
Multiple sport modes
It is splash-proof (IP67) but is not suitable for swimming.
COST
It costs $189.99.
4- KOSPET OPTIMUS PRO
This smartwatch has an upgrader ceramic watch bezel, dual improved colour and hardness, nano-SIM card with a removable strap that enables the user to interchange when necessary. It has a 1.39 inches AMOLED display and a resolution of 454 x 454.
When the Kopset Optimus Pro smartwatch is charged fully, it can be used for about 5-7 days.
FEATURES
It has a dual processor of MTK6739 1.25GHZ + NRF52840
8.0 MP camera
3GB RAM and 32GB internal storage
Supports voLTE high-quality call
The operating system is Android wear 7.1.1 and light OS system
IP67 waterproof level
POGO charging port
Heart rate monitor
Multisport mode with dual 4G LTE
COST
The Kospet Optimus Pro smartwatch costs $159.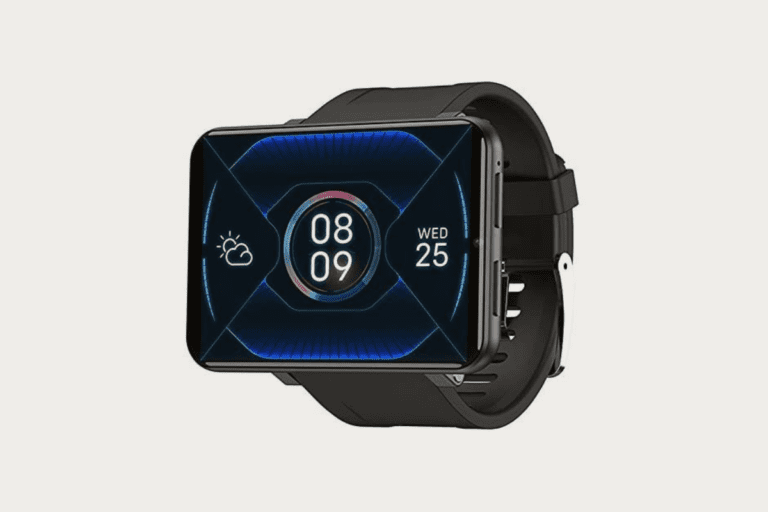 5- TICWRIS MAX
The Ticwris Max smartwatch has a big screen, similar to that of a smartphone with a touchpad a multisport mode bracelet in silver and black.
It has a big screen display of 2.86 inch TFT LCD display & a resolution of 640 by 480. This smartwatch is powered by the Android 7.1.1 operating system.
It also has a large battery capacity of 2880 mAh which provides the smartwatch with up to a week of battery life.
FEATURES
It is equipped with an 8MP camera which supports photos and video conferencing
Dual camera, it has side and a front-facing camera for video chatting or blogging
Face ID unlocking
IP67 waterproof level
4G LTE SIM card tray
3GB RAM and 32GB internal storage
Nano SIM slot
COST
 It costs about $219.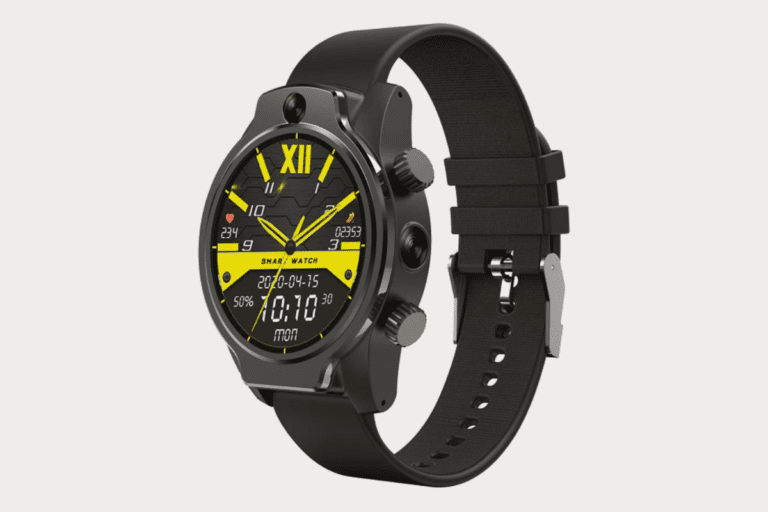 6- ROLLME S08
The Rollme S08 smartwatch has a reflective ceramic bezel that gives it a distinct shine and classic texture. It comes in just one colour, black.
The display screen is 1.69 inches IPS with a 450 by 450 resolution, giving it high-quality colours and detailed graphics. Corning Gorilla Glass 4 is used for protection.
On standby mode, the Rollme S08 will last for up to 5 days battery life and 24 hours of normal usage.
FEATURES
Heart rate sensor
8 MegaPixel dual camera, 8MP front camera +8 MP side camera, which enables face ID unlocking and video calls
32 GB internal storage and 3GB RAM
It runs on Android 7.1.1
4G LTE SIM card
It is equipped with an MTK6739 Quad-Core processor, 1.25GHZ clock speed
IP68 waterproof
9 sport modes, including business modes
COST
 This smartwatch costs $139.99.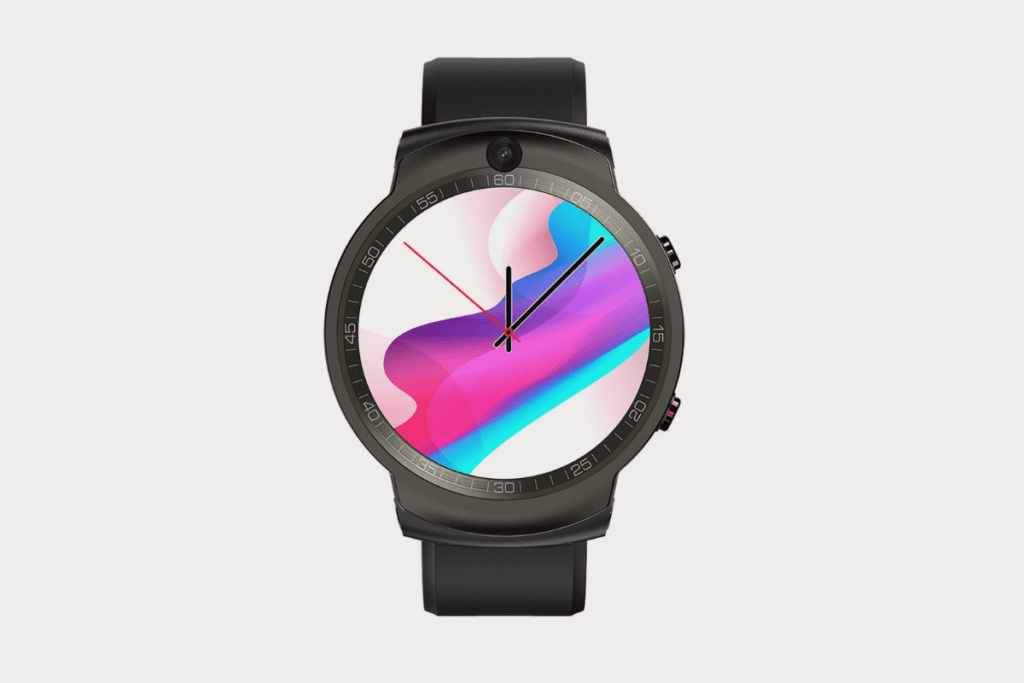 7- LEMFO LEM13
It has a round dial which gives it an edgier and stylish look, and it is embellished with ceramic work all around. It has a display of 1.6 inch led material, and the LEM 13 has a 400 by 400 resolution.
The battery capacity of LEM13 is 1280 mAh, and on a full charge, the battery life is estimated to last for 2 days and 3 days on standby time.
FEATURES
It has a 360 rotating dial
3 GB RAM, 32 GB internal storage
Equipped with a 4G SIM card ( nano-SIM) which makes video calling easy as it has a camera that supports 360 rotation.
IP67 level of water resistance
Has Android 7.1.1 operating system
MTK 6739 Quad-Core processor
Connectivity of WiFi, GPS, GSM and Bluetooth.
Dual camera- the rear camera has 8 megapixels while the front camera is 2 megapixels.
COST
 The LEMFO LEM13 costs $190.
8- LEMFO LEM12 PRO
The LEMFO LEM12 PRO is an improved version of LEM12 with improved technological features.
This smartwatch weighs 86 grams with a full round body ceramic bezel; it has detachable straps that are available in leather and thermoplastic polyurethane. This smartwatch has a 1.8 screen full-round display and 400 by 400 pixels.
With a 900 mAh battery capacity, this smartwatch can last for 2 days with typical usage and up to 3 days on watch mode.
FEATURES
It has a side camera of 8 megapixels and a front camera of 5MP.
It is equipped with multiple watch faces, and the dial can be customised with one's favourite picture.
MT6762 processor 4GB RAM + 64 GB ROM
It runs on Android 10.
Supports WiFi, 4G LTE connectivity, GPS clones, Bluetooth
It has a SIM card slot, heart rate monitor and magnetic contact at the back of the dial.
IP67 waterproof level
It has 9 sports modes
It has additional features like face ID unlock, pedometer, heart rate monitor, weather.
COST
Lemfo Lem12 pro costs $195.
9- KOSPET PRIME 2
This smartwatch is a successor of the Kospet Prime smartwatch that was launched in September 2019. The Prime 2 has some major improvements such as a bigger display, more RAM, octa-core processor, rotating camera, which is the highlight of this model.
The Kospet Prime 2 is a round screen Android watch that has an aluminium alloy key, glass fibre PC bottom shell, strong and wear resistance with good flexibility and weighs about 285 grams.
It has a 2.1 super large display which means it has a perfect Super RETINA display with 480 by 480 resolution.
On-standby time, this smartwatch can last as long as 4 days.
FEATURES
It has 13 megapixels rotating camera with SONY IMX 214 Sensor, which takes selfies and other sceneries at the same time.
Face unlock function
Supports about 9 sports with GPS and motion track recording
It also supports 3D videos and online games smoothly on the watch
SMS/social application synchronisation
Helio P22 octa-core processor, 4GB + 64GB Memory
COST
The Kospet Prime 2 is priced at $199.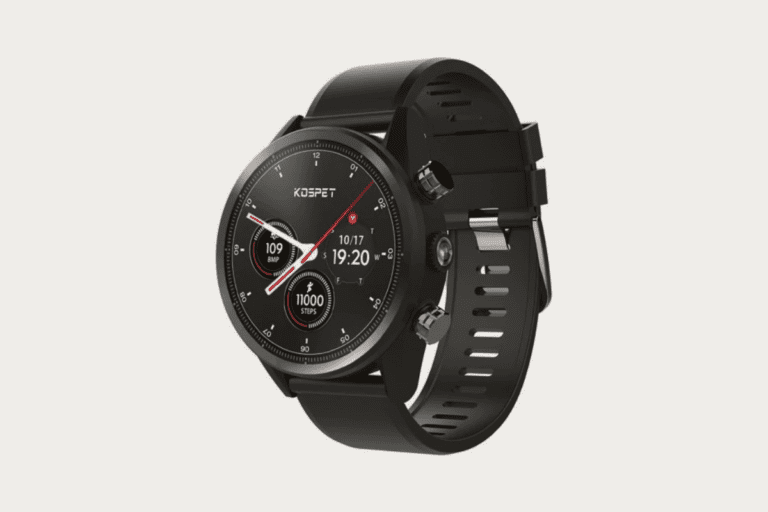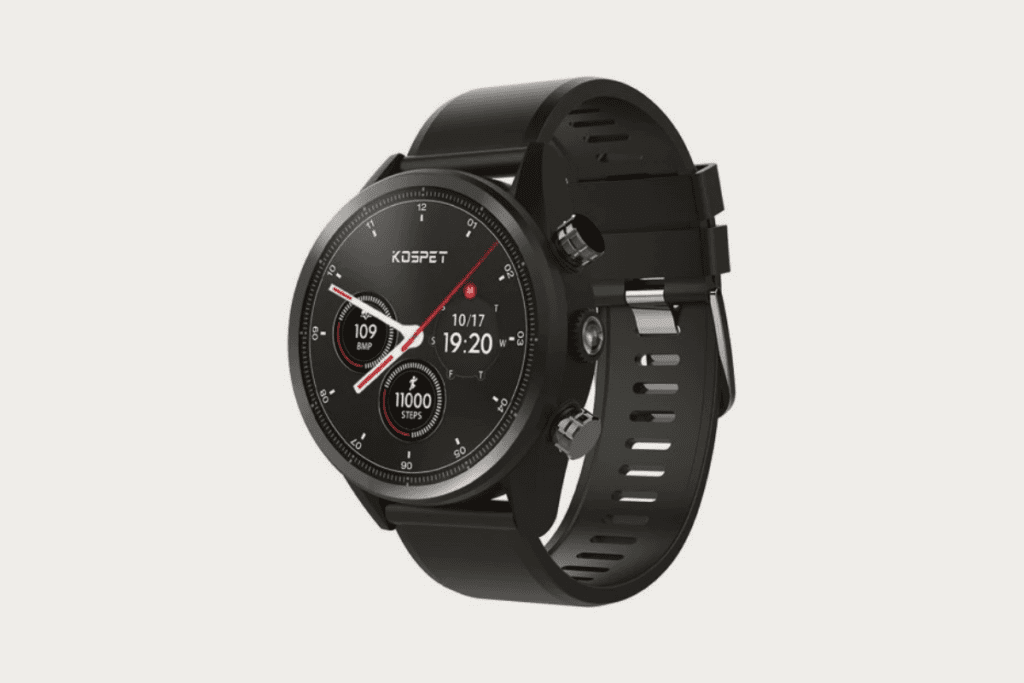 10- KOSPET HOPE
The Kospet Hope smartwatch has a unique ceramic gloss in the bezel which makes it tough as metal with an all CNC finishing with double anodising.
It also has a pure silicon made strap, is wear-proof and is comfortable to wear even for a longer duration. It has a 1.39 inches and AMOLED touchscreen display with 400 by 400 resolution, providing high definition and exquisite imagery.
This smartwatch can last for a day and a half on a full charge.
FEATURES
8.0 megapixels camera
IP67 waterproof level
Dual 4G smartwatch with Android 7.1.1
It supports 4G connect and can be used as a second phone.
3GB RAM + 32GB ROM, MT 6739
It has a heart rate monitor
Built-in GPS
COST
This smartwatch costs $170.
Conclusion
Finding a decent Android smartwatch with a camera can be tricky since big brands have stopped producing such. However, aside from the ten smartwatches reviewed in this article, there are still some other good Android smartwatches with decent cameras out there on the market. 
Product Image Gallery for Best Android Smartwatch with Camera