Choosing the best Garmin watch for women can be tricky simply because Garmin has many different types of smartwatches, including activity tracking, heart rate monitors, and more.
Each Garmin watch is designed with both male and female users in mind, making it the perfect choice for anyone who wants an affordable and reliable smartwatch that can help them stay on track throughout the day.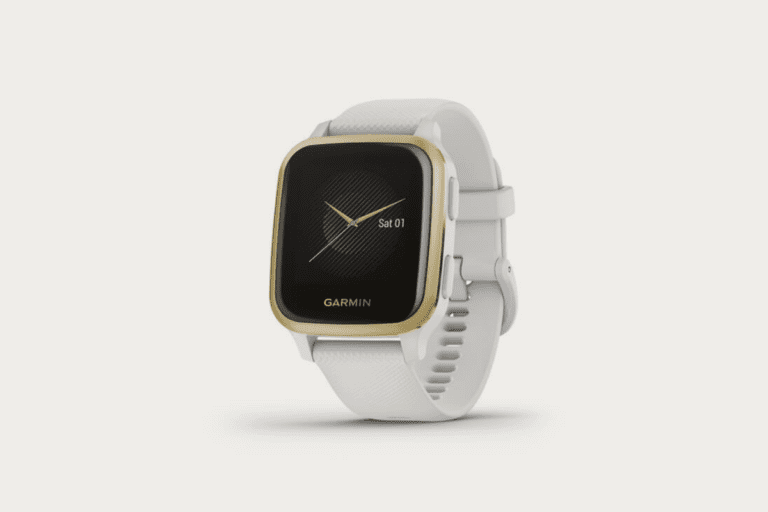 1. Garmin Venu Sq
The Garmin Venu Sq is one of the low-cost of the Garmin Venu series. It comes with identical features but with a square display. The Venu Sq has all the essential sensors, including pulse ox, heart rate monitor and built-in GPS.
The Garmin Venu Sq is one of the ideal sports tracking smartwatches for biking, cycling, and swimming. It comes with most of the features you will see in other Garmin smartwatches, such as the Connect IQ store for downloading applications. It can also be used for contactless payments and many more.
The Garmin Venu Sq does have its own flaws such as poor battery life, animated workouts feature, the altimeter is missing and a few other features. However, the Venu SQ should be enough for you if you don't need those features.
Overall, aside from the few flaws, the Venu SQ is a great low-cost smartwatch for women that needs a watch that has health-related features. This smartwatch does compete with some of the highly-priced smartwatches on the market.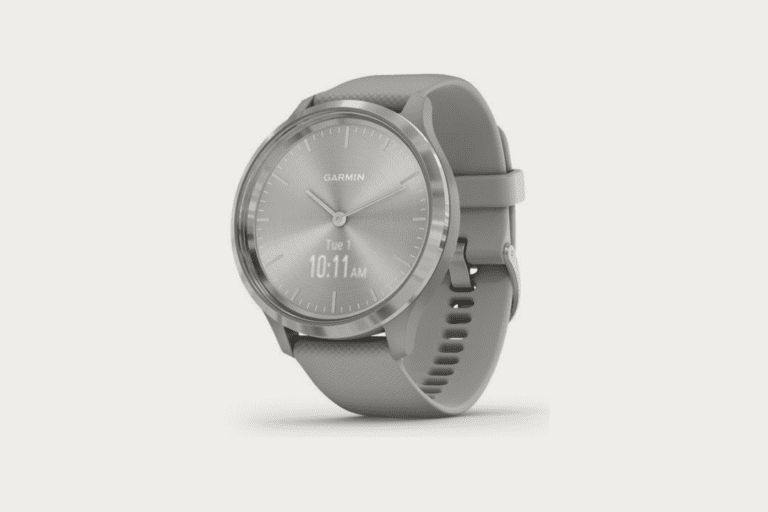 2. Garmin Vivomove 3
The Garmin Vivomove 3 is a hybrid smartwatch with an analogue face. The watch looks like a regular analogue watch; however, it does respond to hand gestures. Meaning when you raise your hand or double-tap the lower part of the watch screen, it will enable a digital display with different widgets, including fitness data.
The Garmin Vivomove 3 is a stylish GPS-enabled smartwatch that is perfect for women who want to stay active. It has a variety of features that make it perfect for running, including real-time tracking of distance, time, and calories burned; vibration alerts to notify you when you have reached your activity goals.
The Garmin Vivomove 3 is designed to resist scratches, and it's a good match for long-distance running. The battery life is also excellent, lasting up to 5 days in normal mode.
The Vivomove 3 is a GPS-enabled activity tracker that tracks steps, calories burned, sleep, and elevation change. It can be connected to a smartphone app to track progress and share data with friends.
It comes with a barometric altimeter, and ultrasonic sensor for tracking distance travelled and elapsed time. It includes features such as map navigation, sunrise/sunset tracking, route recording, offline music playback, and much more. 
The Garmin Vivomove 3 retail price is $153.
Overall, the Garmin Vivomove 3 is a great smartwatch for women with its top of range health activity tracking feature.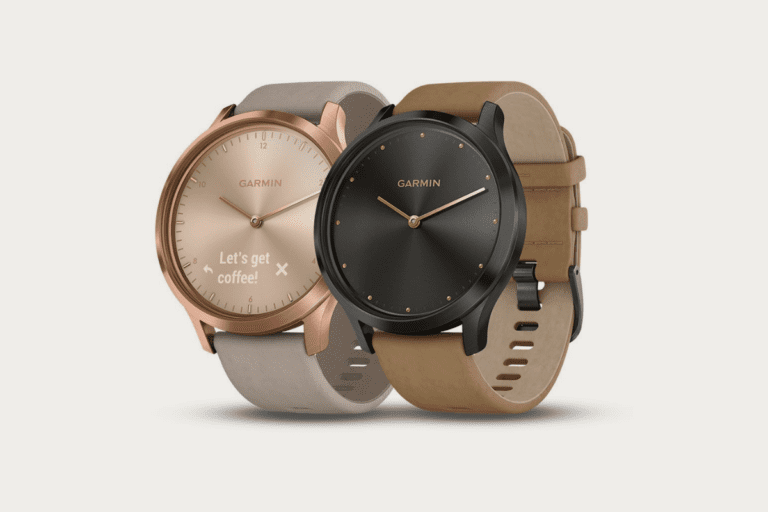 3. Garmin Vivomove HR Hybrid in Rose Gold
The Garmin Vivomove HR Hybrid is a stylish, super lightweight, a modest smartwatch that has a beautiful design with an analogue face. The display screen displays a wide range of fitness stats, including steps taken, distance travelled, active minutes and heart rate. 
The Garmin Vivomove HR Hybrid smartwatch heart rate sensor helps you estimate how many calories you've burned, how well you slept, and your effort level.
I loved that they incorporated it into their device and think that any activity tracker nowadays should have one. Garmin also gives you an estimate for your V02 max so you can gauge how you fit relative to other people in your age group.
The Garmin Vivomove HR Hybrid smartwatch has a small hidden display on the device that is quite very helpful. You can only see this display when you raise your hands or you double-tap the lower part of the watch face. This display has many features, like time, date, weather, and even workout tracking.
The device tracks your stress, workouts, and activity levels so you can stay on top of your health without compromising too much. It also has a heart rate sensor to track your activities.
I like the fact that Garmin now tracks your stress levels. It's great to see comparable day-to-day how you're doing stress-wise. I think the activity tracking stuff is great – you get the daily goal, you get the move reminders, and much more.
The battery life on the Garmin Vivomove HR Hybrid smartwatch is decent – it lasts five to six days on a single charge, depending on how active you are. The downside is that it uses a proprietary charging cable rather than USB C or micro USB.
The Garmin Vivomove HR Hybrid smartwatch retail price is $200.
4. Garmin Forerunner 45S
Garmin watches come in different sizes, with some having larger interfaces than others. However, the Forerunner 45S is a slim and compact smartwatch designed for runners. Because this is a specific runner's watch, runners don't tend to want massive, heavy smartwatches. They want something that's small and can track their runs.
A small watch like this on your wrist is just a lot better than having a really big, thick face smartwatch.
The watch has an excellent stretchy rubber band that you can change. There are a couple of small screws on the back, but because of the style of this watch, it's not something that you're necessarily going to want to wear to a nice dinner. So you probably won't want to change the straps, but it's a really comfortable smartwatch that really fits.
The Forerunner 45S smartwatch has features that monitor your runs, biking, and walking, as well as cardio workouts. You can customise the watch face, although there aren't too many options. One thing you can also do is choose an accent colour the watch face will show if you've done any runs that week, your current step count for the day, and your current heart rate.
Garmin Forerunner 45s smartwatch is another good fit for women that are into fitness, especially if you are a runner.
The Garmin Forerunner 45s smartwatch 39mm size retail for $154 when writing this article.
5. Garmin Lily
The Garmin Lily is designed to provide a lot of the health and fitness functionality that Garmin has been known for a while, also adding in women's specific health tracking and packing it all into a small, elegantly designed smartwatch.
There are two versions of the Garmin lily smartwatch, a classic version with three colour options and leather bands and a sports version with a silicon band and aluminium hardware in three colours. This watch is pretty small, so if you have a small wrist and you thought other watches were too bulky, this watch could be right for you.
The Lily smartwatch by Garmin looks like a regular watch. This allowed it to be worn throughout the day without standing out too much. The display also wasn't just the normal black and white, which helped it to look nicer.
The Garmin Lily smartwatch uses a raise-to-wake gesture to view the display. This means that when you're not looking at it, it actually turns off to save battery life.
However, when you raise your wrist or turn your wrist, it simply turns on to allow you to navigate around the watch. I was impressed by how easy it was to get around using the touch screen and haptic button.
Garmin seems to be getting better at creating more interactive interface elements like this for daily tracking features. The Garmin Lilly tracks your steps, intensity minutes as well as calories. The app also monitors your heart rate, stress level, distance walked/run, and hydration levels 24 hours a day.
The Garmin Lily smartwatch also has sleep tracking, which shows you the time spent in different sleep stages, your movement throughout the night, your blood oxygen saturation levels throughout the night, and your respiration rate.
The Garmin Lily smartwatch also includes women's-specific health tracking, including menstrual tracking and pregnancy tracking.
The watch has the ability to control the music that's playing on your phone, view weather information, a list of events from your calendar, and view smartphone notifications. However, it does not have the ability to load music onto the watch itself.
You can receive text message notifications on your Garmin Lily smartwatch, but on an iPhone, these notifications will be one-way, meaning you can only view them, but you can't reply from the watch itself.
However, on an Android phone, you will be able to reply with quick pre-defined responses. There is also a safety feature on the Garmin Vivoactive 3 called "Get Assistance" which will send an alert with your location to emergency contacts that are set up in the smartphone app. One other cool feature of the Garmin Lily smartwatch is that you do not have to have your phone within range of your watch for this function to work.
The watch has a good selection of sports profiles, including walking, running, strength training, elliptical training, pool swimming and cycling. There are more activity profiles that you can access via the smartphone app.
One thing to note about tracking outdoor activities if you want to collect speed and distance data, as well as your location, is that you will need to have your phone with you because the Lilly doesn't have built-in GPS; instead, it uses connected GPS from your phone.
The Garmin Lily smartwatch's retail price is $149.
6. Garmin Vivoactive 4S
The Garmin Vivoactive 4S smartwatch has built-in animation workouts and an altimeter. It is designed for fitness and sports.
The Garmin Vivoactive 4S smartwatch is the upgrade of the Garmin Vivoactive 3 smartwatch, and it does come with more additional features than the Vivoactive 3 watch.
The Vivoactive 4S comes with a number of features, including a battery that lasts longer even when using GPS, the Garmin Elevate monitor that tracks your heart rate, and a frequency alarm for activities like yoga.
The Garmin Vivoactive 4s is now available with breathing and stress level tracking for better results. Plus, you get to enjoy features like Garmin Pay. This feature allows you to make payments through using your watch.
The Garmin Vivoactive 4s smartwatch comes with the Garmin Coach. This is another cool feature that will help guide you to achieving most of your fitness goals.
This smartwatch has many features that I like, including its elegant design, built-in GPS, and music storage. Its exercising tracking features are also outstanding.
The Garmin Vivoactive 4S was designed with fitness tracking as the main aim. The breathing guide is a new future of the Vivoactive 4S.
The breathing guide takes note of your breathing during activity and shares the trends and changes to your respiration.
This information is useful in improving your breathing and controlling your training. The body battery function of the Vivoactive 4S allows you to stay informed about your body's energy levels throughout the day.
Garmin Vivoactive 4S smartwatch's retail price is $197.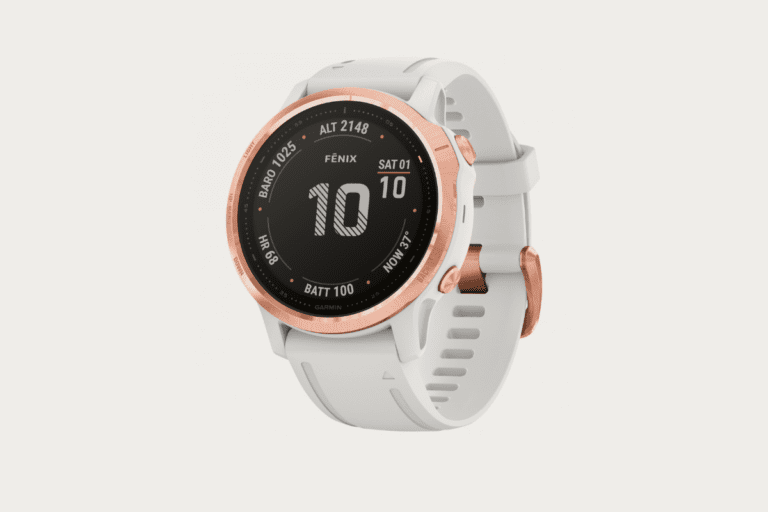 7. Garmin Fenix 6S Pro
The Fenix 6S Pro smartwatch is an upgrade to the Fenix 5 series. The main difference between the Fenix 6S Pro and the Fenix 5 is lug-to-lug distance. The Fenix 6S is slightly shorter, so it fits a smaller wrist. Also, I like how easy it is to change to different bands.
It's really convenient to be able to check the weather on the Fenix 6S Pro smartwatch. You can see the time, date, day of the week, altitude, barometric pressure, heart rate, battery life, weather, steps counter, floors climbed, notification counter, and a bunch of other data about your activity throughout the day.
The Garmin Fenix 6S Pro has special tracking features for almost any type of workout you can imagine, which I love for long walks or bike rides. At the end of my journey, I can view a map of my route and stats about the workout.
Garmin's Pro model has maps wi-fi and can store music on board if you want to exercise without your phone.
To use the watch as a contactless payment method, you need to configure it. This usually involves entering a PIN, which is more secure but can be a hassle if you haven't planned ahead when making a payment in store.
One of the great things about contactless payment is that it is linked to your bank or credit account rather than the card.
This means that if you lose your wallet, you can still use your watch to pay for things while you get a replacement of your cards. This Garmin Fenix 6S Pro feature is great peace of mind, especially for someone that travels a lot.
At the time of writing this article, the Garmin Fenix 6S Pro smartwatch retail price is $524.
What is the Best Garmin watch for Women?
One of the best Garmin watches for women is the Garmin Lily smartwatch. The watch is a stylish smartwatch that complements your look with a unique and beautiful lens that reveals a bright display when tapped.
Monitor your Pulse Ox, energy levels, respiration, hydration, all-day stress, menstrual cycle, pregnancy, sleep and estimated heart rate to understand your body better.
It allows you to stay connected with incoming calls, notifications, text messages, calendar reminders and much more. You can also track activities such as yoga, cardio, mindful breathing and many other exercises when using the sports apps.
In terms of battery life, the Garmin Lily smartwatch battery life can last up to 5 days when fully charged.
Conclusion
Ultimately, it depends on your individual needs and preferences. However, the models of the Garmin smartwatches listed in this article are all great options for women looking for feature-rich and quality Garmin smartwatches that are best for women.
Product Image Gallery – Best Garmin Watch For Women