Now that you've figured out that your laptop's overheating. Possibly, you've cleaned out the dust and even changed out your thermal paste. However, your laptop is still overheating. 
You have finally settled on getting a cooling pad. Maybe your friend told you about them, or you read my previous post about whether or not "cooling pads are good for gaming laptops. Either way, you've found yourself at the point where you want to get one. 
Generally, there are so many cooling pads coming in all kinds of shapes and sizes, and there are so many choices.
You might not know which one to get, maybe the large blue one with six fans or the red one with a large fan. There are just so many of them, and you don't want to pick the wrong one.
Well, never fear; your favourite tech nerd is here to review some of the best cooling pads based on price, performance, and quality to help you make better and well-informed decisions.
Here are six of the best cooling pads for 17-inch gaming laptops;
Please Note: All of the cooling pads we reviewed have been arranged in no particular order. They are all really good cooling pads, so the choice is yours.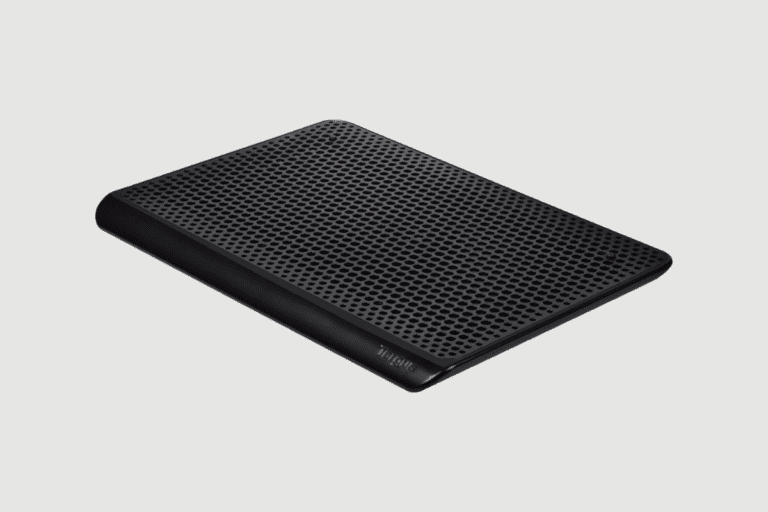 1. Targus Lap Chill Mat (AWESSUS)
Targus Lap chill mat (AWESSUS); Right off the bat, the Targus chill mat provides a comfortable and ergonomic surface to keep your laptop cool whenever you're using it.
The ergonomic tilt makes typing and gaming easy, while its neoprene material provides a soft spot to place your laptop on. Its open-air design allows for constant airflow. It's also got rubber stops to prevent your laptop from sliding off of its surface.
The Targus Lap chill mat is built with all plastic materials, and its dimensions are; 15.00 X 1.00 X 11.75. It comes with two fans and uses them to cool your laptop by dispensing the heat efficiently and quietly.
A USB-A connection powers it, and the cable is short, so it avoids the tangling of wires. While priced at $35, it's a bit on the high side, but it's worth looking at.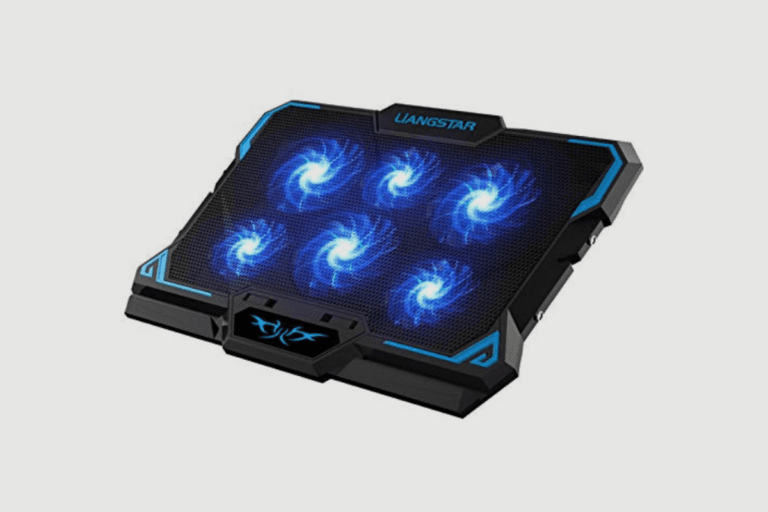 2. The LiANGSTA 6 Fans Cooling Pad
The LiANGSTA 6 fans cooling pad comes with three big fans and three small fans clocking in at about 1400 RPMs, and it has blue LED lights on the fans. The cooling pad has a three-level adjustable stand propped up by the legs for ergonomic use and design, and a USB-A cable powers it. Its dimensions are 16.41 X 11.81 X 1.18.
The LIANGSTA 6 is built of all plastic, and the fans are very silent. It's got two plastic grips to hold your laptop in place. The LiANGSTA 6 fans have adjustable speed settings which can reduce the fan speed, or you can pick which fans you want to turn on and off, whether it's the three big ones or the three small ones.
The nylon braided cable is more durable than the regular ones, so that's a plus.
It has an enlarged and thickened anti-skid pad at the bottom to keep the laptop stable. It also comes in three different LED light configurations, which are; red, blue and black. Priced at $27, it would seem like a fair enough value for money.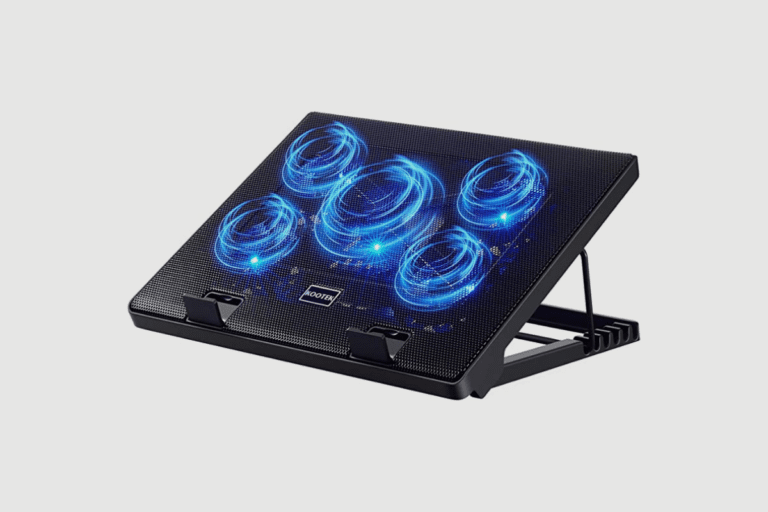 3. The Kootek Laptop Cooling Pad
The kootek laptop cooling pad; It's five fan design system is built with one big fan and four smaller surrounding fans. The larger one comes in at 5.9inches while the smaller ones are 2.76inches. The kootek pad gives you the option to pick between using the larger one or using, the smaller ones or all of them at the same time. The kootek pad comes with a dual USB hub and allows you to connect more USB devices.
The ergonomic stand has six adjustable height options to allow you to play games, type, and watch movies at the most comfortable angles. It has two stoppers on the front of the cooling pad to keep your laptop in place. It also has red or blue LED lights to keep it looking cool, and at $25, it is priced very well.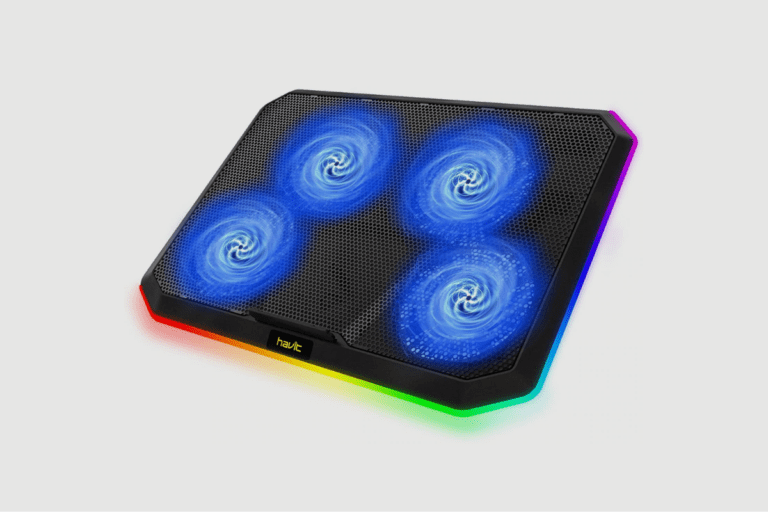 4. The Havit RGB Cooling Pad
The Havit RGB cooling pad; This product comes with a large metal mesh surface that releases airflow for maximum performance and enhances the cooling effect of your laptop's cooling system. The quiet motor and three large fans provide superior airflow with quiet operation. It clocks in at over 1100 Rpm. It allows you to adjust the wind speed on the fly by the flick of a switch, and it comes with a striking LED light that also doubles as an intensity gauge. It also comes with fifteen different types of RGB sidelights. It comes with one large bottom grip to hold the laptop in place.
It has an ergonomic stand with two adjustable-height angles, and it will always give the best viewing angle, which you can control to allow you to enjoy your gaming for long periods.
The Havit RGB cooling pad has two USB-A ports and a switch design that allows you to connect multiple USB devices. It comes in sizes of 15.75 X 11.81 X 1.57 inches. While priced at $32.99, it may be on the high side, but it's worth it.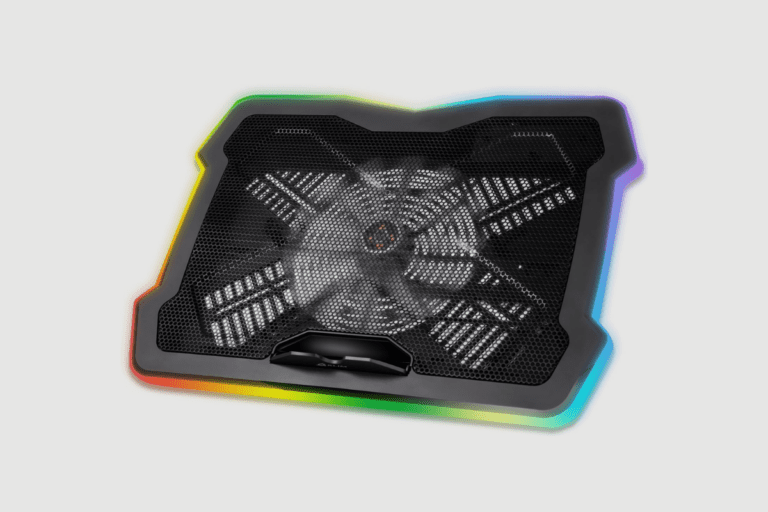 5. The Klim Ultimate Cooling Pad
The klim ultimate cooling pad; This powerful device is equipped with a large, efficient, and high-performance fan that will regulate the temperature of your computer in record time.
It has a fan speed of 750 Rpms, and It also boasts an exceptional RGB that combines seven colours and five effects, allowing you to get the right vibe for your gaming den.
The klim ultimate's ergonomic design is built from durable plastic and allows for four adjustable heights to give you the exact viewing angle you need to game at your best.
It comes in a size of 26.73 X 12.4 X 1.69 inches. It also comes with a USB-A cable. Although at $69, this one is the most expensive of the bunch, it is definitely the most stand out.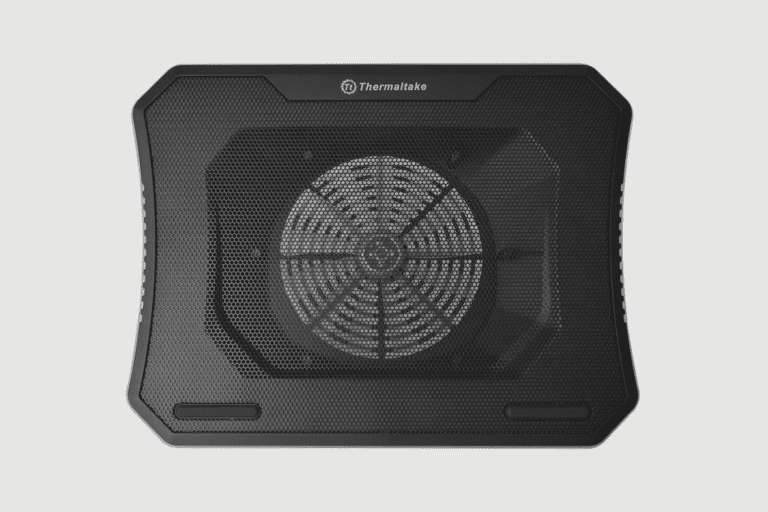 6. The 17inch Thermaltake Massive 20 Rgb Cooling Pad
The 17inch Thermaltake massive 20 RGB cooling pad; has a massive 20inch fan that clocks in at 800rpm. It also has an adjustable lighting effect mode which comes with seven different colours, and it also comes with five lighting effects which are a wave, RGB spectrum, pulse, blink, and solid colour display.
The cooling pad comes with two USB-A ports. It requires 1.2 amps to activate. It has two extendable feet at both ends and at default stand it's elevated at 3° it extends to 9°, and finally, it extends 13° to give you all the best angles to game on.
It has a nice black colour finish, and it's made of all plastic. While it's priced at $40, it may be a bit expensive, but it's well worth the money.
Conclusion
Overall, the best cooling pad for a gaming laptop is the one that best suits your needs. If you have a larger budget, then you might want to consider getting a cooling pad with some extra features. 
Ultimately, it all comes down to your personal preference based on the laptop you own. My advice to you is to do some window shipping and decide which cooling pad would be the best fit for your gaming laptop needs.
Product Image Gallery – Best Cooling Pads For 17-Inch Gaming Laptops