The Samsung Galaxy Tab S8 and the Apple iPad Pro 2022 tablets are two of the most impressive tablets on the market. With their large displays, impressive performance, and sleek designs, it's no wonder that they're both popular choices among tech-savvy consumers. And with the added convenience of attachable keyboards, these tablets can even serve as laptop replacements for those who need to be productive on the go. 
In addition, they also provide a convenient platform for artists to bring their creative visions to life with the help of digital pens.
So, which one of these tablets is the best? To help you make an informed decision, I've put together below a comparison of the key features of both the Samsung Galaxy Tab S8 and the iPad Pro 2022 tablet. From budget considerations to specific preferences, I'll highlight what sets each tablet apart so that you can choose the one that's the best fit for your needs.
Specifications (Samsung Galaxy Tab S8 Vs Apple iPad Pro)
When comparing two devices, the best place to start is with a quick recap of each of their specs to have a brief look at how they stack up against each other.
| | | |
| --- | --- | --- |
| Category | Samsung Galaxy Tab S8 | Apple iPad Pro (2022) |
| Display | 11-inch (2560 x 1600) 120Hz LCD | 12.9 inches (2732 x 2048 pixels) |
| Rear Camera: | 13 MP, f/2.0, 26mm (wide), 1/3.4″, 1.0µm, AF6 MP, f/2.2, (ultrawide) | 12MP wide, 10MP ultra-wide |
| Front camera: | 12 MP, f/2.4, 120˚ (ultrawide) | 12MP TrueDepth |
| Battery Life | 12 hours and 52 minutes (tested) | 10 hours and 39 minutes (tested) |
| Chipset | Snapdragon 8 Gen 1 | Apple M2 |
| RAM/Storage; | 128GB 8GB RAM, 256GB 8GB RAM, 256GB 12GB RAM | 8GB RAM (128GB-512GB models), 16GB RAM (1TB-2TB models) |
| MicroSD card | Yes | No |
| OS | Android 12 | iPadOS 16 (pre-installed) |
From what we can see from the specs, both tablets have very different internals, and that will make for very different levels of performance across the board, but that doesn't mean we won't see some similarities between the two of them. So, why don't we take a deep dive into both tablets and see how good each one really is?
Display – Samsung Galaxy Tab S8 Vs Apple iPad Pro (2022)
The Galaxy Tab S8 features an 11-inch WQXGA (2,560 x 1,600 pixel) LED display with a refresh rate of 120 Hz. The screen appears bright and colourful, with nice smooth scrolling, thanks to its adaptive refresh rate (which dynamically adjusts the refresh rate up to its maximum of 120 Hz rather than remaining locked at 60 Hz), though you can lock the refresh rate at 60 Hz in the tablet's Display settings to drain less battery power.
On the other hand, the iPad P40 2022 has a gigantic 12.9-inch mini-LED display with a resolution of 2,732 x 2,048 pixels and up to a 120 Hz refresh rate. That's a lot of screen real estate for watching YouTube videos or Netflix shows. And if you're enjoying HDR content, the gorgeous XDR display makes everything on the screen look even better.
Screen Brightness and Colour Accuracy
In terms of screen brightness and colour accuracy, the Samsung Galaxy Tab S8's display has a maximum brightness of 480 nits in the centre and an average brightness of 463 nits across the entire screen. That's impressive for an Android tablet, outperforming the Lenovo Yoga Tab 13 (390 nits average brightness). However, it still fell short of the iPad Pro's impressive 586 nits with adaptive brightness off.
Color-wise, the iPad Pro's display covered 117.1% of the sRGB colour gamut and 82.4% of the more demanding DCI-P3 colour space. In contrast, the Samsung Galaxy Tab S8 achieved 101.1% in natural mode and 157.8% in vivid mode when I used my colourimeter to measure it.
Personal Thoughts
The iPad Pro's display is by far the better of the two. It's bigger, brighter, and more colour-accurate. It also has HDR and XDR support, which gives it a higher dynamic range to capture more colours and provides users with far greater image variation than the Galaxy Tab S8.
I'm a little disappointed that the S8 lacks an OLED and HDR display, as this severely limits how good this screen could be. I guess Samsung only wanted it as a feature exclusive to the S8 Ultra so that they could cut down the price of the normal S8.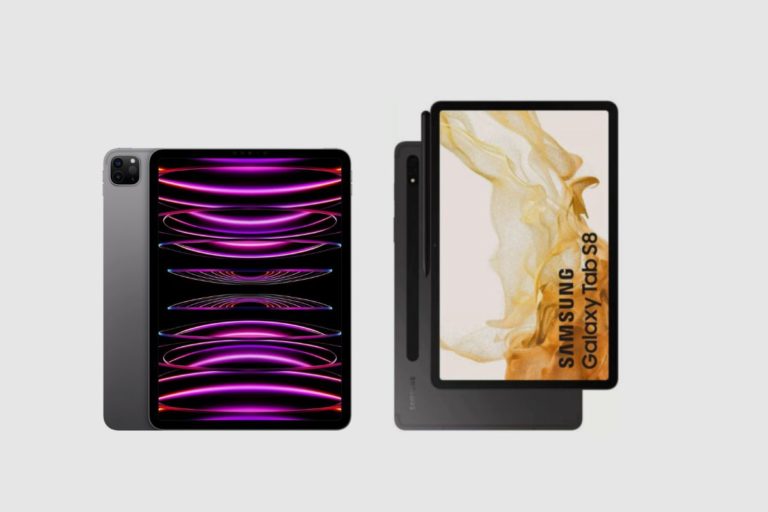 Design and Dimensions – Samsung Galaxy Tab S8 Vs Apple iPad Pro (2022)
The iPad Pro 2022 and Samsung Galaxy Tab S8 both have thin, all-aluminium chassis with narrow display bezels and flat surfaces. In terms of what makes for a cutting-edge, sophisticated tablet design, the two manufacturers have unmistakably reached the same conclusions.
The iPad Pro 2022 shares the same design as the iPad Pro 2021 and iPad Pro 2020. This isn't a drawback because its sleek, machined aluminium frame and tiny bezels continue to be eye-catching.
The dimensions of the iPad Pro 2022 are 11.04 x 8.46 x 0.25 inches, and it has the same weight of 1.5 pounds as the model from the previous year. The Magic Keyboard adds 3 pounds to the weight, which is slightly more than the 2.7 pounds of the MacBook Air 2022 and Dell XPS 13 OLED 2022. The tablet's small weight makes it comfortable to carry for extended periods of time, even without the keyboard connection.
As far as buttons and ports are concerned, nothing has changed. While holding the iPad vertically, like a sheet of paper, there are two volume control buttons on the right side, a single Thunderbolt 4/USB-C port on the bottom edge, and a button along the top right edge for locking the screen and activating Touch ID.
The Tab S8, on the other hand, is similar to last year's Tab S7, as well as most other newer premium tablets. The Tab S8, with its 11-inch display, is the smallest in the lineup, but it is still a full-size tablet, not a mini. It is, however, light and thin—6.3 mm thick, slightly thicker than the Ultra but still impressively thin. The Book Cover Keyboard Slim adds some bulk when attached, but not enough to be noticeable in a backpack. The S8 is 10 x 6.5 x 0.2 inches in size and weighs 1.1 pounds.
There is enough bezel around the display to allow you to rest your thumb and fingers, which is an important tablet consideration because you do not want an edge-to-edge screen here. The squared-off sides of the metal body make it easy to handle.
The back of the device has a small hump that conceals the camera and a magnetised strip to which you can attach the included S Pen stylus to charge it. The tablet has two USB-C ports: one on the left edge for connecting the Book Cover Keyboard Slim and another on the bottom edge for charging or connecting peripherals (including a choice of screens because it supports a DisplayPort).
Colours
The iPad Pro 2022 only offers two colours: silver and space grey, which is a bit boring. The S8, on the other hand, comes in three colours: simple silver, darker graphite, and pink gold, which is much more of the former than the latter.
Personal Thoughts
Regarding their designs, both tablets take a conservative approach. No matter which option you pick, you'll get slates that are incredibly thin and stylish. Both are equal in that regard. The bigger iPad Pro, though, unquestionably attracts more attention.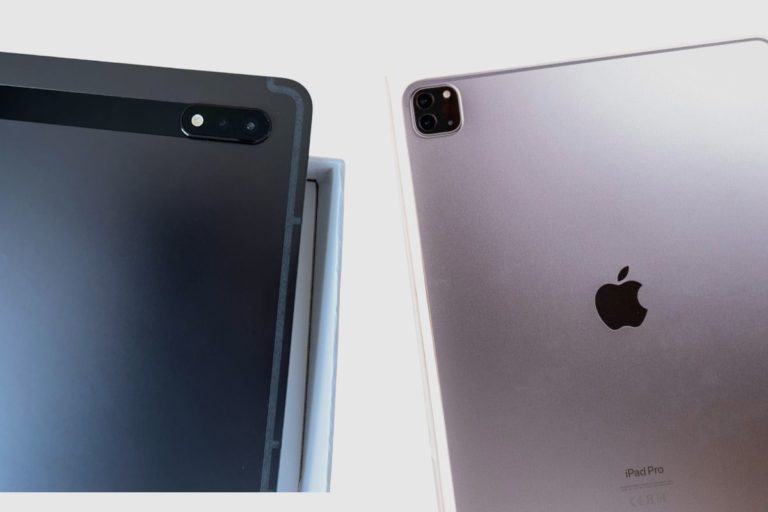 Cameras – Samsung Galaxy Tab S8 Vs Apple iPad Pro (2022)
The Samsung Tab S8 has excellent cameras for an Android tablet. The back of the phone contains a 13 MP autofocus lens, a 6 MP ultra-wide lens, and a 12 MP ultra-wide selfie camera. A new auto-framing feature on the front-facing camera automatically adjusts the photo to keep you in focus even when you move. It appears to be an obvious response to the Center Stage auto-framing function Apple introduced with the 2021 iPad Pro and operates fluidly and gently.
If you need to take a picture with your tablet, you could do much worse than the Samsung Tab S8. The rear cameras do a fantastic job of precisely capturing detail and colour, even though you lose a lot of detail in ultrawide and zoomed-in shots. The selfie camera also helped me appear more professional in meetings than the 1080p webcam on the Microsoft Surface Laptop Studio did.
The cameras on the new iPad Pro are identical to those on the model from a year ago. Depending on your expectations, that might be both good and bad. I don't mind that the front and rear cameras are unchanged because they both produce high-quality images.
Although I'll never support using a tablet to take selfies, if you're tempted to do so, you'll be glad to know the iPad Pro's 12MP front-facing camera will help you look your best. This is also accurate when participating in video conferences with coworkers, friends, or family. The back's 12 MP camera likewise produces high-quality images.
The front camera's placement on the tablet's short edge is its only drawback. I would love a longer camera, which would make video calls easier, especially when the Magic Keyboard is connected to the iPad Pro 2022.
Personal Thoughts
As far as camera systems go, Apple usually beats Samsung to the punch, and in this case, I'm going to stick with convention and say the iPad Pro edges out Samsung on this one. However, the differences between both cameras are very minimal and may be hard to notice.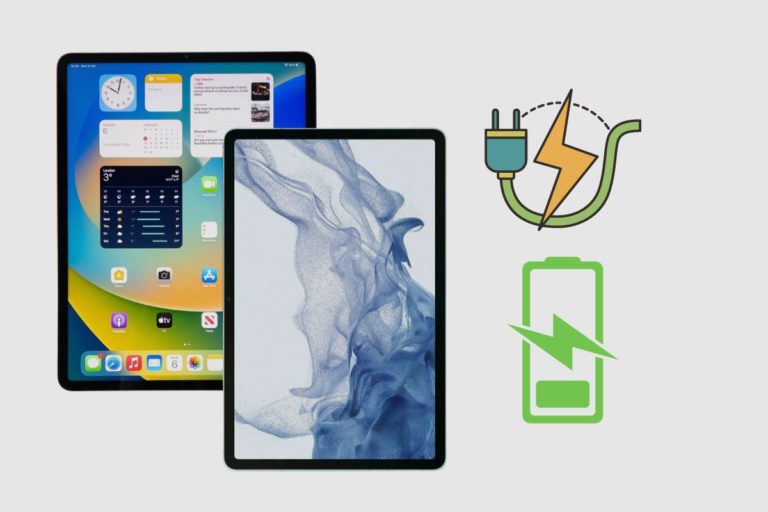 Battery Life and Charging – Samsung Galaxy Tab S8 Vs Apple iPad Pro (2022)
A large 8000mAh cell helps the Tab S8's battery life be respectable. This provided very ordinary tablet life in my benchmark test; it wasn't particularly noteworthy, but there was also nothing to be upset about.
This should last through a day of continuous use as a business device, but if you're more inclined to merely pick it up occasionally, the S8 should operate contentedly for a few days. Significantly, I didn't observe much battery loss while the device was in standby mode, so you shouldn't be too concerned if you haven't picked it up in a day or two.
The Tab S8 survived my battery test for 12 hours and 52 minutes, which involved the tablet continuously browsing the Internet via Wi-Fi with its screen set to 150 nits of brightness. In the same test, turning on the option to lock the screen's refresh rate at a lower 60 Hz (and thus conserve power) extended the tablet's battery life slightly (12:59), but not significantly.
It is more energy-efficient than the Lenovo Yoga Tab 11 (11:55), the iPad 2021 (11:59), and the iPad Air 4, but not quite as efficient as the Lenovo Yoga Tab 13 (14:03). (10:29).
With the 45-watt charger that came with the Tab S8, I tested the charging speed of the device, and it was able to charge up to 23% in 15 minutes and 45% in 30 minutes.
The battery in the 11-inch iPad Pro 2022 is 7,538 mAh, while the battery in the 12.9-inch Pro is 10,758 mAh. Apple claims "up to 10 hours of web surfing on WiFi or video watching." However, my research revealed that the iPad Pro 12.9 (2022) could match Apple's claims, but the battery would drain much faster for certain tasks. Six hours of HDR video, for example, was enough to deplete it. The 11-inch Pro version didn't last as long, lasting just over 9 hours.
Personal Thoughts
In my opinion, the S8 clearly wins this round because it charges faster and lasts significantly longer. Even though Apple has switched to USB charging, it still does not charge as quickly as the S8, which is due in part to its 20-watt power brick, which is smaller than Samsung's 45-watt charger that comes with the Galaxy Tab S8.
Performance – Samsung Galaxy Tab S8 Vs Apple iPad Pro (2022)
The iPad Pro 2022 is powered by an Apple M2 chip that is genuinely laptop-class. The most recent MacBook Air and MacBook Pro are powered by the same fundamental processor as this tablet. As a result, the iPad Pro 2022 outperforms the Samsung Tab S8 in terms of speed. The Snapdragon 8 Gen 1 processor, which isn't even the top flagship Android smartphone processor these days, powers Samsung's high-end tablets.
In most benchmark tests, the Galaxy Tab S8 is completely destroyed, even by the iPad Pro from a year ago, which used the Apple M1 processor (which had a 15% slower CPU and a 35% slower GPU than the M2). The iPad Pro 2022 achieved 8,500 on the multi-core test in Geekbench 5.4, which measures overall performance, and 1,862 on the single-core test. The Samsung Tab S8 powered by the Snapdragon 8 Gen 1 is completely destroyed by these values (1,223 single-core, 3,380 multi-core).
On the 3D Mark Wild Life Unlimited test for graphics, the iPad Pro 2022 achieved a score of 25,259 and 151 frames per second. With a score of 9,152 and 54 frames per second in the same test, the Tab S8 came nowhere close.
Apple's M2 gives it new capabilities, like the ability to capture video in the demanding ProRes codec in addition to a performance benefit. Besides the processor, the iPad Pro 2022 comes with storage options of 128 GB, 256 GB, 512 GB, 1 TB, and 2 TB. The only storage options on the Samsung tablet are 128 GB, 256 GB, and 512 GB.
Personal Thoughts
If you are looking for a powerhouse, then you might as well go for the iPad Pro 2022 because, as Geekbench shows, the iPad outpaces the Galaxy Tab S8 by a very wide margin, and it is not even a competition at this point.
Keyboard and Pencil Use – Samsung Galaxy Tab S8 Vs Apple iPad Pro (2022)
The Apple Magic Keyboard ($99) and the Apple Pencil 2 ($129) are my two favourite accessories. The former provides laptop-like features for the iPad, while the latter allows you to write or draw on the tablet. The floating cantilever design allows you to find the optimal viewing angle.
The keyboard alone can provide hours of comfortable typing, and the trackpad is snappy and fluid. My only complaint is the cost of each of these accessories. After paying for a costly tablet, spending an additional $229 (before taxes) hurts. The Book Cover Keyboard with S Pen, which is comparable to the Tab S8, is an additional $349 accessory.
Nonetheless, if you can afford the price, you'll find the peripheral indispensable. I like typing on the larger keyboard because it gives my large hands more room to move around. The S-Pen drawer on the back flap was especially useful to me. The Book Cover Keyboard for the Tab S8 looks great and protects the device from drops.
Personal Thoughts
However, the Apple Magic Keyboard outperforms the Book Cover Keyboard. While locking the iPad Pro into place, the Magic Keyboard's keyboard part provides a strong and stable platform. In comparison, Samsung's accessory appears to be lacking.
The Book Cover Keyboard's kickstand is incredibly small, making it difficult to support the tablet without it toppling over. I might have been able to overlook the problematic kickstand if the accessory had been less expensive, but for $349, I'm expecting a product on par with Apple's Magic Keyboard.
Pros and Cons of the Samsung Galaxy Tab S8
Pros
Display that is both bright and beautiful
Outstanding battery life
Excellent audio quality
Surprisingly capable cameras
Suitable laptop replacement
Cons
Poor performance in comparison to iPads
At extremes, camera quality degrades.
The keyboard on the Book Cover is small and cramped.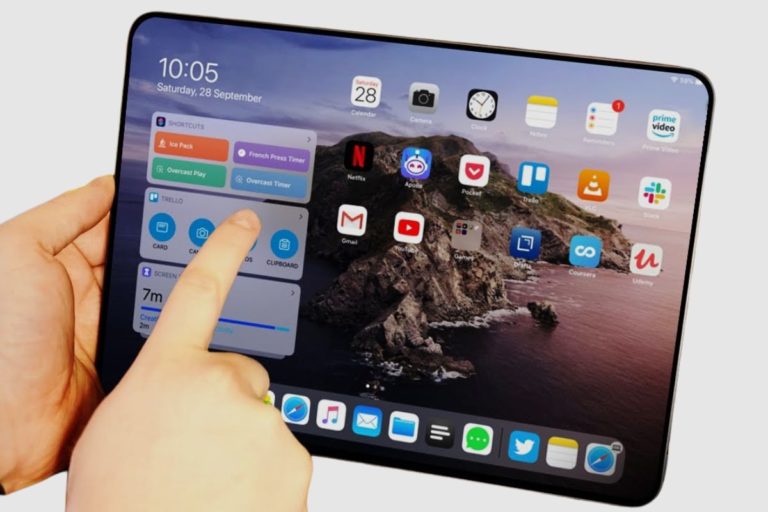 Pros and Cons of the Apple iPad Pro 2022
Pros
Stunning 12.9-inch XDR display
Apple Pencil hover preview is convenient
Fast M2 processor.
5G works well
Has a long battery life.
Cons
Not much different from iPad Pro 2021
Expensive accessories
Pricing and Availability of the Samsung Galaxy Tab S8 and Apple iPad Pro (2022)
On October 18, 2022, two sizes of the iPad Pro 2022 were released. The 12.9-inch iPad Pro starts at $1,099, while the 11-inch variant is available for $799. It should be noted that such costs apply to models with 128 GB of Wi-Fi-only storage. The price will increase dramatically if you add cellular connectivity and extra storage (256 GB, 512 GB, 1 TB, and 2 TB); the two highest capacities also increase the RAM from 8 GB to 16 GB.
A 12.9-inch iPad Pro 2022 with 2 TB of storage and 5G cellular connectivity will set you back $2,399 at the top of the range. The 12-inch Wi-Fi + cellular model starts at $1,299 if you want Wi-Fi + cellular. The price is greatly increased by the separate purchase of the Magic Keyboard ($349 value) and Apple Pencil 2nd Generation ($129).
The Galaxy Tab S8 has a starting price of $699 on the Samsung website (opens in a new tab) (less with a qualifying trade-in). and for that, you receive a model in your choice of silver, graphite, or pink gold with 128 GB of storage.
For $779, you may purchase a variant with 256 GB of storage if you'd prefer additional space. In addition, Samsung offers a tonne of accessories, such as the $139 Galaxy Tab S8 Book Cover Keyboard Slim, which turns the tablet into a passable substitute for a laptop.
Conclusion
In conclusion, both the Samsung Galaxy Tab S8 and the iPad Pro 2022 are fantastic tablets, but if you're looking for the best of the best and money is not an issue, then the iPad Pro is the way to go. However, if you prefer the versatility of the Android ecosystem, the Galaxy Tab S8 is a fantastic alternative that offers excellent value for its premium features.
With its sleek design and powerful performance, it's no wonder that the Galaxy Tab S8 is one of the top Android tablets on the market today. Ultimately, the choice between these two tablets will come down to personal preference and what you're looking for in a tablet. Thank you for reading, and if you have any further questions, please feel free to leave them in the comments section below.
Image Gallery – Samsung Galaxy Tab S8 Vs Apple iPad Pro (2022)