The question of if the Asus VivoBook 15 X515JA laptop has a backlit keyboard is a common one, and the short answer is No, the Asus VivoBook 15 X515JA laptop does not have a backlit keyboard. This can be a bit of a disappointment, especially when there are plenty of cheaper laptops with backlighting. 
Given that having a backlit keyboard is so essential for everyone, from gamers to writers to programmers, the omission of this feature on the Asus VivoBook 15 X515JA is particularly egregious.
Having a backlit keyboard can make a big difference in terms of how efficient you are with your typing. If you need to work late into the night or in dimly lit spaces, having a backlit keyboard will help you stay productive. Not only does it make it easier for you to see the keys, but it can also add a bit of style to your workspace too!
In this article, I'll go over the keyboard of the Asus VivoBook 15 X515JA, the importance of having a backlit keyboard, and a few external keyboards with a backlit keyboard if you're looking for one.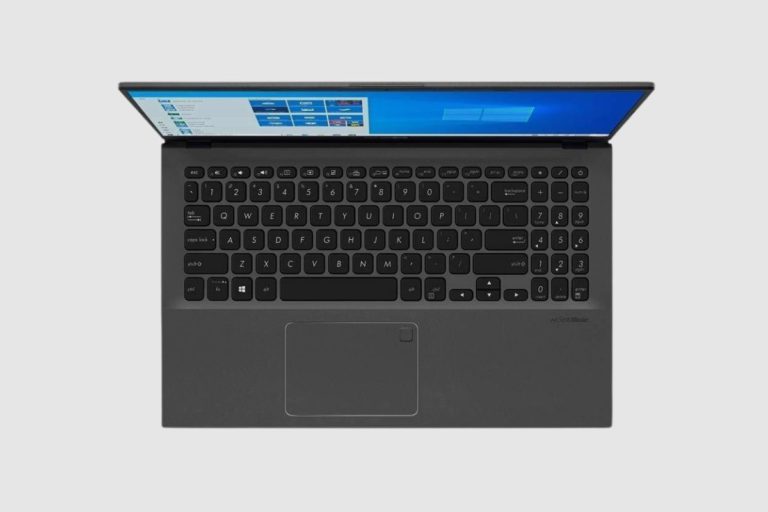 How Good are the Keyboard and TrackPad on the Asus VivoBook X515JA?
The keyboard on the ASUS VivoBook X515JA is decent, with stable and well-spaced keys that provide a passable typing experience. The plastic keycaps have a slightly cheap feel, and unfortunately, there is no backlighting to further improve the design.
Compared to its competitors, like the Lenovo IdeaPad 3, which has a much better keyboard with a greater amount of travel, the ASUS VivoBook X515JA falls short.
The IdeaPad keys are far more tactile and bouncy, with even more spacing between them for comfortable typing. Plus, you can adjust the brightness of the backlight or turn it off completely – something the VivoBook sadly lacks.
All in all, it's clear that you don't have to sacrifice a great typing experience when shopping on a budget.
The Touchpad
The touchpad works okay. While it doesn't stutter, it sometimes has trouble with double-tap clicks and drag-and-drop operations at the touchpad's edges. Additionally, the touchpad's click mechanism only functions in the bottom half, and the plastic material has a shoddy feel to it.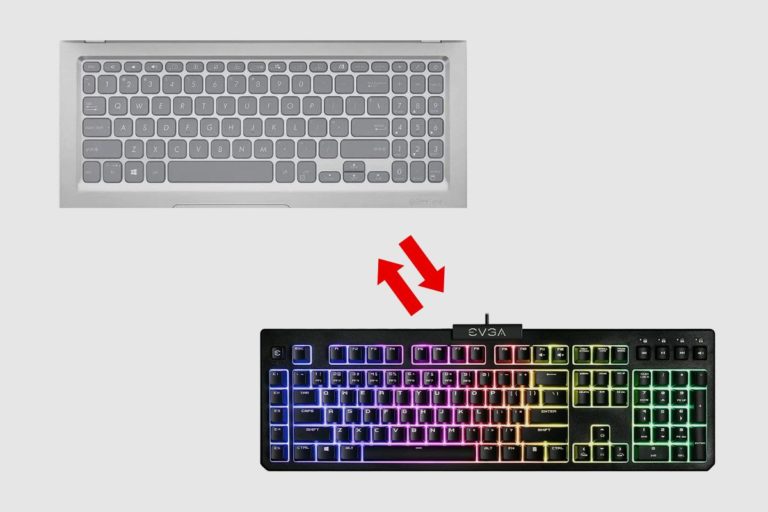 Can I Swap My Asus VivoBook X515JA Keyboard for a Backlit one?
Unfortunately, it is not an easy task to change the keyboard of any laptop. You may be able to change out individual pieces, but you will not be able to change out the whole keyboard. This is because to change the whole keyboard set, you will have to tamper with your motherboard, and while it's possible to do, it's not advisable as you could damage the motherboard. To be honest, you're better off getting a mechanical or external keyboard, which is already better than your main keyboard but will also be backlit.
Importance of Backliting
The coolness factor
The idea of having a keyboard light up in several different colours is quite impressive, and most users will attest that it makes their gaming dens and workstations way cooler.
Efficient Typing
When you are typing with a backlit keyboard, it makes it easier for you to see just what you are typing. Even when you're in well-lit environments using backlighting makes everything easier to do.
It is fun.
Typing on a backlit keyboard is fun because you can always enjoy the light strobing effects, and you will get to enjoy a colourful show every time you type or work.
Some important information to know before buying your keyboards
Due to the numerous options available, selecting the right backlit keyboard for you can be difficult. I've listed some features that will come in handy when selecting a backlit keyboard.
LED Backlit Types: There are three main categories of backlit keyboards. The best keyboard models feature settings for each key's RGB lighting. The midrange versions offer extremely limited colour customization possibilities. The cheapest backlit keyboards only have a few colours, or in the case of some keyboards, just one colour.
Lighting Selections: The backlit keyboards' main feature is their lighting options. They are available in a vast range of settings, including single light, multiple colours, backlit patterns, modes, and frequency.
Size of the Keyboard: The keyboard's dimensions should be such that they fit the available area. If you can function without it or if it takes up too much room on your desk, you can stop using the numeric keypad.
These are some of the most important things to keep in mind before you buy an external keyboard.
Top 5 Best External Backlit Keyboards
This is a list of backlit keyboards that you can purchase, and they should be able to give you an improved typing experience.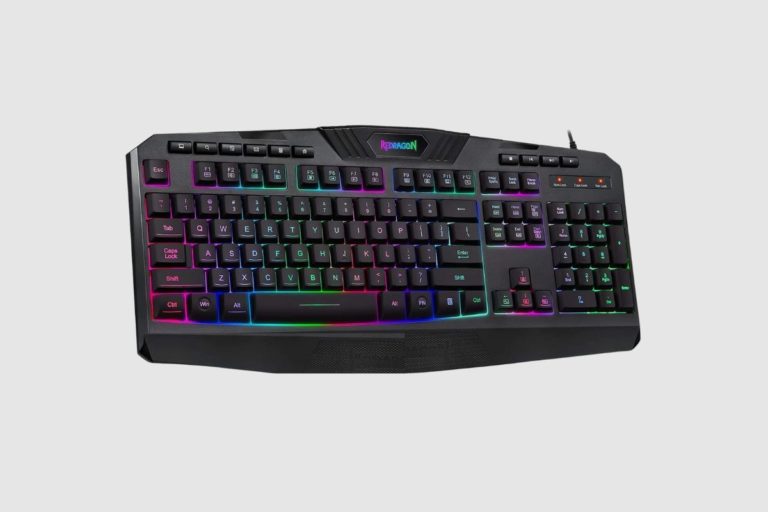 1. The Redragon S101
Designed with gamers in mind, the Redragon S101 is a wired, USB-port-compatible keyboard. For quick and simple access to volume, brightness, and other media settings, it has 12 additional "FN+" key combinations in addition to its 10 dedicated multimedia keys.
The board itself is made to make prolonged gaming sessions more comfortable, and the keys are silent. Seven different RGB lighting modes can be used to create the ideal atmosphere for competitive or casual gaming. The WIN key can be turned off for gaming, and the keycaps provide clear, uniform backlighting. As a bonus, the Redragon S101 also includes a gaming mouse that matches the appearance of the illuminated keyboard.
Features
7 RGB lighting effects and 4 brightness levels
25 key rollovers
10 multimedia keys with 12 fn keys
High-precision sensor mouse
Pros:
A mouse is included.
Multimedia keys built-in.
Budget-friendly.
Cons:
The wrist rest support might be better.
Price on Amazon: $44.
2. The EVGA Backlit Keyboard
Here is another choice for people looking for RBG backlit keyboards. The EVGA keyboard has a five-zone RGB backlight with five different lighting effects: breathing, wave, pulse, trigger, and static.
There are yet more reasons to adore this keyboard, such as its PI32-level water resistance, which implies it can tolerate spills that are unavoidably made. You get dedicated media keys with Cherry MX stems as well as five customizable macro keys.
You can customise the keyboard to your liking by using Cherry MX-compatible keycaps. The RGB lights can be dimmed. The keyboard's keys are moderately quiet, which is to say that they are both louder and quieter than membrane keyboards, but you'll appreciate how quick it is. It works well for both typing and games.
Features
It has customizable RGB backlit
It has 5 macro keys with dedicated media keys
It is spill resistant
It is cherry MX-compatible.
Pros:
It provides excellent value for the money
It is good for general typing and gaming.
Robust and water-repellent.
Cons:
Price on Amazon: $40.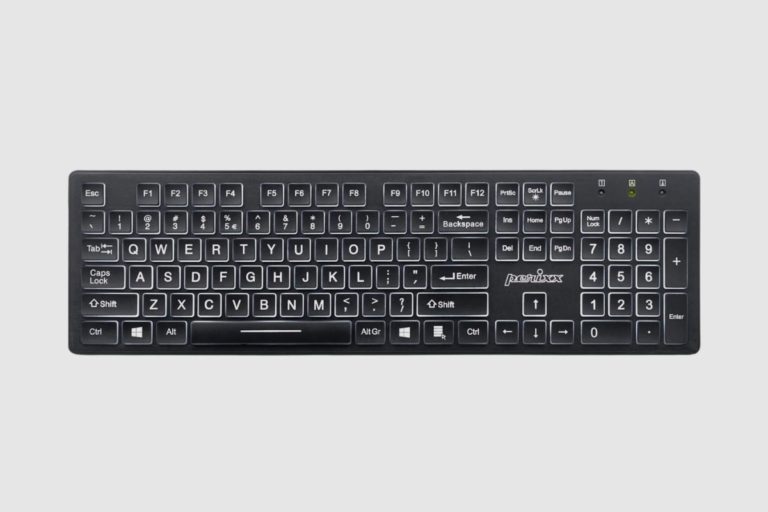 3. Perixx Backlit Keyboard
The backlit keyboard from Perixx is a fantastic choice for those on a tight budget. With its low-profile chiclet keyboard and white LED backlighting, it provides incredible visibility even in the darkest settings.
The silent, highly sensitive keys on the thin, svelte membrane keyboard are ideal for hours of nonstop typing. With bigger keys, larger letters, and more space between them, the chicklet design keyboard might lessen the possibility that you'll press the erroneous key.
More visibility is provided by the huge printed keys. Additionally, the backlighting can be turned on and off as desired. The robust key switch can withstand 5 million key presses. To prevent keycap colour abrasion, it even features the highest quality ABS print.
Features
Chiclet design permits the separation of the keys.
Large, slender, and elegant style
Uniform and brilliant LED backlight.
Pros:
It has a thin, streamlined style.
It has a rapid response time and facilitates precise typing.
It is excellent for nonstop typing.
Cons:
Not compatible with iOS devices.
Price on Amazon: $23.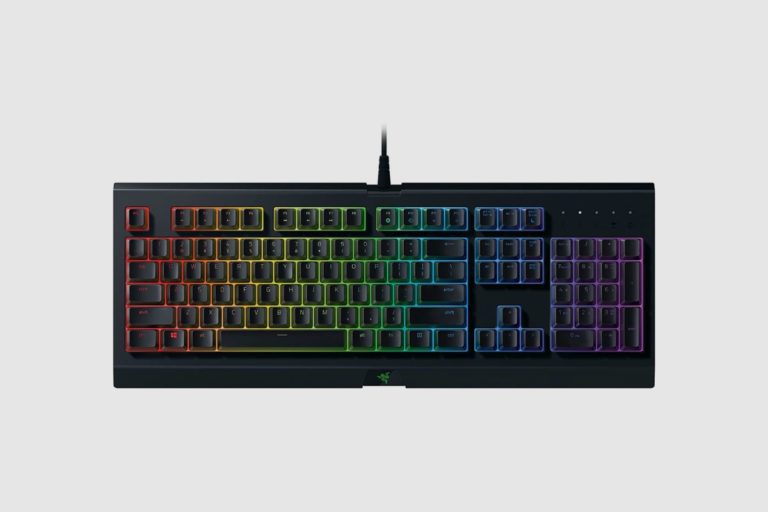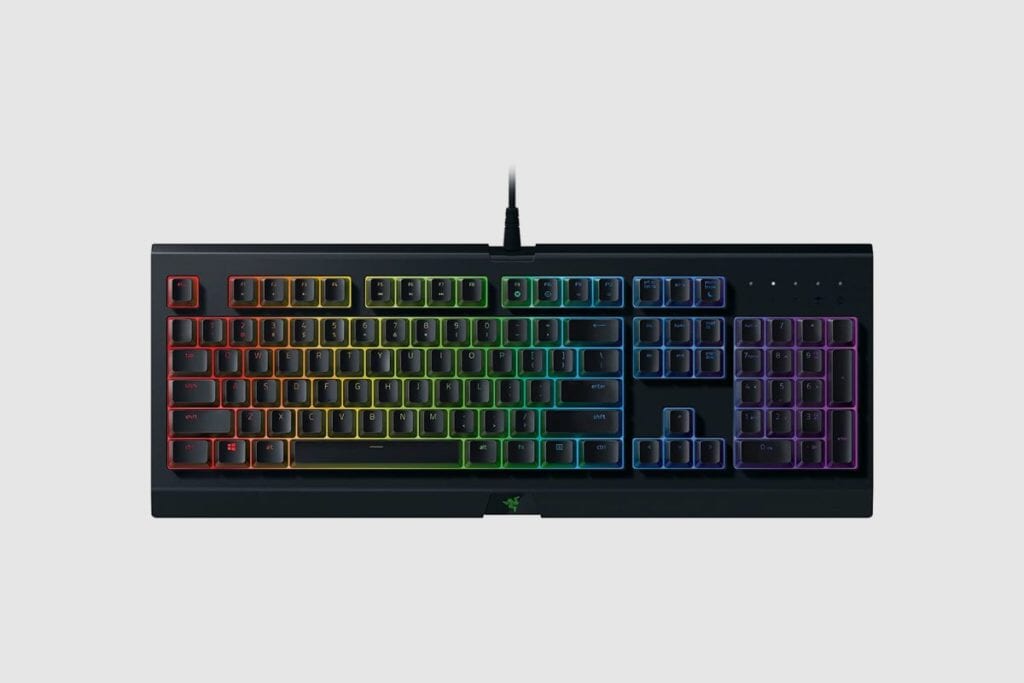 4. Razer Backlit Keyboard
When it comes to mechanical keyboards designed for competitive gaming, the Razer brand stands out as brilliant. The Razer Cynosa Chroma is one of the greatest rubber-dome keyboards with excellent RGB lighting, with each key being individually lit. The keyboards are on the more expensive end of the price spectrum due to the brand value.
A backlit key can produce 16.8 million different shades of colour. It is a cutting-edge gaming-grade keyboard with the Razer Cynosa Chroma that has all the features a gamer could ever require. Powered by Razer Synapse, it lets you rebind controllers, assign macros, and save all the settings to cloud storage.
It includes NKRO and anti-ghosting and is made to carry out 10 orders at once. You can change the keyboard's layout in a variety of ways with Razor Hypershift. Additionally, it has a built-in Philips Hue that coordinates backlighting with movement while playing games. Additionally, it works with practically all widely played games and gaming accessories from 30 well-known manufacturers.
Features
It has individual RGB lighting with 16.8 million colours and hues
It supports up to 80 million clicks
It is powered by Razor Synapse
It is a 104-key keyboard.
Pros:
It is built to withstand spills.
Compared to most membrane keyboards in the same price range, it feels better.
Fingerprints and smudges are prevented by the rough surface.
Cons:
It is not equipped with a wrist rest.
Price on Amazon: $40.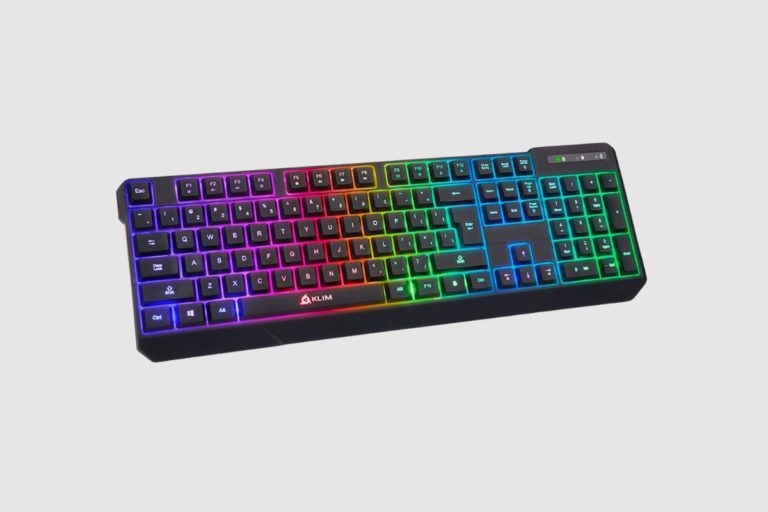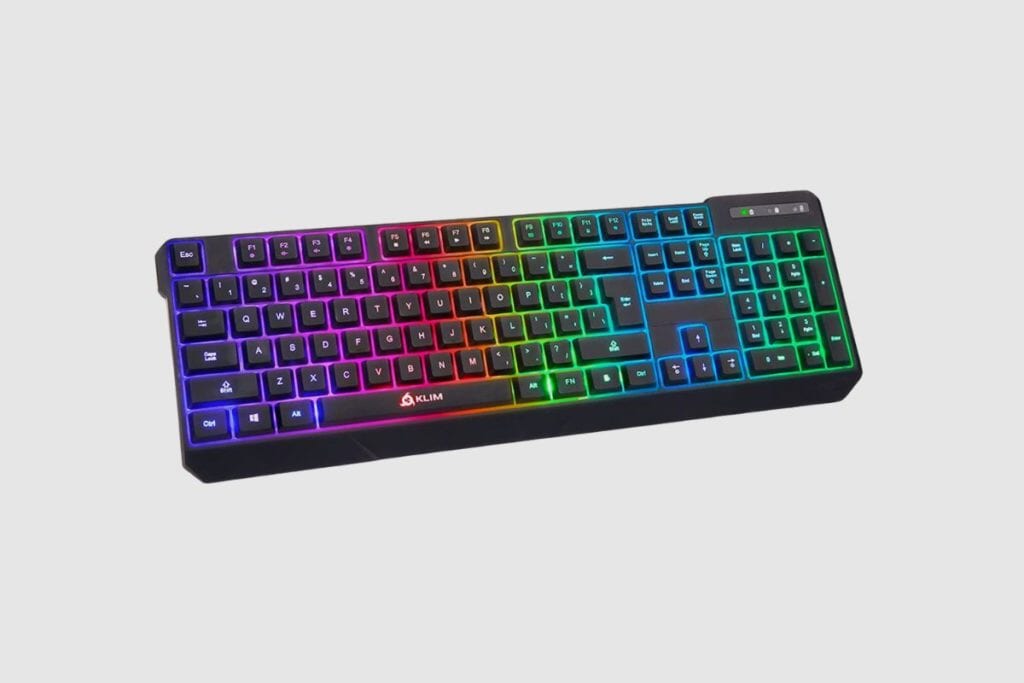 5. KLIM Chroma Wireless Keyboard
The KLIM Chroma is a high-performance wireless gaming keyboard that is compatible with Playstation and Xbox and has low input lag. The keys are snappy and clicky without being overly noisy. It contains several multi-media shortcuts for seamless gameplay that are also helpful in other contexts.
These unique Function keys are utilised to access various practical keyboard shortcuts, such as volume control. Three locations surrounding the keyboard on the KLIM Chroma have tri-coloured backlighting that can be set between static and breathing modes.
Its wireless capabilities are complemented by its small size and lightweight design, which make it convenient to use on your lap. The keyboard's rechargeable battery may last 4 hours before needing to be recharged, and it is also waterproof. In low-light situations, the backlights are useful, but not as much in well-lit spaces. Overall, the KLIM Chroma keyboard is excellent for use at home and in the office.
Features of the Keyboard:
Wireless
Rechargeable
Adjustable colour modes and brightness levels
Fast response time, suitable for gaming.
Pros:
A 2ms response time
Enduring battery Life
Convenient to use.
Cons:
Several keys vary in size.
Fewer buttons for multimedia
The backlights are Dim.
Price on Amazon: $33.
Conclusion
I know it may be annoying to find out that your Asus VivoBook X515JA is not backlit, but in the end, it doesn't mean the end of the world. Its keyboard is still very decent, and as such, you should still be able to get a lot of good work done with it.
However, if you need more oomph from your keyboard, then look no further than some of the wonderful options I have listed for you. Thank you so much for reading this article; I hope you enjoyed reading it as much as I did writing it.
Image Gallery – Does the Asus VivoBook 15 X515JA have a Backlit Keyboard?