Choosing the right mini or portable projector is a difficult task because there are so many moving parts to consider. When looking for the right portable projector, most people have a long list of specifications in mind.
When it comes to mini projectors, however, most people can agree on one thing: they must have a WIFI connection as well as a Bluetooth setup.
This improves usability, and it's always nice to have a mini projector that doesn't have wires all over the place. So, in this article, I'll go over some of the best portable projectors with WiFi and Bluetooth.
15 of the Best Projectors with WIFI and Bluetooth
1. The TOPTRO X3
The TOPTRO X3 is equipped with dual-band 2.4G/5G Wi-Fi and Bluetooth 5.0: This portable projector can quickly sync up with phones/PC screens thanks to the latest wireless Wi-Fi Connection tech. The 5G Wi-Fi is extremely fast and stable, allowing for seamless, no-loading-delay to your online video streaming.
The Bluetooth 5.0 chip allows it to connect to multiple Bluetooth speakers. It has a built-in audio surround speaker, the pleasant sound level isn't noisy, and the X3 outdoor projector provides a fantastic viewing experience even when used without an external Bluetooth speaker. It only costs $260 on Amazon, so it might be too expensive, but it's worth it.
2. The Pokitter Go Pro
The Pokitter Go Pro takes up less space than most 1080p Wi-Fi projectors. It's also lightweight and luminous with up to 200 ANSI lumens for a vivid, movie theatre-like viewing experience even under direct sunlight. With a maximum 120-inch screen, this coconut-sized mini projector can produce accurate colours with impressive contrast.
Huge kudos to its built-in Chromecast and Wi-Fi capacity, which includes a 2.4/5Ghz Wi-Fi and Bluetooth 5.1, which allowed me to wirelessly cast entertainment from any of my Apple/Android devices. Its dual 5W built-in speakers deliver vibrant audio that fills a room. This one was a lot of fun to use, and it was only about $240 on Amazon.
3. The Elphas W13 Mini Projector
The Elphas W13 Mini Projector has a cutting-edge WIFI connection that is compatible with Android/iPhone/Windows 10. Now that the constraints of a wire have been removed, you are free to live your life at any time and from any location.
It features noise-absorbing tech, a built-in speaker, and original audio adherence, filling one's room with an outstanding, enormous sound, enhancing the immersion to an almost cinematic level. It also has diffuse reflection tech that is more eye-friendly than a TV, because it protects you from direct blue light harm. It costs $100 on Amazon, which is fairly inexpensive, to be honest.
4. The VANKYO Burger 101 DLP Wireless PICO Projector
The Vankyo Burger 101 is a highly effective pocket projector. It works with HDMI and Wi-Fi-enabled devices, so all you need is an HDMI cable or a stable Internet connection for it to be installed and work with your phone or laptop. It also has a USB port, allowing you to play content directly from a flash drive! It's got built-in speakers, a removable tripod, and a hauling case, this may yet be the projector for all of your at-home movie viewing needs. I found this model at Walmart for $172.
5. Epson Powerlite W75 Proj
The Epson Powerlite W75 is another portable projector with Bluetooth connectivity; however, unlike the earlier models mentioned, it also has an HDMI output, which is quite amazing considering its small size. It also has a maximum brightness of 2000 lumens, which is adequate but could be better.
However, the images benefit greatly from the 3LCD technology installed on this device, giving it an edge over some of the lower-priced portable projectors on the market. When you combine this with its ability to project HD images on a 150-inch surface and a Wi-Fi connection, it's easy to see why they say good things come in small packages.
It's a high-quality device in general, and I was impressed by how much they could fit into it. However, I was disappointed that this model did not include Android Tv, but it seems like a fair trade given that it is about $150 cheaper than the EF-100, which retails for $1050 on Amazon.
6. ASAKUKI 410W WIFI projector
The ASAKUKI 410W WIFI projector is built with the most recent WI-FI technology RK3036 Chip, which supports WIFI connections for both IOS/Android/Windows systems and allows you to easily, steadily, and instantly replicate the display of your smartphone to a large screen from anywhere.
It is portable and can accompany you wherever you go. It is ideal for both indoor recreational use and outdoor camping for both kids and adults, and thanks to the built-in speaker, you can hear an almost perfect surround sound that really sells the idea of it being a cinema. I discovered it on Amazon for $89.
7. The Epson EF-100
The EF-100 projector is a miniature projector with Bluetooth connectivity that allows you to have a truly wireless experience. The make brightness could have been better, but given its small size, I wasn't surprised to see such a low capacity; 2000 lumens is still a relatively decent figure, though I would have preferred 2800 lumens.
The microarray laser technology is really quite impressive to see on such a portable device, as are the images on display. When combined with the 3LCD technology, it was capable of maintaining a very high level of colour accuracy.
It includes some useful features such as Google Assistant, built-in speakers, and Android Tv. It also has a built-in photo skew function that helps naturally set the picture to fit whatever surface it is projected on, and I found this model on Amazon for $800, which is fairly expensive for a portable projector.
8. The Vilinice VL208
The Vilinice VL208 features two 3W Hi-Fi surround audio sound systems for a more immersive audio experience. Furthermore, with a Bluetooth projector, you can connect wirelessly to your best Bluetooth speaker, headsets, and Airpods at any time. The projector uses multiple layer electro-optic films as well as high-quality glass, in particular, to decrease refraction and boost illumination, enabling this portable High-definition projector to show higher resolution images without any kind of blurriness.
The phone projector has a native resolution of 1280x720P, with support for 1920x1080P, an impressive 7500-lumen brightness, and dynamic contrast of 5000: 1, allowing you to enjoy the greatest outdoor home cinema movie experience. I found this model on Amazon for only $89, which was quite impressive given its specs.
9. The Pokitter Orca T2
The Pokitter Orca is a very dynamic projector with a wonderful and dynamic colour range that gives off that cinema feeling but at home. It has an impressive 2500 Lumen max brightness, which allows it to produce images at a very vibrant and dynamic range.
The built-in speaker produces a very crisp surround sound, and it turns your house into a theatre once it is one. It also has auto keystone correction in vertical and horizontal orientations, which helps to adjust the picture; focus can be manually adjusted by turning the knob. It also has the lasts Wi-Fi tech and Bluetooth 5.0 to allow you to stream and cast whatever you have on your phone onto the projector. I found this model on Amazon for $169, it may be expensive, but it represents very good value for money.
10. The Epson EpiqVision Mini EF12 1080P
The Epson EpiqVision Mini EF12 1080P is a portable projector with a slew of features housed in a stylish but unusually shaped cubic body. It has Bluetooth and HDMI support, as well as FHD and HDR, which is quite impressive. Most images benefit greatly from the 3LCD technology installed on this device, giving it an advantage over some of the less expensive portable projectors on the market. Yamaha designed the built-in speaker, and the sound is very crisp, almost like a portable speaker.
If I had to pick a major flaw with this projector, it would have to be its poor max brightness; it only manages to hit 1000 lumens, which is very low and affects the images if the room isn't very dark. Given the $1190 price tag, I was surprised to learn that the maximum brightness is only 1000 lumens.
11. The Emotn H1
The Emotn H1 projector has a powerful built-in battery and superior optical coating technology that keeps dust from entering the projector's interior. It can provide 2 hours of big-screen entertainment whenever and wherever you want it. It is powered by Emotn's professional DSP electronic amplifier chip, which delivers sound quality. As well as having a Bluetooth connection you can connect to external speakers for better sound quality. Combine that with Emotn's stunning 19201080 FHD images for HD viewing both indoors and out at night. Perfect for movie nights and as a present for family and friends. I found this model on Amazon for $200.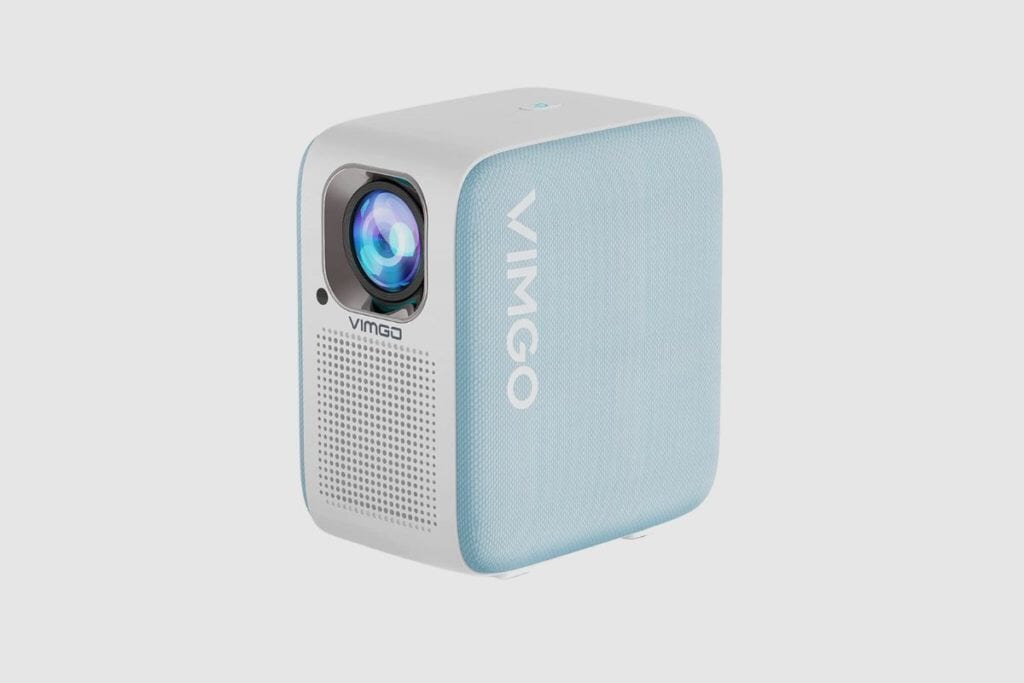 12. The VIMGO P10
The VIMGO P10 is a smart device with an Android 9.0 operating system in addition to a movie projector. It supports 2.4GHz and 5GHz Wi-Fi for a smooth internet experience, and built-in dual 5-W speakers (30dB noise) provide a cinema 360° audio stereo sound experience. Large projection environments can also benefit from additional audio via Bluetooth 4.2.
The P10 LCD LED projector has a native 1080P FHD resolution and supports 4K input videos, with a max brightness of 10000Lumens and a contrast ratio of 10000: 1. Due to its HDR10 and 300 ANSI lumens brightness, everything you play looks rich and lively even during the daytime. I would recommend it for use in darkly lit surroundings. Also, the remote control allows you to change the contrast, brightness, colour, and hue settings. I found this one on Amazon for $169.
13. The NexiGo PJ10
The NexiGo PJ10 Projector supports 5G and 2.4GWiFi, Bluetooth 5.1, and ultra-fast 5G Wi-Fi providing a much smoother and latency-free online video streaming experience. Wireless screen mirroring is supported for iOS, Android, and Windows devices. So, there is no demand for an additional HDMI adapter or apps like Netflix, Amazon Prime Video, and Hulu.
The built-in Dolby sound provides an excellent audio experience without the need for loudspeakers. Its Bluetooth 5.1 is the finest option for at-home entertainment as it can quickly integrate headphones, speakers, and other audio equipment. I found this Model on Amazon for $150, and it seems like a good choice.
14. The NexiGo PJ01
The NexiGo PJ01 video projector is easy to transport, with dimensions of 2.76 x 2.76 x 4.33 inches and a weight of 0.92 lbs. With 16GB of internal storage, you can download videos, music, and photos ahead of time and then play them anytime, regardless of whether there is a reliable network. It is perfect for outdoor activities like friend gatherings and parties because the 5200mAh built-in battery provides 2 hours of outdoor video playback on a single full charge.
The built-in JBL speaker produces clear sound, allowing you to use it as a multimedia projector. Wi-Fi Bluetooth 4.2 allows the projector to send audio to external Bluetooth speakers, headphones, and earbuds. With Wi-Fi 5.0, the NexiGo PJ01 projector supports wireless phone/laptop screen syncing via Airplay, MiraCast, and Eshare without the need for extra adapters. I found this model on Amazon for around $279.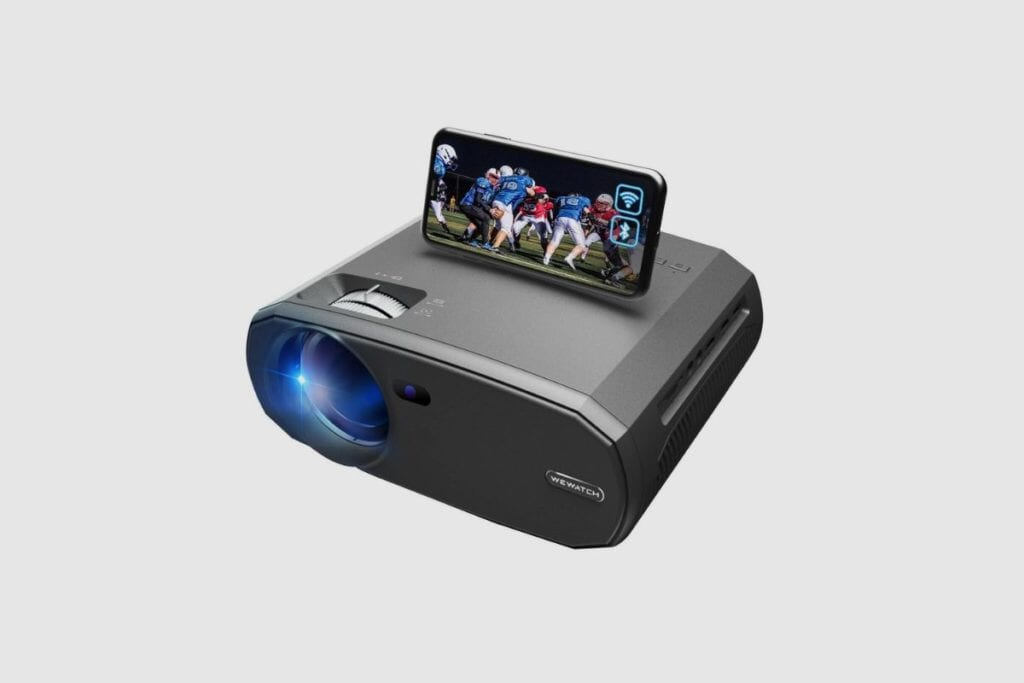 15. The WEWATCH V50 Mini Projector
The WEWATCH V50 Mini Wi-Fi projector offers deep and comprehensive pictures for a home cinema and open-air movie with a native resolution of 1920*1080. It is ideal for showcasing videos, movies, and presentations, among other things. The diffuse reflection technology provides gentle and consistent light, creating a subtle image on the eyes, which limits eye fatigue during long viewing sessions.
It has HDMI, TF, AV, Earphone Out, Bluetooth, W-Fi and USB interfaces, so you can easily connect it to a TV Box, Fire Stick TV, Chromecast, PC, laptop, tablet, external speakers, Xbox, DVD player, PS3, PS4, USB stick, media players, Android phones. It is ideal for playing video, TV series, presentations, open-air movies, and games. I found it on Amazon for $160.
Final Thought
In conclusion, WiFi and Bluetooth connectivity are the future of projectors. They are becoming increasingly affordable but are still quite expensive. This list of the 15 best projectors with WiFi and Bluetooth should give you a few options to mull over before making a decision on which one you think is best for you.
I hope you found the article helpful. If you have any questions, please feel free to leave them in the comments section below.
FAQs – Portable Projectors with WIFI and Bluetooth
Q: Are Wi-Fi projectors better than wired projectors?
A: Wifi projectors are more expensive than wired projectors but offer the convenience of not having to connect the projector to the video source physically.
While the wired projector is still thought to have a more reliable connection, the wireless projector gives users more flexibility when connecting to and projecting content from smart devices. The wired projector may be a better option to create a reliable connection in areas with weak or poor Wi-Fi signals.
Q: What is the difference between DLP and LCD projectors?
A: DLP projectors use a digital micromirror device to reflect light through a lens, while LCD projectors use liquid crystal display panels to modulate the light. DLP projectors tend to be cheaper but have shorter lifespans than LCD projectors.
Q: What is a Smart Projector?
A: A smart projector is a projector that can connect to the internet and has built-in software or apps that allow users to do things like stream video, view photos, and access online content.
Product Image Gallery – 15 Best Portable Projectors with WIFI and Bluetooth