The Amazon Fire 7 Tablet is a great way to stay connected and entertained while on the go; however, the big question is: how does it stack up against the competition? In this article, I will be discussing the features of the Amazon Fire 7 Tablet, as well as its pros and cons.
The 2019 Amazon Fire is a very affordable tablet that comes with a significant specification update and a rebranding (it is no longer called Kindle Fire).
The incorporation of Amazon's AI assistant Alexa is a fascinating new feature, and with the Amazon Fire 7, you can order pizza using voice control. Some additional revamp elements include four new beautiful colours, dual-band 2.4GHz and 5GHz WiFi, and a slightly smaller footprint (now 1mm thinner and weighs 18g).
Related Post: 7 Best Wireless Headphones For Amazon Kindle Fire Tablet.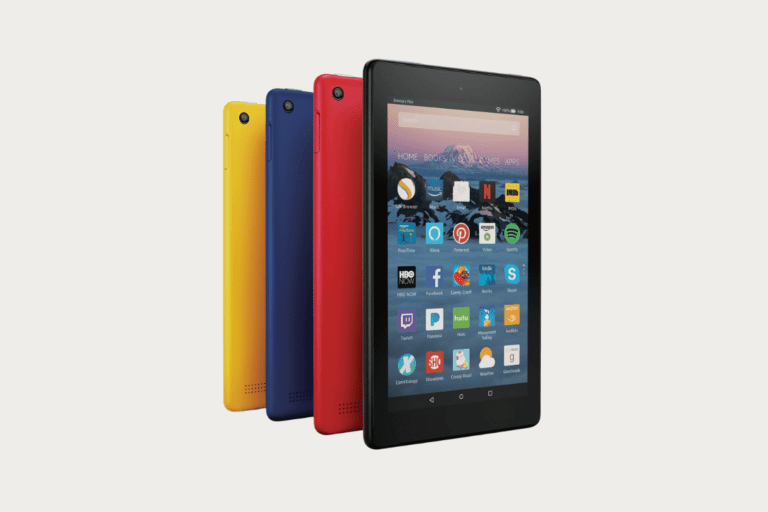 Design
At first glance of the Amazon Fire 7, the device appears somewhat old-fashioned. The 7-inch screen is surrounded by nearly 2-centimeter broad borders at the front and chin with 1.2-centimeter wide edges on the sides and a simple photo sensor at the upper left corner. The small tablet at 288.3 grams is impressive, but it is nothing near the high and mid-range guidelines that have been in place for years. It increases to 421.4 grams when the Amazon shell is added and making it a heavyweight device.
Taking it in your hands also allows you to appreciate its plastic back's "porous" texture. This texture helps it grasp the fingertips nicely, and as a result, it is rather noticeable. The Amazon logo stands out in the centre, and it is made of somewhat reflective plastic that also grips fingerprints. The sides of the device are difficult to forgive. A hatch with a micro SD connector is located on the right edge. There is nothing at the bottom. Every other port is at the top: volume controls, a jack, a micro USB port, and a lock button. This makes it easier to use in landscape mode, but it isn't as well-suited to portrait mode. The left edge in particular disappoints as it houses a very small speaker grille.
I would have liked a better-placed stereo speaker, but there must be compromises on a device in this price bracket. In absolute terms, I'll consider theAmazon Fire 7 to be functional but somewhat old-fashioned. It would have been nice if there had been a little more modern touch.
Display
As the name suggests, the Amazon Fire 7 has a 7-inch screen, as the name suggests, and it supports a complete resolution of 1024 x 600 pixels, not even HD 720p for a pixel density of 171 per inch (PPI), which is disappointing.
Performance
The Amazon Fire 7 comes with a 1.3GHz Mediatek 8163 processor, which Amazon claims is quicker than the previous model's 1.3GHz quad-core processor, as well as 1GB of RAM. The Fire 7 is excruciatingly slow even when compared to Amazon's 8-inch and 10-inch devices. The keyboard takes several seconds to appear, and the Screen transitions is slow.
There is no way you would find Google's Android on Amazon. The e-commerce behemoth has chosen its own operating system based on the minor green robot system's free bricks. Due to this, there are no Google services, and the ergonomics have been entirely changed. The primary screen is separated into multiple panels (apps, books, video, games), with the Amazon shop clearly visible.
In terms of navigation, you could get there without too much difficulty, although the tablet lacks advanced capabilities. The lack of unique applications is a flaw in the Amazon ecosystem. There is no Play Store (Google's massive app store) here, and the Amazon AppStore does not have all apps. There is no app for Video on Demand (VOD) services from Canal, M6, or Bouygues, for example.
Taking photos with a tablet is rarely a good idea, and taking pictures with the Amazon Fire 7 is downright dangerous. The 2-megapixel camera struggles to capture details in bright sunlight resulting in a slurry of pixels and fuzz that settles on the photo and smashes everything except the image's broad contours. Furthermore, colour replication is on the rise. You simply cannot see anything at night, the details are missing, and the scene is underexposed; indeed, all light is lost. The front camera is in the same boat, and because the resolution is insufficient, all of your self-portraits will be littered with pixels.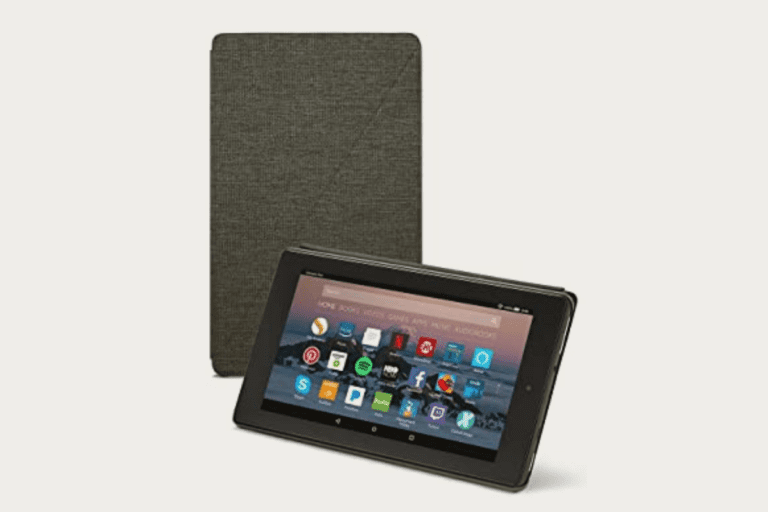 Battery life
The Fire 7's battery life is likewise disappointing. According to the manufacturers, it's meant to have 12-hours of battery life, and after only 4 hours and 11 minutes of streaming movies over WiFi at full brightness, the power went off. The biggest issue with the tablet's autonomy is that its standby mode is not as efficient as it could be. In terms of pure use, the device is excellent. It does not waste valuable percentages when reading comic books, watching Twitch streams, or playing a few games of Hearthstone. More conservative settings may help you get a few more hours out of your phone, but you would need to bring an external battery if you're going on a lengthy journey. The Amazon Fire 7 comes with a micro USB connection and a 5W charging adaptor, and it might take some time to fully charge due to the lack of a rapid charging option.
Features of the Amazon Fire 7 Tablet
It has the following features:
A 7-inch IPS HD display.
It runs on Fire OS 5.3.3. (based on Android 5.1.1)
It has a quad-core processor running at 1.3 GHz and 1 GB of RAM.
Available in 8GB, 16GB, and 32GB of internal storage.
The device battery can last up to 7 hours when reading, browsing the web, viewing movies, and listening to music with the smart speaker.
An AI assistant – Alexa provides hands-free functionality, including an on/off toggle.
Front and rear cameras with 2 MP resolution and 720p HD video recording
Check email, make video calls, update shopping lists, and set reminders to stay on track. Use tools like Zoom, Outlook, and OneNote to get things done.
Through Amazon's Appstore, you can access your favourite apps such as Netflix, Facebook, Hulu, Instagram, TikTok, and more (it is, however, not Google Play supported)
Specifications
Runs on Amazon's Fire Operating System 5.3.3
7-inch screen size
1024 x 600 pixels image resolution.
LCD (liquid crystal display)
RAM (random-access memory): 1 GB
16 GB, 32 GB internal memory (flash)
1: 2 Mpx sensor (rear camera)
Front-facing camera: 2 MP
720p video recording
Bluetooth:4.1
No Near Field Communication (NFC)
Battery: 2977 mAh
Dimensions: 115 x 192 x 9.6 mm
Weight: 286 grams
Colours: Black, Plum, sage, twilight blue.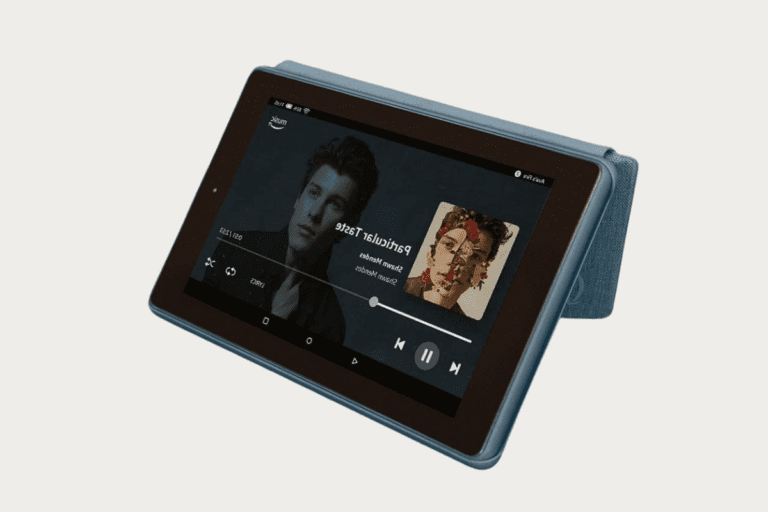 Pros
The price is relatively low.
It's ideal for reading and watching movies.
Fire for Kids promotes a secure environment for children.
Simple to use and a Smart display
Hands-free Alexa is included.
There are numerous entertainment apps available.
Cons
Requires Heavy-duty shelf
Android does not fare as well as Fire OS.
A screen that is poorly calibrated and looks like a mirror.
It's heavy and poorly finished.
Long charge time and average autonomy.
Photo quality is poor.
The resolution is relatively low.
Ineffective performance
The sound quality isn't excellent.
The Amazon-centric operating system restricts the number of apps available.
Buyer's Guide for Amazon Fire 7 Tablet
Unless you spend $15 to eliminate adverts from the lock screen when you switch on the tablet, you'll be met with them when you turn it on. When you turn on your Amazon Fire 7 tablet, swipe up to reveal the home screen which is divided into three sections: For You, Home, and Library. The app grid you'd expect to find on any Android device is called Home. The library is a collection of carousels containing various types of Amazon content, such as Kindle novels, audiobooks, apps, Prime Video, and Amazon Music playlists. The Amazon Fire 7 tablet also has a Show mode that listens to Alexa voice commands and provides audible and visual feedback like an Echo Show.
The Google Play store is no longer available on Fire OS and is replaced by Amazon's own app store, which has a lot of the same apps as the Play store, excluding any Google apps.
That means you won't be able to access YouTube, Gmail, Google Calendar or Google Play Music. However, aside from YouTube, Amazon has its own set of bespoke apps that can be used instead of standard Android apps, and although they are not as polished as the originals, they would suffice in a pinch. You can sideload apps if you're feeling daring but you run the risk of viruses and spyware.
The Fire 7 has a well-made headphone output this year. The soundstage is broad, the power is considerable, and the distortion is nearly non-existent. Unfortunately, the channel separation is a bit clumsy, which takes away from the fun. The device's speaker, which is positioned on the left edge, is subpar.
The sound is quite tight, focusing solely on the highs and is slightly saturating on total volume. In short, there is nothing to preserve, which is enough to deduct a star in this category for a tablet cut out for watching films.
Using the Fire 7 tablet for business purposes might present you with some trouble using it, as some productivity features are absent. These are frequently substituted by apps made by third parties, which aren't a great substitute for the software.
Available series
The Amazon Fire 7 tablet is available in a variety of models, which are as follows:
The entry-level model has 1GB of RAM and 8GB of internal storage. The 16GB and 32GB come in two versions: one with advertisements and one without. The costs vary depending on storage and advertisement options.
How much is the Amazon Fire 7 Tablet?
The 16GB version without advertising costs $73, while the one with advertising costs $56.15. The 32GB version without advertisements costs $84.24, while the one with ads costs $61.7. If you wish to download movies and TV shows for offline watching, you can use the microSD card to add 512GB of external storage to any model. The 8GB version is hard to come by. However, it is available for an unbelievable price of $ 59. This small tablet features an 8-gigabyte storage capacity that can be expanded to 256 gigabytes.
For an extra $ 40, you can get the Fire HD 8, which has an 8-inch 1280 x 800 HD display. "It also has a battery that can last up to twelve hours or a whole day. An in-built storage capacity of 16 GB or 32 GB with 256 GB expandable storage via a microSD card."
Is the Amazon Fire 7 Tablet Worth Buying?
The 2019 Amazon Fire 7 is one of the low-cost tablets available in the market. However, it is not the best. I find the Fire HD 10 2021 edition better for low-cost tablets with enough RAM and performance to feel responsive and entertaining.
Conclusion
Putting its pricing aside, the Amazon Fire 7 is a poor product. It's not a particularly good tablet, but it would suffice for occupying children or providing additional troubleshooting. It would have gotten more notice if Amazon had paid a little more attention to its screen or if the design could have been improved a little bit. However, in these conditions, it is tough to recommend.
I would instead consider a low-end Chinese unbranded product because it at least has Android and the Play Store. But more seriously, purchasing an older model Samsung, Sony, Huawei, or whatever mid-range tablet at a low price will offer a much better experience. Amazon's Fire 7 tablet is underpowered for practically all tasks in 2021. The Fire HD 8 is a better investment.
I am still waiting to see what we're entitled to expect from software optimisations of any product on the market, regardless of price, especially on a device that's on its fifth version.
Frequently Asked Questions (FAQ)
Is it possible to insert a SIM card?
Because the tablet does not have a SIM card port, it can only be used with WiFi.
What is the purpose of the Amazon Fire 7 tablet?
It runs Amazon's own software (based on Android) and app store, just like Amazon's homebrew tablets. Users have direct access to Amazon's music, video, ebook, and shopping services. However, Google Play is restricted.
Is it possible to watch Netflix on a Fire 7 tablet?
Netflix is available on the Amazon Kindle Fire and Fire tablets in all Netflix-approved territories.
Is it possible to use the Amazon Fire 7 as a phone?
The Kindle Fire is neither a phone nor a cell phone. It's a tablet, after all. As a result, you won't be able to use WiFi to turn it into a phone or a cell phone.
Amazon Fire 7 Tablet Photos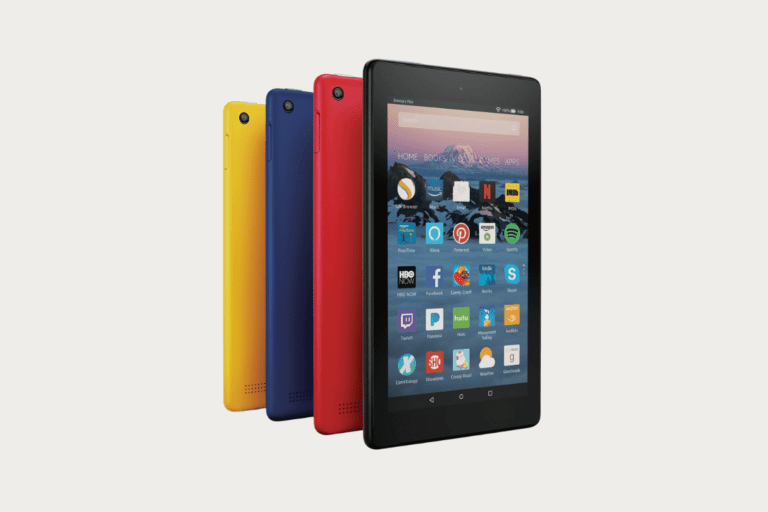 References: Amazon Tablet, Amazon's AI assistant Alexa.