The OnePlus 9 pro 5G smartphone is the first collaboration between OnePlus and Hasselblad, a Swedish camera manufacturer where OnePlus has taken pointers from the Pro camera company to develop its camera systems and produce a smartphone device with a somewhat similar format to a camera.
The One plus pro 5G is definitely in its own league when it comes to its Android features and, most importantly, its camera features.
Related Post: OnePlus 10 Pro Review.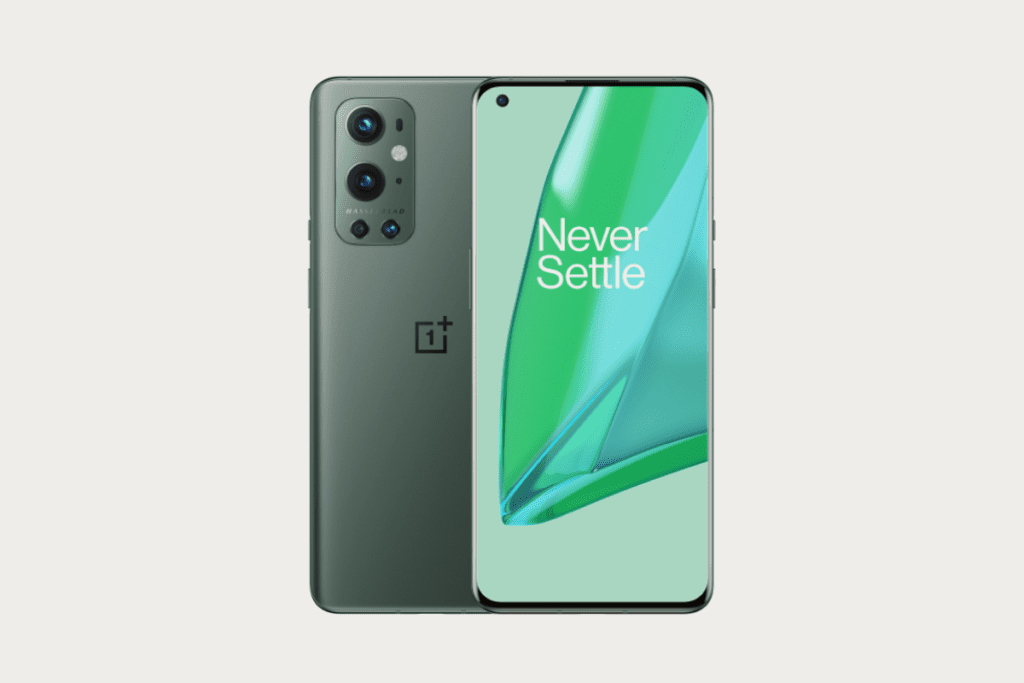 Design
In terms of design, the OnePlus 9 has an aluminium frame with a lighter and more mirror-like design with reflective glass on both sides.
There is a hole punch selfie camera with curved edges on the screen, and on the sides, there is the classic hold switch with the texture to it, so you can tell the difference between the buttons without even looking.
At the top of the screen is an earpiece that doubles as a loudspeaker, and at the bottom of the device, you will find the USB type C connector with the speakers and the sim tray.
Right out of its box, you have the OnePlus phone itself, a USB type c charging cable, the power brick, and a glossy jelly-like phone case that should protect your phone from smudges, but it would not necessarily protect your phone from getting a crack in a high fall because the case is not high quality, so you still have to get your own case eventually whatnot, but the problem is the quality.
Luckily the OnePlus Pro is IP68  water and dust-resistant, so you would not have to worry about particle scratches or water.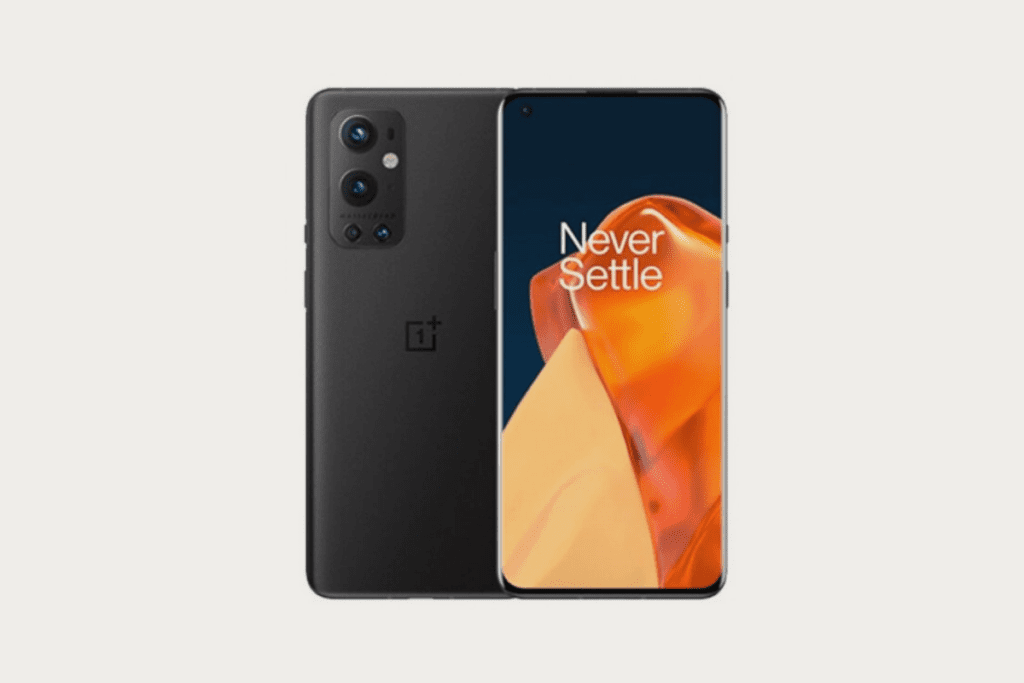 Display
 The OnePlus 9 pro has a 6.7-inch LTPO fluid 2 AMOLED display that comes with 1300 nits p brightness with 1440 by 32 x16 pixels resolution and a 525 PPI density. This way, the screen would appear clear and sharp, and with the Itpo panel, it would consume less battery compared to just AMOLED or fluid AMOLED, especially if you would be playing a lot of games with high resolutions. 
Performance
 The OnePlus 9 pro runs on a Qualcomm Snapdragon 888 processor and a high refresh rate of 120 hertz which means it is smoother and faster, and you can clock down to 60 hertz if you want to save more battery life.
It also has  8 or 12 gigabytes of ram, but that would depend on your configuration, which ranges from 128 to 256 gigabytes of internal storage. It also comes with a UFS 3.1 combined with the Adreno 660 GPU for faster and amazing graphics, which is not surprising at all since one Plus is known in the market to have a very good android, and the One Plus Pro 5G comes with the Oxygen OS 11 based on Android 11, so it is really fluid for multitasking between apps and the apps do not lag behind when it is being launched.
The always-on screen features have glanceable notifications and a ticking clock if you want, with a clock called insight which gives a visual representation of how often you're unlocking the screen.
The OnePlus Pro 5G has a zen mode that shuts all the phone's features down except for the cameras and incoming calls for up to two hours.
Although once you start it, you would have to wait for the set time to finish before you can use the phone again, but there are some relaxing sounds you can still play in the zen mode provided by tide FM on this phone.
A good thing is on the first boot; there are very few pre-installed applications as opposed to the usual practice of most android phone brands that tend to pre-install so many apps you do not want and cannot delete, which clogs your storage.
The in-display scanner is reliable, and if you keep holding the sensor after unlocking the OnePlus 9 Pro 5G smartphone, you can set shortcuts to open other apps or quickly dial a contact.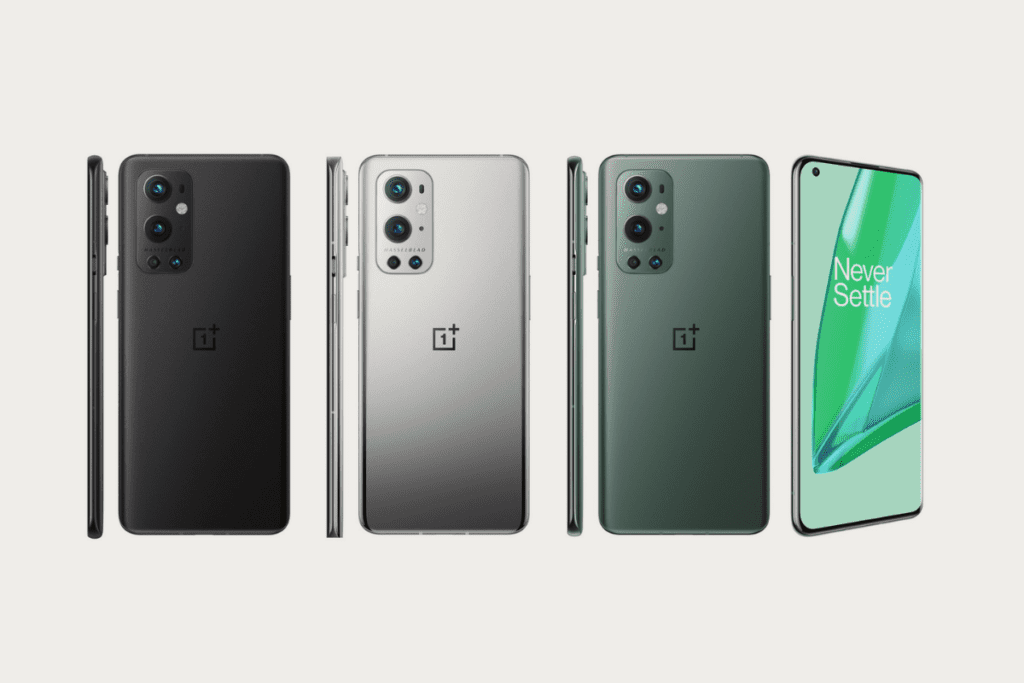 Battery life
The OnePlus 9 pro comes with a 4500 milliamp-hour battery that supports 65-watt fast charging cable that can power up your phone in 29 minutes and a 50 watts fast wireless charging that can power up your device in 43 minutes.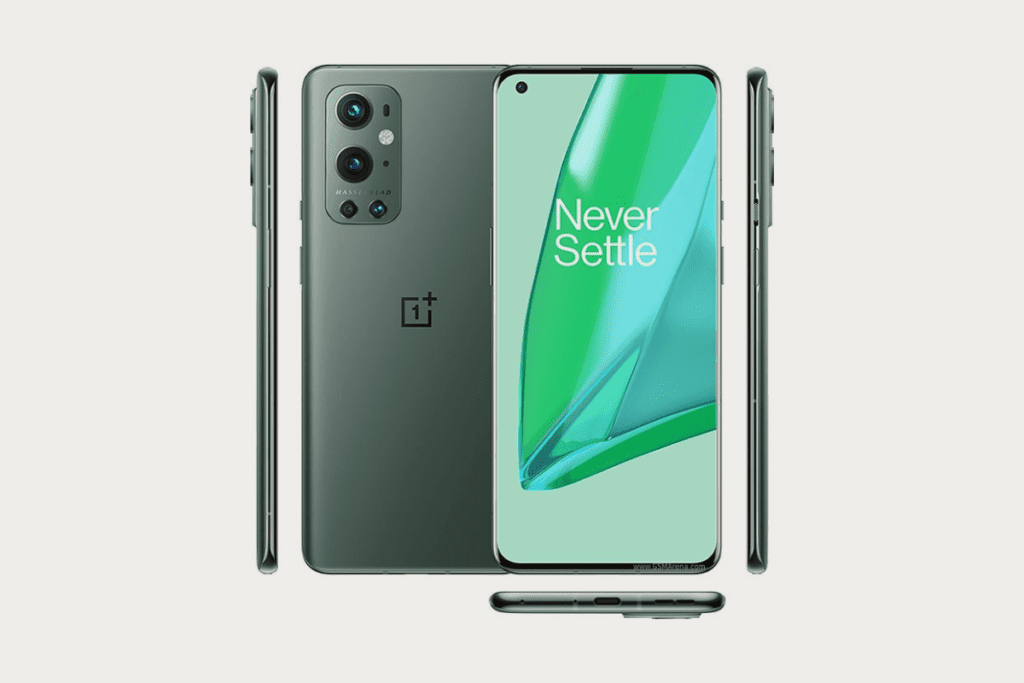 Features
 The OnePlus 9 pro 5G comes with an extra lens which is an 8-megapixel telephoto lens that allows the OnePlus 9 pro to have a 3.3 times optical zoom with a basic primary lens and colour calibration. With the cameras, you can see Hasselblad's expertise come through with how the colour balance and saturation have been tweaked to look almost similar to a pro camera.
 There is also versatility with the lens selection, where you can pick from a telephoto to an ultrawide lens. In the ultrawide photos, Hasselblad and OnePlus have been able to figure out lenses that are capable of limiting distortion on the edges of the frame and in night mode, there is a cool camera feature where the phone can turn night into day through nightscape.
With shooting videos, the quality goes as far as 8k capabilities, and you can record slow-mo videos at 1080p at 240fps.
It supports hdr 10 plus motion smoothing and 10-bit colour as well it can automatically adjust its temperature depending on the ambient lighting with the new colour tone feature.
You can expect maximum brightness at around 870 nits in bright environments when the adaptive brightness is turned on, so it has excellent sunlight readability.
Pros
It has an excellent camera
The sound quality is good
Good battery life
Cons
It is pricey
It has a heating issue.
How much is the One Plus 9 Pro 5G Smartphone
The OnePlus 9 pro 5G has a starting price of $969.
One Plus 9 Pro 5G Smartphone available series
The OnePlus 9 pro 5G smartphone is also available in OnePlus 9, with the latter coming in plastic frames as opposed to the aluminium frame of the 9 pro 5G. Both phones are products of the collaboration of OnePlus and Hasselblad, and they share similar features with slight differences.
Is the One Plus 9 Pro 5G Smartphone worth buying?
The OnePlus 9 Pro 5G smartphone is one of the best mid-range Android phones on the market. It comes with Oxygen OS 11, which makes it super fast, and an excellent camera thanks to its collaboration with Hasselblad.
The OnePlus 9 Pro also has a strong battery life with fast charging abilities that can be fully powered within an hour of charging. Although its price tag is a bit on the higher side, nevertheless, the phone is worth it.
On the other hand, you might want to go for the newer model, the OnePlus 10 Pro. This phone has an even better camera, better battery life and is overall a more powerful device.
Conclusion
Overall, the OnePlus 9 Pro 5G is a great smartphone with a lot of features that make it a great choice for anyone looking for a new phone. However, it is important to note that there are some cons to this phone as well, such as its heating issue and the high price tag.
Ultimately, it is up to the individual to decide if the pros outweigh the cons and if this is the right phone for them. Aside from that, the phone itself is a great piece of technology that offers a lot of features and benefits.
FAQ – OnePlus 9 Pro 5G Smartphone
Question: Does the OnePlus 9 Pro have liquid cooling?
Answer: It comes with the OnePlus Cool Play cooling system.
Question: Does the OnePlus 9 Pro have Alexa?
Answer: It offers built-in support for both Amazon Alexa digital assistants and Google Assistant.
Question: Is the OnePlus 9 Pro wireless charging?
Answer: The OnePlus 9 Pro has the ability to wireless charge up to 50 watts.
Question: Does the OnePlus 9 Pro have a 3.5mm jack?
Answer: The OnePlus 9 Pro does have a specified 3.5mm audio jack.
Question: Is the OnePlus 9 Pro waterproof?
Answer: The OnePlus 9 Pro comes with an IP68 rating for water and dust resistance.
Product Image Gallery – OnePlus 9 Pro 5G Smartphone Review