At this time, it is not confirmed whether the Xiaomi Redmi Note 11 Pro smartphone will receive the Android 12 update. While the device currently runs on MIUI 13, which is based on Android 11, it is always possible for devices to be updated to the latest version of Android if and when it becomes available.
There are claims online that Xiaomi, the manufacturer of the Redmi Note 11 Pro, has released an Android 12 update option for the device but that it is not yet widely available to users globally. These claims suggest that the update is only available in selected countries where Xiaomi has a market presence. However, it is important to note that these claims have not been officially confirmed by Xiaomi and should be taken with a grain of salt.
It is possible that the Xiaomi Redmi Note 11 Pro will receive the Android 12 update at some point in the future, but at this time, there is no official confirmation from Xiaomi about when or if this will happen. Presently, the Xiaomi smartphones that come with the Android 12 update are the Xiaomi Mi 11/11 Ultra and Xiaomi Mi 11i/11X Pro.
Related Post: Xiaomi Redmi Note 11 Pro Review.
The Xiaomi Redmi Note 11 Pro smartphone comes with a variety of features and specifications, which makes it a top choice for many people. It comes packed with a non-removable Li-Po battery that has a capacity of 5000mAh, which remains the highest battery capacity in the market for smartphones of similar quality.
Xiaomi took a professional step to make the Xiaomi Redmi Note 11 Pro feature a 6.67-inch AMOLED DotDisplay which is an improved version of the Xiaomi Redmi Note 11. This display quality catches the eyes of smartphone users as it provides improved details on images and videos that assures users of an immersive viewing experience. 
The backlight display is considerably strong, with 700 nits being the lowest and 1200 nits being the highest. Still, within the context of its display, the Xiaomi Redmi Note 11 Pro comes with detailed contrast depth and a ratio of 4,500,000:1, 20:9 aspect ratio, and 365 PPI.
Picture sizes fairly determine the graphic quality of a picture which is why this pocket-friendly smartphone offers 1080 x 2400 pixel screen resolution quality, making it easy for you to pick out details in motion or still pictures. Altogether, these features define the Xiaomi Redmi Note 11 Pro as a smartphone that is out to leave its users with an overall premium user experience.
Features of Android 11
The features that make Android 11 widely accepted by manufacturers of Android phones include the following:
Conversations: Android 11 helps you get your messages all in one place. This helps you to see, respond to and control your conversations across multiple messaging apps, all in the same spot. You can also select people you always chat with. These priority conversations show up on your lock screen, and you can also chat while multitasking.
Capture and Share Content: Android 11 offers a screen recording feature that lets you capture what's happening on your phone. It is built right into Android 11, so you don't need an extra app to do that. Record with sound from your mic, your device, or both.
Smart Reply: Android 11 helps you during conversations by offering reply suggestions.
Voice Control: The voice assistant feature in Android 11 gives you control over your smartphone with your voice. You can issue instructions and get responses from the in-built voice control feature even while you are offline.
Security Updates: With Android 11, you get even more security and privacy fixes sent to your phone from Google Play.
Other features include Media Control, App control, and Device Control.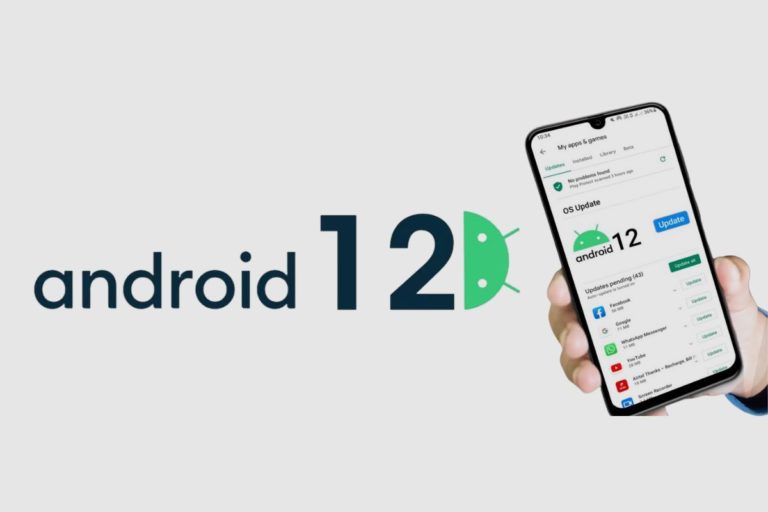 Update features on Android 12
The Android 12 comes packed with advanced features that give it an edge over the Android 11. Listed below are some of the features:
Material U (You): The Android 12's new UI focuses on creating a standout customised phone that adapts to you. That is, it allows you to customise your phone with a custom colour palette and redesigned widgets.
Fluid Motion: Android 12 enables your phone to respond to your touch swiftly and smoothly, and faster with smooth motion and animations.
Improved Personalization: Let's say, when selecting a wallpaper, it applies dominant colours to the entire OS, including the notification shade, lock screen, volume controls, new widgets, and much more.
Improved Notifications: The look of notifications in Android 12 makes them contemporary and functional. When you tap on notice, it will take you directly to the app icons or actions you want to perform rather than through an intermediary provider. This should make everything faster. You can also snooze unimportant alerts.
Privacy Dashboard: This provides users with greater visibility into the data that apps access. The new Privacy Dashboard provides a unified view of your permissions settings as well as what data is being accessed by apps and how often.
Approximate Location: Apps can only see approximate locations around you as opposed to just your precise location on Android 11.
Scrolling Screenshots: With Android 12, you can now show more content in a single screenshot using the "capture more" button.
App Hibernation: This feature allows users to put apps in "hibernation" mode while they are not actively being used.
Smoother Autorotation: This feature attempts to keep your screen itself aligned by using your face. It means the screen will rotate to the angle your face is tilted to.
Dim Screen: Let's say your phone's screen brightness is bright even at the lowest level; Android 12 includes a new Extra Dim option that dims it even further to reduce eye strain.
Conversation Widget: Google revamped widgets in Android 12 and included a useful Conversation widget to go with it, which allows you to access your most frequently used conversations with a single press.
Easy Wi-Fi Sharing: A little button has been added below that allows you to use Nearby Share to give your Wi-Fi credentials to someone else's phone. It's faster and eliminates the need for you to hold your phone up for everyone to scan for sharing.
Faster Mobile Game Download: Android 12 enables players to be able to start a game while it is downloading with its "play as you download" option.
Haptic Feedback Coupled With Audio: This feature gives you the feeling that you are gaming on gaming consoles. You can feel it as your controller shakes in response to a screen explosion. This capability is built-in into Android 12. When things happen on the screen, game makers can make your phone vibrate.
Other featured updates on Android 12 include Quick Tap, Rich Content Insertion, Direct Share in the Recent Overview Menu, Conversation Widget, Android TV Remote, and Better Integration with Chrome OS.
Conclusion
In conclusion, Android 12 has more advanced features than the Android 11 operating system. And as such, being able to upgrade to Android 12 on the Redmi Note 11 Pro will give it an edge over other phones within its price range.
Image Gallery – Will the Xiaomi Redmi Note 11 Pro get Android 12?