The Huawei MateBook D15 laptop is one of Huawei's best budget option laptops. This is a primarily thin and light Ultrabook that was designed to be the perfect companion for students, business people on the go, and entry-level content creators who are starting their journey as photo or video editors.
However, one thing I did not mention was whether or not it was made for gamers, and that is what I will be discussing in this article. I will be taking a deep dive into the design and build of the Huawei MateBook D15 to see if it is good for gaming and if it is worth giving your attention to as a gamer or if it is not.
Related Post: Is the Huawei MateBook D15 worth it?
Is the Huawei MateBook D15 Good for Gaming?
The Huawei MateBook D15 laptop is not the best laptop for gaming, as it does not have a dedicated graphics card. However, it is a good choice for light video or photo editing and productivity tasks. The lack of a dedicated graphics card means that most gamers would not view this as their primary source of gaming and entertainment.
What are the Specs of the Huawei MateBook D15?
Before we go anywhere, we have to check out the specs of this laptop so we can get a general idea of what this laptop is all about.
| | |
| --- | --- |
| Specifications | |
| CPU | AMD Ryzen 5 3500U |
| GPU | Radeon Vega 8 integrated graphics |
| STORAGE | 256GB PCIe SSD |
| Memory | 8GB DDR4 (upgradable) |
| DISPLAY | 15.6" IPS FHD Display |
| Dimensions and weight | WI=357.8mm D=229.9mm H=16.9mm WE=2.8lbs |
| Battery | 42Wh battery |
| wireless | WIFI 6 Bluetooth 5.0 |
| Ports | 1x USB-A 3.0, 2x USB-A 2.0, 1x USB-C(charger) 1x HDMI, 1x 3.5mm 2-in-1 jack |
| OS | Windows 10 home with a free windows 11 upgrade. |
| misc | 2, mics 2W speakers, fingerprint sensor, hall sensor |
Display
The display on the Huawei MateBook D15 is one of the few places where Huawei tried to save money to keep the laptop within a certain price range. I'm not saying the screen is bad, but it falls short of the standards found in some of Huawei's higher-end laptops. The D15 features a 15.6-inch FHD display with thin bezels on three sides and a chin on the bottom, giving it an 87% screen-to-body ratio and a nice 16:9 aspect ratio. All of these are standard for a low-cost 15-inch laptop.
However, it falls short in terms of colour accuracy, to say the least. With an sRGB rating of 65%, an Adobe RGB rating of 49%, and a P3 colour gamut rating of 48%, it is not a colour-accurate screen. These are unquestionably poor results. I wouldn't recommend this laptop for high-level video or photo editing because you won't be able to colour grade images accurately. It also has a maximum brightness of 250nits, which is adequate for indoor use but not ideal for working outdoors.
Processor
The Huawei MateBook D15 has a few AMD and Intel-based processors, but the model I am reviewing has the AMD Ryzen 5 3500U. This is a very respectable processor that can efficiently handle a lot of work, as well as being ideal for simple to intermediate tasks.
It can handle some simple video editing work at 1080p with multiple chrome tabs open, and it is even able to handle both Adobe premiere and Photoshop running at the same. This is very good because not every computer within its price range can have both of them running, with minimal lag and almost no wait time in processing.
I was able to render an hour-long 1080p video in under 15mins which is also very impressive given it is not one of AMD's most prominent processors. It scored very well on GEEKBENCH test scores, hitting over 950 points on a single core count and getting almost double that score on a multi-core test, clocking in at over 1650 points. The AMD Ryzen 5 3500U is not the most powerful processor, but it more than holds its own when taking on heavy workloads.
Graphics
The Huawei MateBook D15 does not have a dedicated graphics card, I'm very disappointed to see that it doesn't even have a base model NVIDIA or AMD dedicated graphics card. It only comes with a Radeon Vega 8 integrated card. This means the graphics are still being rendered from a portion of the processor, which has to dedicate a bit of its power to the integrated chip to render graphics for games and 3D images being rendered.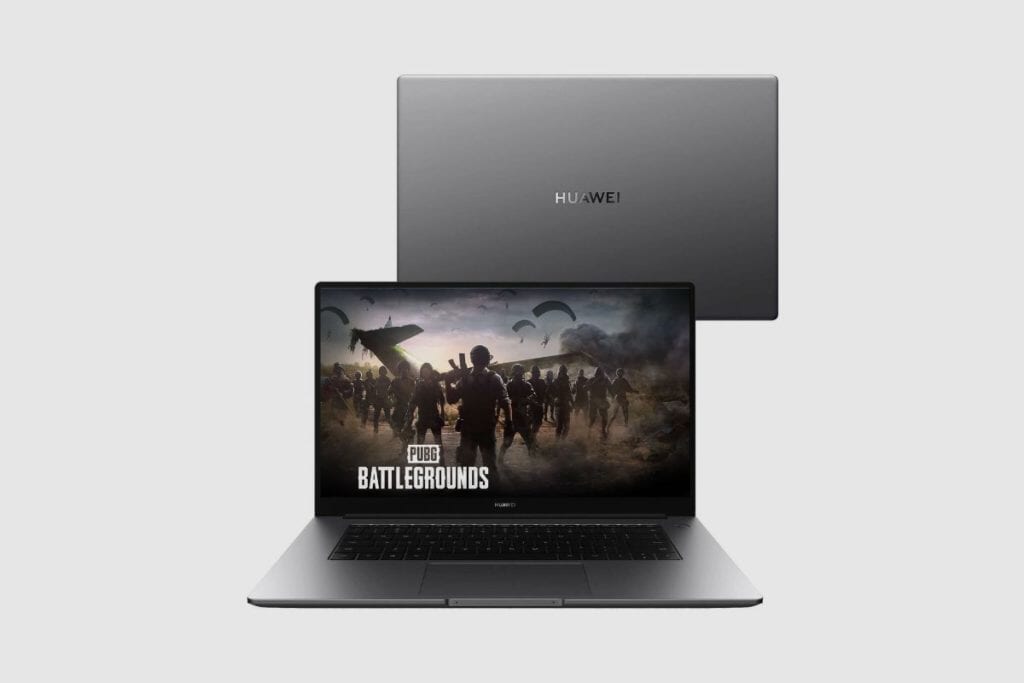 Gaming Performance
It doesn't mean you can't play games on this laptop; it just means you won't be able to play a lot of the latest "AAA" games which are more graphically intensive and require a lot more processing power. I ran it through some games just to see the kind of benchmarks I would get so that I could provide you with some context to the kind of games that could run smoothly on this as well as some games that couldn't and why it is more suited to some light gaming.
| | | | |
| --- | --- | --- | --- |
| GAMES | LOW Video Quality | MEDIUM Video Quality | HIGH Video Quality |
| CSGO | 60 | 40 | 30 |
| Witcher 3 | 45 | 30 | 22 |
| PUBG | 50 | 40 | 30 |
| CALL OF DUTY MW3 Anti-Aliasing off | 100 | 80 | 60 |
| COD AA ON | 55 | 40 | 30 |
While the Huawei D15 performed admirably in some games, particularly first-person shooters, it struggled in others, such as The Witcher 3, and even at lower settings, I noticed some dips in frame rates from time to time.
Most first-person shooters can be played competitively, and the figures put up are good for single-player games. An average gaming laptop is still able to get at least double the number of frames per second when compared to this laptop, and that gives other players a competitive advantage over someone using the Huawei MateBook D15.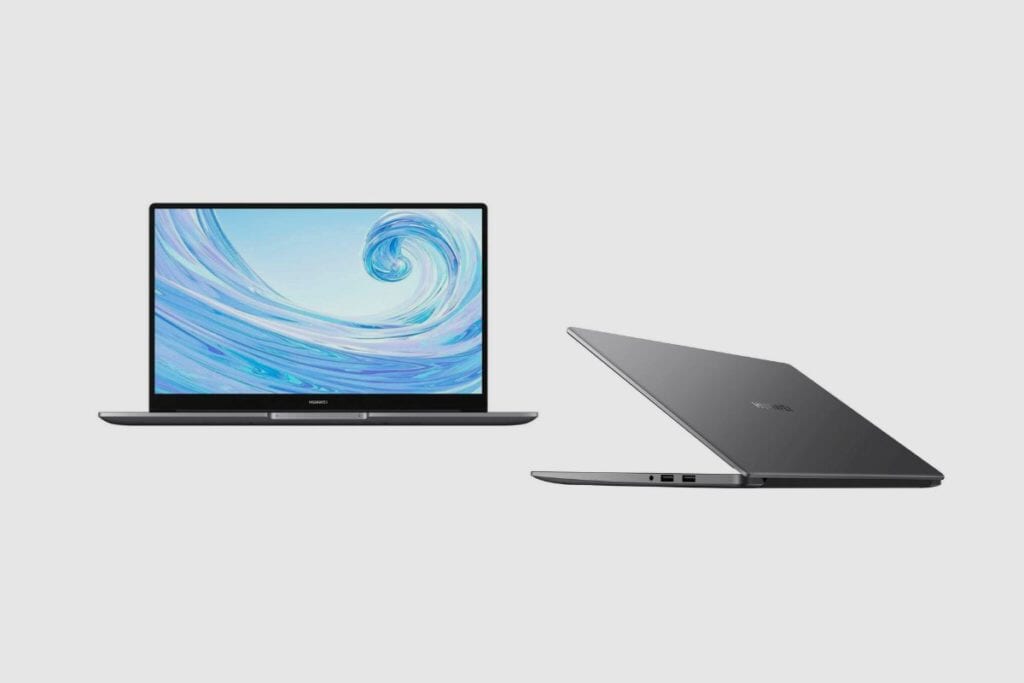 Battery Life
The Huawei MateBook D15 laptop has a 42wh battery, which is not as strong as I would like to see. Huawei has advertised that it lasts about 10hrs after an average day of usage, but in my opinion, the battery is not very strong.
I was able to use the laptop for about 6hrs after I had the screen on 50% max brightness, as well as streaming some videos on YouTube and doing some light browsing. While I was gaming or editing videos with it, I was able to get at least 2.5hrs out of it.
On the plus side, the laptop does come with a 65w charging brick which can get you from 0-50% in less than 30mins as well as give you about 2hrs of use from 10mins of charge. So, at least you should be able to top up the battery very quickly once it is low.
Is the Huawei MateBook D15 Thermals Good for gaming?
The Huawei MateBook D15 has excellent internal and external cooling, and that is thanks to Huawei's latest 2 shark fin cooling technology. It has two shark fin fans which feature thinner, Denser fins that produce better airflow that keep the system very cool even when taking on very heavy loads. It also has six sensors that monitor the thermals of the laptop, which allow the system to dynamically scale the fan speed for optimal cooling.
This is an impressive way to combat thermal throttling, and they make the laptop very cool to the touch, even when put under the most intense loads like gaming and video editing. The laptop never got uncomfortably hot to the touch, and that was very impressive. They should be able to keep the laptop from overheating and allow you to game for longer periods.
Is the Huawei MateBook D15 Keyboard Good for gaming?
While Huawei is not known for making incredible keyboards, the ones found on the Huawei MateBook D15 are not bad at all. They feel tactile and bouncy, but they also feel very plasticky and cheap.
They are not the best Keyboard in the world, but they are okay enough; they also have one major flaw, which is not being backlit, seeing a keyboard in 2022 not being backlit is a major disappointment, and it will always fall short of other competitors for me.
I wish the keyboard was backlit as well as feeling a bit more responsive. I also wish they felt a bit more premium, like the MateBook X pro.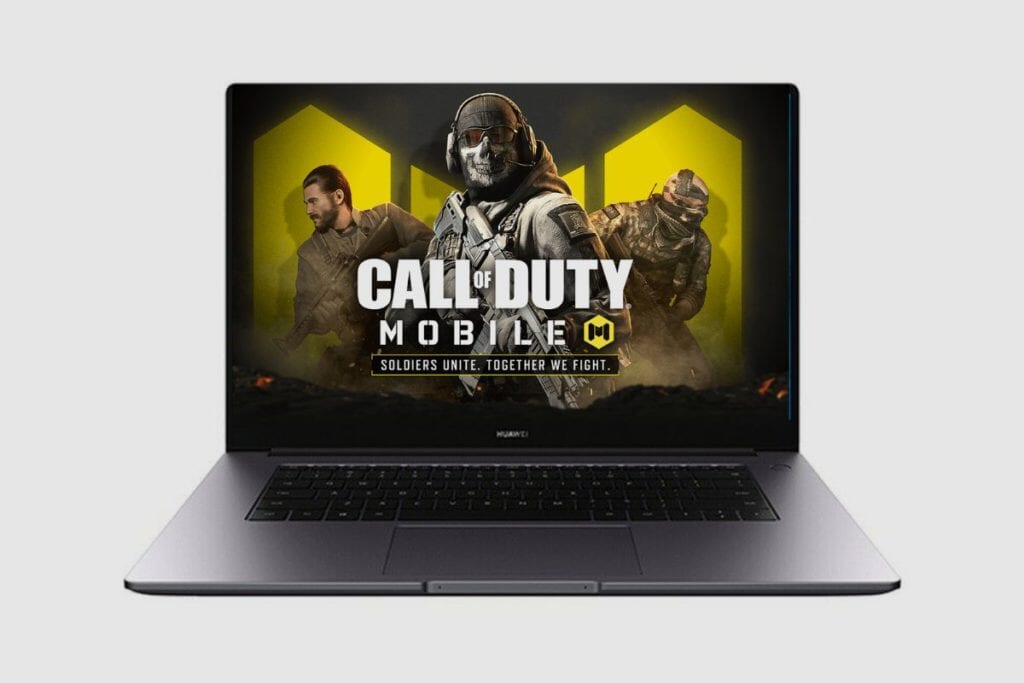 Huawei MateBook D15 Price and Availability
The Huawei MateBook D15 is a widely available laptop, and I found it on Amazon for about $400. Also, searching for it in a few places on the internet, I managed to find it on eBay for about $280, and I also found it on the Huawei store for about $450, which all seem fair, by the way. I also found it on Amazon UK for about 500 pounds.
Is the Huawei MateBook D15 Worth it for Gaming?
The Huawei MateBook D15 is a solid laptop and can be used in a variety of situations. It is a solid productivity laptop, and you can even get some 1080p video editing work done on it. It is a budget-friendly laptop which is priced at about $400, which makes it a very good choice for students and entry-level content creators or photographers. However, if you are a gamer, you might want to stare clear of this one.
It is not a gaming laptop; the lack of a graphics card severely limits its ability to perform and handle demanding games. However, if you want to use it as a productivity tool with some light gaming on the side, this laptop should be on your next shopping list. If you're looking for an affordable gaming laptop, consider the Acer Nitro 5, which costs around $500 and includes a dedicated graphics card as well as a performance boost from an all-AMD processor and GPU setup.
Conclusion
Huawei makes some very good laptops, and it would appear as if they have mastered the laptop-making industry too. The Huawei MateBook D15 is a solid budget option laptop, and it feels like this could be a laptop that sticks around for a while.
It still has a few flaws about it, but on the whole, it is a solid enough laptop which should provide users with more than enough power to carry out a lot of tasks. Please let me know if you have a MateBook D15 and how it has worked out for you, especially if you game with it, or maybe you plan on buying the MateBook D15, and you found this article helpful, let me hear about everything down in the comments section below. Oh, and thanks for reading this.
Image Gallery – Is the Huawei MateBook D15 Laptop Good for Gaming?
References: Huawei Laptop, sRGB rating of 65%.