The short answer is Yes; the Noise Colorfit Caliber is a waterproof smartwatch that has an Ingress Protection (IP) rating of IP68. With this water resistance rating, it means that the smartwatch is dustproof and can withstand submersion in up to 1.5 meters of water for up to 30 minutes.
This makes it ideal for activities such as swimming, snorkelling, and other water-based sports; however, with a bit of caution not to go over the limits stated above.
Related: Noise ColorFit Caliber Smartwatch Review.
What is an IP Rating?
An IP rating, also known as an Ingress Protection rating, is a two-digit number that indicates the level of protection against dust and water that a device has. The first digit indicates the level of protection against solid objects such as dust, while the second digit indicates the level of protection against liquids such as water.
For example, a device with an IP68 rating is completely dustproof and can withstand submersion in up to 1.5 meters of water for up to 30 minutes.
Is The IP68 Rating Good Enough?
Generally, an IP68 rating is good enough for most devices because it means that the device is dust-tight and can withstand water immersion up to a depth of 1.5 meters for up to 30 minutes. This is a very high level of protection and should be enough for most users.
Nonetheless, it is important for you to note that this rating does not guarantee complete protection against water damage, so it's quite necessary for you to take precautions when using your device in an environment that is prone to cause water damage due to excessive water like submerging the watch in the water below 1.5 meters.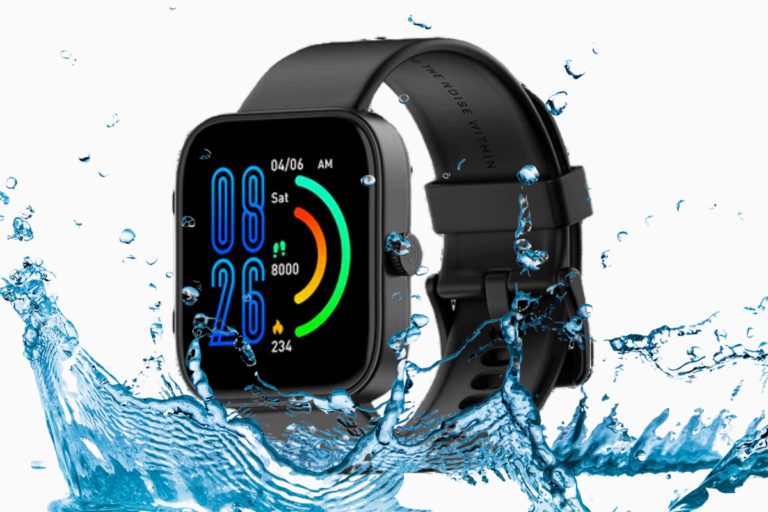 What are the Benefits of a Waterproof Smartwatch?
A waterproof smartwatch offers a number of benefits over a regular watch. Firstly, it allows you to use your watch in any environment without having to worry about it getting damaged by water or dust. It also makes it easier to track your fitness goals and monitor your health since you don't have to worry about taking off your watch every time you go for a swim or take a shower.
Furthermore, waterproof smartwatches are often more durable than regular watches since they are designed to withstand extreme conditions.
What Other Features Does the Noise Colorfit Caliber Offer?
Asides from its waterproof capabilities, the Noise Colorfit Caliber also offers a number of other features. It is equipped with an optical heart rate monitor, an accelerometer sensor, and an SpO2 sensor. It also has a 1.69" LCD display with a resolution of 240*280px and is compatible with both iOS 11 and Android 9 or later.
The watch also has a number of smart features such as call rejection, find my phone feature, remote music control, weather forecast, stopwatch, calendar reminder, timer, alarm, wake gesture, vibration alert and do not disturb mode.
Conclusion
In conclusion, the Noise Colorfit Caliber is an inexpensive, low-quality smartwatch and possibly one of the cheapest in the market. His water resistance feature should not be solely relied on as a reason to buy it. Yes, the watch is waterproof with an IP rating of IP68, but it is important to remember that it is not the most feature-packed smartwatch on the market. However, it does offer a number of decent features for the price it's being sold at.
I hope you found some value in this article, and thanks for reading.