Fujitsu is a world-renowned Japanese brand known for producing high-quality electronic devices, and their laptops are no different. Fujitsu has a wide range of laptops built to serve several purposes and many needs. In this article, we will be taking a deep dive into the Fujitsu Stylistic Q665 to see if it is a good laptop for gaming.
Fujitsu Stylistic Q665 Overview
The Fujitsu Stylistic Q665 is a 2-in-1 Ultrabook that offers the perfect balance between the mobility of a tablet and the performance of a notebook. It is powered by an Intel Core processor and has 8GB of DDR3 RAM. The tablet has an 11.6-inch Full HD display with an anti-glare finish and a resolution of 1920×1080 pixels. 
It also has a 5-megapixel rear camera and a 2-megapixel front camera. The tablet comes with a pre-installed Windows 10 Pro and has a 256GB SSD. It also has a fingerprint sensor, SmartCard reader, and TPM. The tablet has an 8-hour battery life and supports Intel Wireless Display.
Here are some of the specifications;
Specifications
Design: 2-in-1 Ultrabook
Processor: Intel Core processor M-5Y10c, 0.8 GHz, up to 1.9 GHz, M-5Y31, 0.9 GHz, up to 2.4 GHz, M-5Y71, 1.2 GHz, up to 2.9 GHz
Display: 11.6-inch, LED backlight, Full HD, Glare with pen & touch digitizer, 1,920 x 1,080 pixel, 300 cd/m²
Graphics: Intel® HD Graphics 5300
Memory: 8 GB, Memory slot(s) LPDDR3 (1600 MHz)
Cameras: 5MP rear / 2MP front
Operating System: Windows 10 Pro
Battery Life: 8 hours
Dimensions: 11.6 x 7.57 x 0.47 inches
Storage: 256GB SSD up to 512GB
Ports: 1 x USB 2.0, 1 x USB 3.0, 1 x Micro HDMI, 1 x Docking connector for Port Replicator, 1 x Kensington Lock support
Portability: Weighs 2.65 pounds
Video Card
Dedicated Graphics Card: No
Video Memory: Shared
Connectivity: Wireless 802.11ac and Bluetooth 4.0.
Screen Size and Resolution
The Fujitsu Stylistic Q665 is a fully convertible laptop with an 11.6" screen at 1080p, which is fine for light gaming. However, it has some really low colour gamut ratings with a 34% SRGB rating and a 30% aRGB rating which are all really low. The colours looked washed, and you can't do much other than watch movies with it, although those 1080p images won't be very pleasing to the eye.
What is the Battery Life of the Fujitsu Stylistic Q665?
The battery is a 35w/h, and it lasted about 11hrs under our general use test of browsing and watching videos on YouTube and doing some light word document typing, and it was not too bad since it's not powering a large screen.
Processor
The Intel Core M-5Y10C processor is a decent processor, but it is not as powerful as what you would find on a solid laptop. As we can see, it is more of a tab with an attachable keyboard, but because it runs Windows, it is a hybrid of both. On CINABENCH, we got a 300 score for single-core performance, so as you can see, it is not the greatest, but for a tab, it is fine.
GPU
The Fujitsu Stylistic Q665 is equipped with an Intel-integrated graphics chip and a CPU that are not well-suited for gaming or other demanding applications. While this may not be the ideal choice for gaming, it is still a capable system for general use and light productivity. Although, if your primary use for this device is gaming, you will surely be disappointed with its performance.
However, the Fujitsu Stylistic Q665 is a decent choice for general use and light productivity.
RAM and Storage
This device is equipped with an 8GB LPDDR3 RAM, which is a generation behind in terms of speed. However, it is not designed to carry out complex tasks, so the speed is not as important. It also has an M.2 512 SATA SSD, which is not as fast as an NVMe, but it is still adequate for a tablet.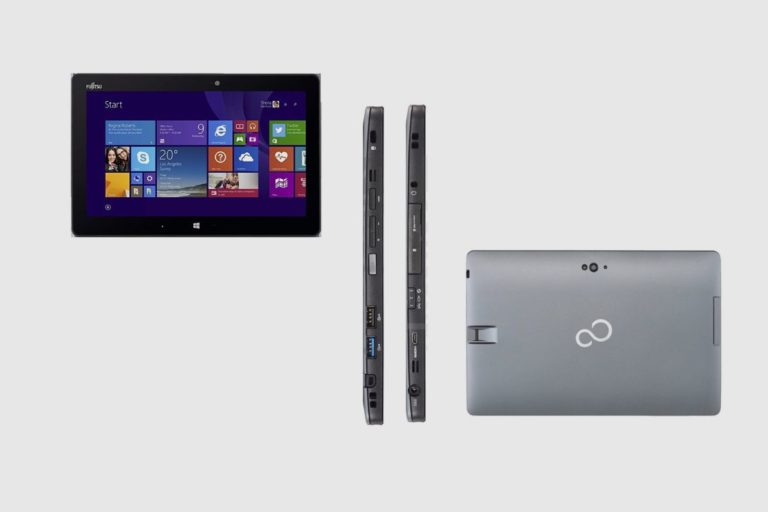 Ports and Features
It has a charging port, 1 combo port with line-in/ line-out audio, 1 USB 2.0 port, 1 USB 3.0 port, a micro SD card reader, a micro HDMI port, a Kensington lock, sim card slot, and one docking port. Some of its main features are its silent mode, anti-glare with Touch Display, a light pen, and fingerprint sensor. Bluetooth 4.0 4G/3G capabilities.
How Much Does the Fujitsu Stylistic Q665 Cost?
The average cost of the Fujitsu Stylistic Q665 is $250. This price seems fair, considering the features and benefits of the product. Although, the price will still depend on the model and store you purchase it from.
How Heavy is the Fujitsu Stylistic Q665?
The Fujitsu Stylistic Q665 weighs about 0.775g which is very light.
Conclusion
Overall, the Stylistic Q665 is a decent device for those who are looking for a balance between a laptop and a tablet. It is perfect for everyday use, from taking notes to browsing the web.
It also has a great battery life, so you can use it all day long without having to worry about recharging. However, in terms of gaming, it is not anywhere near any good gaming laptops on the market.
This product is more of a tablet than a laptop. So, if you're looking for a device primarily for gaming, this is not the one for you.