Yes, the Samsung Galaxy Tab S8 tablet is good for gaming. The tablet features a powerful Qualcomm Snapdragon 8 Gen 1 processor, 8GB or 12GB of RAM, and an Adreno 730 GPU, which ensure smooth gameplay and quick load times. The 11-inch TFT LCD display with a 120Hz refresh rate and 1600 x 2560 resolution provides crisp visuals and responsive touch controls. Additionally, the 8,000mAh battery allows for extended gaming sessions. Overall, the Tab S8 delivers an impressive gaming experience.
In this post, we'll delve into the specifics of what makes the Samsung Galaxy Tab S8 tablet a superb choice for gaming; we'll discuss some optimised games and explore essential tips and tricks to make the most of your gaming experience on this tablet device.
Related post to read: Samsung Galaxy Tab S8 Review.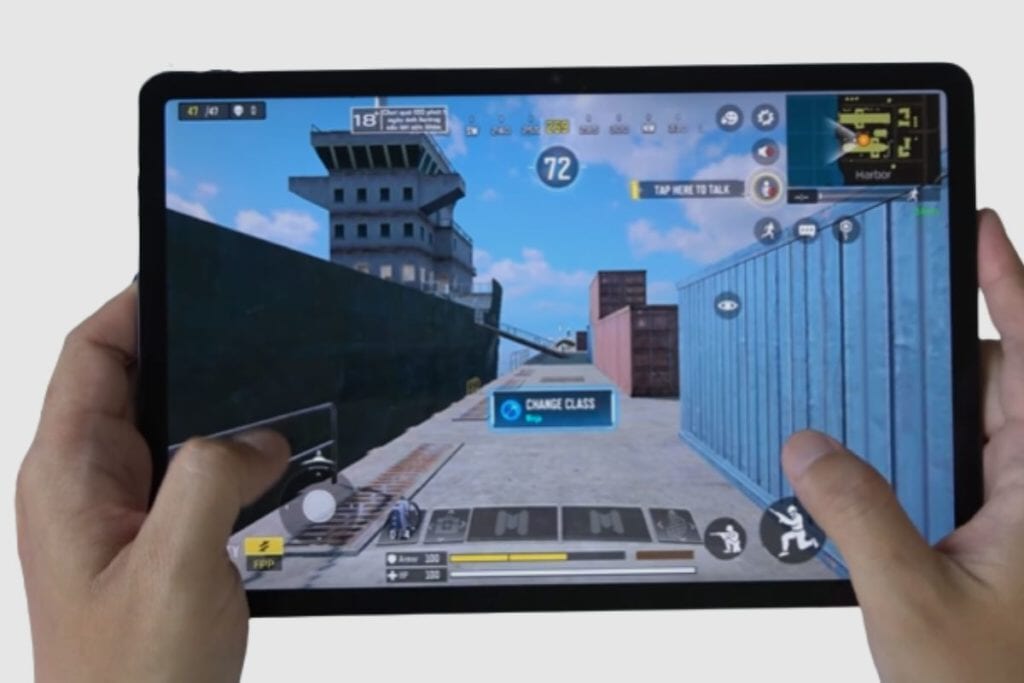 Do's:
Utilise the 120 Hz refresh rate: Make the most of the Galaxy Tab S8's impressive 120 Hz display for smoother gaming visuals and improve the overall gaming experience.
Use a Bluetooth controller: For better control and more accurate gameplay, connect a Bluetooth controller, such as a PS4 or PS5 controller, to your Galaxy Tab S8.
Opt for gaming accessories: Invest in additional gaming accessories, like a grip case or wireless headphones, to enhance your gaming experience and improve comfort during long sessions.
Manage power settings: To conserve battery life during gaming, consider capping the refresh rate at 60 Hz and reducing screen brightness when possible.
Explore game optimisation apps: Download game engines or game bays to optimise your tablet's overall gaming performance and get the most out of your gaming sessions.
Don'ts:
Don't ignore overheating: If you notice your Galaxy Tab S8 getting too warm during gaming, give it a break to prevent potential damage or performance issues caused by overheating.
Don't play graphic-intensive games at the highest settings for extended periods: This can cause the tablet to underclock due to its limited cooling solution, affecting performance.
Don't run multiple heavy applications in the background: Close unnecessary apps to free up resources for a smoother gaming experience and prevent potential lag or crashes.
Don't use low-quality or untrustworthy gaming apps: Stick to trusted sources and verified games to protect your device and personal information from potential security risks.
Don't neglect regular software updates: Keep your tablet's OS and gaming apps up to date to enjoy the latest features, optimisations, and bug fixes for an enhanced gaming experience.
What Makes the Samsung Galaxy Tab S8 Ideal for Gaming?
Three things make the Galaxy Tab S8 ideal for gaming: its impressive display, solid battery life, and impressive CPU and GPU, which allow it to power through some of the most demanding Android games.
The Display
The Samsung Galaxy Tab S8 comes with an 11-inch WQXGA (2,560 x 1,600 pixels) LED display with a 120 Hz refresh rate. These come together to provide a dynamic viewing experience that is all together unmatched and unrivalled by most Tabs. Its display is distinctive, with impressive detail, solid colour accuracy, and impressive brightness, along with nice smooth scrolling thanks to its adaptive refresh rate (which dynamically adjusts the refresh rate up to its maximum of 120Hz rather than remaining locked at 60Hz), though you can lock the refresh rate at 60Hz in the tablet's Display settings to drain less battery power.
The CPU
The Samsung Galaxy Tab S8 has more than enough power for the majority of tasks thanks to the Snapdragon 8-generation 1 processor, and the 8GB of RAM makes switching between and running multiple apps feel quick and fast.
Anecdotally, when testing the Tab S8, I never saw any noticeable lag, crashes, or other performance issues. Although I simultaneously streamed music and watched YouTube videos in 1080p, it had no issue with having 20 or more Chrome tabs open.
The Tab S8 scored 3,228 on the multicore test in Geekbench 5 when I put it to the test. This outperforms the larger Lenovo Yoga Tab 13 (3,128) with its outdated Snapdragon 870 CPU, making it a very good Android tablet.
The GPU
The newest cross-platform test from UL is 3DMark Wild Life. Its main objective is to compare GPU performance between systems, and two different tests are offered. The typical Wild Life test is made to provide insight into a game's performance over a brief period.
People often play mobile games in fast bursts when they have some free time, whether it be on the bus, in the underground, or during a quick battle royale session around lunch. While the 3DMark Wild Life Stress Test measures a device's performance over a longer period, it also looks for performance loss that may occur as a result of increased heat and throttling. It received a 9538, which is rather good.
Battery Life
I was able to pick up the Galaxy Tab S8 in the morning at about 80% charge, use it for a day's work, and set it down with at least 20% power left because the battery doesn't drain too quickly.
The Tab S8 managed to survive 12 hours and 52 minutes on my battery test, which involves the tablet continuously browsing the Internet via Wi-Fi with its screen set to 150 nits of brightness. In the same test, the tablet's battery life was slightly extended (12:59) by turning on the option to lock the screen's refresh rate at a lower 60Hz (and thereby conserve power), but not much. This goes to show that the 8000 mAh battery inside the tablet is really worth its keep and makes the Galaxy Tab S8 all the better for it.
Benefits of Gaming on the Samsung Galaxy Tab S8
Some of the major benefits that come with gaming on the Galaxy Tab S8 include;
Its impressive display
Super Battery life
Using Samsung Dex to switch to a wide-screen display or TV
Excellent sound quality
Impressive CPU and GPU
You can also expand its storage up to 1TB to store more games
Drawbacks of Gaming on the Samsung Galaxy Tab S8
There are a few drawbacks to gaming on the Galaxy Tab S8 and they include;
The display is slightly smaller than usual
Due to how thin the tablet is, it is unable to fit a new cooling solution into the chipset, so it is unable to cool properly and will underclock a little
What Kind of Games are Optimised for the Samsung Galaxy Tab S8
There are several games optimised to be played on the Galaxy Tab S8. You have the regular FPSs like Call of Duty Mobile and Sniper Shooter, then you have the action-adventure games like Genshin Impact, then you also have some RPGs like Castlevania Symphony of the Night, and finally, you have your top-down RTS games like Clash of Clans.
All of these games have been optimised for the tablet. However, given that all of the games played on the Samsung Galaxy Tab S8 are Android games then, most of them are generally optimised for Android systems.
How is the Battery Life Affected when Gaming on the Samsung Galaxy Tab S8?
Gaming on the Galaxy Tab S8 is a really great experience. The impressive 120 Hz display gives the tablet a lot of detail when gaming. However, the 120 Hz panel put a bit of strain on the tablet's 8000 mAph battery. This is why when it is capped at 120 Hz, the battery tends to drain faster than when it is capped at 60 Hz.
When gaming at 120 Hz, you can easily get about 4 to 5 hours of gaming out of it, but when capped at 60 Hz, that figure is closer to 5 or 6 hours of gaming time at the highest setting. However, one thing to keep in mind when gaming on the highest settings is that your frame rates are affected by the panel, so for better frame rate performance, your tab will need to be capped at 120 Hz.
Are there any Special Controls or Accessories For Gaming on the Samsung Galaxy Tab S8?
As for accessories, you could always connect your wireless Bluetooth controllers to your Galaxy Tab S8, and I know for a fact that you can always get either of your PS4 or PS5 pads to connect to your tab and play games with it.
You can also get a pair of wireless headphones to go with it since your tablet doesn't have a headphone jack, so if you want any private listening sessions on it, you will need a pair of headphones or earbuds. Finally, you could spring for a grip case that will help improve your grip on the tab if you intend to play games using the in-display controllers. Aside from that, I don't think you will need any other accessories to go with your Samsung Galaxy Tab S8.
Are there any Special Tips and Tricks for Getting the most out of Gaming on Your Galaxy Tab S8?
As far as tips and tricks go, there isn't much you can do when gaming on your tablet. However, there are a few things you could do when gaming with your tab. You can use a controller to play games and get an advantage in shooters; you can drop your tablet to 60 Hz so that you can conserve your battery life; and you can also reduce your screen brightness when gaming to extend your battery life and gaming sessions.
Finally, you can download a game bay or game engine to optimise your tablet's overall gaming performance when gaming. I don't think there are a lot of tricks to gaming on this tablet, but you can use the few I have listed to get the most out of all of your gaming sessions on your Galaxy Tab S8.
Conclusion
In conclusion, the Samsung Galaxy Tab S8 is an outstanding gaming tablet that offers a brilliant combination of a stunning display, powerful hardware, and excellent battery life. Whether you're a casual gamer or a dedicated fan, the Tab S8 has plenty to offer, with optimised games and essential accessories to enhance your experience.
While it's not without its minor drawbacks, such as the slightly smaller display and cooling system, the Galaxy Tab S8 is undeniably a top choice for those looking to dive into the world of mobile gaming.
So, embrace the gaming potential of the Samsung Galaxy Tab S8 and prepare for countless hours of fun and excitement. With a vast library of optimised games and the ability to fine-tune your tablet's performance, you can customise your gaming experience to suit your preferences.
Keep the tips and tricks mentioned in this post in mind to further enhance your sessions and extend your battery life, ensuring that your Galaxy Tab S8 remains the ultimate gaming companion.
As you explore the world of gaming on the Samsung Galaxy Tab S8, remember that there's always more to discover, from hidden gems to the latest releases. Stay curious and keep pushing the boundaries of what this powerful tablet can do. Who knows, you might just stumble upon your next favourite game or uncover new ways to make the most of your Galaxy Tab S8's gaming prowess.