Twitter First View; the update will Prioritize tweets with video ads and top tweets on your Timelines.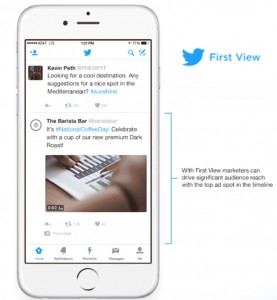 In hope of Twitter reviving itself from its recent downward trend; the San Francisco based company will be making two major changes to the way its user's timeline appears (mainly "Twitter First View"). The changes will prioritise tweets on your Timelines with video ads and top tweets based on what they think you would possibly like.
The change will be a major change from Twitter's normal list of posts that shows in reverse chronological order; and which may actually take away the fun in the known timeline.
According to Twitter, the new updates are designed to make users more engaged with the platform and also to make Twitter appealing to advertisers. Basically, the new Twitter First View feature is a big plus for advertisers; because it allows placing of video ad high up in the feeds, which it's the main catchy area on Twitter.
With reference to a statement on BBC News:
"The whole point of in-feed ads is that they should seamlessly roll through and not interrupt your experience," said Sarah Vizard, Marketing Week's news editor.
"Brands will love [First View] as it sits across the top of the page and everyone will see it, but for the users themselves, they will think: 'It takes over most of the feed. I came here to see what the people I follow are posting and to find information, and to get to that I now have to clear the ad."
So, what are the likely Benefits of Twitter's First View Update?
Key Point:
One major advantage of the Twitter First View is that, video ads and top tweets (possibly sponsored tweets) will be shown to everyone within a region or country who uses Twitter over a 24-hour's period, and not like the normal ads on the platform, which the algorithms currently targets specific users only. With this point alone; the update might be a big game changer for Twitter.
Although; the "First View" update is a more effective way to build mass awareness of a product over a short period of time to potential clients or users.
And, we should not rollout a notable point that one of the key reasons for Facebook's success lately is based on similar algorithms that put sponsored posts, videos and ads into people's feeds (which most times are distracting). But, Twitter users are more of people who are mostly interested in reading short and up-to-date messages; they would likely avoid distractions in all possible ways.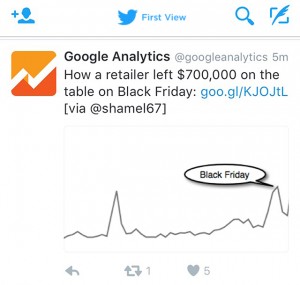 Anyway, one major point to note is that; the Twitter First View update is of more benefit to advertisers than to other users.
The announcements came ahead of the company's latest financial results.
Currently, nobody knows how the Twitter First View update will play out at the end for Twitter. But one thing for sure is that this move may be a good turning point for Twitter in the right direction towards improving its user base; or it might be a move that the company will regret for a long time. Only time will tell.
Read More Here (BBC News) Twitter puts video ads and top tweets at start of timelines