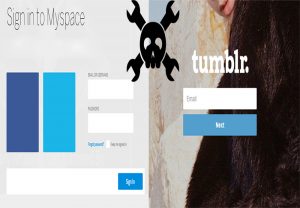 Tumblr and MySpace may have been hit by possible mega breach; as hundreds of millions of personal information from Tumblr and MySpace accounts has been discovered for sale on the darknet.
Although, Tumblr has earlier this month disclosed some possible leak (according to sources), which the social network company said took place in early 2013, but they had not previously acknowledged the scale of the personal information that was compromised.
The personal information that was compromised from both Tumblr and MySpace includes email addresses and passwords of users.
According to a recent report on BBC:
"Hundreds of millions of hacked account details from social networks MySpace and Tumblr have been advertised for sale online.
In both cases, the logins appear to have been stolen several years ago but only recently came to light.
The incident comes the same month it emerged that a four-year-old database containing more than 167 million LinkedIn IDs had been traded online.
One expert said it was "intriguing" all had emerged in such a short period.
Security researcher Troy Hunt also said millions of IDs from adult dating site Fling – which had been breached in 2011 – had been offered on a hacking forum at the start of the month. "
Related News:
Google Improves Gmail Security with more Encryption and more Notifications.