Samsung Shares Surged: Investors rewards Samsung; Q3 beats profit estimates.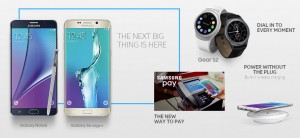 Samsung Shares surged on Wednesday after the South Korean technology giant's released its third quarter earnings guidance that beats the expectations. The result may be a green light for investors that the tech giants are back on track after numbers of weak quarters.
The company estimated its third-quarter profit rose 79.8 percent on year to 7.3 trillion won ($6.29 billion), its first quarterly profit gain in two years and its biggest since the first quarter of 2014.
The company shares surged the most in more than six years. Earnings jumped 80 percent in the September quarter, beating estimates and breaking the trend of the ongoing consecutive declines.
Samsung has been under serious struggle lately with its smartphones due to the heavy competition from Apple iPhones at the premium end of the market, and Xiaomi Corp at the low-priced side of the market.
While the South Korean company responded by investing billions of dollars in semiconductor and display factories to supply its rivals, analysts cut earnings estimates and helped drive the stock toward a third straight annual slide.
After Wednesday's rally, Samsung shares closed at 1,251,000 won in Seoul, increasing its market value by 14.7 trillion won ($13 billion). The surge in share price will no doubt cut the company's loss in market capitalization this year by more than half.
Happy days for the company, and most of all for its investors who are getting excited about the fundamentals and the possibilities of a potential share buyback plans.