Facebook Setback: India's Telecoms Regulator has Blocked Facebook's Free Basics Internet Service App as part of a Ruling in Favour of Net Neutrality.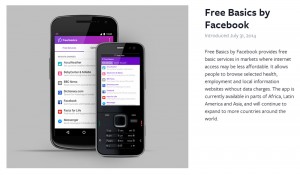 It looks like the effort from Facebook founder (Mark Zuckerberg) to connect the world with his free internet project is currently facing some obstacles, after the company spent months lobbying the country to accept its Free Basics service.
India's telecom regulator has blocked the company's Free Basics service as part of a ruling that supports net neutrality. The decision follows nearly a year of escalating conflict between Facebook and the country's net neutrality activists, who argue Free Basics violates neutrality by favoring some services over others. It also undermines founder Mark Zuckerberg's larger Internet.org efforts to bring the entire world online.
Although, it's not the end for Facebook's efforts and push; the fact is, India remains a major market in the world top economies. Having said that, India is not the only place where Facebook plans its offers of Free Basics internet.
Currently the services available are the lightweight versions of the initially intended that load quickly and perform well on less robust 2G and 3G networks. The service is available in 36 countries, and Facebook has claimed that he has brought the Internet to more than 19 million people who would not have been able to afford internet access.
A key note; the free internet service was opposed by the supporters of net neutrality who had initially argued that data providers should not favour some online services over others.
However, Facebook's Founder (Mark Zuckerberg) has made a comment on his Facebook page about the development.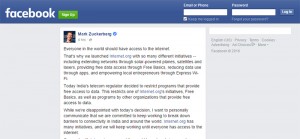 Read Mark Zuckerberg's comment below:
"Everyone in the world should have access to the internet.
That's why we launched Internet.org with so many different initiatives — including extending networks through solar-powered planes, satellites and lasers, providing free data access through Free Basics, reducing data use through apps, and empowering local entrepreneurs through Express Wi-Fi.
Today India's telecom regulator decided to restrict programs that provide free access to data. This restricts one of Internet.org's initiatives, Free Basics, as well as programs by other organizations that provide free access to data.
While we're disappointed with today's decision, I want to personally communicate that we are committed to keep working to break down barriers to connectivity in India and around the world. Internet.org has many initiatives, and we will keep working until everyone has access to the internet.
Our work with Internet.org around the world has already improved many people's lives. More than 19 million people in 38 countries have been connected through our different programs.
Connecting India is an important goal we won't give up on, because more than a billion people in India don't have access to the internet. We know that connecting them can help lift people out of poverty, create millions of jobs and spread education opportunities. We care about these people, and that's why we're so committed to connecting them.
Our mission is to make the world more open and connected. That mission continues, and so does our commitment to India.
Read More on this news from Bloomberg: Zuckerberg's Plan Spurned as India Backs Full Net Neutrality