John Krafcik: Google has Hired an Automobile expert to Head Its Self-Driving Car Unit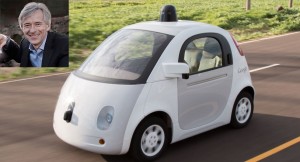 Google has appointed the former CEO of Hyundai as its first Chief Executive Officer (CEO) for its Self-Driving Car (SDC) unit. With the new development; the U.S. search engine giant is getting serious about bringing its Self-Driving Cars into the market.
John Krafcik is currently the president of automotive pricing terminal Truecar Inc and a former CEO of Hyundai Motors America.
Driverless car is becoming the most talked about by technology companies, and there is no doubt that the traditional automobile companies are not relenting from defending their industry from being snatched by the so called technology giants.
The hiring of Mr Krafcik is showing the seriousness of Google on commercializing its driverless car project and to turn it into a fully functioning business.
Mr Krafcik has immediately confirmed his new appointment via Twitter: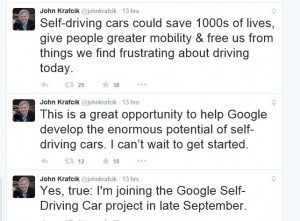 Google's Self-Driving Car project is part of Google X Lab projects and is created with an intention to revolutionize the automobile industry by creating driverless cars popularly known as autonomous cars. Google X lab is also working on other projects like "Project Loon", which its aims are to provide wireless Internet to the most-remote areas in the world via smart balloons ("Balloon-powered Internet for everyone"). The project Loon is currently being tested by Google.