UK to Test Self-Driving Lorries Later This Year.

Self-driving Lorries will soon be taking to UK roads later this year (2016) as part of the ongoing initiative to improve road efficiency. The new plan is aim at speeding up deliveries and cut traffic congestion on UK roads.
According to reports, Chancellor George Osborne will be announcing details in his Budget speech in March (2016).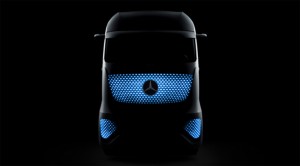 According to reports on the Engadget; "a stretch of the M6 motorway near Carlisle has been touted as a possible testing ground. On this quieter part of the UK's major road network, a driver can lead a "platoon" of autonomous trucks without having to navigate various entry and exit points."
The Self-driving Mercedes-Benz lorry has already been tested on public road in Germany last year (2015).
According to sources; the truck is said to have a Highway Pilot, which can be easily activated at the press of a button, and is designed to help avoid other road users via a radar and camera sensing system.
Although, the company has stated in its requirement that a human driver must be present and must focus on the road at all times while the Highway Pilot is in use.
The truck is developed by Daimler, and will be the first of its kind in the market when launched.
Read full story here (UK to test self-driving lorries later this year).
Image Credit: Mercedes-Benz.