Dell to acquire EMC; for a record deal of $67 billion, which will make it the largest acquisition in the technology industry.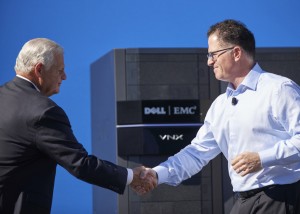 In a recent development, Dell Inc has agreed to acquire EMC Corporation for $67 billion. The deal will be a record deal in the technology industry. Both companies announced today that they have signed a definitive agreement under which Dell will acquire EMC Corporation, while maintaining VMware as a publicly-traded company.
Terms of the Agreement:
According to source (Dell press release):
"Under the terms of the agreement, EMC shareholders will receive $24.05 per share in cash in addition to tracking stock linked to a portion of EMC's economic interest in the VMware business. Based on the estimated number of EMC shares outstanding at the close of the transaction, EMC shareholders are expected to receive approximately 0.111 shares of new tracking stock for each EMC share. Assuming, for illustrative purposes, a valuation for each share of tracking stock of $81.78, the intraday volume-weighted average price for VMware on Wednesday, October 7, 2015, EMC shareholders would receive a total combined consideration of $33.15 per EMC share and the total transaction would be valued at approximately $67 billion. The value of the tracking stock may vary from the market price of VMware given the different characteristics and rights of the two stocks."
EMC Corporation:
In previous moves; EMC had been looking at strategic options for boosting its share price, and which the Hedge-fund manager Elliott Management Corp. had pushed for EMC to sell itself or spin off VMware, of which the storage company is the majority owner. The company was also advised then to pursue other merger and acquisition opportunities.
Read: Elliott Management Urges EMC to Spin Off VMware.
Dell Inc:
Since the computer technology company (Dell) became a private company; it has been able to focus mainly on possibilities of long-term investments and also to focus on growing and maintaining its customers.
The merger will make Dell Inc the world's biggest privately-held technology company and solidify Dell's transformation from what was once the world's biggest PC manufacturer into an IT services giant.
Read Dell's press release for full details on Dell to acquire EMC:
Michael S. Dell, MSD Partners and Silver Lake Lead Transaction to Combine Dell and EMC, Creating Premier End-to-End Technology Company.