Clean Energy: Bill Gates and a group of philanthropists are pledging Multi-billion Dollar Clean-Energy Fund.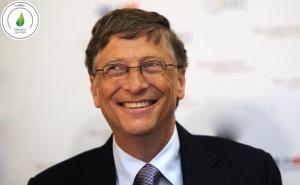 The world richest man (Bill Gates) is leading a group of philanthropists in pledging billions into Clean Energy through personal investments and a new fund to be set up by next year -2016.
The Microsoft co-founder and philanthropist announced this latest move at the climate change summit in Paris.
Gates who founded the "Bill & Melinda Gates Foundation," in 2000 with his wife Melinda Gates; has so far achieved a lot of success in his charitable given. "Bill & Melinda Gates Foundation" was identified by the Funds for NGOs Company in 2013, as the world's wealthiest charitable foundation, with assets reportedly valued at more than $34.6 billion.
The recent development of the clean-energy fund is a joint move by Bill Gates and other private investors (the Breakthrough Energy Coalition). Mr Gates said in a briefing on Monday at the climate change summit in Paris.
The Breakthrough Energy Coalition also includes other contributors, such as; the Africa's richest man Aliko Dangote (Nigerian businessman), Jack Ma (Alibaba Group Holding Ltd. chairman and founder) and Meg Whitman (Hewlett Packard Enterprise Co. Chief Executive Officer).
According to the news source (Bloomberg): "The investors will collaborate with 20 countries, including the U.S., India, Saudi Arabia, China, Chile and the U.K., which together make up 80 percent of global clean-energy research and development. In the public component of the plan, known as Mission Innovation, each nation has vowed to double their budget for the sector over the next five years. In making these investments, the coalition will "take the risks that allow the early stage energy companies" to bring their ideas from the laboratory to the marketplace, according to an e-mailed statement from the White House on Sunday."